Well, my sweeties, in the crafty world we all live in, flowers never die, do they? 
They become pot pourri and live for ever and ever. That's what the flowers my love brought me the other day are going to be in their after life. They have a gorgeous pink color and I am sure they will look gorgeous even after a long long time.
So if you want to make your own pot pourri don't through away the flowers your lover/friend/mother brought you! Instead take away the petals and put it in a plate (even better use a screen if you have one).
Leave it there untill they are dry -depending on the room temperature and the humidity this could take a few days. Some people like to use herbs too. If you like the smell of cinammon (who doesn't) break a stick and put it along with the petals.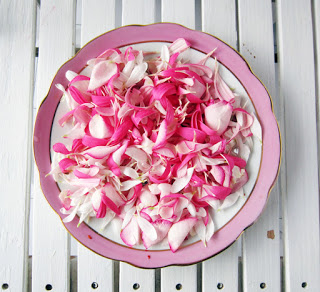 Once dry you can use any essential oil (or a combination of oils) you like and sprinkle it onto your petals. And you're done! During winter time leave it near the radiator so the heat can help the evaporation of the scents. When you think your pot pourri has lost its scent, just pour some more essential oil over it.
Put it in jars or bowls for decoration or include some lavender and store it in tulle into your closet.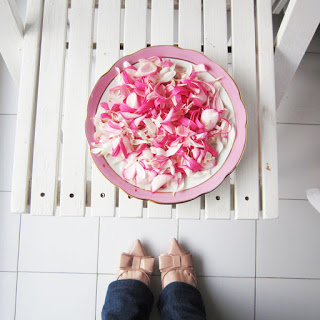 I could not resist this last photo. I really like my new shoes and realised when I was taking the shoots that it would be nice to add some of me in the photo (soundtract in the backgroung: You're so vain by Carly Simon).

Take good care now!