Hello sweeties!
It's the last Sunday before Easter (orthodox) and I decided to make some decorative eggs. I had some not so fresh eggs in my fridge and since next week I am fasting I emptied them first.

It's really very easy to do! First off wash your eggs. Wipe them and then take a pin and make two holes, one at the top and one at the bottom of the eggs. Then take a toothpick and widen the holes a bit. While you're at it, try to break the yolk of the egg with circular movements of the toothpick.


Wipe off any shell fragments and egg white that comes out of one of the holes and then place your mouth over it and blow it over a plate or bawl! The egg should come out the other hole in seconds! If you don't want to use your mouth you can also use a rubber pipette. Take the eggs and place them under the tap and wash them clean! You are ready! It doesn't matter if the holes are uneven you can cover them up.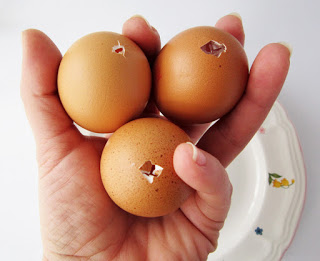 My eggs where dark so I painted three of them white (step you can omit if you already have white eggs) and one of them red.
Then use any scrap fabric you've got, colorful beads, ribbons and lace and glue them onto your eggs. I used a stick glue for fabric and paper. It seem to hold on ok!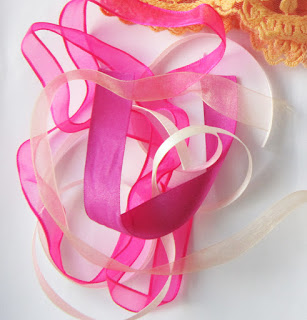 I cut fabric scraps into triangles and glued them to make a punting egg. I covered the holes in this one, I didn't want to hang it.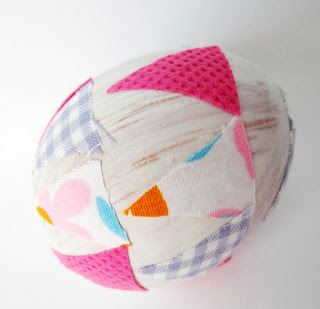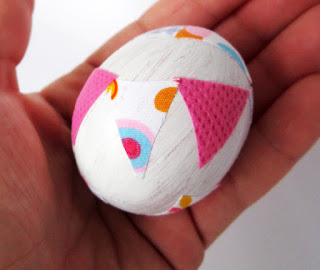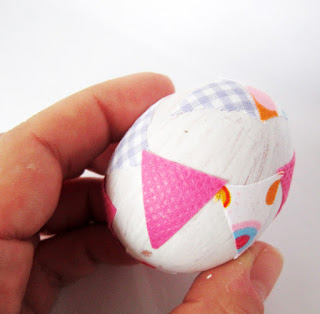 I glued small pieces of fabric onto the red one, passed some ribbon through it and embellished with colorful beads.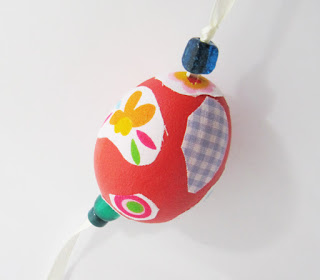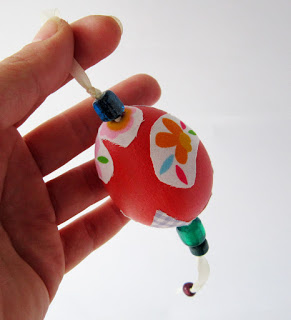 I used red ric rac and ribbon to make the next one. I made a small rose on the top hole and passed some natural string for it to hang.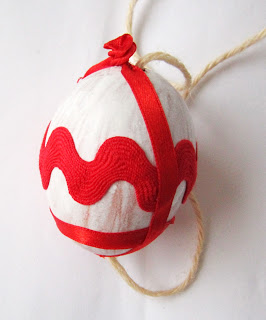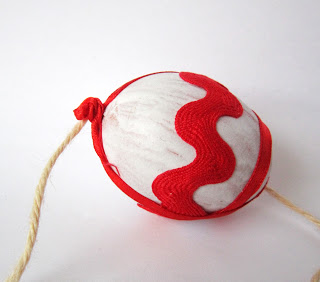 I saved the best for last. It's my favourite.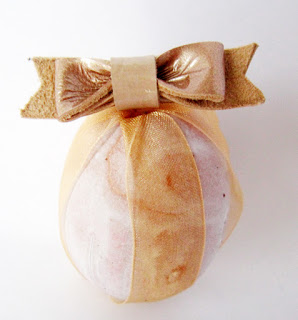 I used beige-gold ribbon and rolled it over the oval side of the egg twice (if you were to look at it from the top you would see a cross) and then I put one of my bows on top. It's cute right?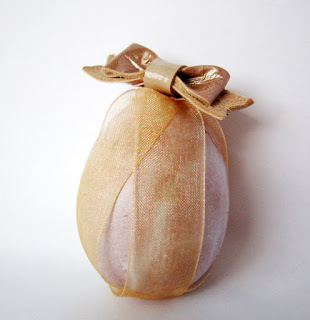 And here there are all together. You can hang them, or put them on a nice bawl for decoration or even to add some color at the Easter table! Hope you have fun!!!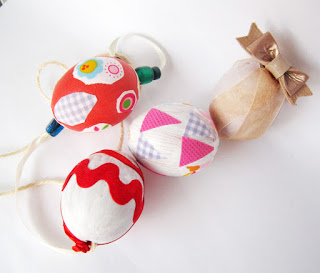 What are you doing for Easter decorations?
p.s.: I am hooked with DIYs! Its official! I love writing them, I love your responses, I love taking the before and after photos! I have a very special one in progress for you, which I am sure you'll love! It involves beauty and recycling...and that's all I am going to say for now...
Have a wonderful and inspired week!
Love
Akamatra