Hello sweeties,
Those of you who read the blog for some time know how much I adore both our god-daughters. Bree lives in the Philippines and since she is Catholic I haven't made her an Easter candle (lambada) just something that resembled a chicken, lol. Afrodite leaves here in Greece and you probably remember the baby blanket I crochet for her and took me months and months, lol again!
Well, as tradition has it here in Greece the god-parents are supposed to give their god-child an Easter candle for the Easter. When we were kids the candle - and the toy that hang from it - was all we could think about when Easter came! That and the chocolate bunnies too!  We are going to buy Afrodite a chocolate bunny or egg or chicken or whatever but I wanted to make her candle on my own.

Nick insisted on a bunny for the candle toy and I couldn't agree more when I found this amazing pattern here. 

And now I have a confession to make. I do not own a printer. I hate those machines. Honestly! I really really don't like them. So I never print anything. I didn't print the pattern either. I just kept the pattern in my mind and draw free handed a similar (!?!) one. I liked the legs longer as you can see.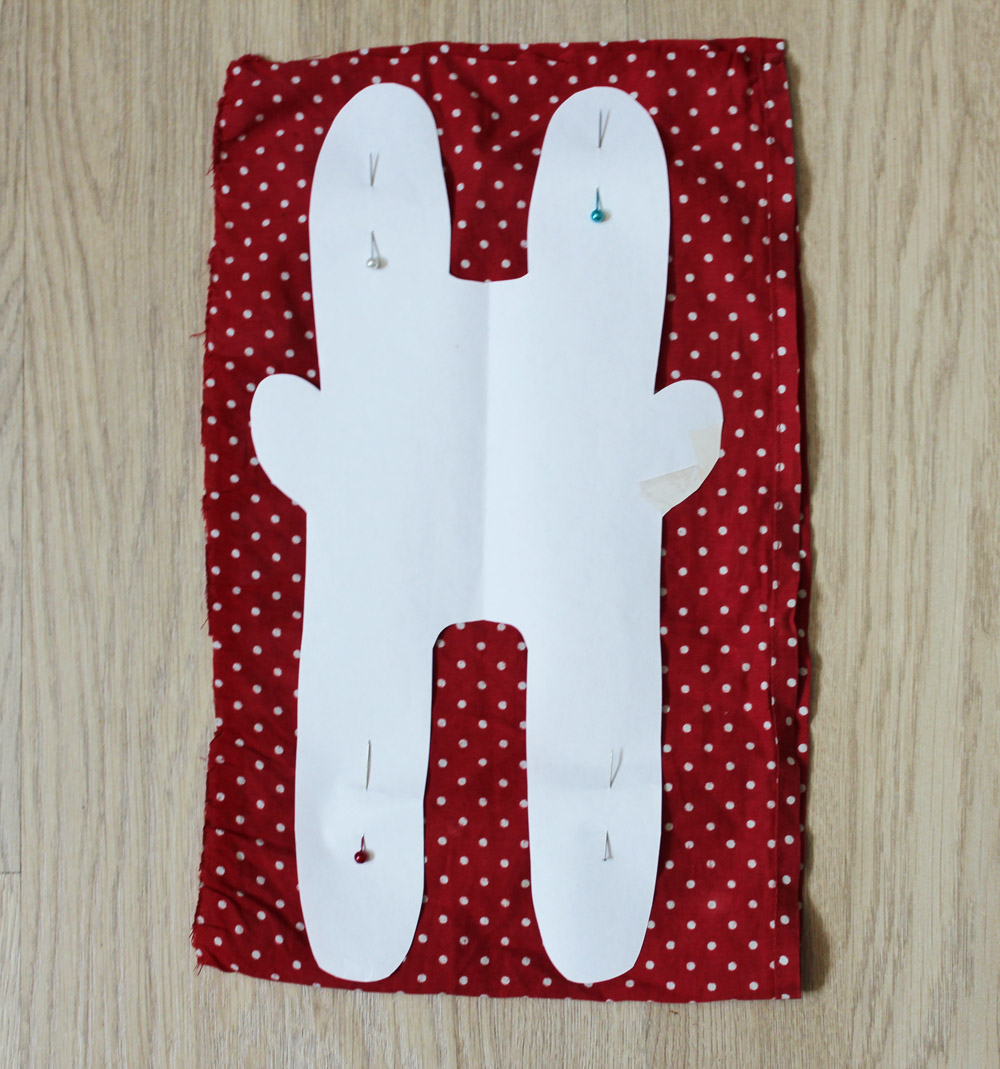 I pinned it to my lovely polka dot fabric and cut two pieces.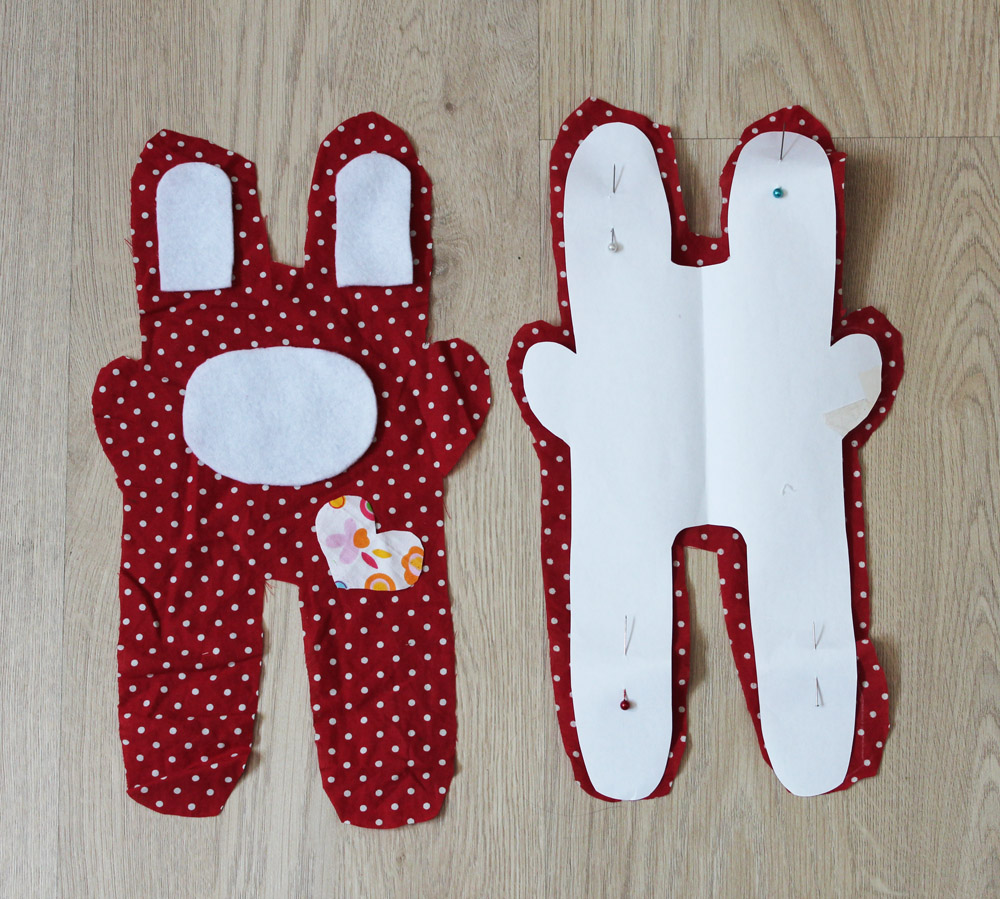 With the same scientific and precise method I cut the ears and face out of white felt and a small heart from another cute fabric.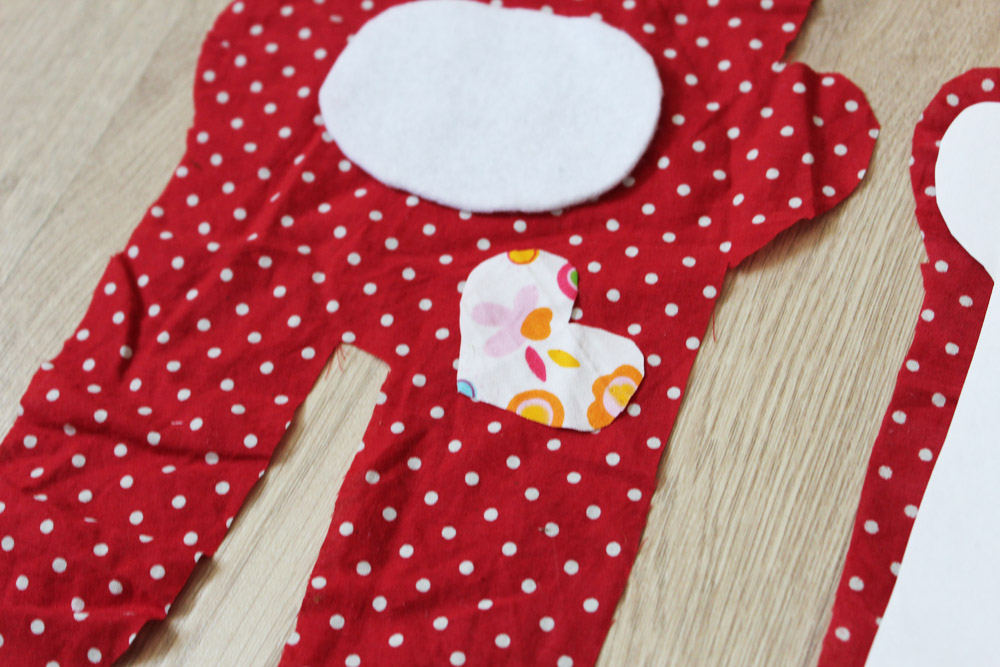 I loved the cute smiling eyes on the pattern so I kept those as they were. However I embroidered the eyes and mouth first and then I sew it on the body instead of the other way around as the tutorial above said. I found it easier this way.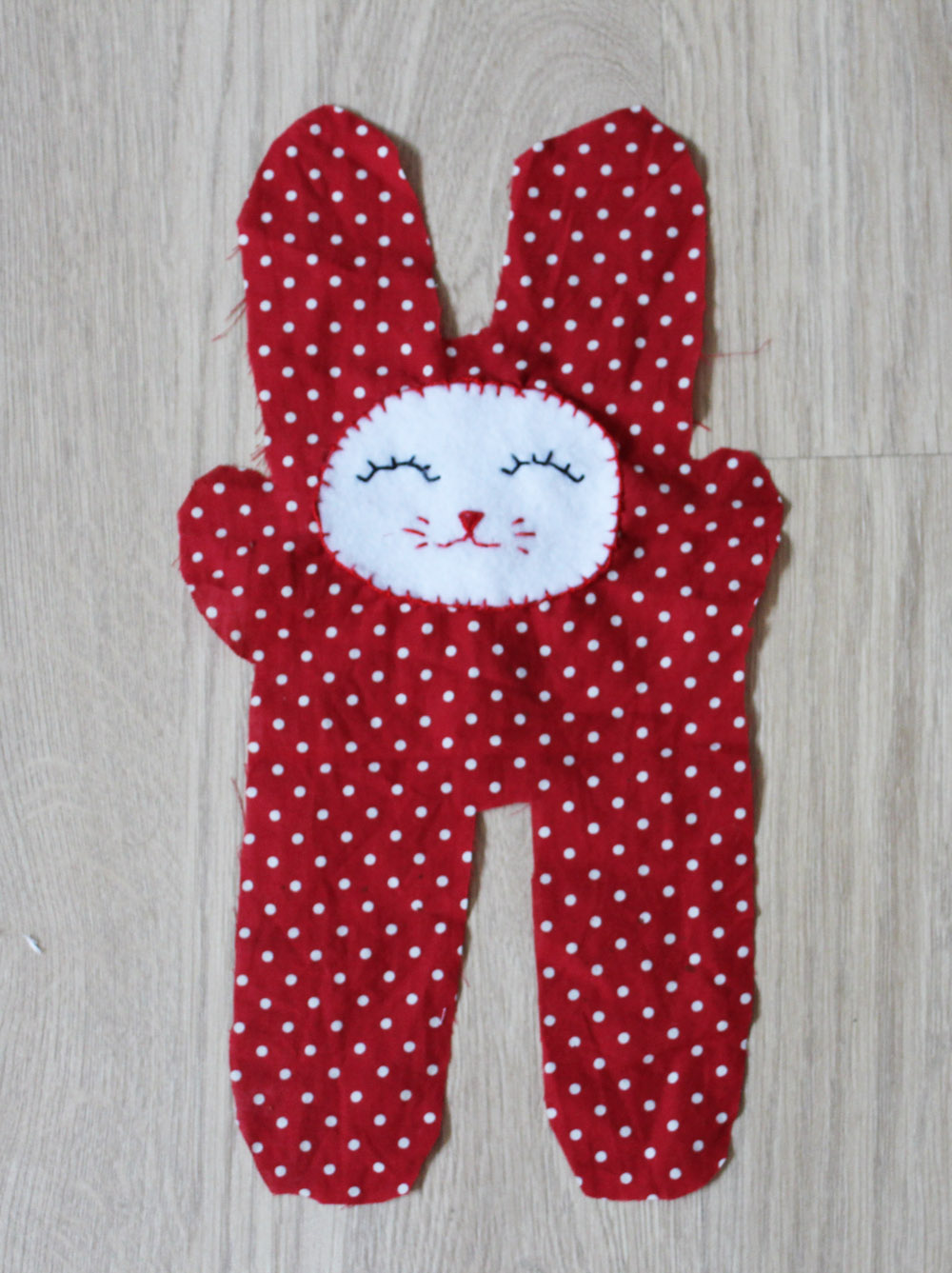 Then I pinned the ears and the heart in place and sew them with my sewing machine.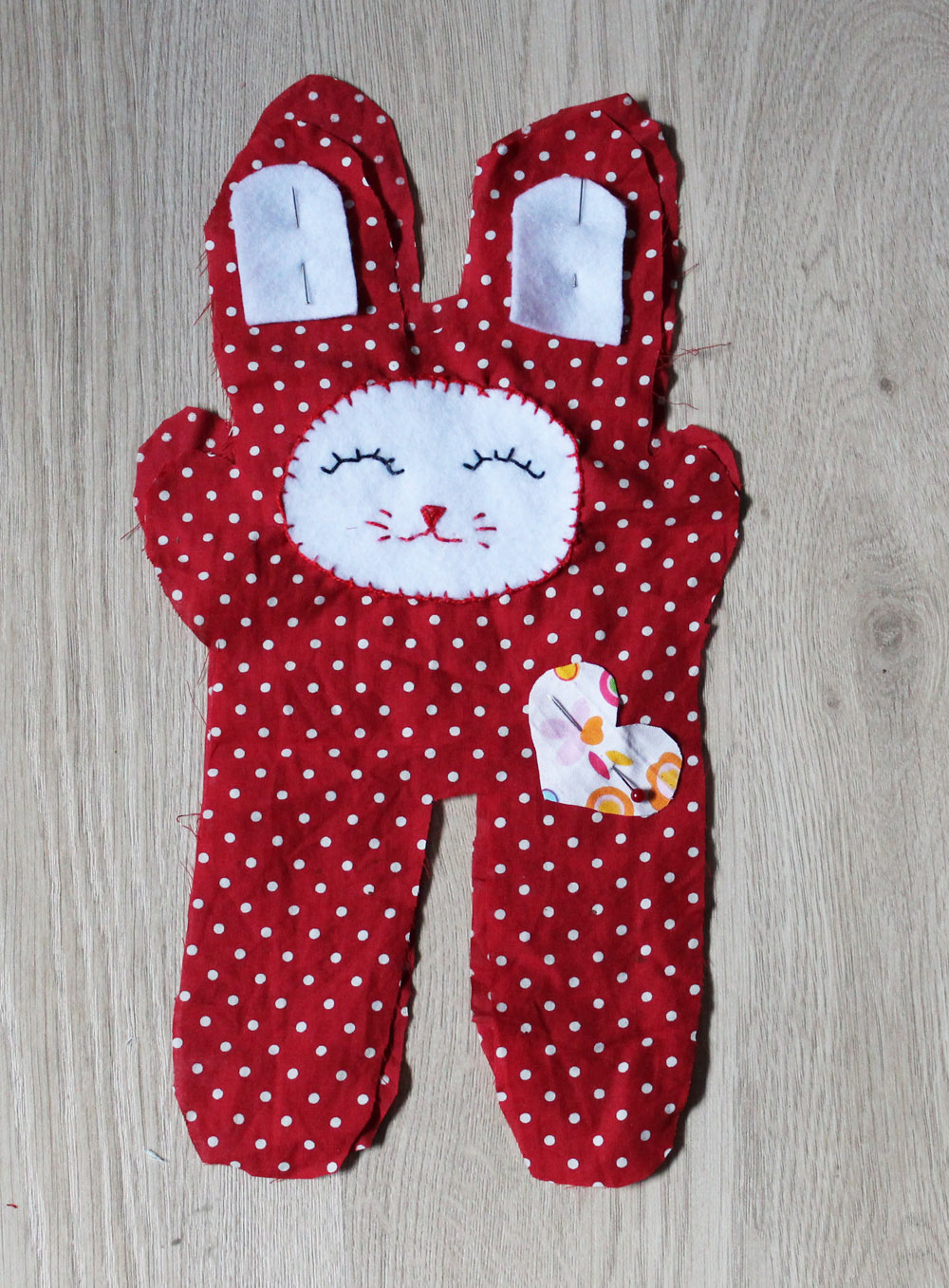 By that time the bunnies had propagated my craft room and my Instagram account too!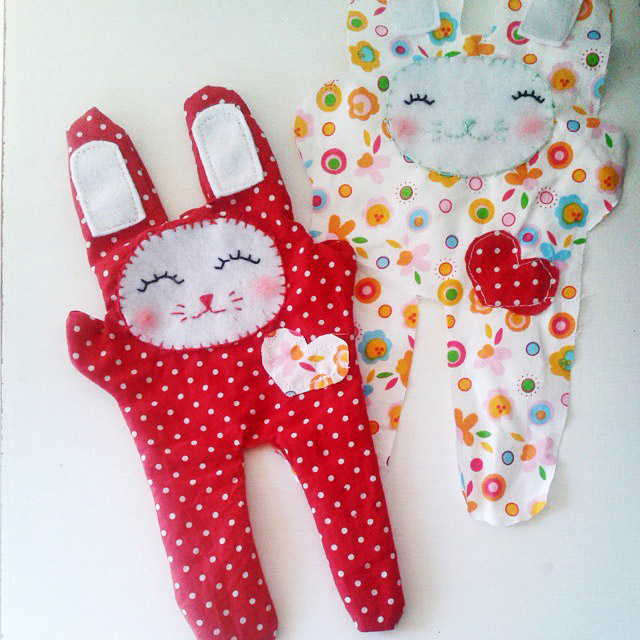 The next step was to bring the good sides together and sew with the sewing machine leaving an opening at the bottom of the bunnies in order to turn them right side out and stuff them. I don't have in my possession any commercially available stuffing material. I always use the leftover scaprs of the fabrics I use in my projects and the scrap yarns from my crochet too. This time I also used another secret material that works great: my old pantie hoses with running stitches. Do not throw those away! They are perfect for the job!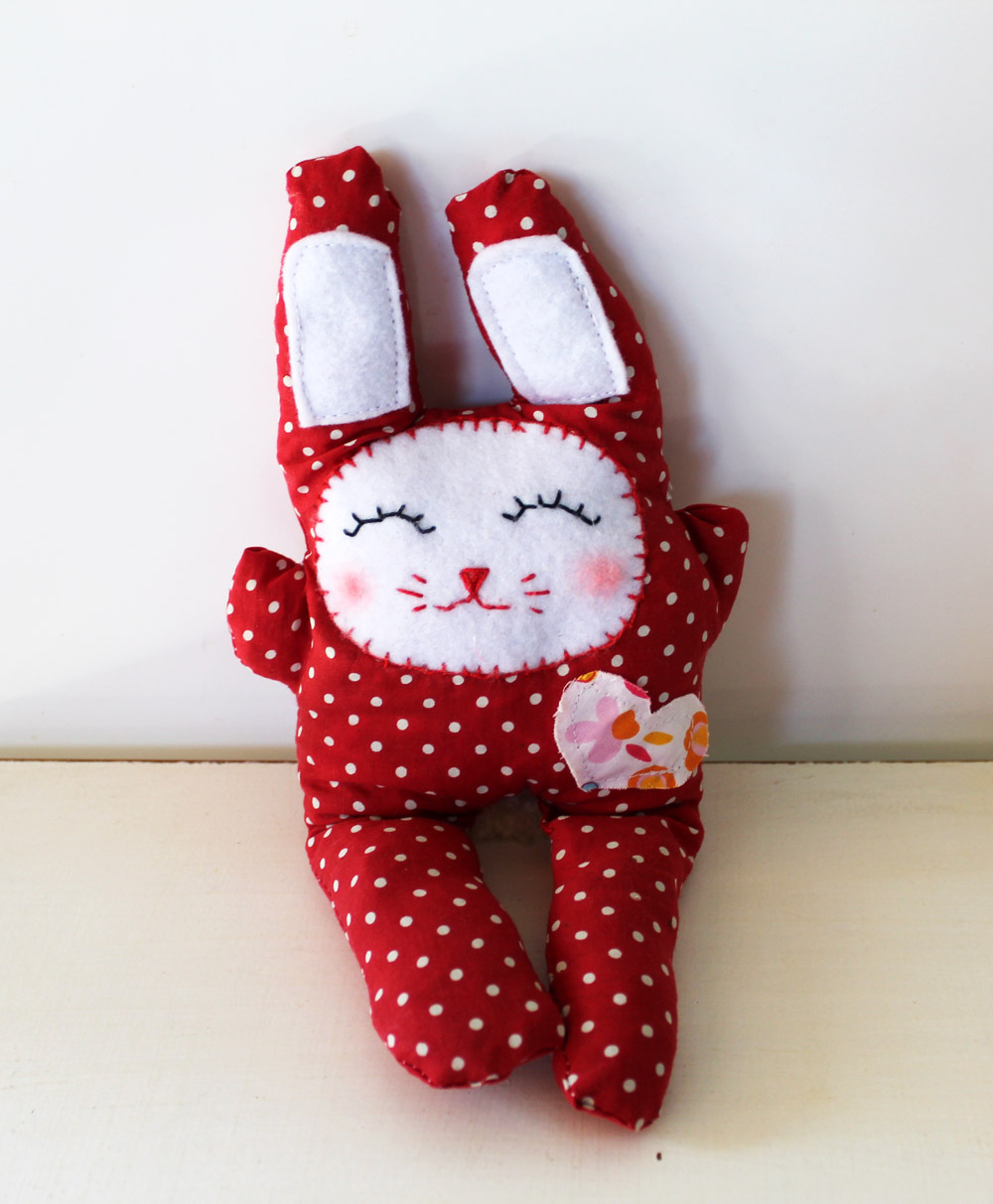 And this is the final result! What do you think? I am kinda proud of them, they turned out so great!
I could not resist making a small pom pom tail for this one!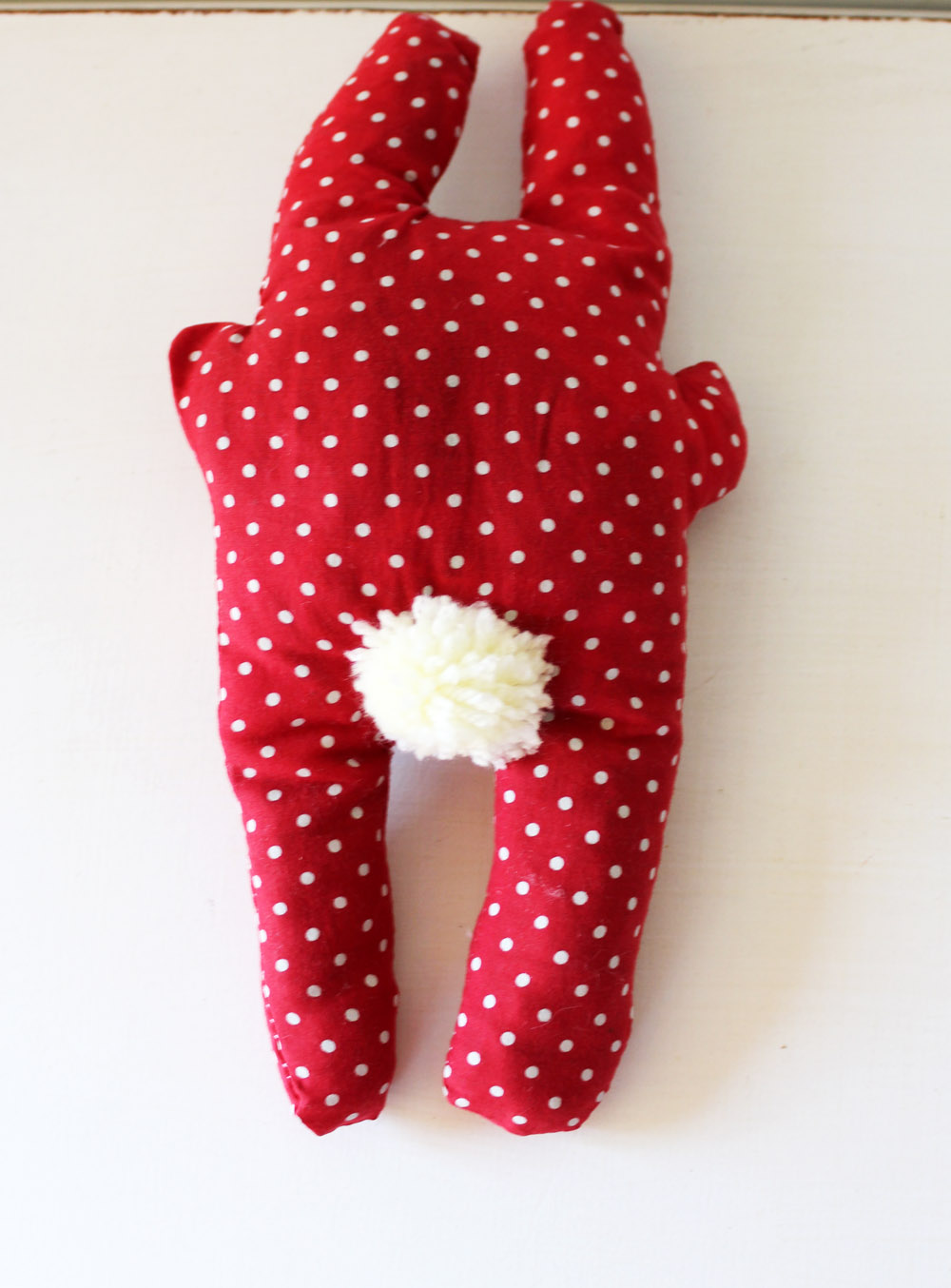 And they kept propagating...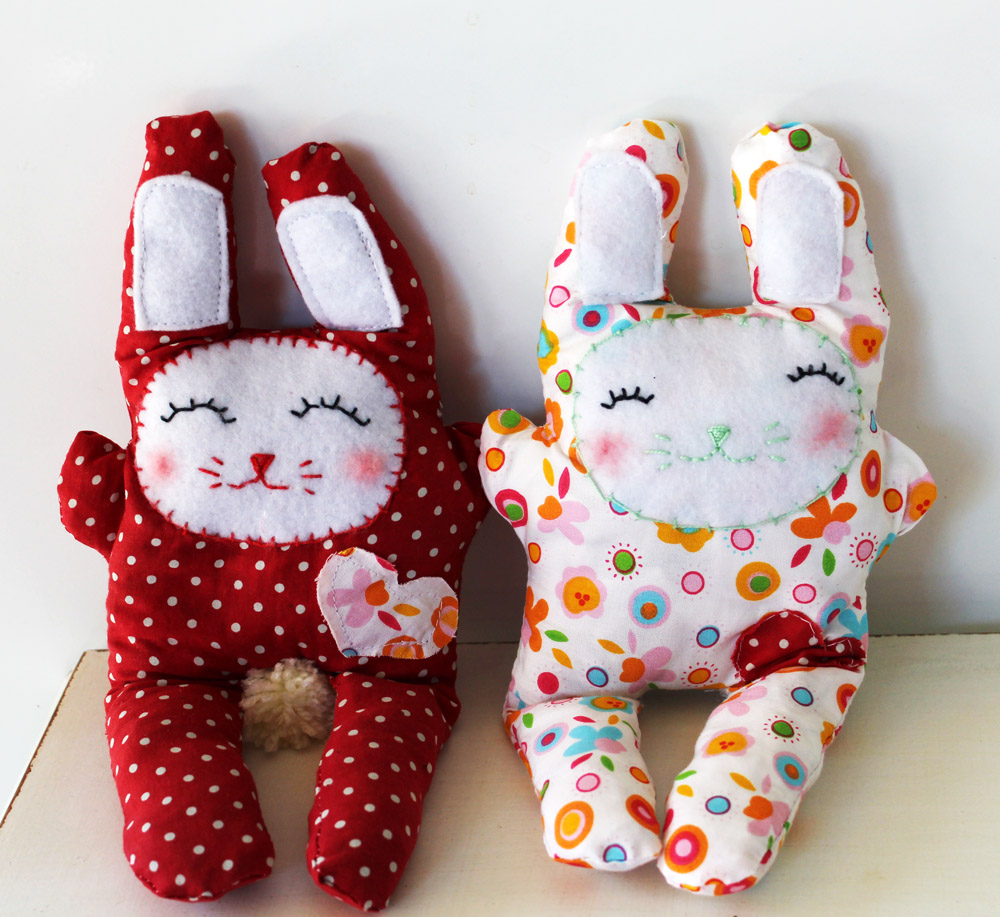 ...and propagating...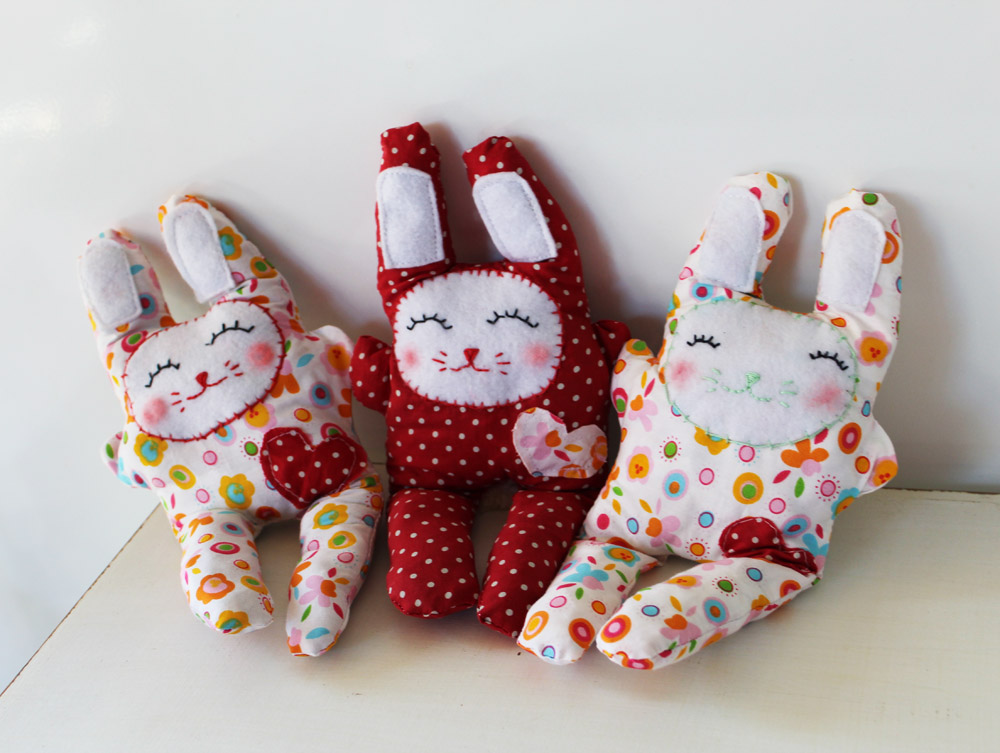 I almost forgot. I didn't sew on red cheeks for the bunnies. Instead I used a bit of crayon on the felt with circular moves. I think it looks more "natural".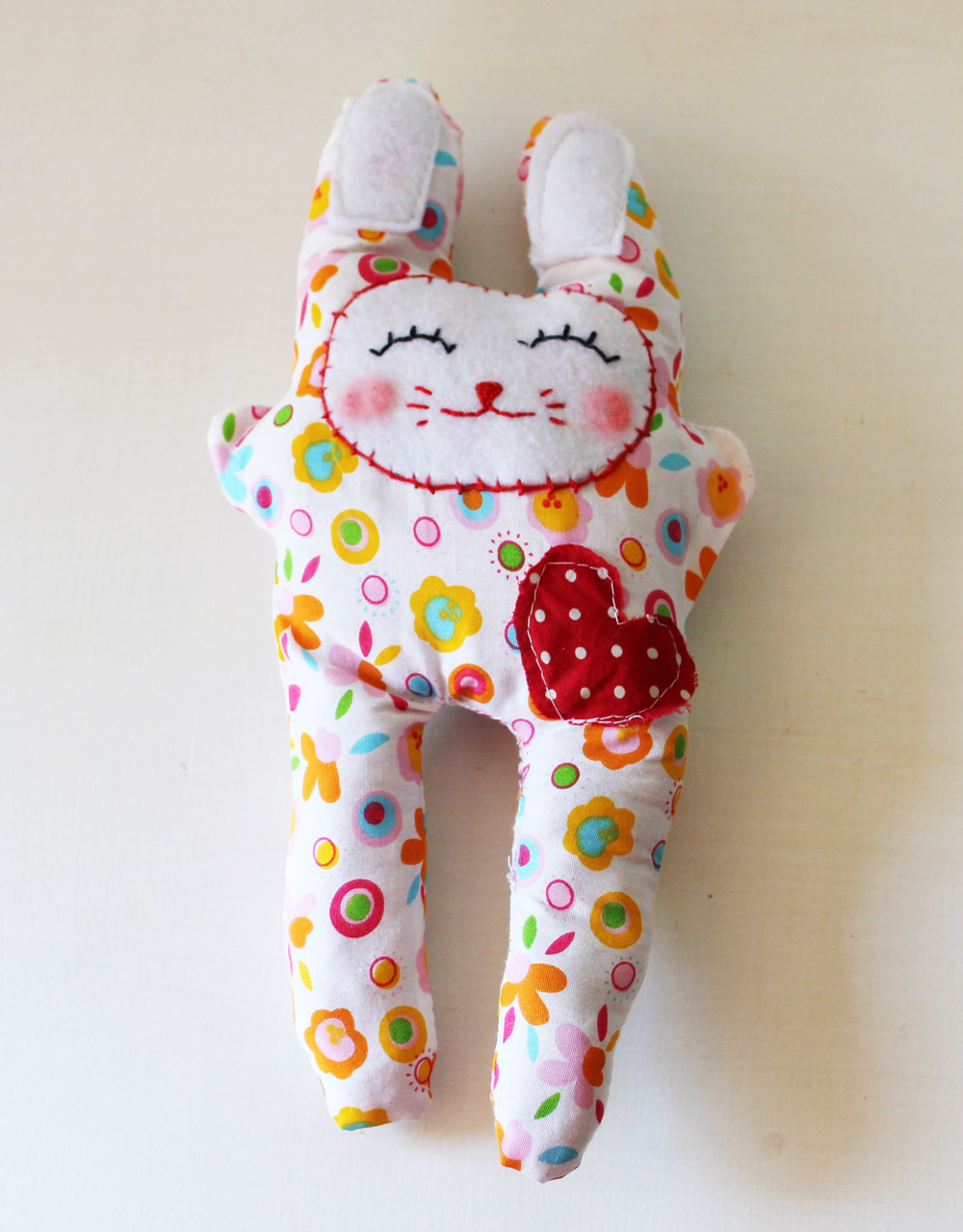 This bunny is ready for Afrodite's Easter candle.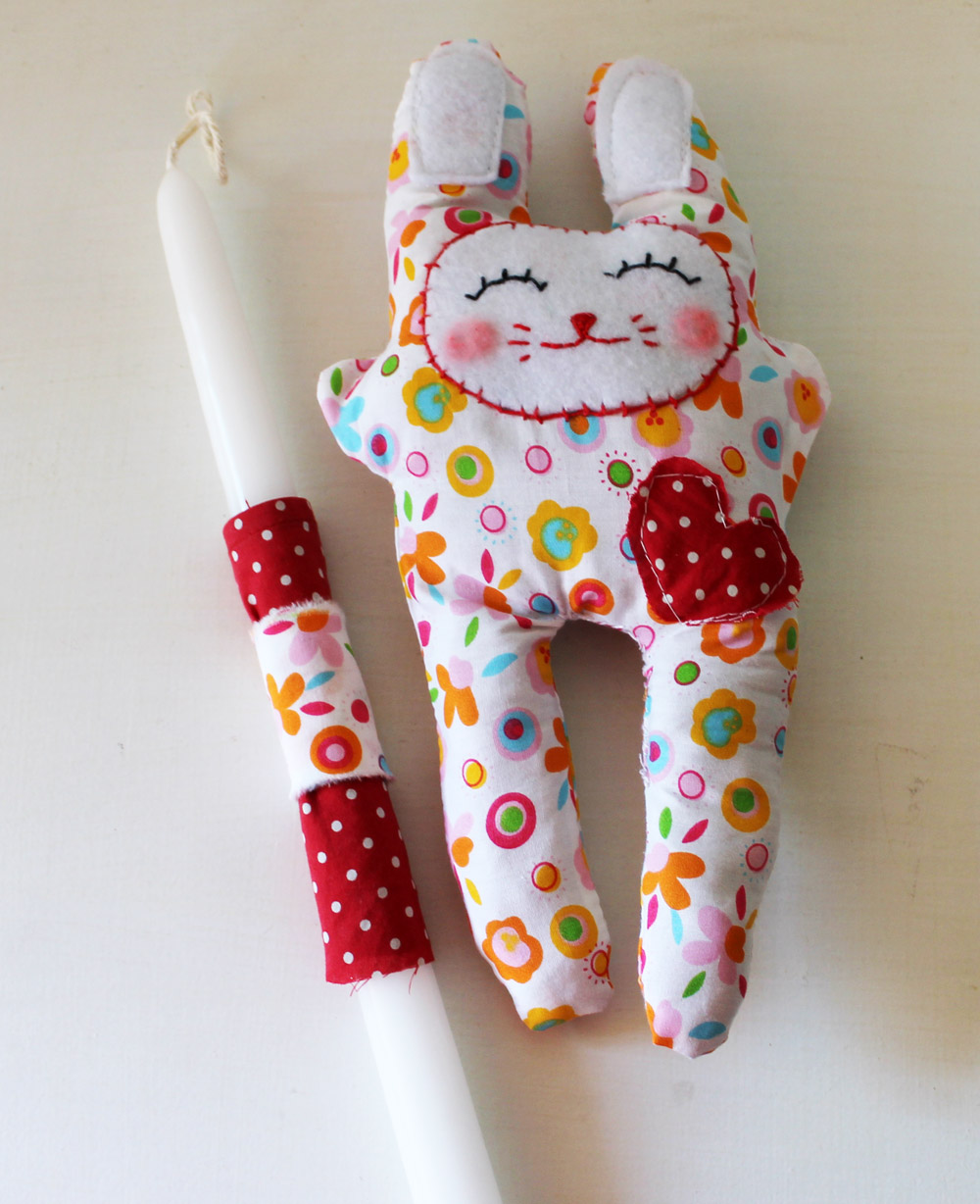 I am anxious to see if she'll like it! What did you bought your god-child this year? Do you make your own Easter candles or buy them? Let me know if you make these bunnies, I want them to get to know their family, lol!