Hello sweeties,

I am an incurable thrifter! I love to collect things and use them to make something else! Over the years, I've tried to control this urge of mine since I hate clutter. I am happiest when something I've found and brought home turns into something I can use or gift!

Driftwood is no exeption to this rule and I've had bags and bags of these amazingly handsome woods from all over Greece! This year, I decided to make them into little cute sailboats to gift to my mom for mother's day! I wanted to make something romantic for her and when I saw this on pinterest I knew I've found my next DIY!


What you'll need:

Driftwood in size and shape of your liking. I used small pieces.
White lace or any other kind you wish.
Scissors
Silicone glue and gun
Wood glue (optional)
Carving tools or any tool you have that you can use to make a whole in the driftwood.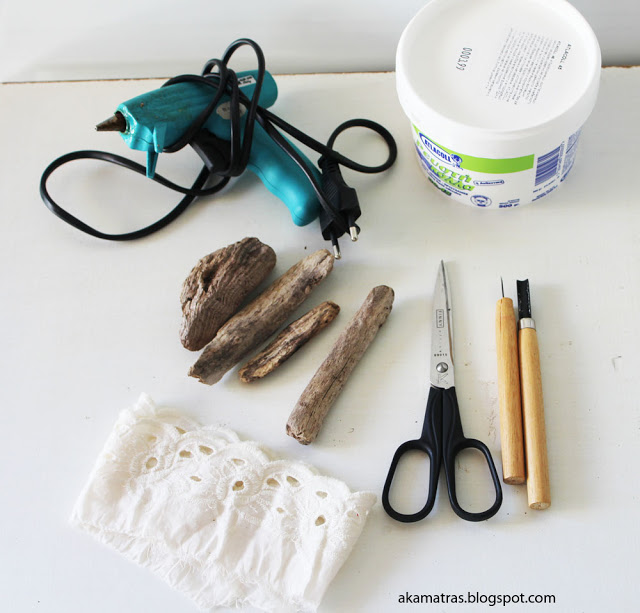 Start of by pairing your driftwood pieces. There is not really a right or wrong way to go about that, just mix and match to your liking. However you want to make sure the boat piece has a somewhat flat bottom in order to be able to stand on its own even when the other driftwood and lace is added. So make sure your boat piece can compensate the other materials' weight.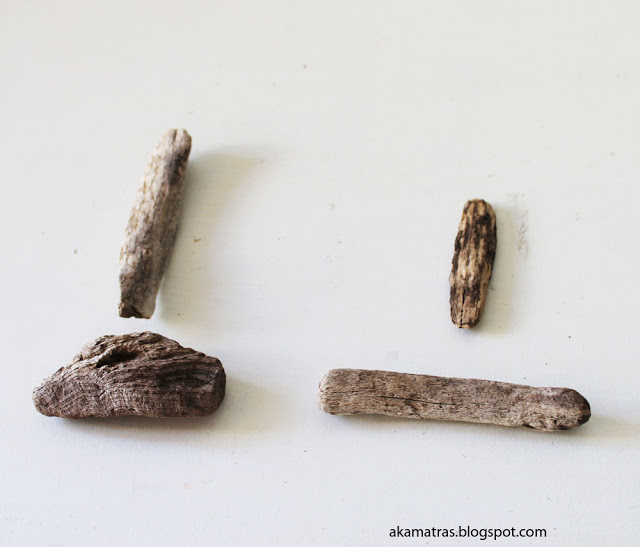 Take the piece that will serve as the boat and using your carving tool - carefully!!! - make a hole to fit the driftwood that will serve as the sail.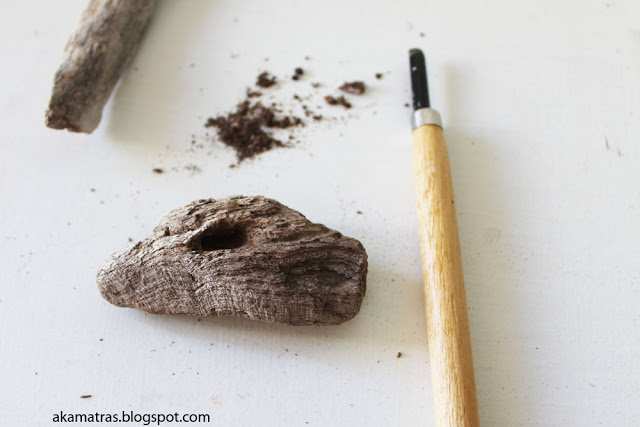 Do the same with the other pair of driftwood.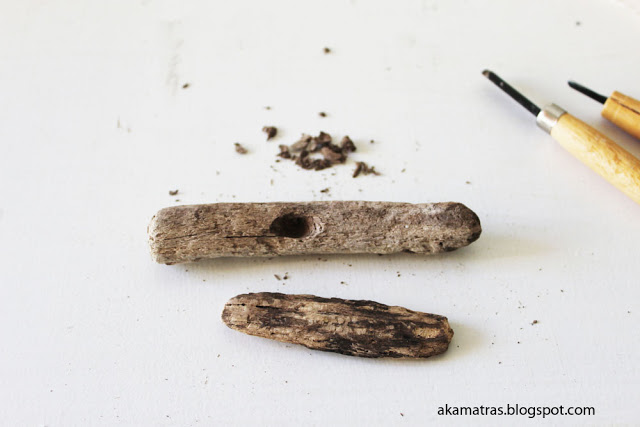 Now take your sails and push them in their respective holes to make sure they fit ok.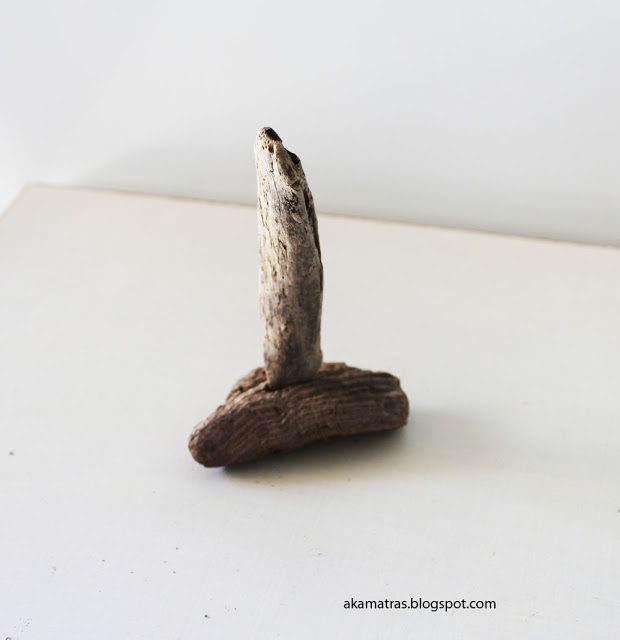 Do the same with the other driftwood. They do look great even without the lace don't they?

Now take them apart, it's time to get to the lace! Cut pieces of your lace/fabric a little longer than you sails.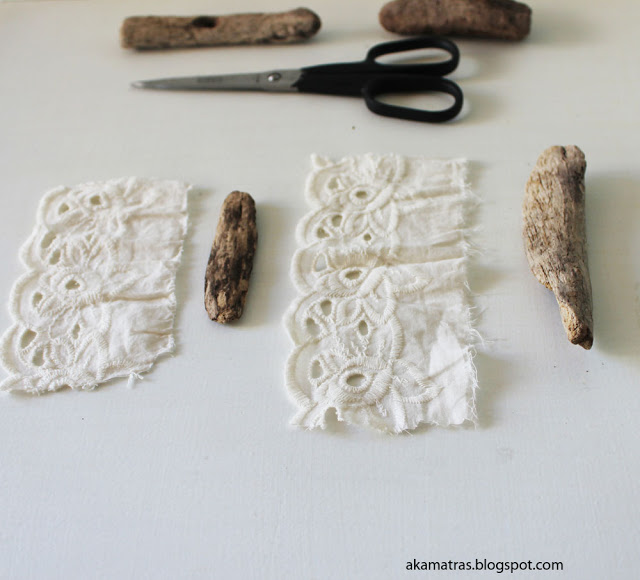 Add some glue to the driftwood and place the lace on it.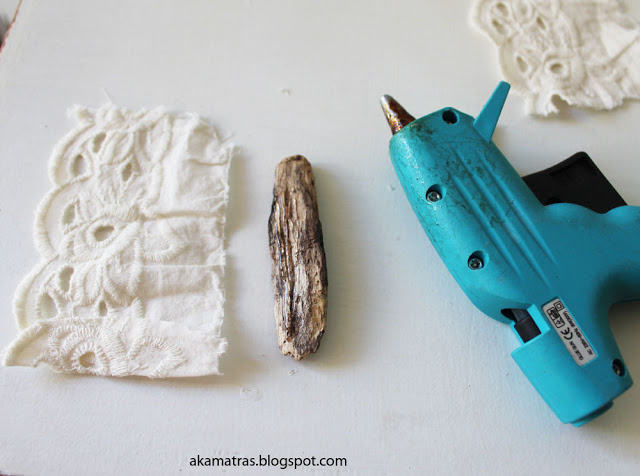 Make sure to live the upper part unglued.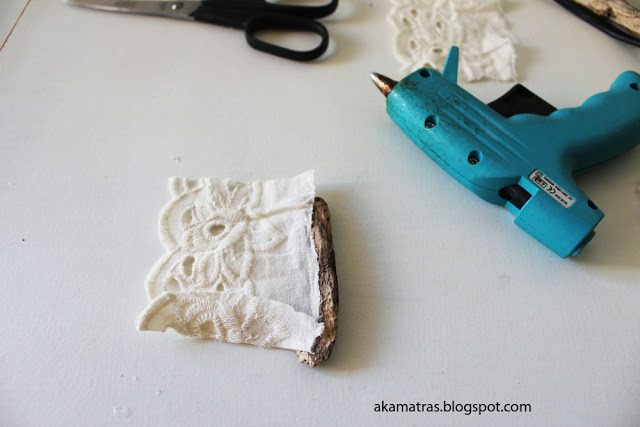 Now pinch the upper part of the lace to form some pleats and then glue it on the driftwood.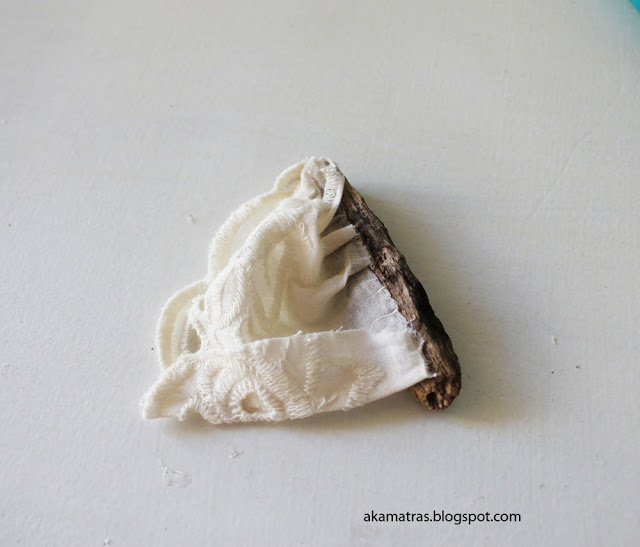 Look! You just made a sail without sewing at all!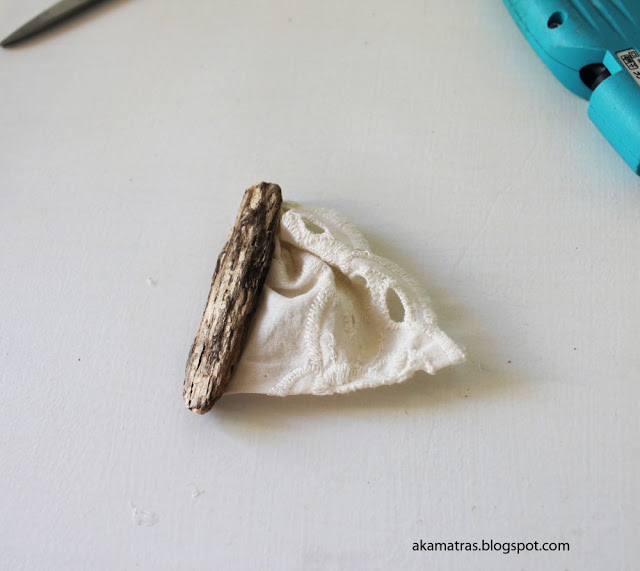 Do the same with the other driftwood and lace.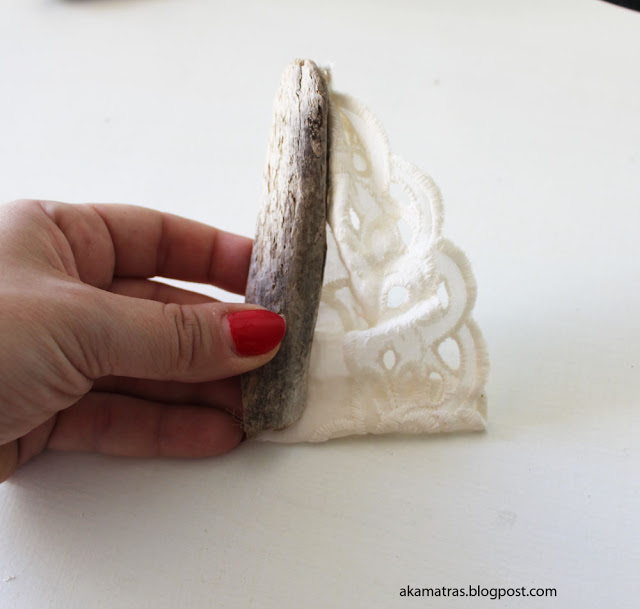 Now add some glue to the holes you've made to your boat pieces and attach the sail. Wait until the glue sets and you are ready to decorate your new sailboats!!!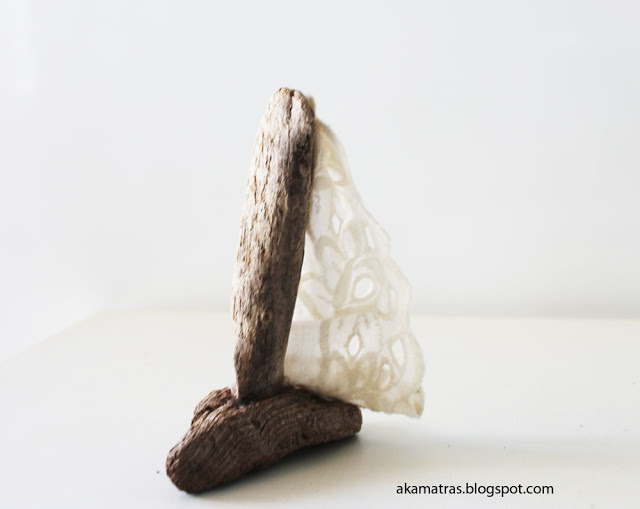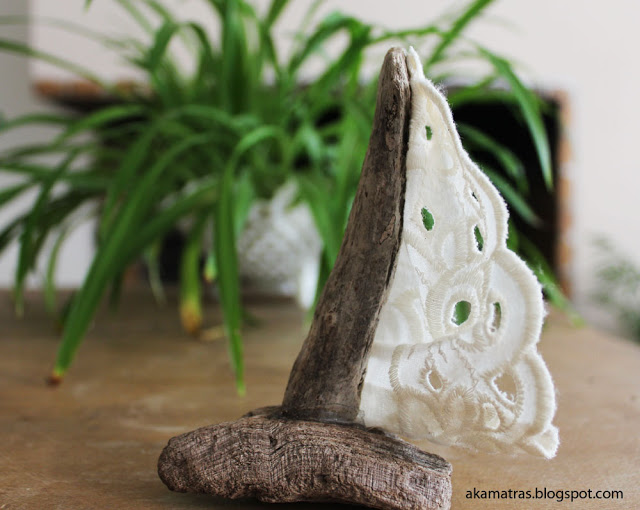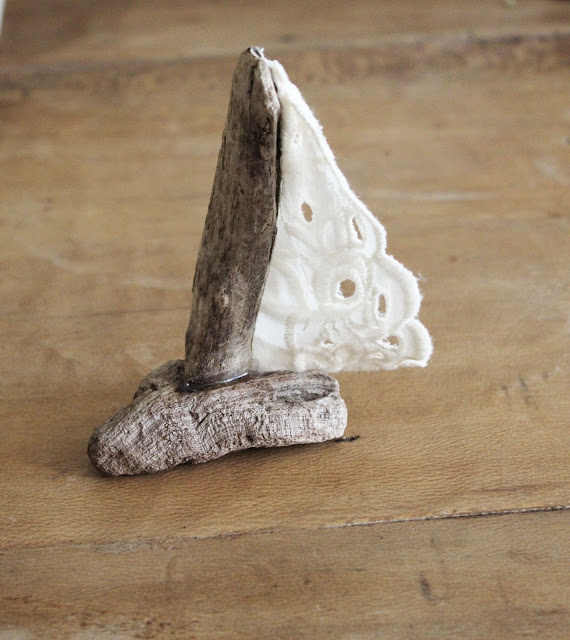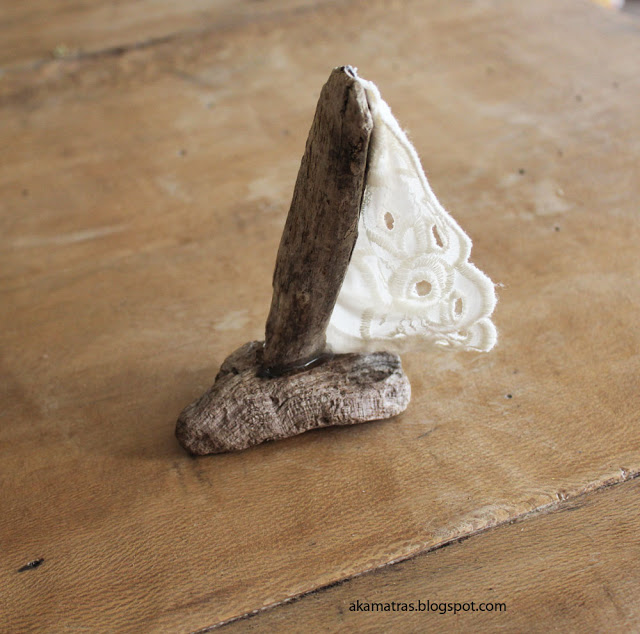 Don't they look shabby and awesome?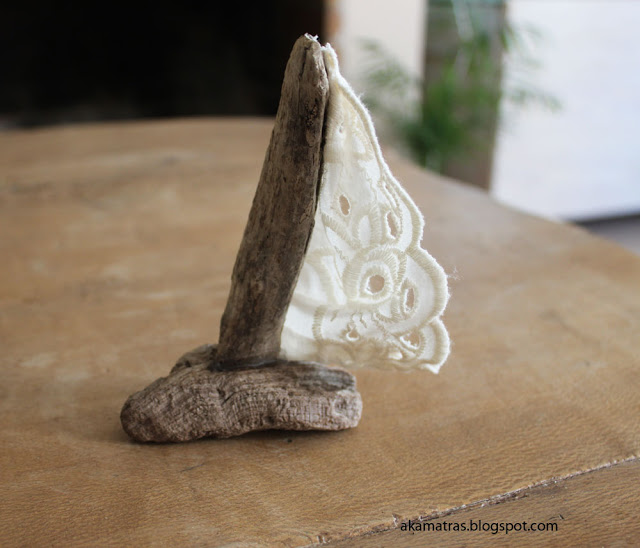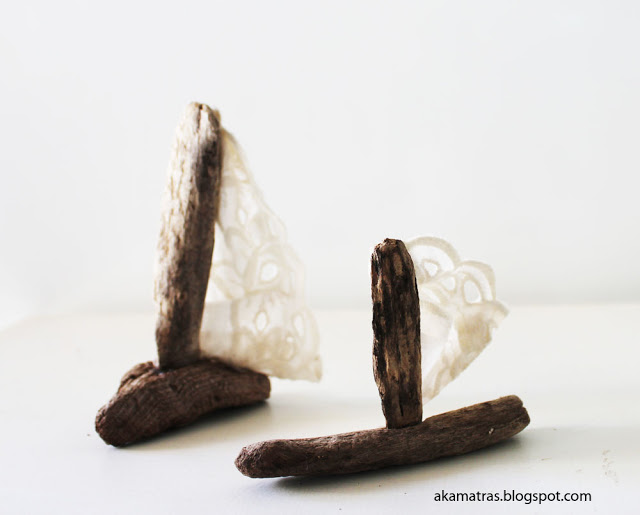 My mom loved them! She's such a good sport to all my handmade creations! She's currently obsessing over my rubber bracelets. She puts a request for one of them almost weekly! Well, who am I to say no to mom?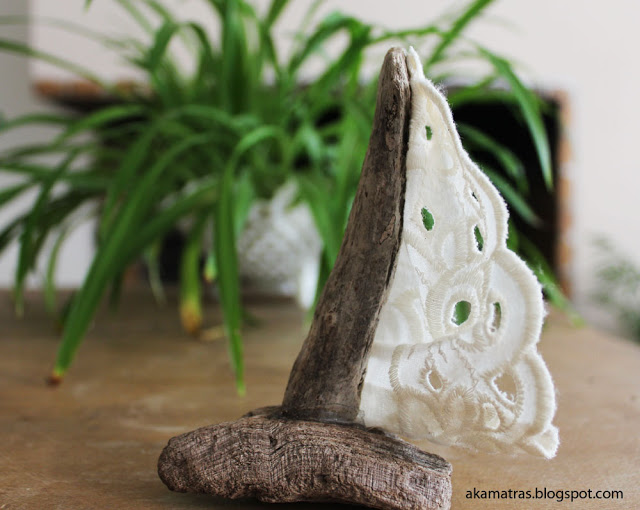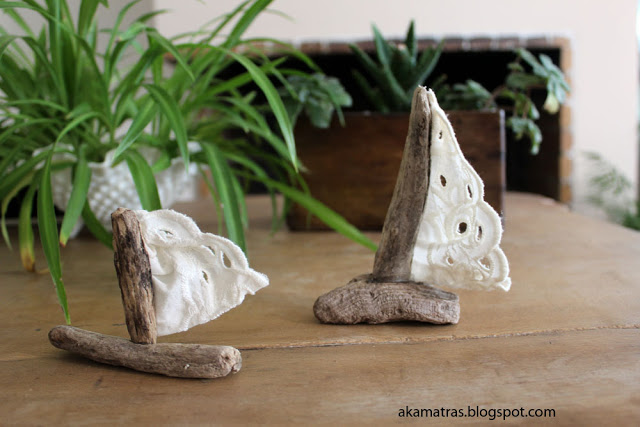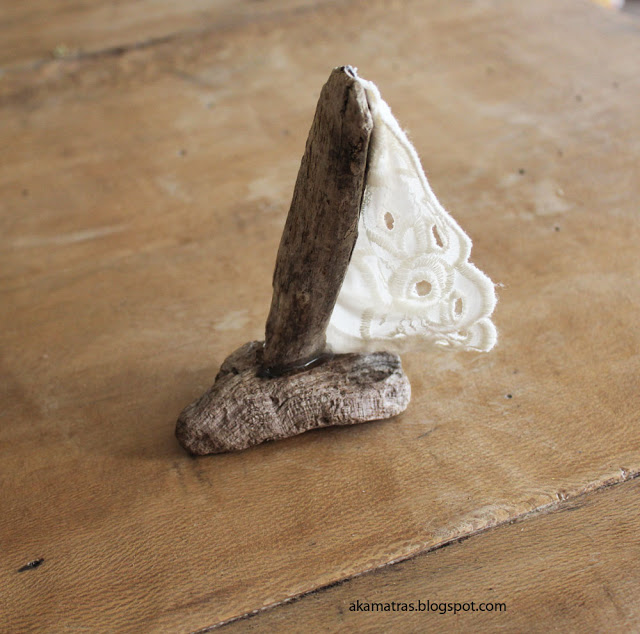 I am currently making another one of these beautiful driftwood and lace sailboats for a dear friend who enjoys the sea more than anything! I hope she'll like it!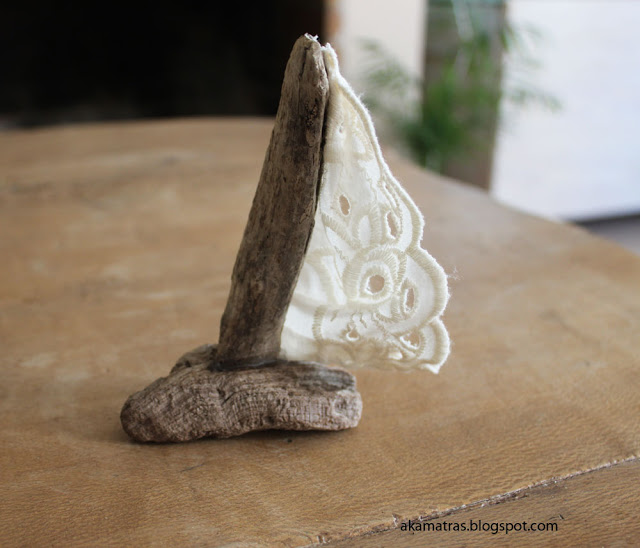 So, what do you think? Sometimes thrifting isn't as bad as it sounds right?