Hi darlings, 
I needed a new headband for my hair but this time I didn't make a leather bow one! Shocking I know! This time I decided to crochet a headband with this amazing deep orange yarn I found and fell in love with! Well, as you'll see I did make a bow (come on you guys did you really thing I wouldn't have?) but this time I made it out of denim cord!
I wrote down the pattern to share it with you in case you liked my headband and wanted to make one for yourself. It's really an easy pattern and even if you are a beginner in crochet you can do it!

Yarn. I used #034 from Julia (Steinbach Wolle). Honestly I didn't count the meters but you don't really need much.
5.5mm and 5.0mm crochet hooks 
Approximately 1m of Jeans cord. 
A pair of scissors
Yarn needle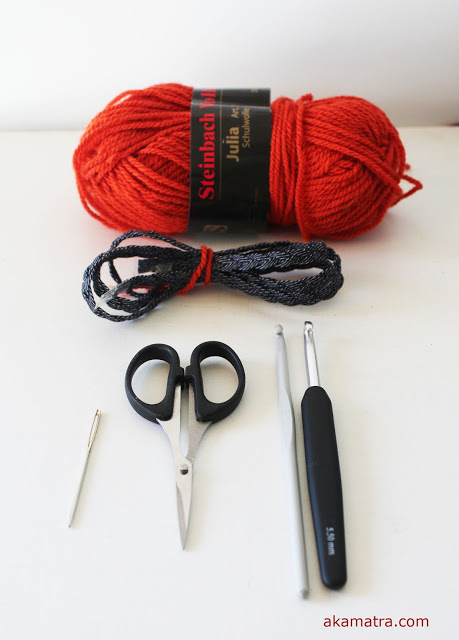 This is worked in rounds and in back loop only. 
R1: With 5.5mm hook chain 74, slip stitch to form a loop being careful not to twist. 
NOTE: This was perfect for my head, you may want to adjust it to fit yours though. Bear in mind that the jeans cord that comes in later will steal a bit of your headband's elasticity.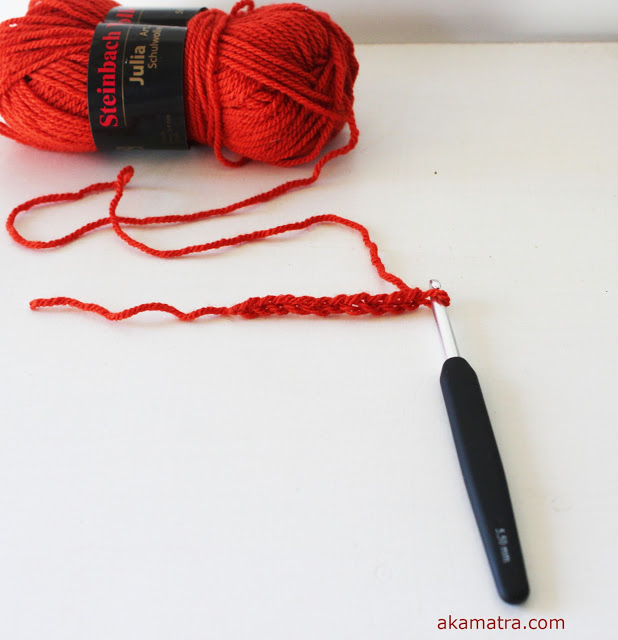 R2: Use the 5.0mm hook from now on. Ch2, hdc in same stitch and every st around. Sl st to close the round.
R3: Ch2, hdc in blo in same st and every st around. Sl st to close the round.
NOTE: The next two photos show the blo (back loop only) hdc.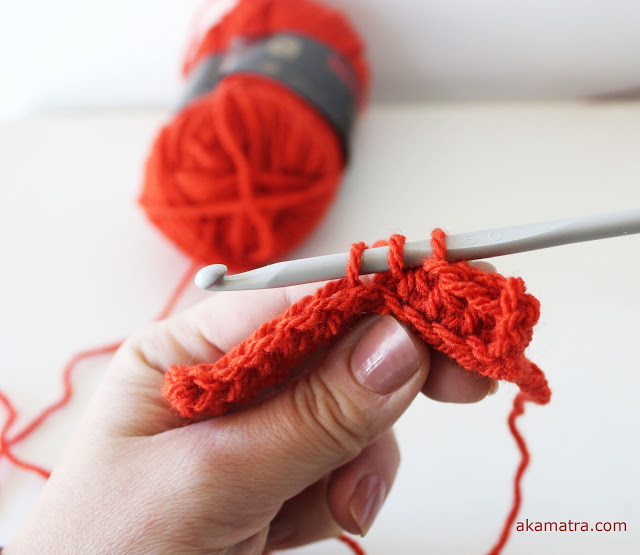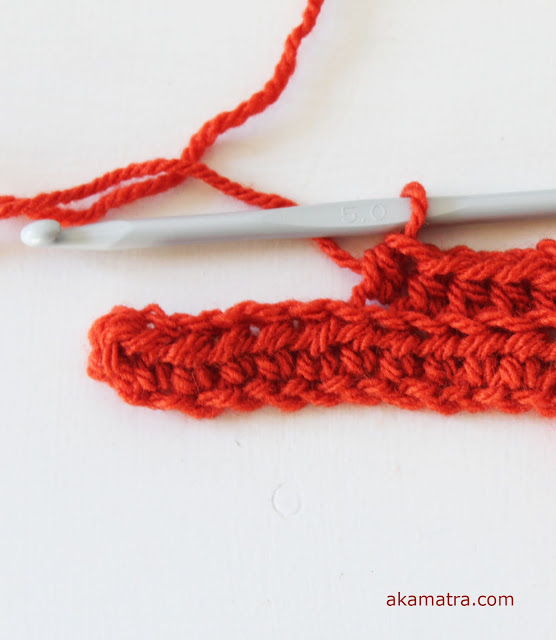 R4: Ch2, hdc in blo in same st and the 9 following stitches, then *skip 1 st, hdc in blo in next 5 st* repeat from * to * 9 more times.

NOTE: This creates 10 holes in total throughout your headband.

R5 & R6: Repeat R3, fasten off, weave the ends and cut the thread.

This is what your headband should look like when finished.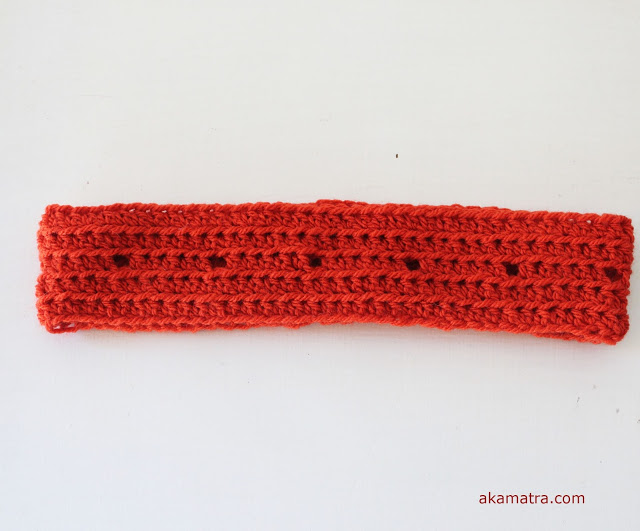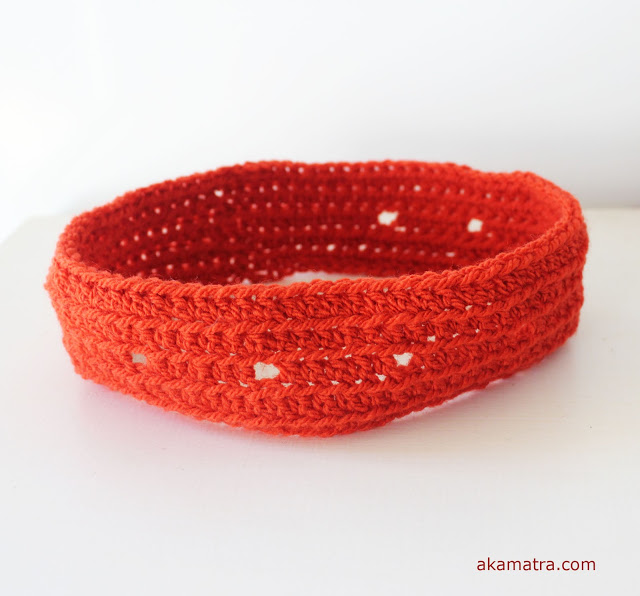 Now it's time to embellish it a little! Take your jeans cord and pull it through the holes of the headband interchanging it in and out.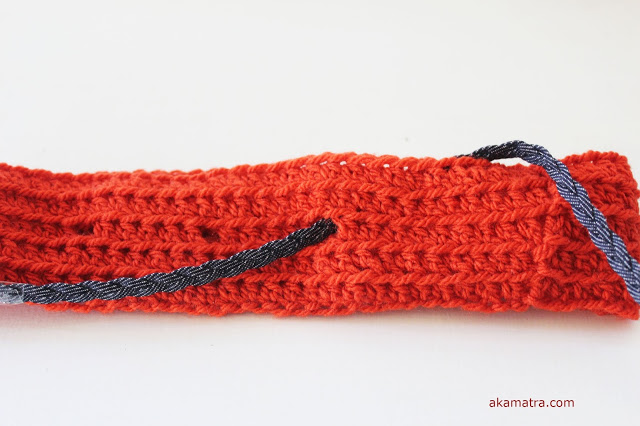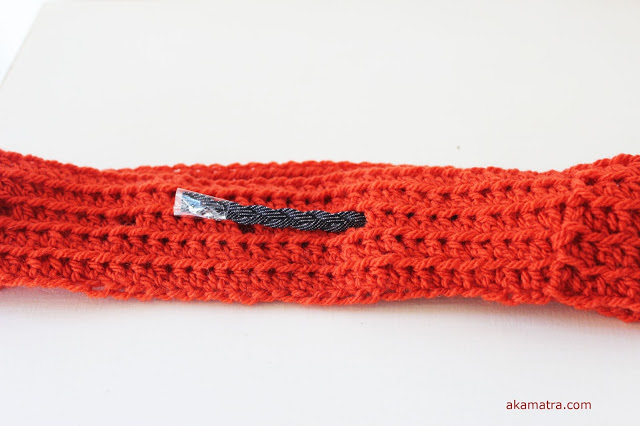 Once you have pulled it to the front the third time, leave it and take the other end of the cord and do the same at the other side of the headband.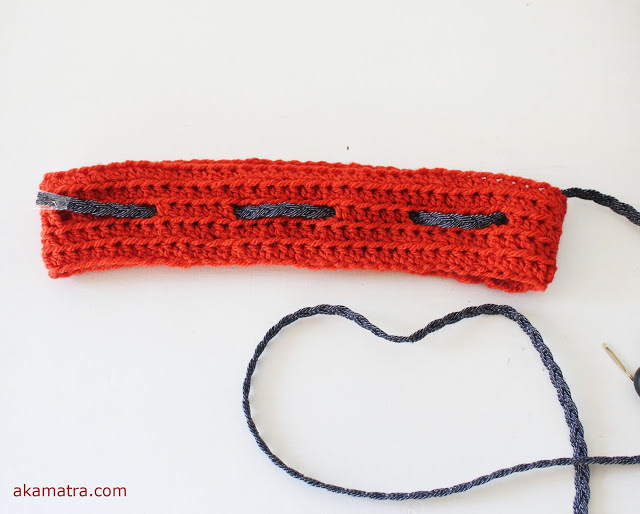 That way you'll have the two ends of the cord in the middle of the headband. Make sure the front is directly opposite to the seam formed by crocheting.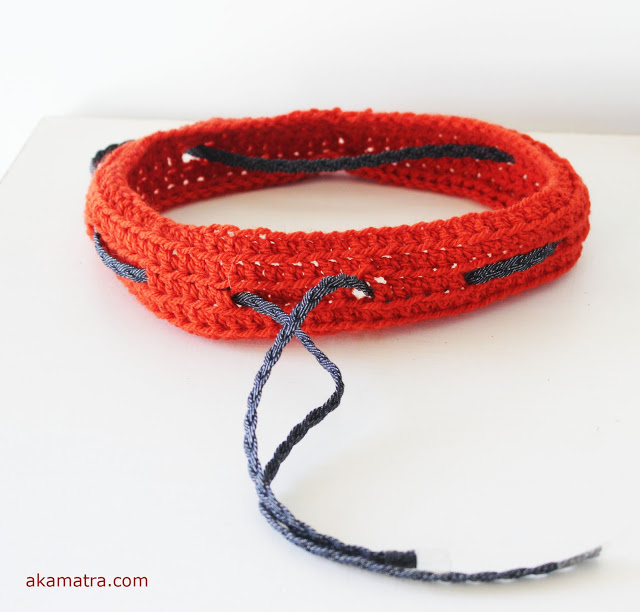 I noticed that the back of the headband created an excess of the cord to be unattached to the headband so I decided to pull it through the crocheted fabric. The stitch allows you to do that without having a hole.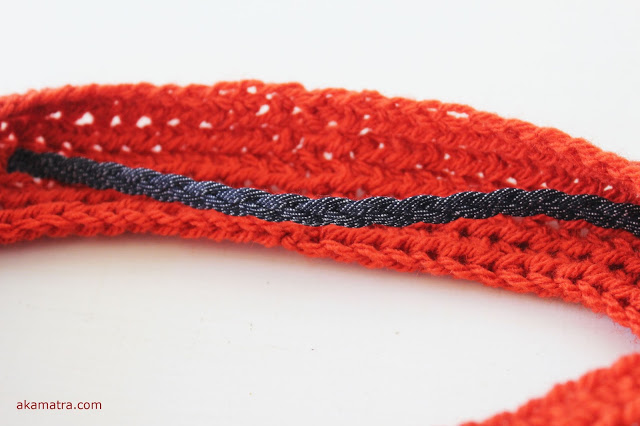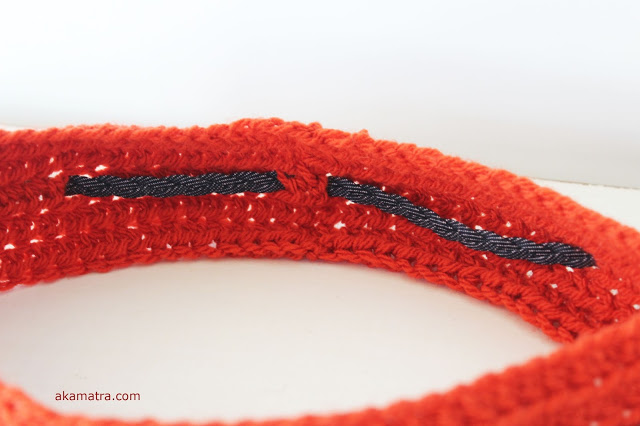 I made a bow and the headband was almost ready!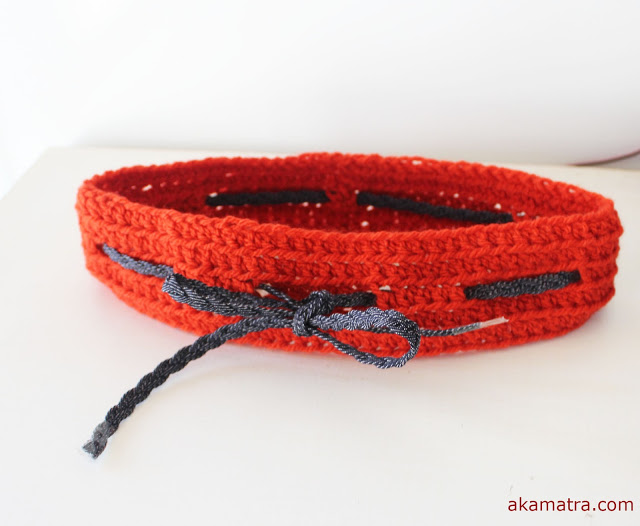 I needed something to cover the ends of the jeans cord so they would become unraveled.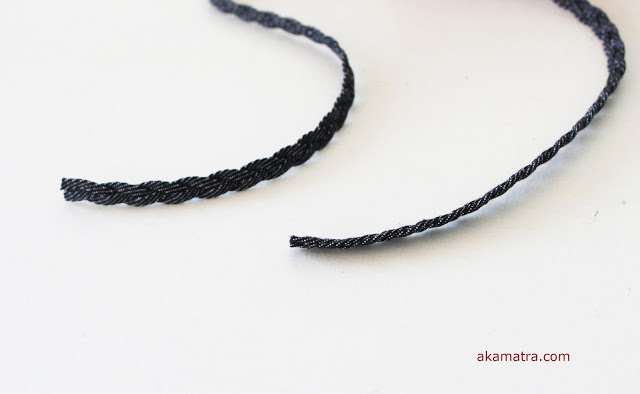 So I made a little bend and then covered it with my yarn by repeatedly going over it. I made a secure knot and I was ready.

NOTE: You may want to add a drop of hot glue there to be sure it stays put.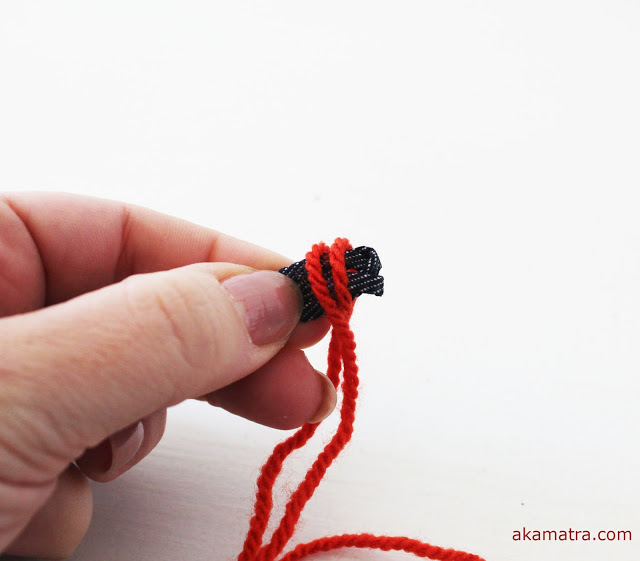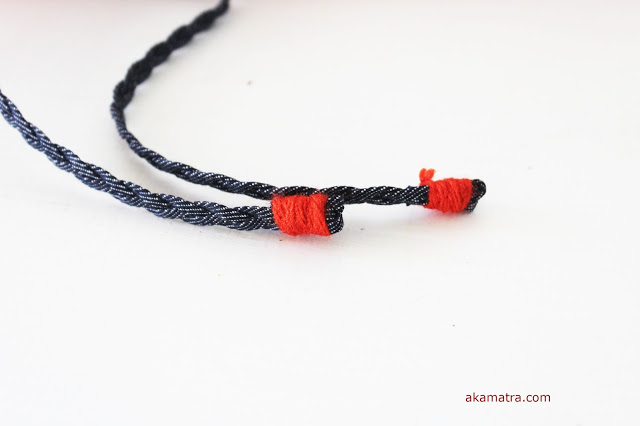 So here it is! I love the color combination, it brings to mind an older era doesn't it? A bit of rockabilly perhaps?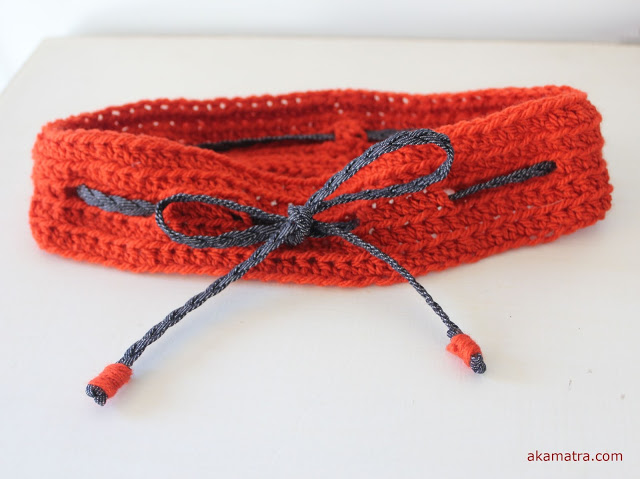 I wish I could show you a better photograph of this headband on my hair but the gods of selfies are not being kind to me, lol! That's the best I can do for now.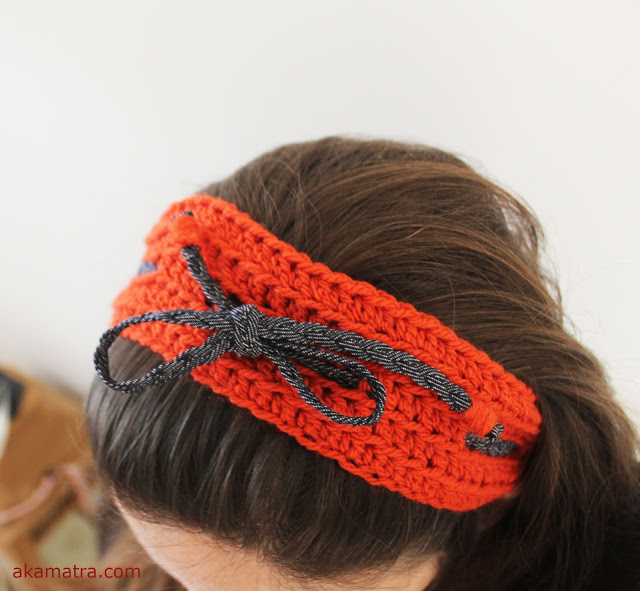 It is very cute and comfy and I really like the texture that the back loop only stitch gives! What do you say, are you going to try the pattern?
P.S. If you try the pattern out and find any mistakes, plllllleasssse let me know so I can fix them!