Hello darlings,
the weather has been frustrating to say the least these past few days. Rain and cloudy weather does not help my mood at all! It's supposed to be spring, hello? 
Since my good moods are sun-depended I couldn't stop feeling blue. On top of that everybody I know, including my family, has been down with one virus or another and I can't really visit with no one! I needed to do something to keep my mind of worrying for my family's health and being depressed by the weather. Sort of cleaning the house (again) and ironing the clothes (that would mean serious problems for my state of mind!) I decided some crafting was in order.
The other day I cut some of my beloved freesias and put them in water and the whole house smelled like spring. Nick complained that I used one of our drinking glasses as a vase and he kept on and on about it each time he saw my glass/vase. What's a girl to do with a hubby like that? You guessed right! I took my gun out! My hot glue gun that is and used it to make a vase!

A tin can (mine was from tomato sauce)
A piece of fabric
A piece of elastic lace
A pair of fabric scissors
Hot glue gun and glue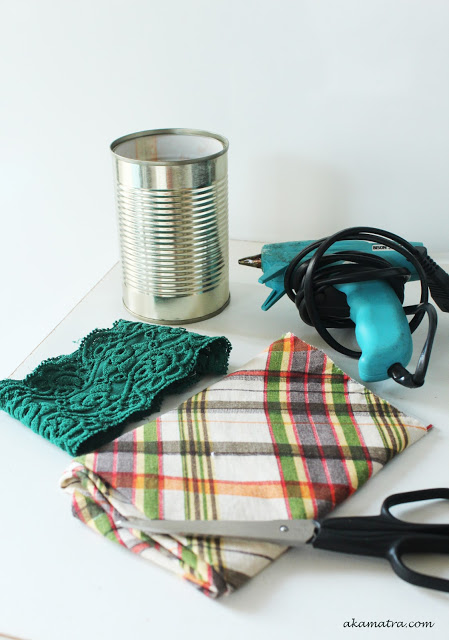 The idea is very simple and very easy to do. And I am not just saying that to cover the fact that I don't have detailed photos to show you! Unfortunately by the time I decided to start crafting the small amount of sun barely visible behind the clouds, took cover and rain started pouring down. So any attempt to photograph the procedure was in vain! 
However this is really easy to do! 
First clean you tin can inside out and remove any paper form the outside. Don't worry about the glue residue, you are going to cover it with fabric.
Then measure the circumference of the tin can and cut your fabric leaving an allowance of 1 cm in length and 2 cm wide. Fold and press the seams (1cm in each side and 1 cm in length) so the fabric wont fray.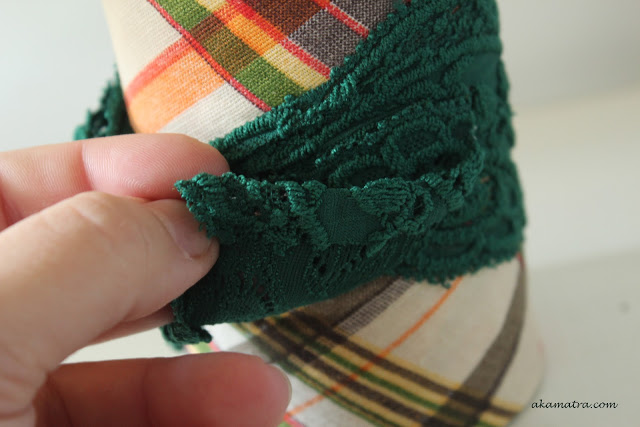 With your hot glue and gun glue the fabric on the tin. Once you finish take your elastic lace and roll it around the can. Make a simple knot and glue the remaining ends to form a bow.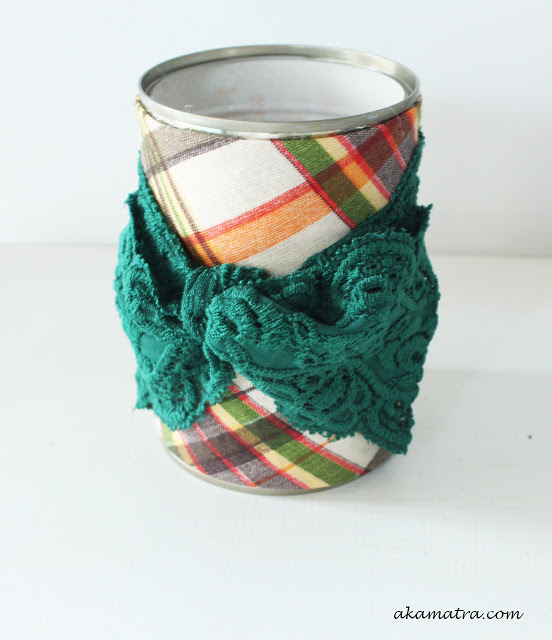 Fill with flowers and water and you are done!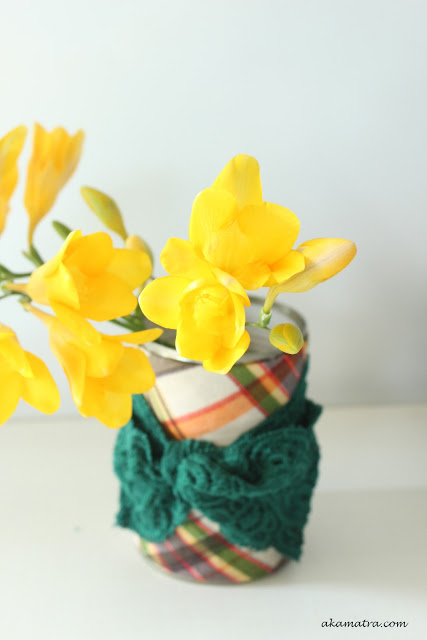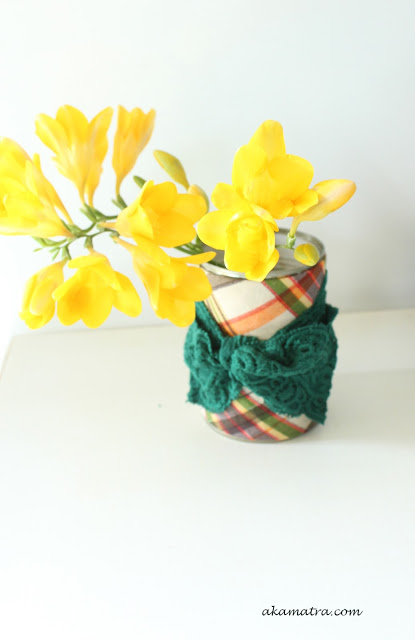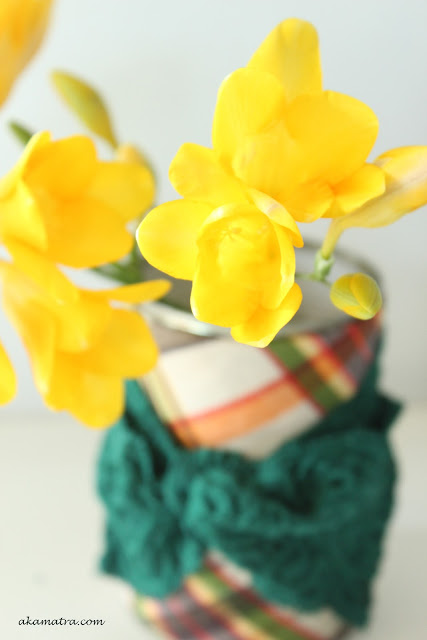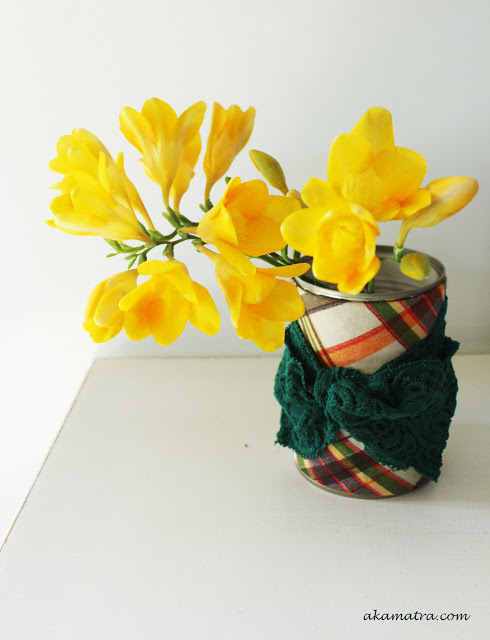 Well in my case, almost done. First I filled it only with my freesias but there was something missing. So I used my green leafs and some cape marguerite to add a splash of color. Much better don't you think?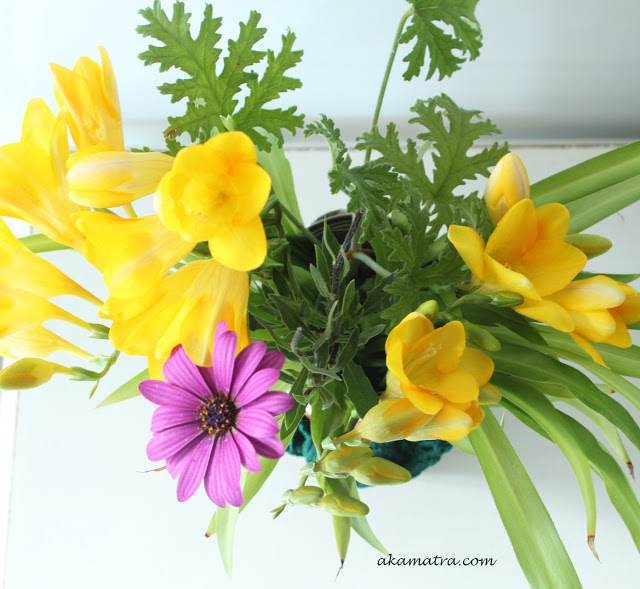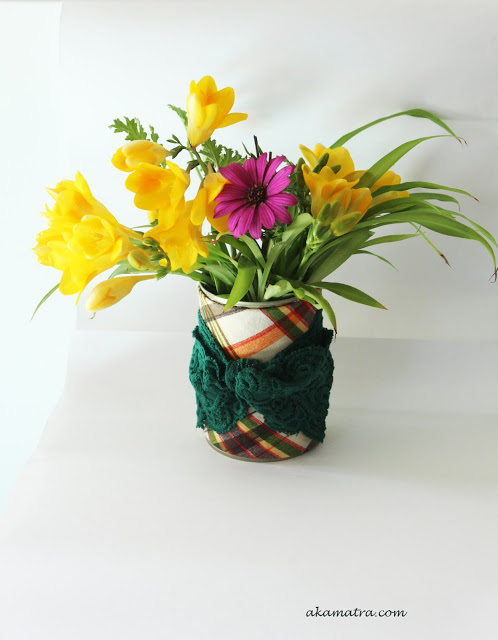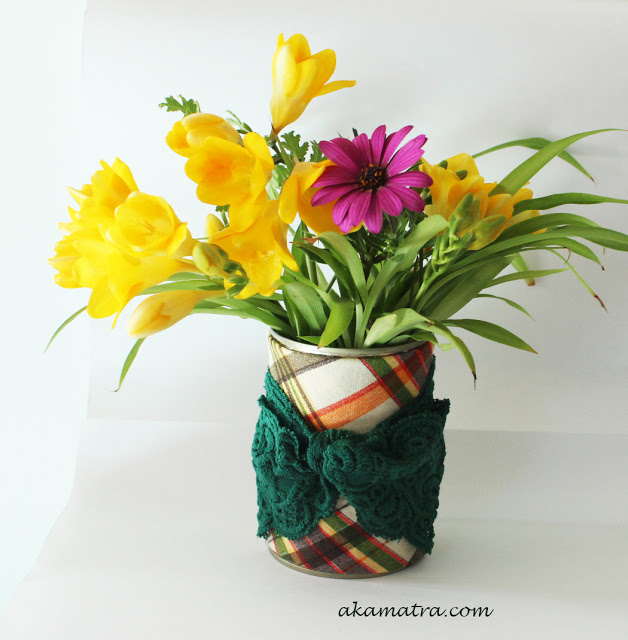 Easy right? It worked too! It lifted my spirits a little and today there was even a little bit of sun showing!
What do you do when you're feeling under the weather? What lifts you up?