Hello darlings,


if this isn't your first time here you know I am in the impossible process of moving my craft supplies to a different part of the house which I affectionately call craft room/storage. It's been a long process I'll tell you that. The room has been cleaned and freshly painted and there is a floor (but not a side cover of it) and it is empty. I need to add the selves and the hanging rods for my fabric and yarn and then a couple of furniture for my sewing machine and drawers. Not a big deal actually just needs a little coordination between me and my contractors (my dad and hubby lol!).
Meanwhile I am not sitting on the sofa filling my nails (darn it!). I re-organized every single supply I had and cleaned all my unwanted ones into boxes most of which where given away. I still have some to give to a couple of crafty friends that expressed interest but most of the work has been done! It took more the 13 days (!!!!) to clean a closet's department from my stuff! But I did it! Everything now has a place, a box, a bag, a home! Every little bead belongs with her brothers and sisters and every little jump ring is at its rightful place! Yoohoo!!!
Although really difficult and copious this process was fun too! I got to meet (again) forgotten supplies and fabrics I thought lost, I was reunited with my favorite fabric scissors (thank you universe) and I was able to file all my scrap yarn and fabric. And they were A LOT of them! Those were then moved onto the sofa where I crochet in the afternoon. And during those 13 afternoons the scrap busters got to work!
Every small piece of yarn was put into a tin box and was used to loom wall hangings with my small wooden loom.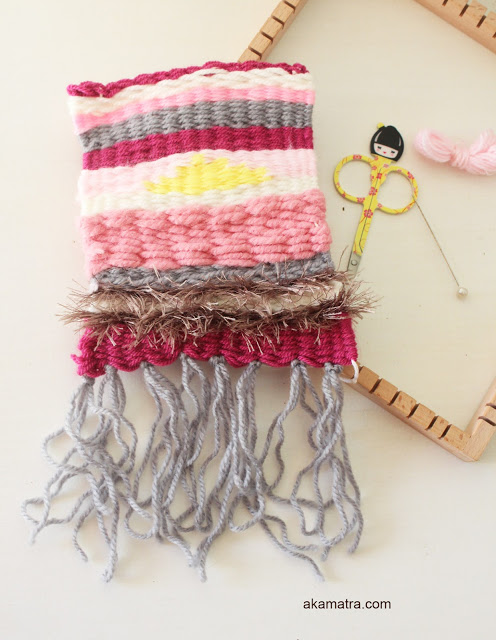 The larger yarn scraps were used to start this scrap yarn afghan in a classic granny square infinity pattern. Those 7 small balls of yarn you see on my sofa (that's my sofa by the way) are THE LAST scrap yarn pieces I've got left! How cool is that? Mini the cat already loves this blanket but I think I will keep it for the cool days in the craft room. The good thing about this pattern is that I can keep adding rows as the scrap yarn re-emerges! It may not be the most beautiful blanket but it's warm and it's recycling at its best in my opinion!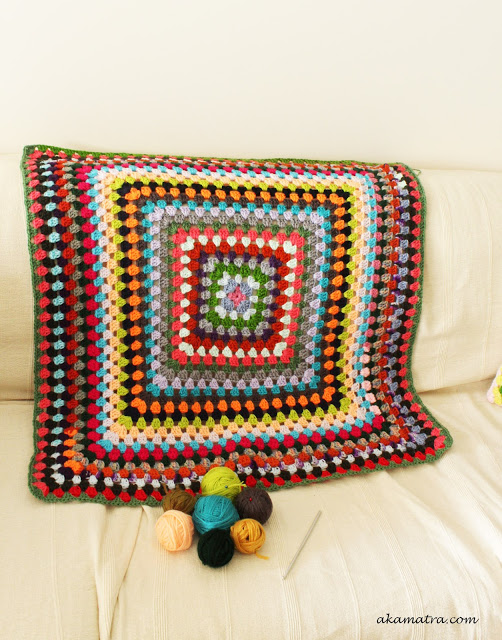 I also saved the tiny pieces of yarn ( I always do) into my designated scrap yarn jar to use as filling in my amigurumi projects.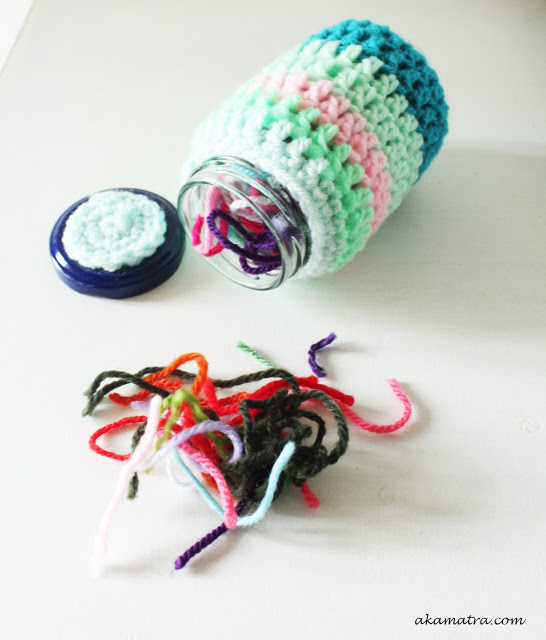 What do you think goes in these cute little owls? Lol!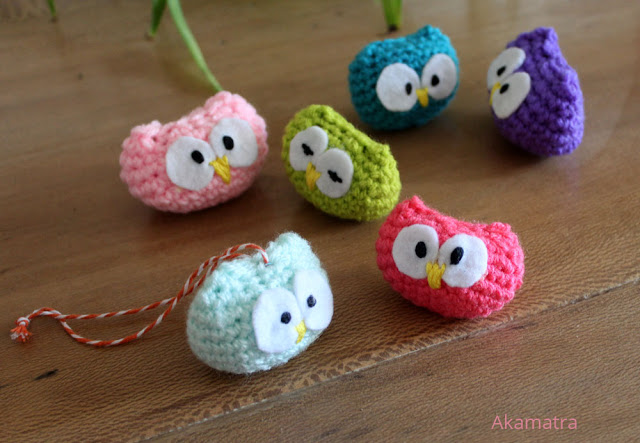 A couple of the above-mentioned afternoons were spent trying my hand at quilting. The idea started when while I was folding my fabric pieces I had to cut off some uneven pieces and throw out some very small scraps. All those went into a large bag that was filled pretty quickly. I felt really bad about throwing those pieces in the trash so I decided to try and make a large pouf ottoman and use them as filling.
So, I gathered some scrap pieces I thought looked good together and begun the painful process of putting them together. As you can see from the photo below not ONE single seam lines up with another! I don't know how you guys do it! The progress is slow at the moment but I will keep at it until I have a large piece of fabric to make the ottoman. I'll let you know how it turns out, whether success or failure, I promise! In the meanwhile, I am spending my time feasting my eyes on these beautiful quilt fabric and trying to decide what to get if my first attempt is successful!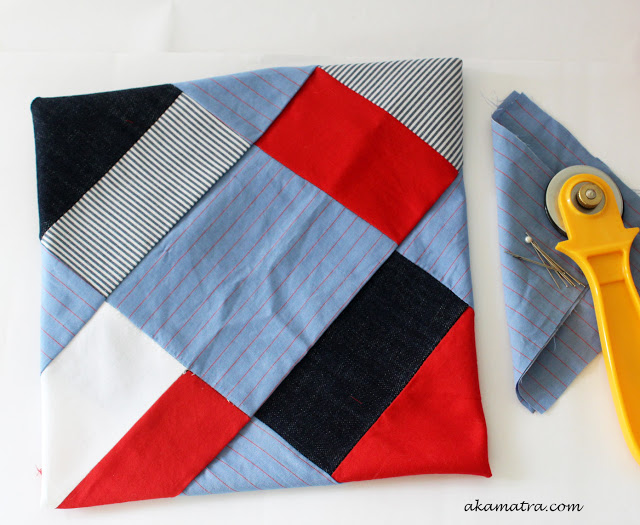 Today is day 14 and I am taking a break from my scrap busting activity to go shopping for selves! Wish me luck!!! By the way I've started a board on pinterest for ideas and solutions for my craft room, you can find it here if you are interested.
What do you use your yarn and fabric scraps for? Any idea is welcome since I am an equal scrap buster and creator, lol! 
Lot's of love