I am in a house - fixing mood lately have you noticed? Lol! I can't help it! I've been staying home for personal reasons and I've finally found some time to rethink some decoration issues and other stuff! Perspective I guess!
This is the perfect time of year to bring a little more brightness into your homes. It can brighten your mood as well as your rooms. And it can bring that little bit of extra happiness on a dull and rainy day! There are plenty of ways you can lift the gloom from your home. It doesn't require much effort to do. Best of all, they are quick and easy fixes that can all be accomplished in a day.
A deep clean can bring the whole room back to life. Cleaning the carpets will lift dirt you didn't even know was there. But think about washing down all your white woods too. Skirting boards and door frames should be brilliant white. If they're painted glossy, then bring that wood back to a brilliant shine. Minor scuffs on the walls can also be rubbed away without damage.
Of course, you may choose to repaint the walls and woodwork. Be sure to prep the surfaces well first for the best finish. This season is all about bold and vibrant hues. Pick an accent wall and go for it! Reds, sky blues, and apple greens can look amazing on your favorite wall. You might even be daring enough for a spot of wallpapering. Whichever color you pick out, make it stand out!
Light in the room will make an enormous difference to how bright it can feel. Start by seeing if you can bring any more natural light into the room. Heavy drapes that cover up part of the window should be tied right back. You might need to invest in a longer curtain pole. Venetian blinds can be used to direct the natural light up or down a little to offer different intensities and effects of the light.
Your light fittings may be antique, retro, period, or even contemporary. You can use LED Retrofit bulbs to fit any socket. This means you can bring a better quality and intensity of light into your home whatever age it may be. And you'll be making massive savings on your energy bill by using LED rather than energy saver bulbs. Use lamps to direct light to key features of your room. It may be a picture, a chair, or even the fireplace.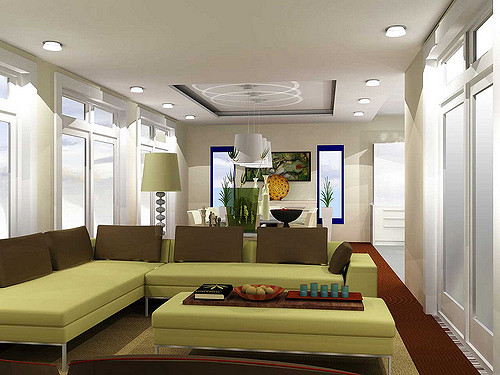 Use bright colors to help lift your room from the doldrums. You can mix and match colors in an eclectic way to maximize this effect. Or you may use soft furnishings that match your accent wall color. There are lots of options here. Some people love using just two colors plus white. But why not use two or three different shades of the same color as well? You can soon bring a lot of warmth and brightness into the room, as well as a great array of happy colors.
You can also move your furniture around the room to try out different seating plans or focal points. They say a change is as good as a holiday. You may find that moving large pieces of furniture could help brighten the room. They can often block out valuable light sources! Enjoy your fabulous new room.
I'll be back soon with yet another house related post! Stay tuned!