While everyone is loving vintage decor, there has been an outpour of love for modern too. After all, we all want a home which helps us to live our fast-paced and busy lives. And with some modern touches, this can be a reality. Therefore, here are some ways you can take your home into the future.
Go for LED lighting
 Gone are the days where you had to constantly change your light bulbs. Now everyone is switching to LEDs instead which are a lot more energy-efficient and stylish. In fact, they will last a lot longer which will help to keep your money intact. And you might even want to consider LED dimmer switches. These are great to set the mood in your room. And you can even adjust them with your phone so you can alter the lighting during a film.
Get iPhone plugs for your home
 One of the top things we use our main plugs in our home for is our devices. After all, we are always plugging in our phones and tablets. Therefore, to take your home into the future, you should get some iPhone plugs. The smart plugs easily take over the original plugs and will ensure you can charge your phone or tablet wherever you are in the house. That way, you can watch endless clips without worrying about the battery running out on you.
Consider smart heating
 You should also consider investing in a smart heating thermostat for your home. In some ways, it's like Siri on your iPhone. After all, you can ask it to turn down or increase the heating in your home. And it learns your favorite programs, so it adjusts it accordingly. And it also knows when you are not in the property, so it turns off to save you money. Also, if you forget to adjust it in the morning, you can do this from your smartphone. That way, your home will be nice and toasty when you get back from work. You can read more about this and other smart items on thesmartfuture.net.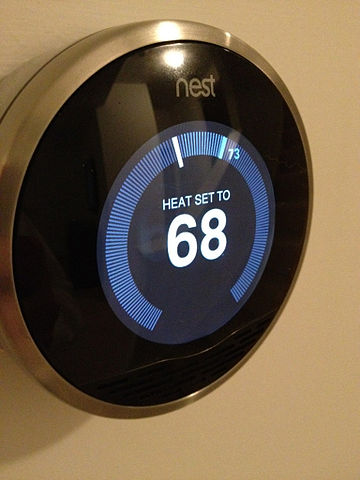 Give your kitchen a revamp
 If your kitchen is looking quite old-school, now would be the perfect time to give it a touch of the future. For starters, you might want to invest in a new oven and hob. You should go for an integrated oven which is built into the wall. It's much easier to cook and looks really stylish. Also, you should go for a touch-screen induction hob. Removing the dials makes it a lot more futuristic. And it's also known to be a lot safer than the traditional hobs. You should also look into a quirky refrigerator with a plumbed-in water system. There are many different fridges around which are totally different to the norm. And the water system will come in useful when you have your health-conscious friends over. In fact, everyone wants filtered water nowadays so it will be useful to have this in your kitchen. And when it comes to your kitchen cupboards, go black and white to give it a modern look. And opt for cupboards which have a slow-shutting feature, so they can't get damaged quickly.
And look on http://www.boredpanda.com/amazing-home-interior-design-ideas/, for some other unique features you might want to add to your home.