Hello darlings!
Many people end up staying in dull looking houses only because they consider decorating the home a costly and time-consuming affair. True as it may be, some interior designers do charge a fortune. However, no one said that you must engage a professional interior designer for you to end up with a lavish looking apartment. All you need is time and a little DIY creativity to achieve that look. I am a huge believer of doing it yourself in decor and I gathered a few of my favorite ideas to share with you!
Paint the room
A fast, inexpensive, and fun way of decorating your home is to paint it. Painting your homes is part of the home maintenance checklist so you might as well do it earlier to get that new look. With so many affordable paint brands available on the market, there is no justifiable reason for you to stay in a bare, white-walled apartment. Just grab a can of your favorite color and give the dull room an exciting new transformation. The good thing about house paint is that you can use different shades to create different moods. For example, you could decorate the living room with warm and inviting hues and select a cozy shade for the bedroom. 
Rearrange the furniture
At times, all it takes to end up with a refreshing new living room is a little furniture arrangement. If you are bored of the furniture in your house, instead of dashing to the vintage furniture store to grab a new set, consider rearranging the ones you have. You could change the direction of the seats so as to create a new focal point, for example, the fireplace. Still, if you feel like your room has too much furniture, you could consider replacing the ones you rarely use with functional pieces to generate more space. 
Install led lights
Currently, the market is awash with a broad spectrum of home lighting products. These range from the ordinary incandescent bulbs to the versatile LED lights. You can use the LED's to achieve any effect you want. For instance, you can opt for fluorescent tubes that change color from time to time or get those that come with built-in remote control settings, which you can adjust to whatever intensity you desire.
Add some plants
Surprised? Well those who read the blog regularly are sure not, since this is one of my favorite things to do to decorate. It's a great inexpensive home decor idea. Whether you prefer the live plants or the plastic type (I don't really like them but to each their own), you will have a wide selection at your disposal. In fact, even the artificial flowers like the silk faux are so life-like that you cannot easily distinguish them from the real ones unless you examine them carefully. Plants and flowers have the uncanny ability to add color and a breath of fresh air into the room.
Introduce a chalkboard in the kitchen
If you fancy spending time in the kitchen, why not make life there a bit more exciting. Identify a strategic place and set up some chalkboard paint. You could put in on the refrigerator, the wall, or cabinet. On the board, you can write your menu, grocery list, to-do list or even reminders of what you need to do. To spice it up, you could use different colored chalk pens to write on the board. I would stay away from the regular chalk if I were you since you really don't want to breath that thing.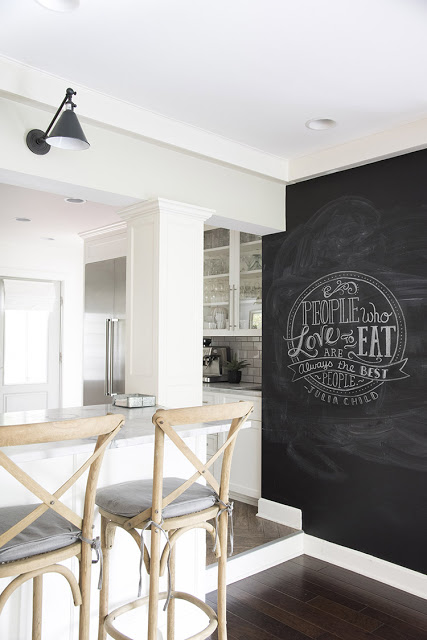 Add mirrors
Mirrors are a useful home decor that you can use to add an ambiance of light and space. They exist in a variety of shapes, textures, colors and styles to suit any person's decorative needs. Moreover, you can use a mirror to create whatever theme you desire whether it is a contemporary, country, or a vintage look. A likely place where you can set up the mirrors is on the bathroom walls, to make the room eye catching and stylish.
Decorate the floors
Do not let your floors depict a boring and mundane look. Take the time to upgrade those unsightly tiles and ugly carpets with new ones. If your concern is the high cost of area rugs, it will be comforting to learn that you can get equally beautiful large bath rugs at affordable prices from many stores. In fact, from these stores, you can even get bath mats made from fake fur, which is not only slip-proof but also easy to maintain.

Lot's of love