Hello darlings!
I've made a lot of amigurumis the last couple of years with the baby and all but I still hadn't made any monsters! I love monsters and even more so since I've seen the Monsters Inc movies and I thought it was time to make some!
Today I am sharing with you my Split Personality Monster Amigurumi Pattern. Hope you'll enjoy it!

As any serious crocheter knows, not all yarns are the same. And you are totally allowed to have favorites. In all honesty there are only a few yarns I don't like. However there are a bunch that I totally love! One of my gorgeous sponsors, SheepandWolves sent me two skeins of a cotton yarn perfect for amigurumi projects and I discovered yet another brand I adore. 
Catona 50 by Scheepjes in coral and lilac. 
A little bit of yellow, green and white *cotton yarn.
A 3.0mm *crochet hook
Four 8mm safety eyes
White felt
Scissors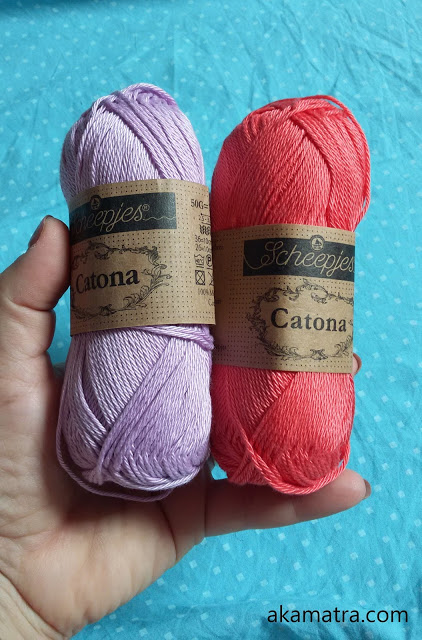 I need to warn you about my photos. Since the little loaf of bread has taken up all of my free time, the only times I crochet is when she is sleeping in her stroller when we are at the park. Thus, most of my photos are of bad quality taken with my phone, on my leg, while pushing the stroller for the kid to sleep (Yes she needs to be moving to stay asleep and yes once I stop she wakes up, everybody and their mother has asked me that, do they think I didn't try it? Ugh!). Anyway, in this post you will see my magnificent (not!) photos of my leg and of my kitchen countertop too. I am sorry and hopefully I will get back to my regular photos as soon as the kid is 18 years old :)



ABBREVIATIONS
In US terms.
MC= magic circle
SC= single crochet
SL=slip
ST=stitch
CH= chain
HDC=half double crochet
DC= double crochet
INC=increase 
DEC=decrease
The pattern is worked in spiral, no need to join at the end of each round. 
Monster's Heads/Feet
With coral color yarn make the following, three times:
mc
R1: 6 sc in mc (6)
R2: 2sc in each st (12)
R3: 1 sc in first, 2 sc in next repeat arount (18)
R4-R9: sc around (18)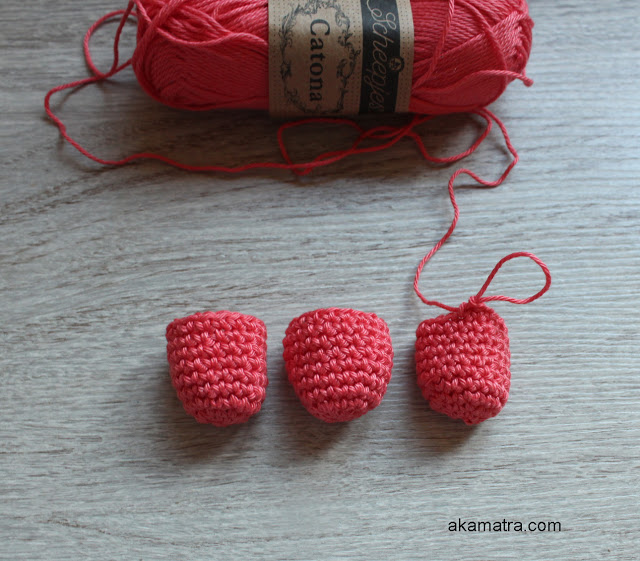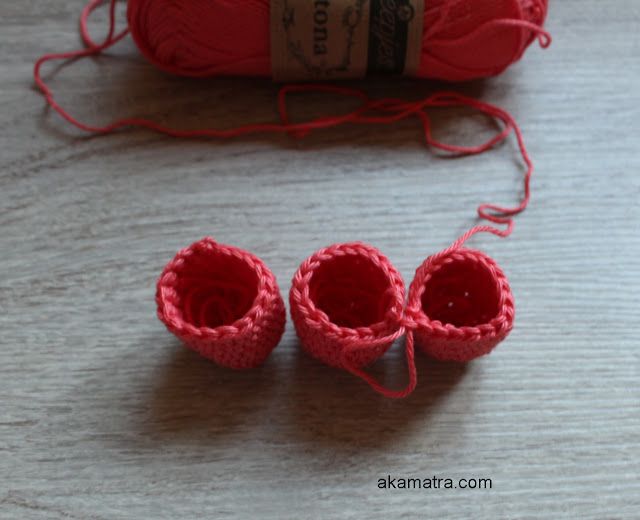 Monster's Body/Head
R10: You are going to join these three together and create three legs (or three heads from the other side) then you are going to crochet around the larger periphery. After joining I ended up with 58 sts
R11-R15: sc around (58)
R16: change color to lilac and sc around (58).
R17: *sc to next 6 sts, dec in next*, repeat from * to * 6 more times, sc in last two sts (51)
R18: sc around (51)
R19: *sc to next 5 sts, dec in next*, repeat from * to * 6 more times, sc in last 2 sts (44)
R20-21: sc around (44)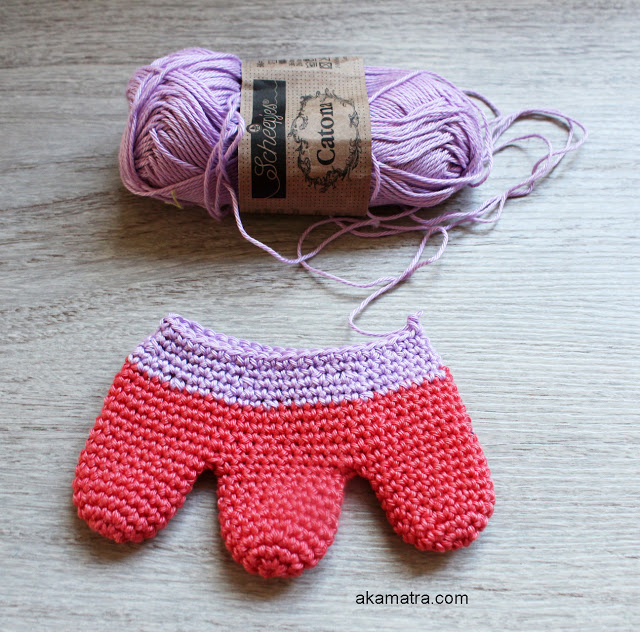 R22: *sc to next 5 sts, dec in next*, repeat from * to * 5 more times, sc in last 2 sts (38)
R23: sc around (38)
R24: *sc to next 5 sts, dec in next*, repeat from * to * 4 more times, sc in last 3 sts (33)
R25: sc around (33)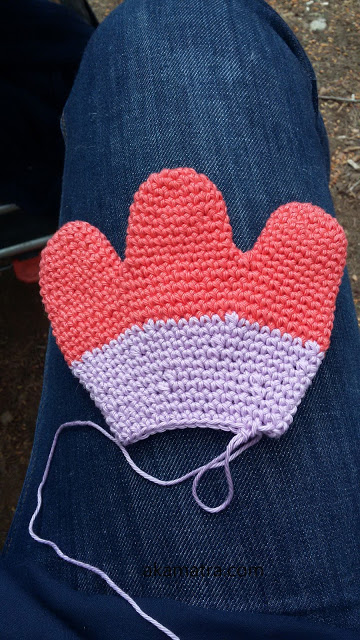 You will get something like the one above (notice the denim leg gently pushing the stroller in the park, lol!).
It's now time to add the eyes and embroidery to our monster. I use safety eyes and felt and double check everything before I give it to my baby as well as after each time I wash them. Please use safety eyes with caution when it comes to babies!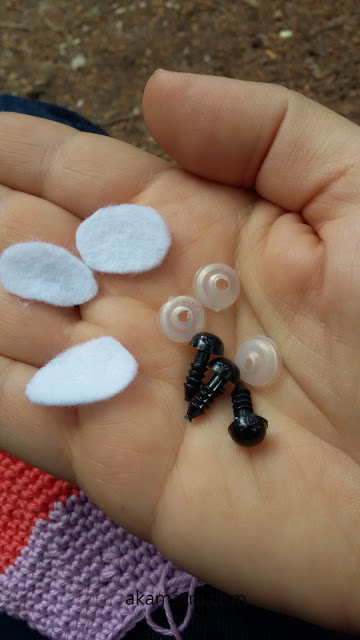 I cut 3 small oval pieces of white felt and make a slit in their center.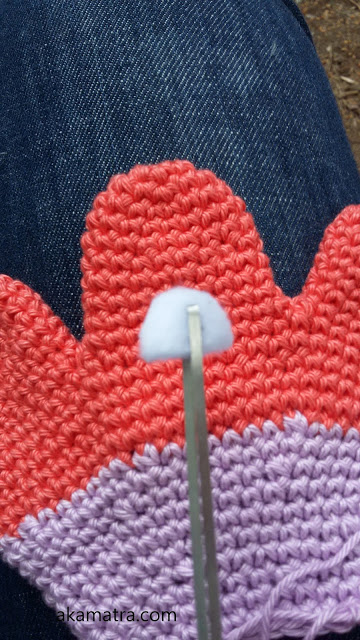 I push the eye through the felt and through the crochet fabric and secure with the back piece.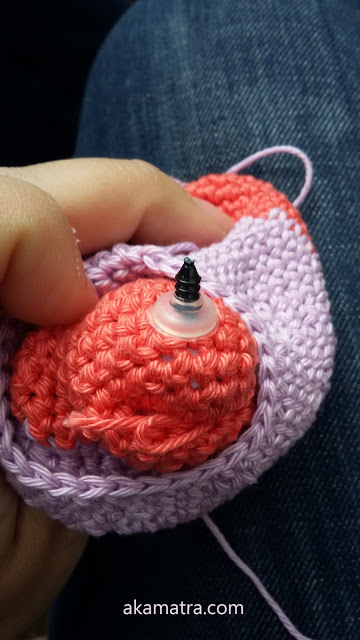 Do the same for the other two eyes.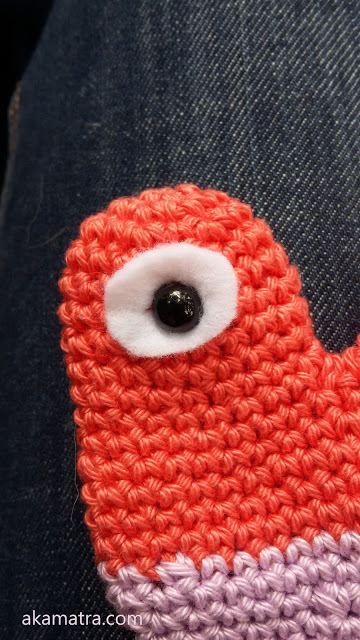 For the larger eye on the other side of the monster I crocheted a small circle (mc, 8sc in mc, 2sc in each stich around) and I put the eye in its center. You can also use felt for this eye too! I just wanted them a bit different that's all.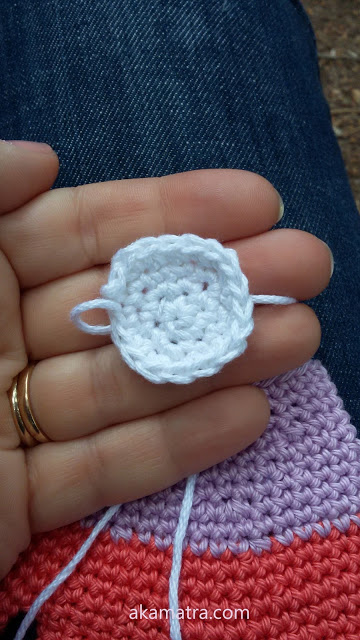 Here is the placement.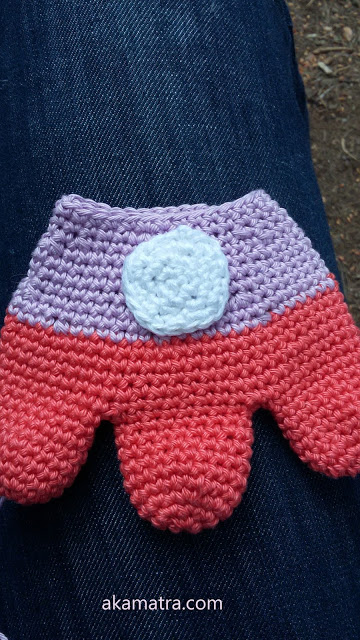 And here is the finished eye.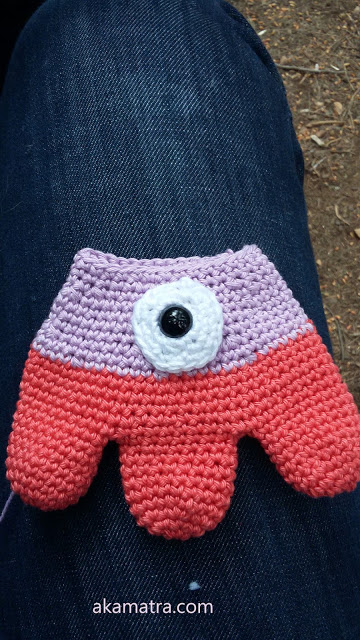 I then used a piece of yellow yarn to embroider two mouths on the monster.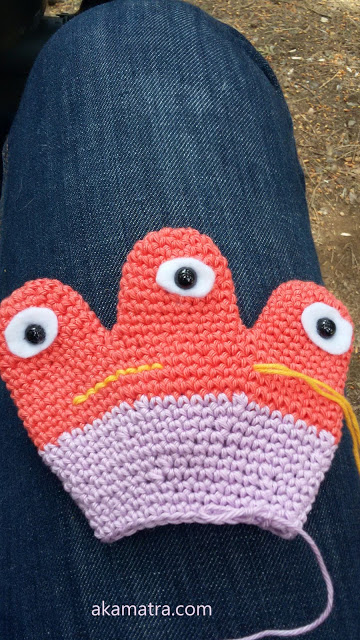 For easy and even embroidery just use the sc as a marker. I push through one and pull out at the end of the stitch if this makes any sense.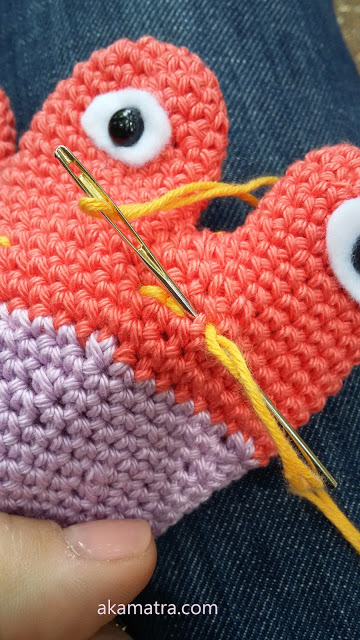 I did the same for the one eyed face.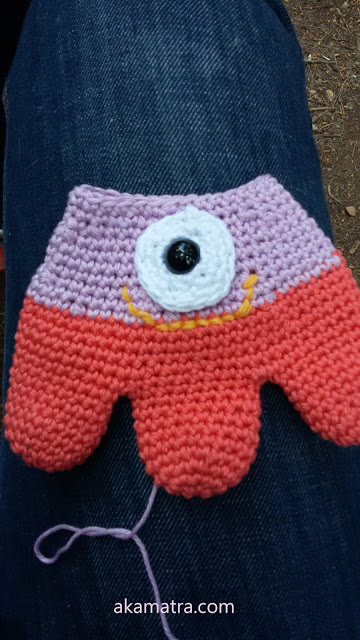 Once you finish with the eyes and mouths, it's time to fill the body.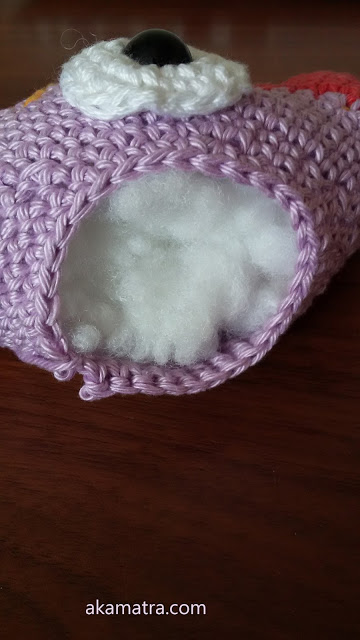 And finally it's time to close the top. There are many ways to do so but in this case since I wanted a pointed top (or leg in the other case) I just did the same thing over and over again without counting rows and stitches. I just did a dec every four single crochets. If you want it in a row it would be:
R25 - end: *sc to next 4 sts, dec in next*, repeat from * to * until you have 3-4 stitches when you stitch them close.

Then I added the hair (or tail) using a few strands of green yarn. 
Ready!!!!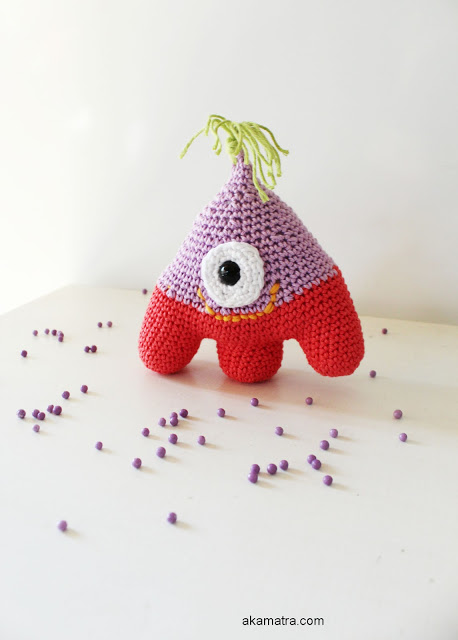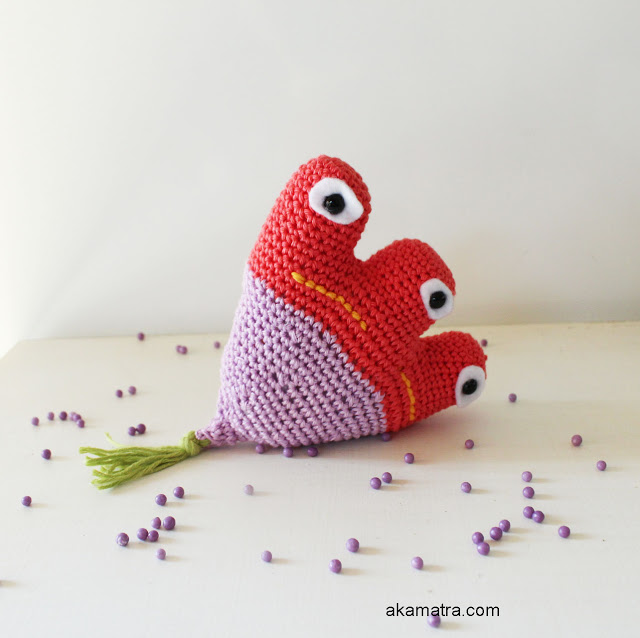 I also made a friend for my split personality monster. I will share the pattern in a future post!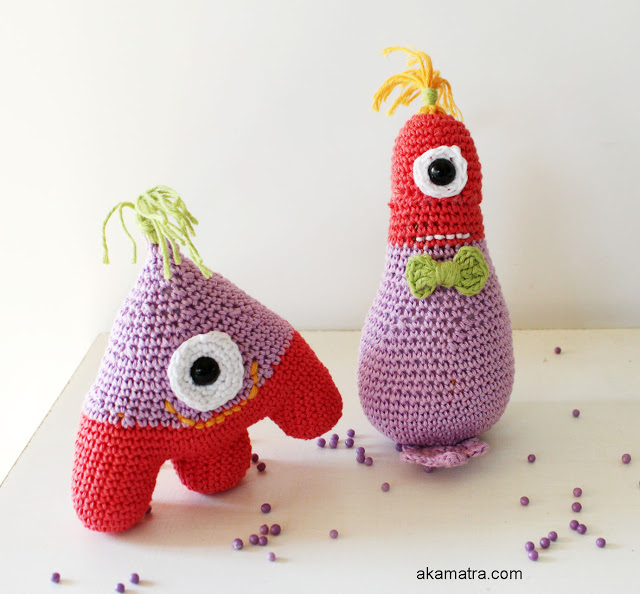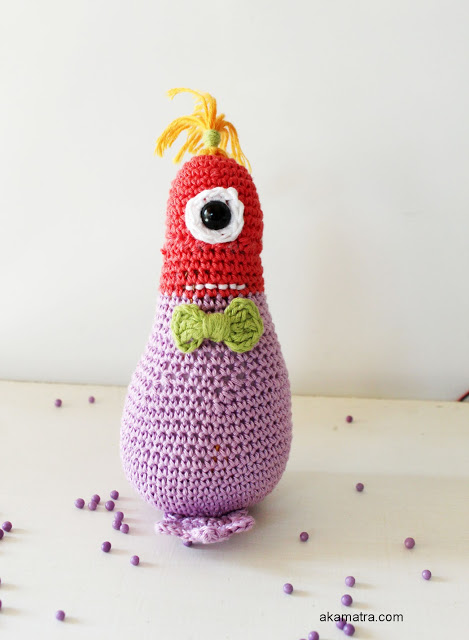 My kid loves to play with these cute monsters! How do you like them?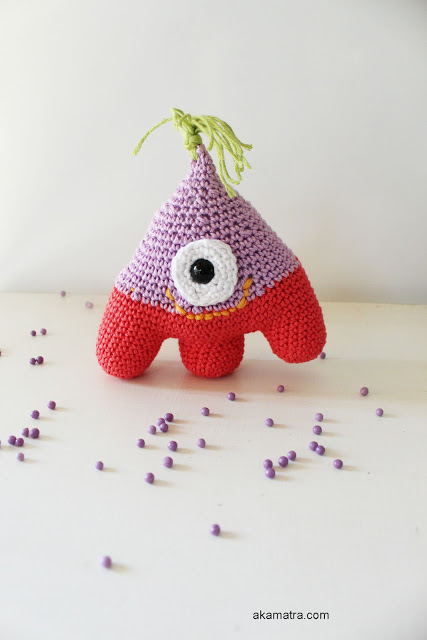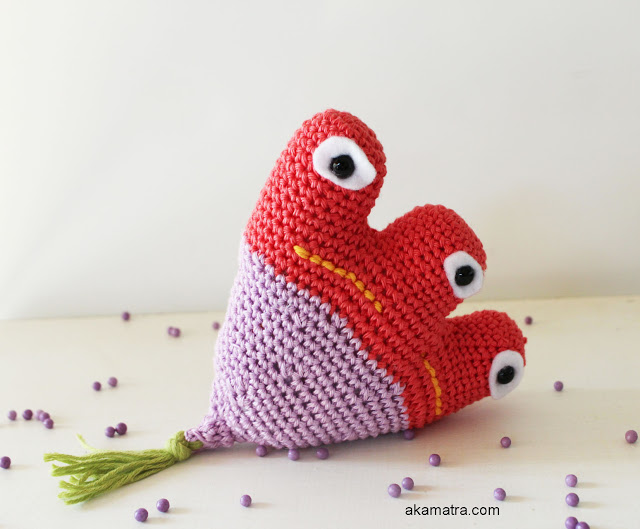 If you decide to make my monster please share your photos on my facebook page. I'd love to see them!


Lot's of love