Hello darlings!
Despite the fact that I will be returning to work in a few short days (ugh, I don't even want to think about it!), it is still really hot here and summer isn't going anywhere. During these hot days of a waning summer, what could be better than a comfy backyard design that invites you to relax with a cold glass of lemonade?
Unusual, quirky backyards are a big opportunity to create a more inviting home, one that you shouldn't miss if you have the space.
 So, from structures to plants to furnishings, below are some ideas that will spruce-up your outdoor spaces, but before we get into it, let's keep on thing in mind…
Choose a style and stick with it – nothing says "lazy planning" like clashing design styles that are all around the place. The moment the mind and eyes start wondering to make sense about the message the space is sending, the tranquil feeling you should got for is out the window.
That doesn't mean that you shouldn't have fun and experiment. It means that the pieces that are bold and experimental should be temporary and easy to remove if they are not a good fit.
Seating
Seating plans for most backyards are your good ol' run-of-the-mill patio set.
You know…a standard table and 4 to 6 chairs in whatever shade you can find. But there are also ways to creatively create seating for multiple guests.
Inflatable furniture and air mattresses are fun ways to make people at home in your backyard.
How about a movie night for the kids before school starts?
Inflatable furniture is a fun, cheap way to plan unforgettable nights like this. It belongs to the group of removable pieces you can freely experiment with to add some pizzazz to the space, even if it's just for one night a month.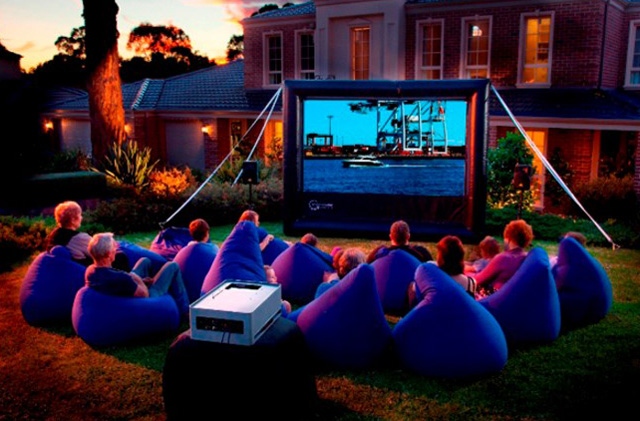 Line up a series of air mattresses or inflatable in front of the screen to simulate cars at a drive-in movie. Inflatables are comfortable and fun, and can be deflated and stored away when the party is over – when planning for a fun movie night, you can go wild without it affecting the long-term plans you have for your yard.
Choosing the right inflatable pieces
Choosing a good air mattress or chair for occasions like this comes down to balancing out the cost of the inflatable vs. your plans for using it.
Chances are, once you've experienced the joy of a summer night like this, you'll want to repeat it – so find the middle ground and go with pieces that won't deflate or puncture on the first night and yet, won't dig deep into your wallet.
Going with inflatable chairs is probably the more practical way to do it – they are cheap and you can have the whole set up and down in 10 minutes.
As a ball-park, the price range for a good twin or queen-sized air mattress will be somewhere between $50-110.
Or, work seating into your landscaping…
A low retaining wall makes a great bench when it's finished with smooth capstones.
The benches should go to the more remote areas of your garden, under shade trees or trellises.
This attracts the eye and will draw people to various places in your yard. Not only is it inviting, it will help to ease crowding on the patio or deck.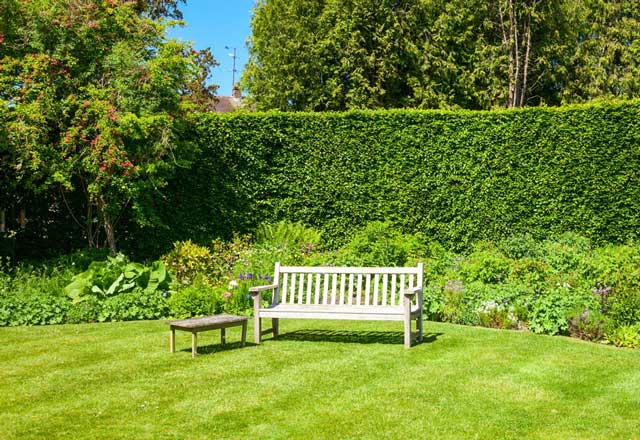 Fire Pit
As the heat of a late summer day gives way to chilly evenings, introducing a source of warmth becomes and increasingly good idea.
Doing it with style usually makes a fire pit a must. There's no more luxurious way to do it.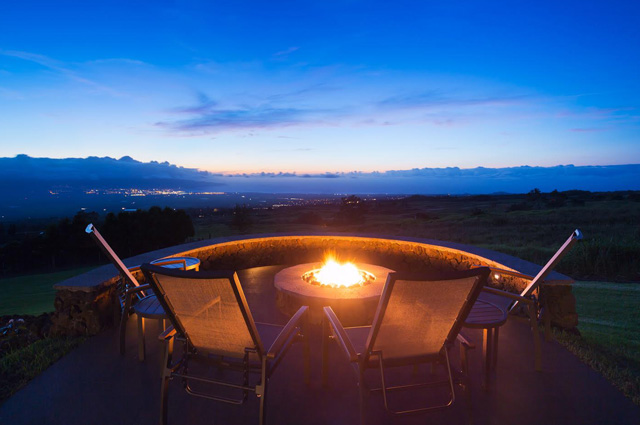 Maybe you want to build a for-real fireplace outdoors, with a mantle and everything…
Or, maybe you want bench seating around a raised pit in the corner of the patio. These are usually made of stacked stone.  Another great way to bring a spot of warmth into your backyard design is with a fire bowl. Just make sure you can roast marshmallows to go with your lemonade, and everything is better.
Water Feature
We've brought fire into the backyard, now let's bring in water, a personal favorite of mine (and no, it's not because I am an Aquarius).
You don't have to break the bank on a water feature – although if you can, it certainly pays off!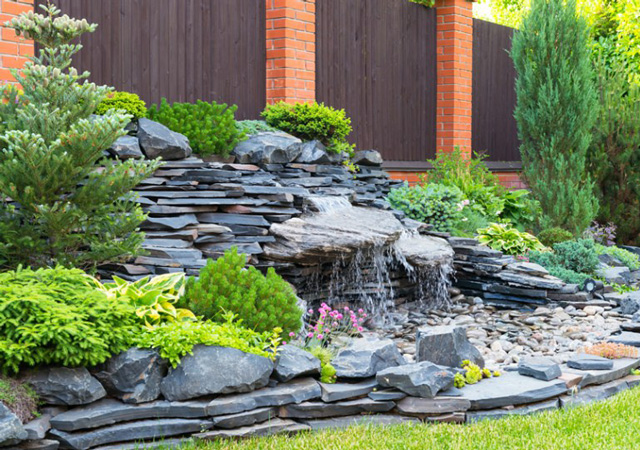 So we can't all afford a natural swimming-hole look. You know the kind. It's actually a swimming pool, but the border is irregular and landscaping goes right up to the edge of the water, making it look like a grotto.
If you can't afford the Blue Lagoon in your backyard, that's ok.
A simple, portable fountain will create a nice focal point in the corner of your garden, next to a bench. You can find these at many home improvement stores. They come in many different styles, from formal to informal, and can process enough flow of water to create a lovely, relaxing sound.
A large, permanent fountain is more of an investment, and makes more of an impact. These can be freestanding, located in the center of the garden or patio. They can also be installed against a wall or fence along the perimeter of your backyard. The rush of water will distract the ear from ambient noise such as traffic or barking dogs.
You might also consider a splash pad. These are cushioned surfaces with a water system installed beneath. They can squirt water up through any number of fountain spouts, creating a non-skid play pad for pets and children.
Lighting
What is a party without lighting?
No, you don't have to get a disco ball – although you can if you want. Lighting can be roughly divided into two groups: perceived lighting and task lighting.
Perceived lighting
Perceived lighting makes people "feel like" they can see where they're going.
Basically, it means that it is light enough to navigate through the area, but if you try to read or cook, you won't be able to see well enough.
More lighting from a string or two of overhead lights will make your footing safer and make it more comfortable to visit on the patio. You can also add individual spotlights that will highlight structural elements such as your fountain or specimen plant. Also, lighting along sidewalks and steps is crucial to comfort and safety.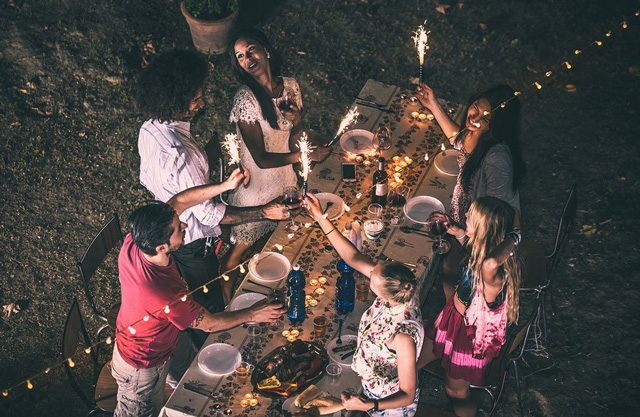 Task lighting provides a pool of light that makes it possible to focus on a particular activity.
You might have a porch light and a couple of other lights on your patio, but without enough perceived light, you won't be comfortable venturing into the garden at night. This is where solar fence lights come in handy. They charge during the day and shine on the fence at night for several hours. This helps to establish the perimeter of the backyard, helping with depth perception.
For task lighting over the grill, outdoor kitchen, or playground, consider a spotlight. This can be an actual mercury light on a pole, or you can accomplish sufficient lighting with a LOT of string lights over the area.
Plants
No backyard design is complete without plants.
Once you have your hardscaping in place (that's all of the heavy, man-made stuff like the porch and playground,) it's time to add some plants.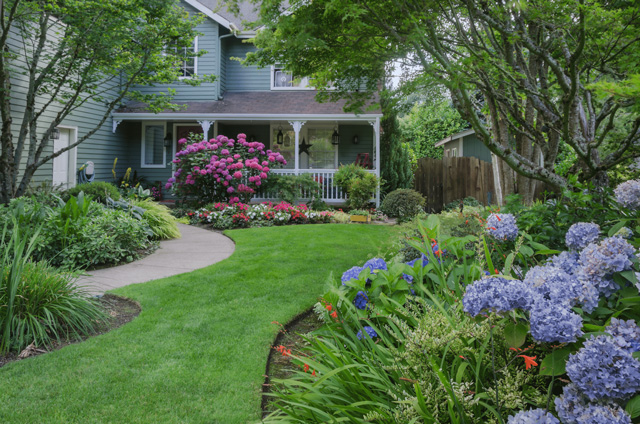 Your landscaping should reflect your tastes and level of commitment. If you don't care for gardening, you can plant ground cover such as vinca. This will cover the flower bed and takes practically no maintenance.
How about plant trees? That $15 stick with a Red Oak label on it?
In 10 years, it will be 15 feet tall with a canopy. In 20 years, it will be 25 feet tall, and you'll wonder why you didn't plant more of them.
Your backyard design doesn't have to cost a bundle. With some simple elements, you can enjoy the last days of summer in style.

Lot's of love