Hello darlings!
When we look at some of the features in our home, they can often become boring and dull after a long life in the centre of your room. However, you don't need to throw old and worn furniture away, there'll be no need to take a trip to the tip and buy new things; you can use your creativity and create whole new pieces of furniture which you and your family will love.
So before you call a removal van such as https://www.mybekins.com/location/wilkes-barre-pa-movers/, let's try and salvage these pieces.
Oversized, Vintage Message Board
You might think that once your mattress has lost it's spring, it's all over for the piece. But actually, you can still use elements of an old mattress for a whole new purpose. Take one of the springs out of your mattress, spray paint it and hang it on the wall as a feature and a new message board. Use clothespins to hang up messages and hangers to hold up everyday items. It's a simple change but can add a lovely design element to your home.
Playful Kid's Dresser
If you have an old chest of drawers or dresser which doesn't match your room any longer, paint it a bright colour like red or blue and give it to the kids. Even better, paint it in chalk paint and let your children draw to their heart's content without ruining your walls.
Chalkboard Storage Container
Another great use for chalk paint are jars or containers in the kitchen. Rather than throwing away an old tea tin, paint it up and then you can label it with whatever is inside. Take a look at some great examples here: https://www.pinterest.com/explore/paint-mason-jars/
Practical Antique
Don't let old pieces of furniture go to waste in a dark room. Instead, take them on and do them up. You could transform an old vanity unit into a clever desk with storage space and room for cables. Paint it a crisp white for a modern effect.
No Damage Here
A couple of scratches or dents here and there shouldn't make you consider throwing away a perfectly good piece of furniture. One what you can disguise these dents and chips is to cover it in decoupage. Use a patterned paper you love and create a shabby chic piece of furniture easily. A great item to use for decoupaging is maps, you could have the whole world on your table, or even old sheet music and letters. It will hide any imperfections in the furniture and bring it to life. You can always use wallpaper as I am showing you here.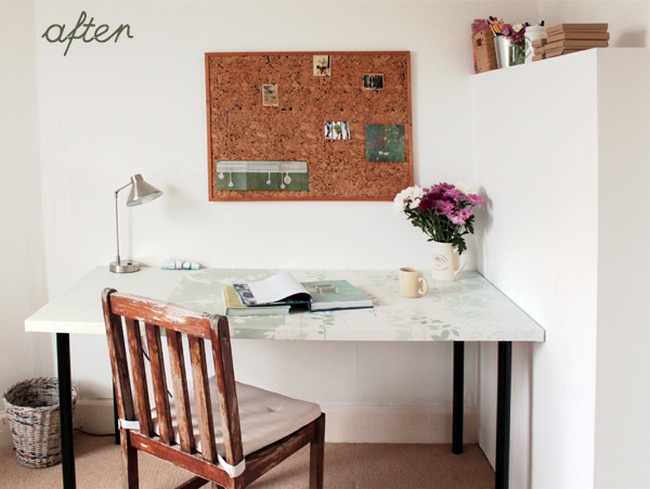 Headboard Rack
If you don't like your headboard anymore and want something new, keep your headboard and change it into something else. It can make a great hanging rack for your porch or kitchen wall, working as a coat rack for guests when they visit. It is also a great place to hang your house keys so that you never lose them.
Bright, Bold Focal Point
Paint is a miracle worker when it comes to changing the feel of your home and furniture. Paint a dull coffee table a bold colour such as green or orange and let it become a new focal point of your room.

When was the last time you used an old piece of furniture for something new? Have you recycled any furniture lately? I'd love to hear your ideas!

Lots of love