If you're a Pinterest fanatic like myself, there's no doubt you have your own homeware inspo board; a board full of stunning designs, chic furnishings, and out of this world décor. It can seem pretty unattainable, right? 2017 is a year for the bold; new trends are dominating interiors worldwide and livening up 2016's minimal living spaces. Rustic, earth tones, watercolour washes, marble, geometric, botanicals and many more trends are sweeping the nation (well, sweeping the internet). Discover the trends ruling 2017 that will take over 2018 too and explore our top homeware product picks to get you one step closer to your dream Pinterest home.
Inside Out Botanicals
Every café and shop on the planet right now is embracing the botanicals trend; gorgeous swinging vines and cute succulents adorn windows and light fittings. The playful notion of bringing your outdoors inside and enjoying it from the comfort of your home, is an appealing one. If you're a serial plant-killer like myself (not purposefully!) you might want to go for an option that involves less upkeep and untimely heartbreak. Instead of forking out on plants which will just wither and die, choose a striking statement piece for your home with beautiful botanical imagery instead. Get the best of the trend without the responsibility, hooray! We're loving this tropical jungle themed rug by designer Joyce Allen. Immerse yourself in a jungle paradise with hues of earth green and lime, and pick some cushions to match by Bloom & Gloom. If you dream of florals but those earthy tones don't match your home, go for these gorgeous Lorca print roller blinds for a soft blue botanical addition. Jan Olive's hand-drawn print gives the illusion of floating petals, and is the perfect way to keep the light out for a dreamy doze.
(Bloom & Gloom)
Marble
Ooze the illusion of elegance without breaking the bank. A marble accent or statement piece focuses attention in any room and can seamlessly draw the eye around in all the right places. For a more striking look, you could go for a full on faux marble coffee table or counter top, but for lighter pops of opulence try adding smaller decorative marble elements such as cushions or vases. 2017 has channelled a simpler kind of marble; this year has said 'see ya' to over-dramatic black marble floors and has shifted focus to a much softer light toned marble with gentle swirls and no angry, sharp streaks. Monika Strigel's rose gold and marble lamp represents the best of the trend; stylish without being imposing. This neutral accessory comes in a table lamp size or a larger floor lamp, so you can customise it to suit your style.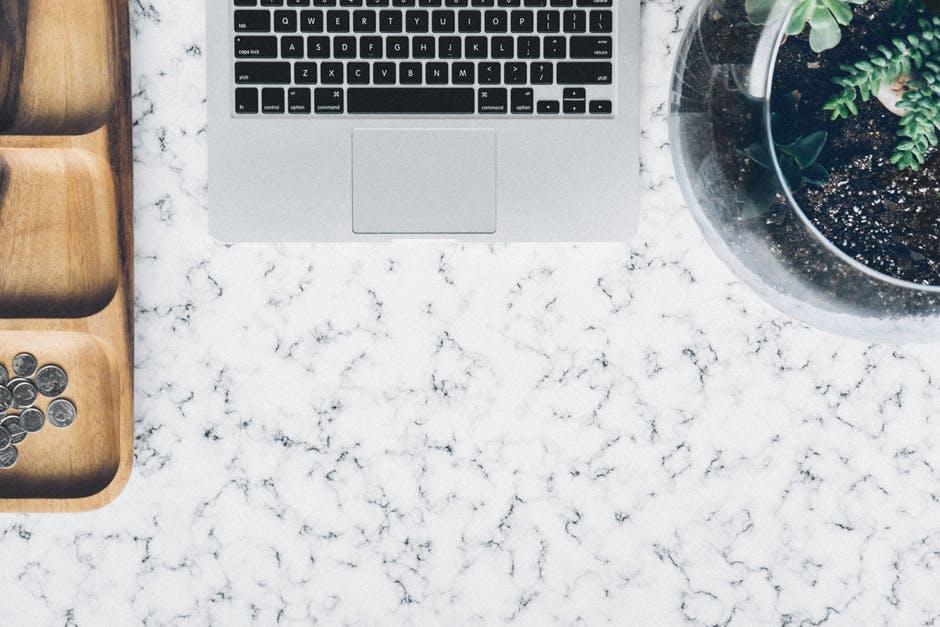 Geometric Haze
There's no escaping this bold movement. In terms of style, these opulent golden geo curtains by Elisabeth Fredriksson are three for the price of one; a geometric design with pops of gold and washes of white. Not only are they luxurious, unique and artistic, but they pretty much go with everything – and you can customise the style to suit your home fittings. Geometric décor has been on the scene for a while, but only now is it really starting to fuel its own trend. From chunky bronze hexagons to multicoloured chequerboards, this trend can inject some energy and vibrancy into your home in a surprisingly subtle way if desired. Choose decorative accents in geometric shapes like wire candle holders, square vases, sharp lamps or even coffee tables, or opt for bold patterns and modern prints as another way to embrace this style. Add pieces across your home to tie the décor together, but be careful not to go overboard with those dazzling prints!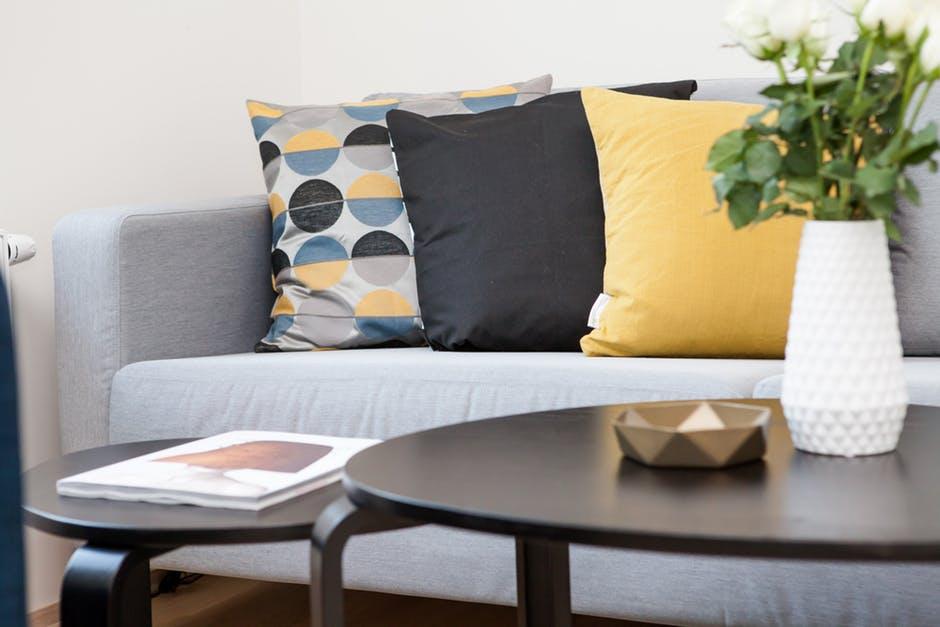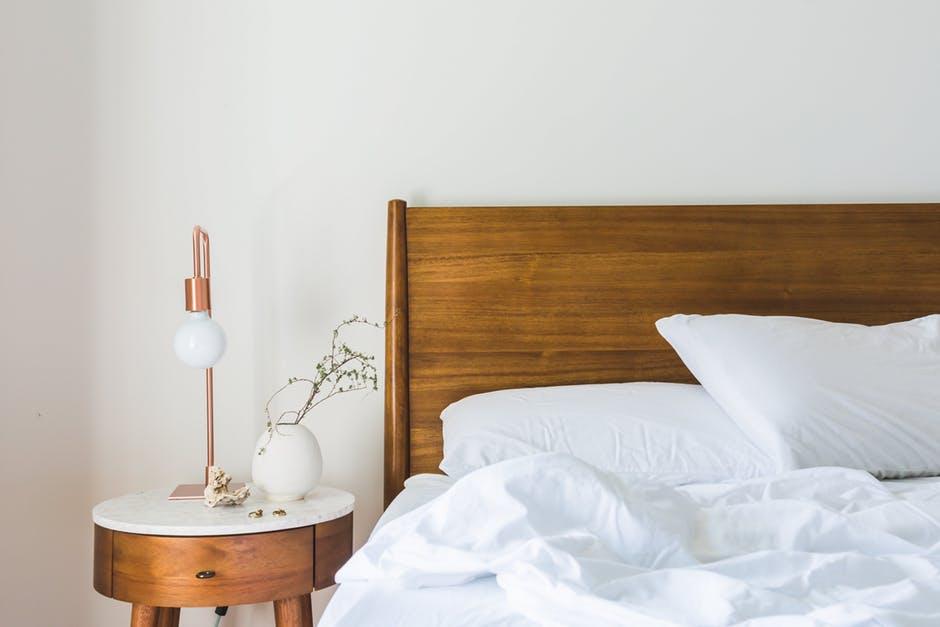 Return to Natural
Rustic, natural furnishings have found their home in the second half of 2017 with raw materials and bare wood taking centre stage. If you're not into this exposed look, get your natural goodness with an earthy colour palette. No need to run away – earth tones don't always mean dark green and sludge brown! The colour palette of the season features deeper hues like cinnamon and bronze as well as delicate pastels in soft rust, dusty pink and light teal. The beauty of this colour palette is that it can be adapted to suit almost any living space – even if you're a fan of brighter colours. A lasting trend is one that can be customised, and won't fade with time; which is exactly what this is. If you'd like to add a softer element from this trend to your bedroom or living room, Keren Toledano's 'Heartfelt Ombre' faded rug has a beautiful wash of earthy pastels without oozing that sugary sweet candy vibe that too much pastel has become synonymous with. For a slightly brighter approach to this colour palette, Lotti Brown Designs 'Dark Strawberry Flowers' occasional chair hits all the right spots. Pick up the matching china plates, serving platter and fabric placemat to deck your dining room out in these folksy florals.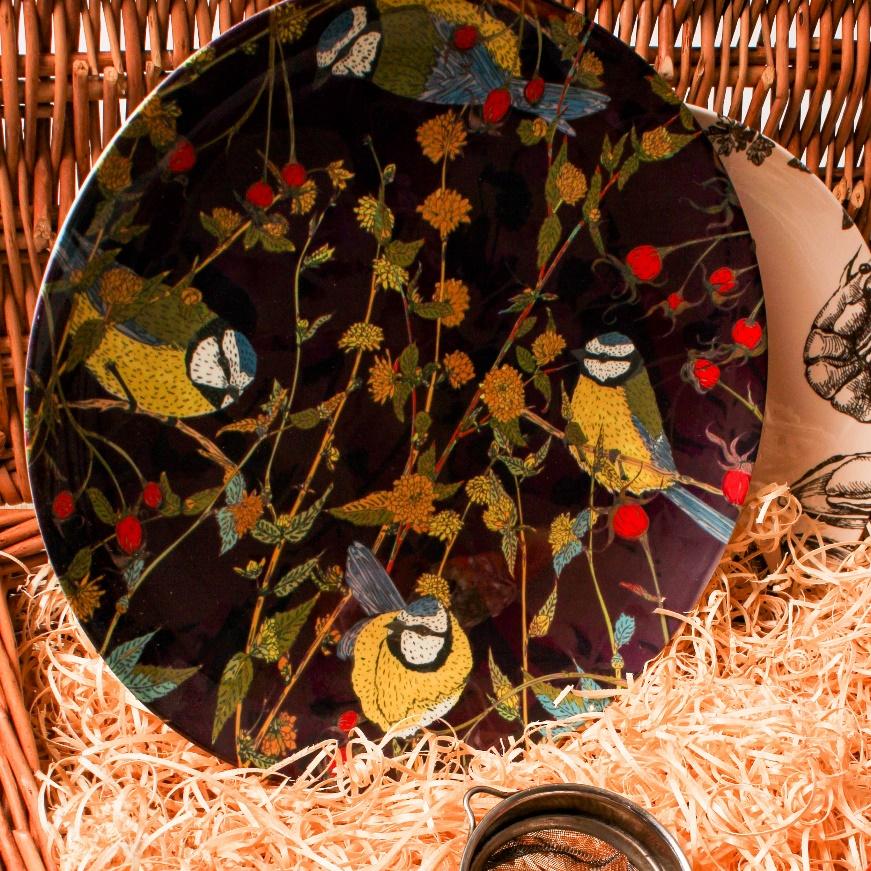 (Lotti Brown)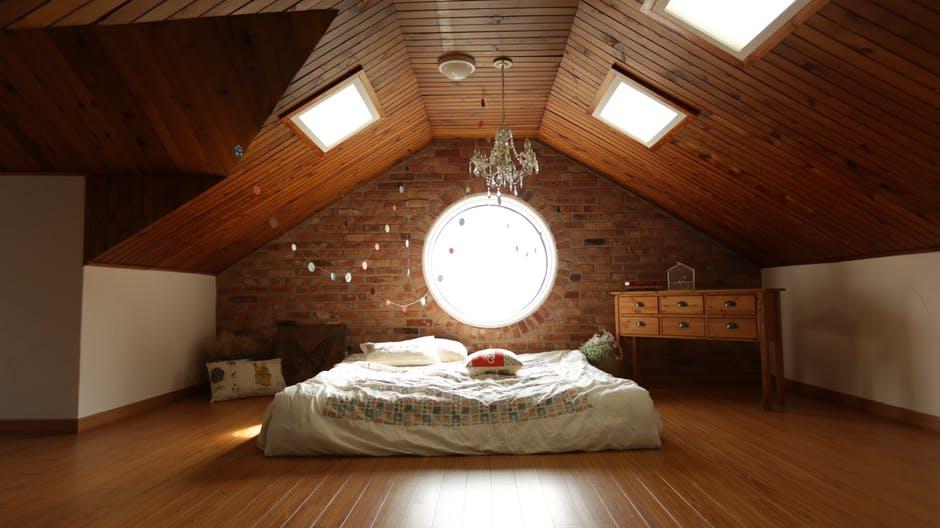 Watercolour
Stepping out of the comfort zone of 2017s earthy colour palette, watercolour prints are adding vibrant splashes of colour to the homeware trend scene. These designs represent a much less structured type of artwork and add a feeling of fun, freedom and escapism to your pad. Watercolours don't necessarily mean washes of pastels or quaint florals, but can be beautiful expressions of bright colours and energetic movement. This 'Summer Festival' drum lamp shade by Gabriela Fuente Studio shines beautifully and adds a warm glow to your home – in more ways than one. Attach it to a ceiling or light fitting, or simply on your table to create a vivid centrepiece in any room.
Extra colour features
Two of the HUGE standout colours for the Autumn and Winter seasons alongside our favourite earthy tones, are papaya orange and millennial pink. I know, I know, you've probably seen these everywhere, but there's a good reason for it; these shades are gorgeous, timeless, and just look so good together. This bolster cushion by Charlotte Donovan features pops of both, and adds a quirky retro vibe to any living space. Cosy up with some papaya bats and enjoy your snazzy new home – that's exactly where we'll be staying until next Summer!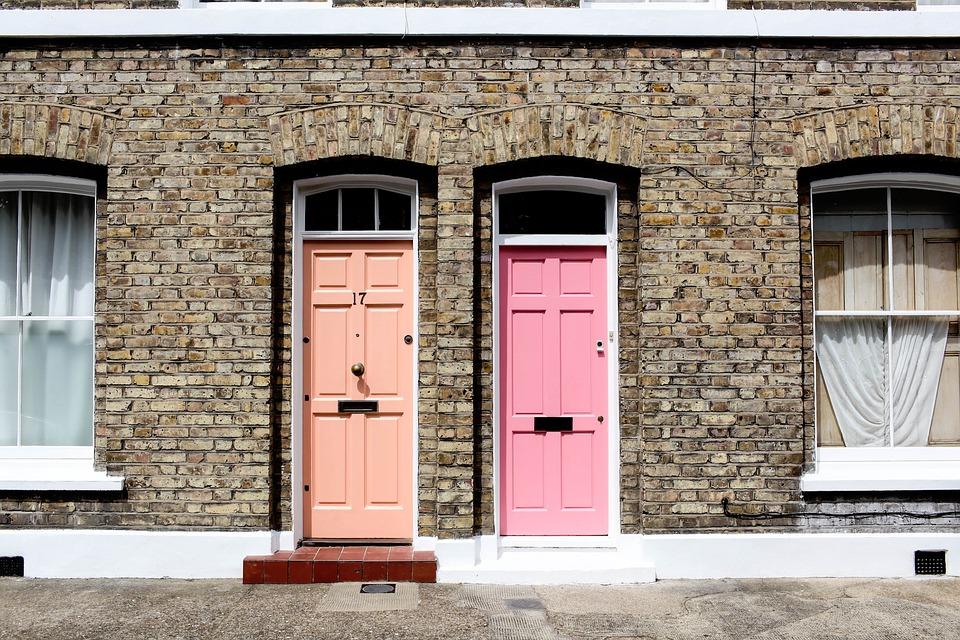 What's your most wanted on your decor pinterest board? What's one thing you'd love to have right now in your home? I'd love to hear what you thing about my decor advice and my Pinterest boards!


Lots of love