Hello darlings! I've been searching for recipes to make for him to be able to eat dessert from time to time. I was super lucky to have found  and I've made several of his recipes with success (yeah me!). I have been experimenting a bit with some of the materials I know Nick likes and recently I came up with a very simple yet very satisfying recipe for a dessert:
Nutty Balls
Me: - You can't go on the blog and post a recipe called Nutty balls!
Also me: - Why? What's wrong with that?
Let's try again:
Nutty power bites
Me: - That's better
Also me: *pouting* No it's not!
These nutty power balls bites are very easy to make and very healthy too!
During the last couple of weeks I have made many different combinations since they are very easy to customize. Basically these are made of dried fruit, nuts and boiled chestnuts. By changing the dried fruit and the nuts you can get many different options.
Before I give you the run down on the recipe, let me tell you a couple of things.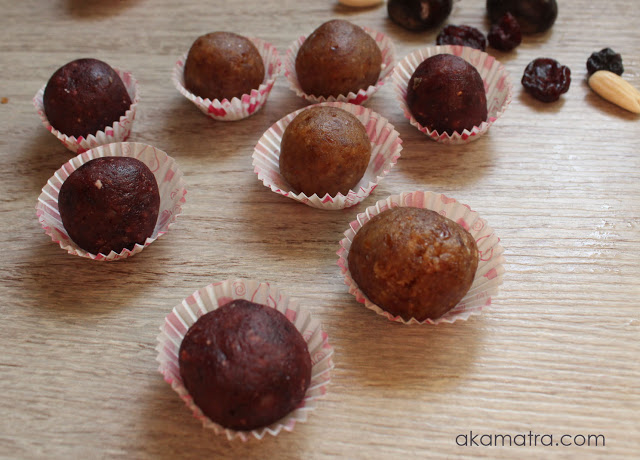 All the nuts I use are raw and unsalted. You might thing it's obvious that I wouldn't use salted nuts for a dessert but make sure you ask your nut provider to give you raw and unsalted nuts. This makes all the difference. If you find organically grown nuts, even better!
If you want your dessert to be sugar free you need to make sure the dried fruit you get is not covered in sugar, glucose syrup, or any other rubbish they get on the fruits to make them taste and look better. For example, some dates are sprayed with oil (no one could tell me what kind) to look more shinny (!!!). So, really, make sure they are as pure as can be.
The same goes with chestnuts. I use the organically grown ones for this recipe, the same I give to Natalia. They taste divine on their own too.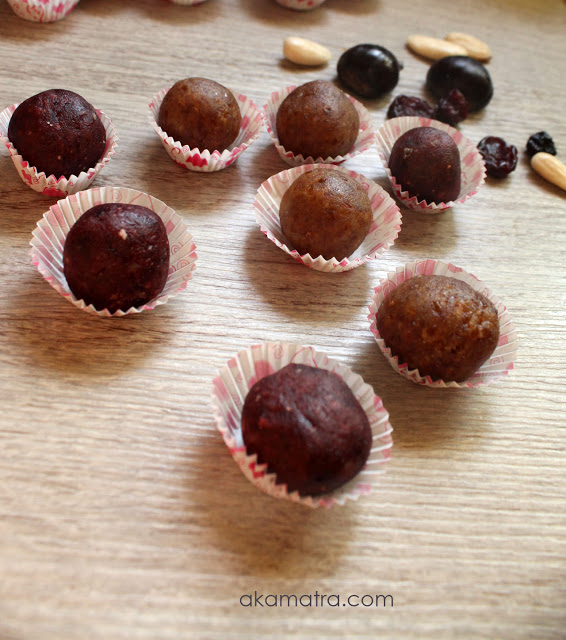 Here's how to make them:

You'll need:
 One part dried fruit. I used dates, cranberries and raisins.
 One and a half part nuts. I used almonds and walnuts.
 Two parts chestnuts
 A decent food processor
 Optional materials: sugar free coconut flakes, sesame, cinnamon.
 I've made these a lot of times and I found out that the best recipe for out taste is one part dried fruit, one and a half parts nuts and two parts chestnuts. That means that if you use 50grams of dates, you'll need 75grams of almonds and 100grams of chestnuts (boiled and peeled).
First thing to do is boil the chestnuts. I put them on the stove and let them boil for 20 minutes. If you are good with a knife you might want to carve them first so that they will be easier to peel off. I never have time to do this and I am always in risk of loosing a finger when I try to so I skip this step.
While you boil the chestnuts put your dried fruit with the nuts in the food processor. I do this in parts to not overwhelm my blender. I have a very sad story on how I threw away my hard earned money to get a food processor that doesn't work the way it should, but that's a story for another post. 
Blend them together until you get a purée of shorts. Another way to do it is put the fruit first and then on another go, put the nuts and then combine them. It depends on your food processor really. My not-so-decent-one does a better job if I put small amount of both the fruit and the nuts together.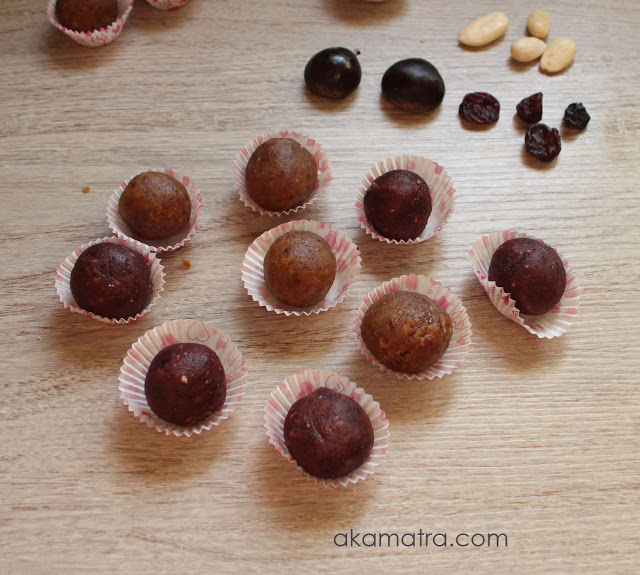 When the chestnuts are done peel them and mash them into a puree too. Then combine the two and knead them together into a kind of dough. Some nuts are more oily than others and you will notice that right away. Walnuts are like that.
The red looking dough in the photo is cranberries with walnuts and chestnuts and the golden brown one is with dates and almonds and chestnuts. The one with the cranberries was a bit sourer but I liked them anyway.
Take a tablespoon portion of the dough and form it into a bite size ball. You can leave it as is or cover it with chopped almonds. You can also use sugar free coconut flakes or any other type of flakes you like. Let your imagination run wild!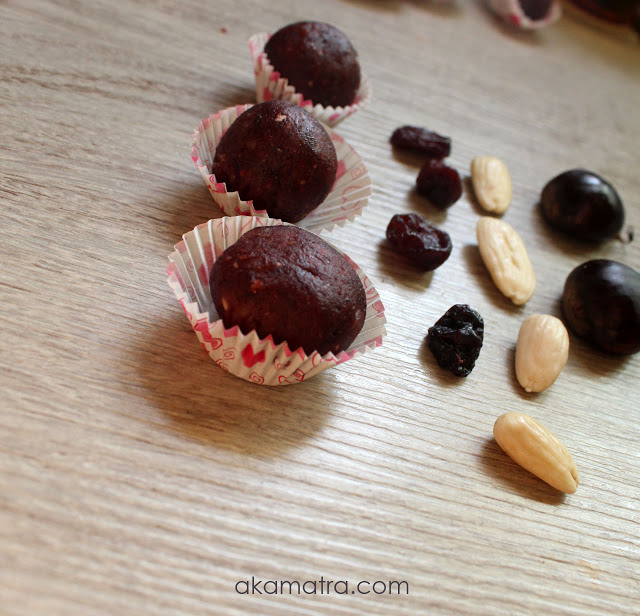 I bet these would be divine dipped in sugar free chocolate too!
I am making some with sesame this week and I can't wait to see how they'll turn out.
Make sure to put them in the refrigerator for at least 30 minutes before you eat them. They become a bit more firm and keep their shape that way.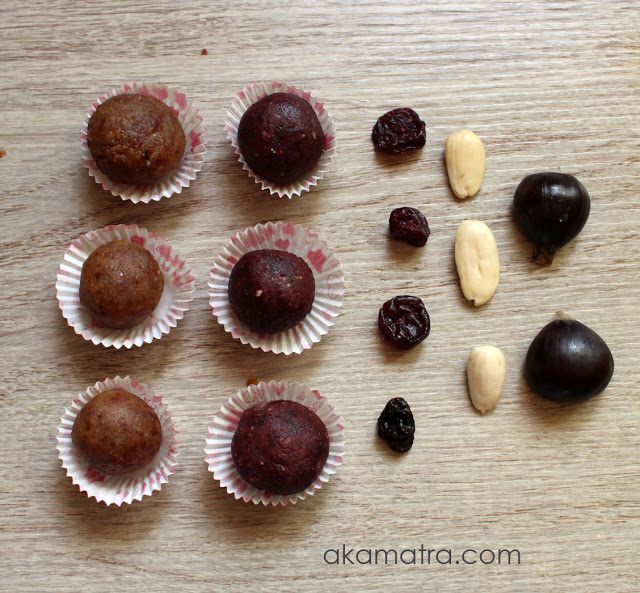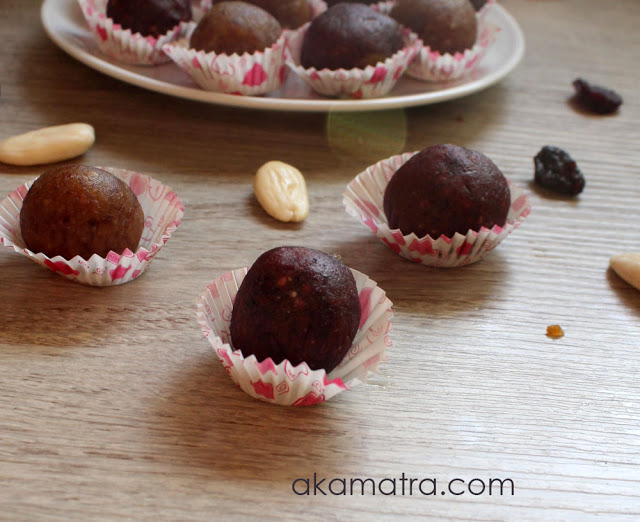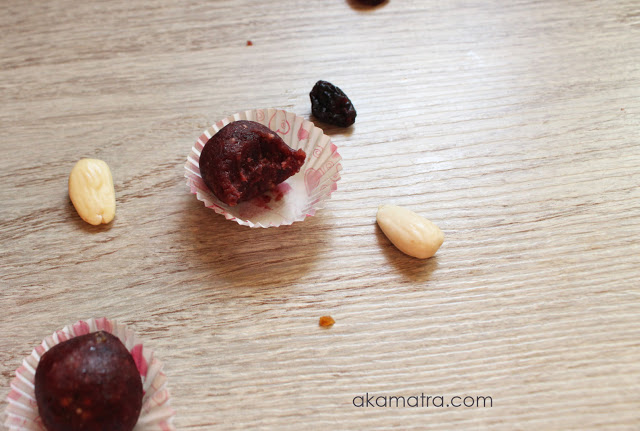 Nick likes the combination of walnuts with raisins and I love the one with dates and almonds. Natalia ate the ones with the cranberries.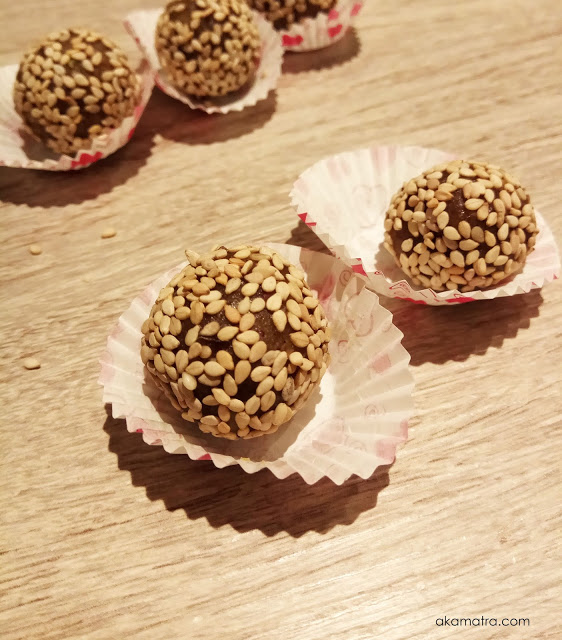 So there you have it, my first attempt of a sugar free dessert and a success (according to Nick) too! I hope you try them and let me know what you think! They are really easy and fast to make! Enjoy!