Hello there darlings!
This Christmas Natalia is going to be 1,5 years old and as a typical toddler she runs around the house all day. Or the parts of the day she's at home and not in the playground that is. Under those circumstances, it was unrealistic to think our Christmas tree stood a chance of being up for more than a couple of hours before an accident were to occur.
I am a Christmas lover through and through and I couldn't think of not decorating this year! I thought of some solutions but since they included drilling our ceiling, I left them unsaid.
Nick, being the good husband and father that he is, searched the internet for a solution. He found this on pinterest. Well, he found it on a google image search since he despises pinterest. Anyhow, you get the picture.
I jumped on the chance to make something handmade for Natalia's second Christmas and with the blessing of Nick nonetheless. He insisted of helping out on this project and I was all for it since I knew it would not be an easy one.
You see, felt, although it's a fairly easy to handle material, has some secrets. You need to cut it a certain way and sometimes it doesn't hold the shape as much as you thought it would. Anyhow, after this project I have tremendous respect for those of you who manage to make something with felt and doesn't look like a kid did it!
After carefully studying the photo (I couldn't find a tutorial anywhere cause this was a discontinued kit) I made a plan of how we were going to make it.
I needed cardboard paper, felt and glue. Lot's and lot's of glue!
I've made a little tutorial to show you how to make your own. Please excuse the bad quality of the photos, this was done in the afternoon and my camera was still in the repair shop so most of the photos are with my phone.
What you'll need
A piece of cardboard paper 80cm x 80cm
A piece of green felt. I used a piece of 50cm x 180cm but had lots of pieces left
A piece of dark green felt. Same piece as above
A good pair of fabric scissors (trust me you are going to need them!)
6-7 hot glue sticks
Hot glue gun
Small pieces of different colors of felt to make the decorations.
Needle and thread to sew on the decorations.
A round paper box
A piece of red felt to cover the round box
Twine to make the drum
Pompoms to glue on the drum
Clear tape or any tape really
Stapler
A paper cylinder of almost 80cm. I used one I had from a decal that was sent to us from the US. If you don't have one I think you can probably find one at a boxing company or amazon.
I need to apologize for the quality of these photos. They were taken at night with artificial light using my phone while we were making the tree. For me it's more important to do the job with my family and have crappy photos than have great pictures but make the craft alone. So, I hope you understand!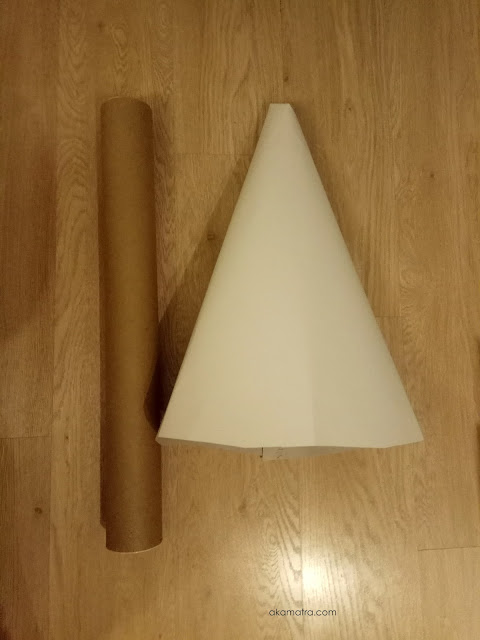 Take your cardboard paper and your stapler and make a cone by bending the two edges of the rectangle together. Staple it to hold its shape and then use the clear tape at the joining.
You will need to cut of the edges at the joining to make it stand.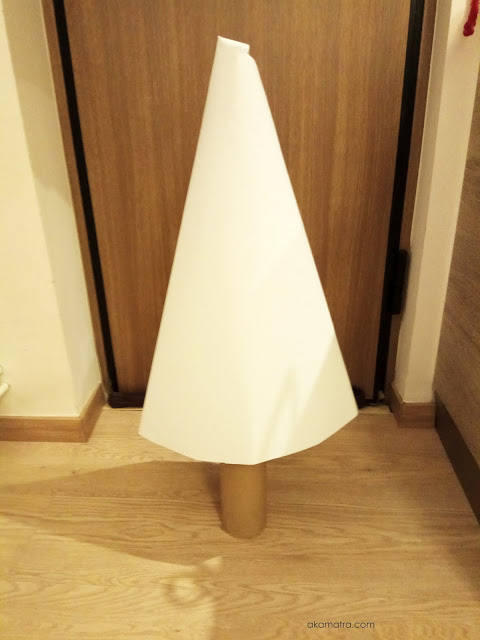 What I did next it make a scalloped pattern on a piece of cardboard and trace it on the green felt and on the dark green one.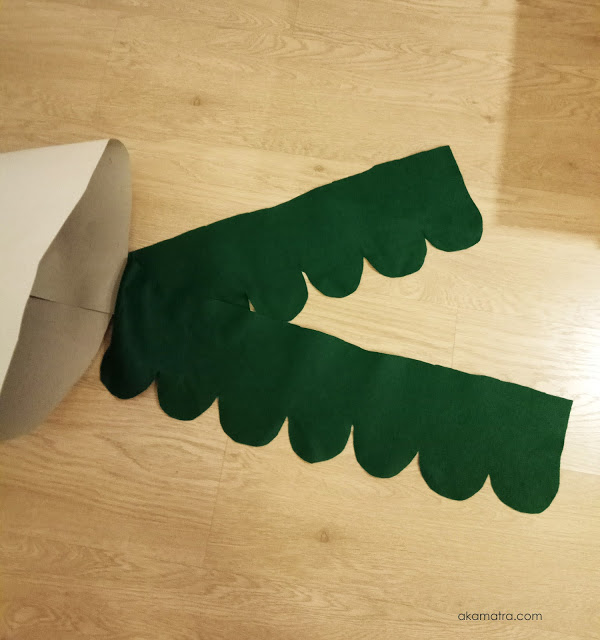 I then made Nick cut them (lol).
I took the pieces and glued them on the cardboard cone. That was the most tricky part of this project. You definitely need more hands to make it right and not burn yourself with the glue. Nick was holding the cone steady and turning it around at my call and I was gluing the scalloped stripes alternating the colors.
You will need to fold the upper part of the felt to make some pleats in order to make this work.
Another way to go around this is to cut off individual scallops. You may finish by next Christmas.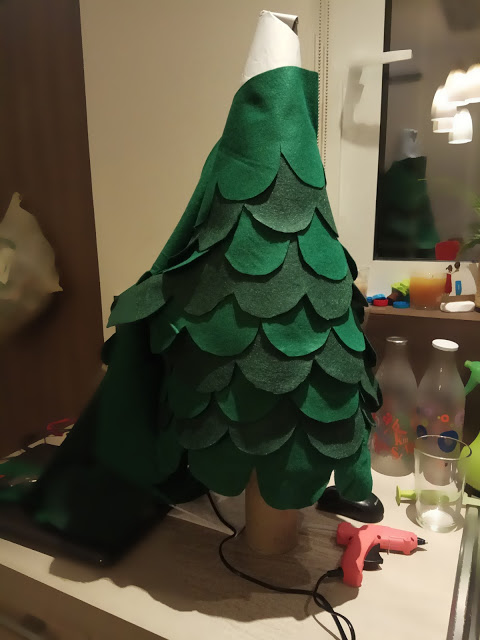 Please don't pay attention to my messy kitchen top, we are making a freaking tree here, people! lol!
Anyway, after painstakingly making my way to the top of the tree (and not committing a crime for agreeing to make this) It was time for the last piece. I took a stripe of feltwith 4 scallops and turned it into a cone. I then glued the cone on top of the paper cone and that was that.
After resting for a while, I covered the lower part of the paper cylinder with green felt as well.
The next day we made some decorations. Basically we cut off some rounds and boots and bells, stuffed them with my amigurumi stuffing and glued them together. Then I sewed them on the tree.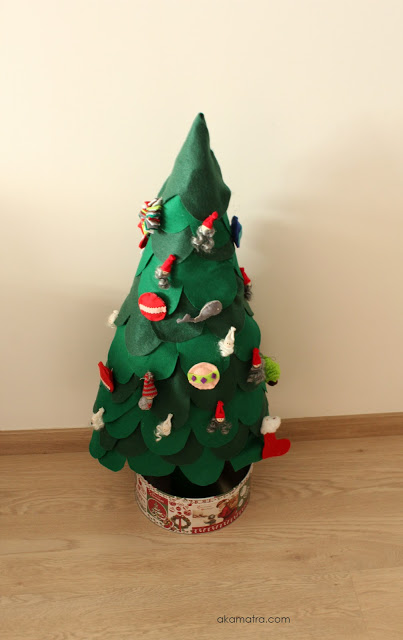 Lastly I glued a round tin box to the cylinder to give it stability. It's light, it's easy for Natalia to handle and play with, and it is totally safe for her!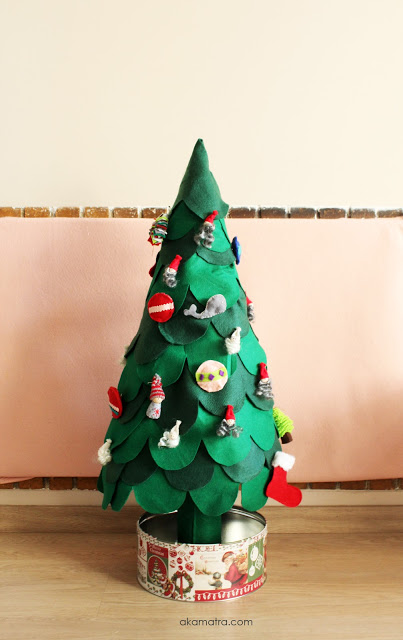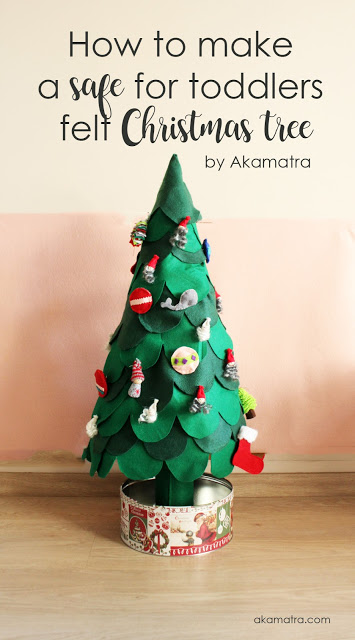 Did you decorate your tree this year? Any special stories to share?

Lots of love