Hello darlings,


When it comes to trends I am usually a snob. I like to go against the flow and form my own way but that's not always the case. I can spot a trend that will face a demise in a couple of months (remember the fidget spinners?) or a bit longer (how many of you still play pocemon?) from one that's here to stay. Kale in my opinion is a case of the latter.
And if you are shocked that I attributed kale as a trend, please bear in mind that we don't live in the US of A and things tend to get to us in their own sweet pace. Or in the case of kale it only appeared in the organically grown farmer's market last year.
Of course our grandparents knew it and ate it during the occupation but it fell off the radar after that, only to re-emerge a few years ago mostly due to the internet and a couple of healthy food companies that sold kale chips.
Anyway, I first bought some to make chips. I love potato chips and I don't eat them because, let's face it, you'll be hard pressed to find a more unhealthy snack! But kale, I mean, it would be healthy right? So I made some chips in the oven and they were more bitter than my mother in law! I mean seriously? How can you eat that stuff? So I left kale and all its glory and never thought of it again until recently.
I read again about its benefits and how it doesn't have any fat and how much iron it contains and this time I ate it raw in a salad. And lo and behold, I've seen the light! It was delicious!!!
It's become an obsession of mine especially now that I need to shed some kg and I watch what I put in my mouth. You dirty minds, you.
Ingredients: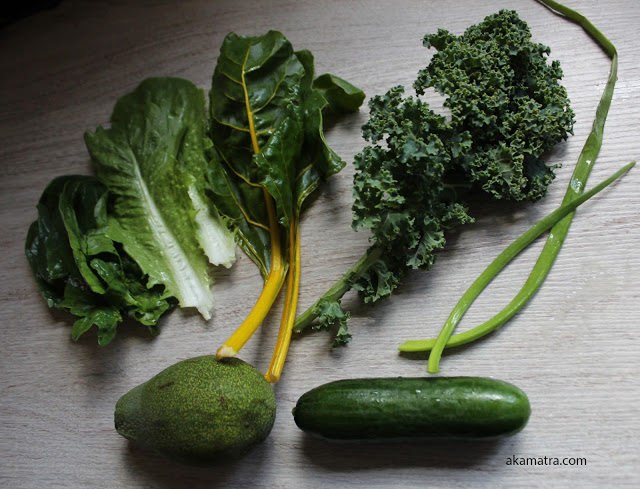 This makes a large salad for one person. Everything is organically grown.
2-3 kale leaves, washed and free from their stem
2-3 white beet leaves
2-3 lettuce leaves
a bit of spinach 
1 cucumber
half an avocado
Extra virgin olive oil
Balsamic Vinegar
Procedure:
Use your hands to cut the leaves in large chunks. Slice the cucumber and avocado and toss them in.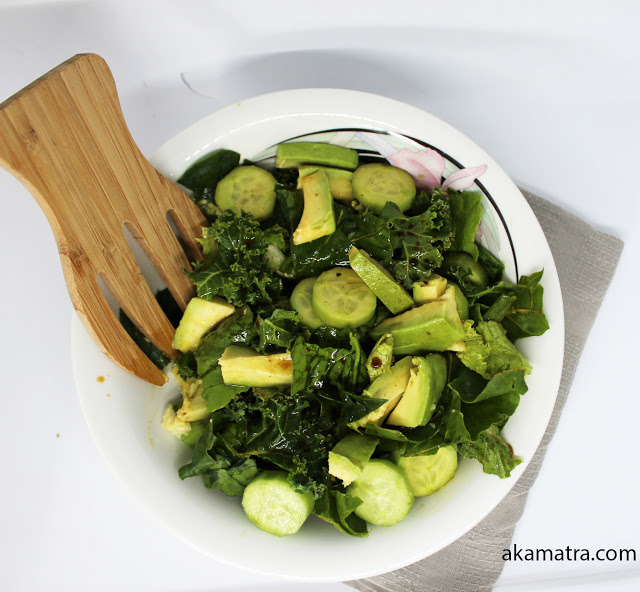 Mix a tablespoon of olive oil with a tablespoon of vinegar and pour it in the salad bowl. My new salad fork is from Tiger, isn't it cute?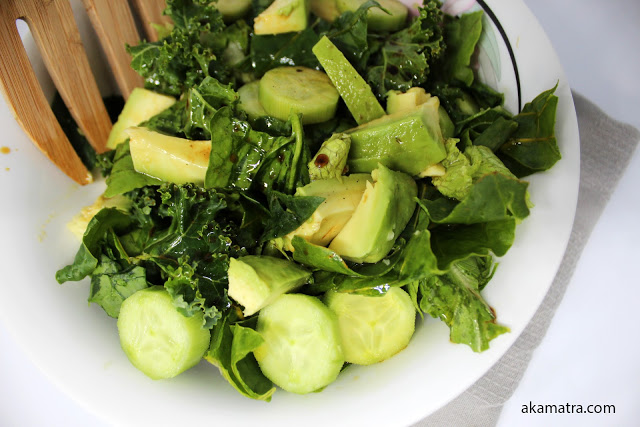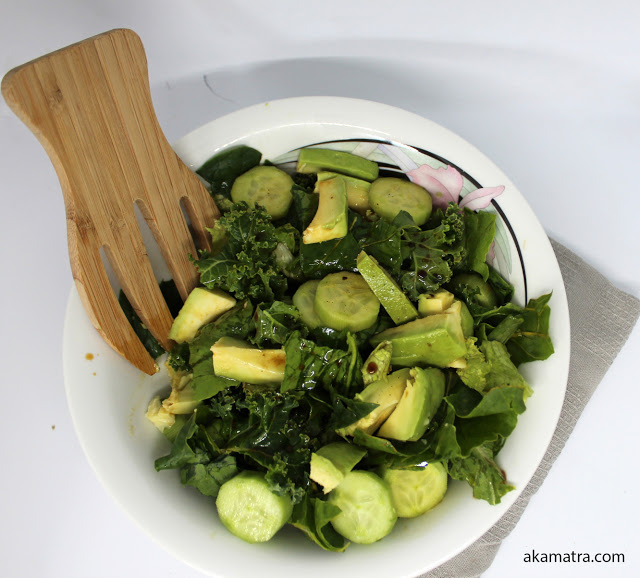 This salad is the prefect side dish for broad bean purée or for fish if you are not a vegan.
Enjoy!
Lots of love