Hello darlings! 
This is my honest Furls Odyssey crochet hooks review written after testing the hooks numerous times to crochet various projects. It's a long read but if you are thinking of buying one of their hooks you should read it. 
It will becοme obvious to you that this is NOT a sponsored post but I may as well say it here too. I was NOT given the hooks for free (I wish!) in exchange for this review (even then the review would've been exactly the same) and I was in NO way compensated either. This is really an honest review, and no these reviews are not extinct yet!
My addiction to crochet and yarn is very well known. I love to buy new yarn and write my own crochet patterns for amigurumi. I love to crochet toys, blankets and accessories. To make my play time a lot more enjoyable I invest in the right kind of tools. After all it's not fun becoming frustrated when you need to do something and you realize you don't have the appropriate instrument, right?


It's like painting without the right size of brush! Or cooking without a slow cooker! Yeah, I know it's almost impossible! 
When it comes to crocheting the most important tool, obviously, is the crochet hook. Now, if you are a recreational hooker that just spends a few hours per week crocheting, you will probably not notice any difference between the different types of hooks available out there. 
But if you crochet everyday for hours and hours (you lucky hooker!) you need to get your hands on the best there is. 
I have tried A LOT of crochet hooks over the years. I have tried the simple metallic ones, the ergonomic ones, the ones with the padded handle, the wooden ones and the bamboo ones, I've tried them all!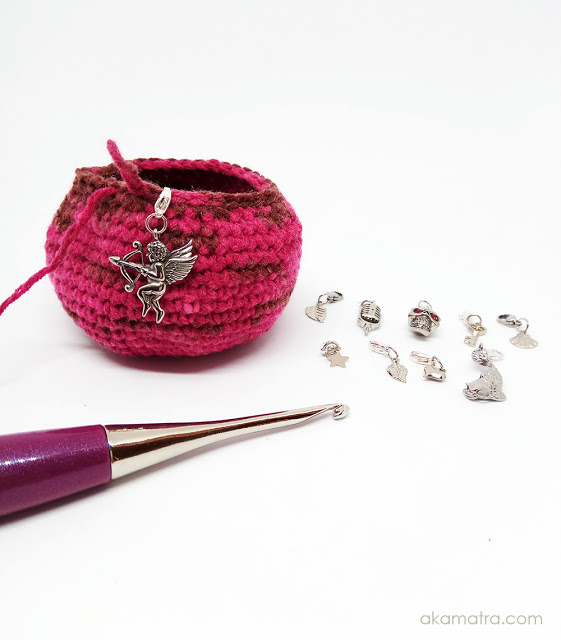 And if you asked me before February 16 I would say that my favorites are the simple metallic ones. But then on February 16th 2018, everything I thought I knew about crochet hooks changed! 
On January my husband got a friend of ours to ask for recommendations on crochet hooks, in order to get me some for my birthday. I was busy with my parents' health issues at the time and didn't suspect their scheme! I told her about my favorites but she kept asking me about ergonomic and more expensive options. So I told her that in all the crochet groups I am in they rave about Furls hooks. She said she will look into that and we left it at that. 
On February 4rth (my birthday) Nick sent me an email with the tracking info of a parcel from Furls that contained two hooks.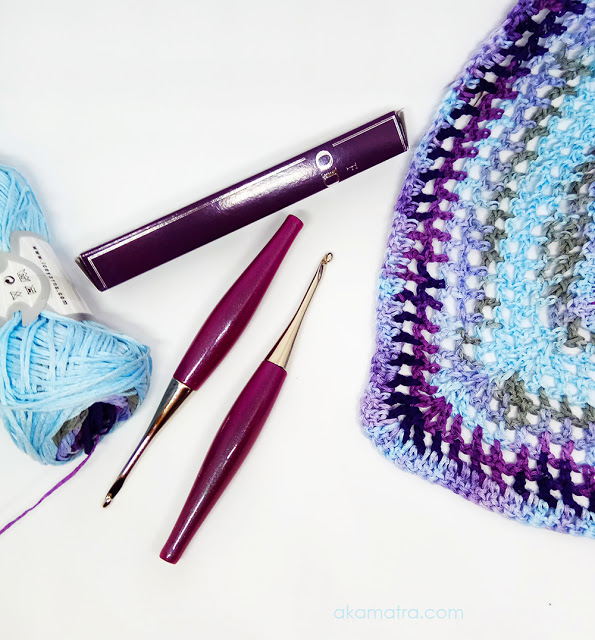 And I squealed!!!!!!!! 
From excitement, happiness and confusion! 
Because as I read the email more closely I read that my dearest husband had ordered two of the same hook sizes, namely two 4.5mm sizes. Granted, when my friend asked me which sizes to get I told her I use my 3mm and 4.5mm the most. But Nick, my lovely, kind hearted, never-pays-attention-to-me-when-I-crochet-Nick, thought I used two hooks to crochet, like in knitting! 
I will not go into detail because nothing could put a damper into my excitement of getting to play with a Furls hook, or two in my case! 
And then the parcel arrived and I had to pay 29€ in custom fees to get it. The two hooks with shipping set Nick back for 81€ so the total was 110€! For two freaking crochet hooks!!! That's 55€ or $68 each! Double the price of one hook and then some! 
Even that didn't deter me from holding the parcel with affection and carrying it inside for one of the most anticipated un-boxings of my life! Only to land hard when I opened to find two simple paper boxes with the hooks inside. I mean the hooks where intact and all but when you spend this kind of money you expect a better looking packing you know? I really did expect a nicer box for such a nice hook.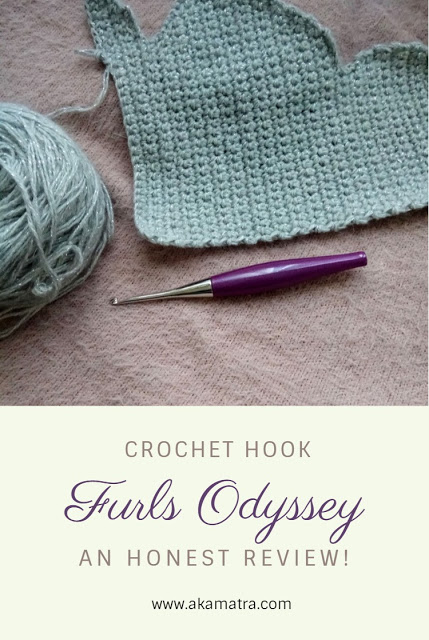 The hooks were absolutely beautiful. Nick has chosen the
purple color Odyssey hook
which is my favorite and they have a little bit of sparkle in it. 
I was off to test them and see what they can really do. I was nervous since I've read they have a learning curve to get used to them. Not for me. I got in the groove in five minutes tops. I was using a worsted weight yarn to C2C a scarf for my mom. Man this hook was a game changer.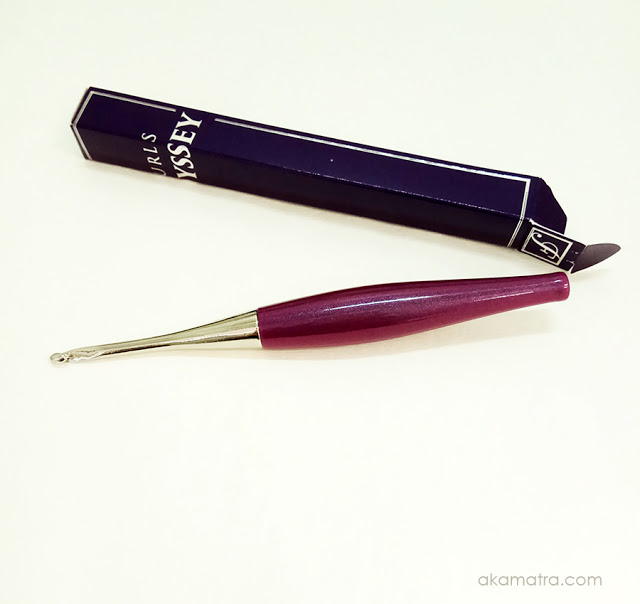 I mean I know I crochet fairly fast but this thing made my hands fly! Honestly and without exaggeration this was the nicest thing I've ever used to crochet! The weight of the hook and its balance in your hand is making it feel like the hook does all the work for you. Plus the tension is easier to be held constant with it. After 30 minutes of crocheting my hand felt like I didn't use it at all. 
I hold my hook like a pen so I am not sure what's going on when you have the knife grip but I am pretty sure there will be no difference in the ease this hook offers.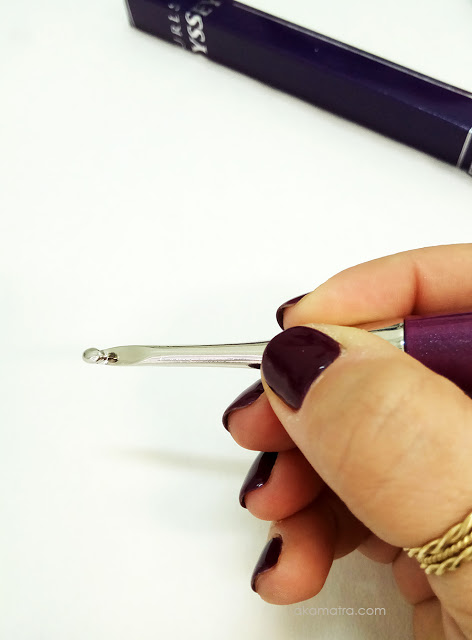 The head of the hook is designed by a genius and it makes hooking through the yarn effortless. 
So…. 
Are they worth the money? 
YES!!! 
If you are in the US and crochet and you still haven't got one hook from them, you are missing out big time! I know not everyone has the money for such an expensive hook when you can get the job done with a couple of bucks. But, these could be something you ask for your birthday or for a Christmas gift. 
MAYBE!!! 
If you are not in the US it's going to take A LOT of money to get you one of these babies with the customs and all. And by a lot I mean double the cost of one hook and then some. If you sell what you make then it's a good investment since your hands will not hurt and you'll probably get to crochet faster. It's totally up to you in any case; I am just sharing my experience.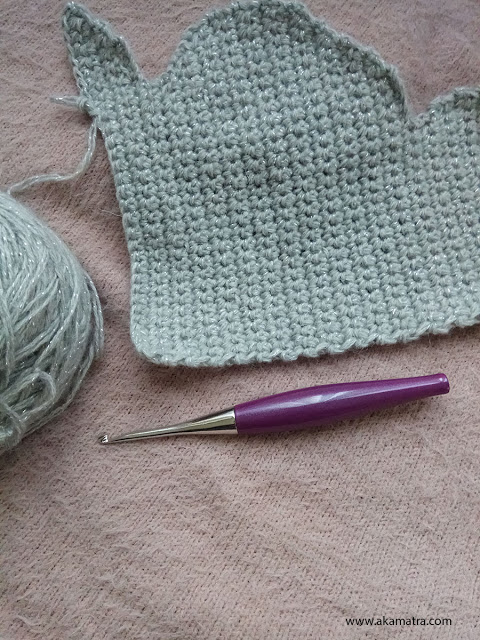 Anything I didn't like? 
Well, I have to be honest here. Their customer service sucks! And I mean this the nicest way possible. Nick had sent numerous emails before actually purchasing the hooks in search for information about sizes, delivery times etc. If one of those emails were answered I am pretty sure I would have two different sized crochet hooks right now. He also contacted them on their facebook page asking questions only to have them unanswered. So I get that maybe they don't have time to answer everyone but I think they should give some kind of response. 
The other thing I didn't like is the packaging. As I've said before, such nice hooks and with the price paid should come with a better box. 
Would I buy again? 
That's a hard one. I can't really justify spending 55€ for a hook although I would love to have a whole set of them. I would definitely ask friends and relatives to bring me some hooks back from the US if anyone visits, that's for sure. That way I will only have to pay a little over $33 for each. It's not cheap but they are worth it. The shipping and customs on the other hand are not! 
So, if you've read this far, thanks! It's obvious that this is a matter I am passionate about, lol! 
Do you have a favorite tool for your work/hobby? Have you ever paid a lot of money for a tool? I'd love to hear your thoughts! 
Lots of love