Hello darlings!
When I got pregnant with Fratzolaki, we entered the most challenging era of our family life. We, as parents-to-be, had to make the right choices for our baby's well being. From the choice of the right pediatrician to the way I wanted to give birth, there were many difficult and time consuming choices we faced. Some of them were easy to resolve due to my craft loving nature. Some others were much more difficult. Like reading for almost 4 months straight any and every baby mattress review in order to find the best one.
I wanted to write about our steps to a safe and natural baby environment for some time now. When I started writing this post I realized two things:
1. it's going to be too long to be easy to read.
2. no one is going to believe we don't use baby wipes.
That's why I decided to break it up into two parts. My goal for this post is not to add new information about scientific facts. I rather want to write a concentrated knowledge post I can point new parents asking me for advice to. I can only hope some of you will find it useful.
Please note that this is NOT a sponsored post and I am not trying to get you to buy anything. Do your own research and don't just take my word for it. I genuinely believe in these choices and that's what we did for Natalia.
1. Choose a safe baby mattress
Honestly this was one of the choices that almost brought us to our knees. Every new parent or parent to be has read about SIDS (sudden infant death syndrome). It is one of parents' worst nightmares. The syndrome's relation with the sleeping conditions of the infant is enough to keep any parent awake at night, watching over their kid.
After reading site after site after site, we decided that we needed a firm, resilient mattress made from natural materials, that doesn't emit any VOCs and without any flame retardants. 
The only brand here in Greece that met most of these (and others mentioned in the links above) criteria was Coco-mat. We contacted them before buying the mattress and asked many questions about the elasticized coconut fiber and how it was made. More specifically we asked them about chemicals being used in the process. Moreover we inquired about the protective cover that it's waterproof. They responded with a lot of helpful information about the coconut fiber and natural latex they use. They also included all their standards like the OEKO-TEX STANDARD 100 (the one we always look for when it comes to textiles) and ISO accreditations.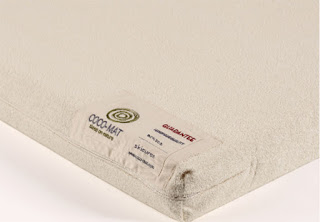 We finally bought their Skiouros mattress.


Funniest thing? Fratzolaki has slept in that mattress only a couple of times in all her life! As attachment parents, we choose to co-sleep and bed share with her because it was much easier and way more natural for me to breastfeed her lying down then sitting. You may say this is a typical case of a teacher that doesn't follow his own advice but we have decided to invest on a larger mattress for all of us that will fill the criteria above. We will probably go for Cocomat again.
2. Cotton towels instead of baby wipes
Years before I became a mom I'd seen on Pinterest some DIYs on how to make your own baby wipes.
I'd dismissed them then as something that I wouldn't need to do because I would buy the commercial ones.
But then I started reading the labels on some of them and I changed my mind. From phthalates to parabens those innocent looking helpful-when-you-have-an-explosive-diaper-situation-little-wipes are nothing but innocent! And though some of them have ditched the phthalates and the parabens with time – actually turning the lack of them in a marketing opportunity – most of them still have other harmful chemicals, like fragnances and phenoxylethanol.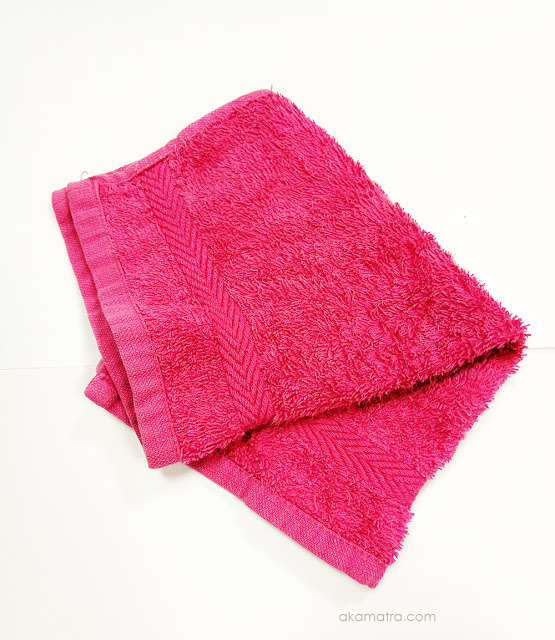 We are the only parents I know that don't use baby wipes. We maybe the only ones in the whole country! At least it seems that way to me. Instead of the wipes, when we are away from home and a bathroom, I have bulk cotton with me and a bottle of water. I take most of her feces with her diaper, pour water on the cotton and use it to wipe her clean. It doesn't include soap but I think it's better than having to clean her with chemicals. Sometimes I use cotton towels too. I have bought many small ones for that purpose.
Another thought I've had is to have two bottles with me, on with soaped water and the other with plain water. I still haven't tried that though.
Fratzolaki has never had a rash (apart from the time she ate kiwi fruit) and she never was uncomfortable. And if you wonder how I clean her hands after the playground and before reaching the house, the answer is the same. We use lots of water and a towel or some cotton. As soon as we go home we wash our hands with soap too off course! 
3. Wooden instead of plastic toys
We have an aversion for plastic toys. They are cheap and ugly in comparison with the wooden ones. That's not to say that Fratzolaki hasn't played with plastic toys but for the first six months we avoided them and got her wooden ones.
Not all wood is created equal! Be aware of toxic or failing/ chipping paints. We love the Plan toys ones and so does Fratzolaki. The ones we got her for her bath time are simply brilliant!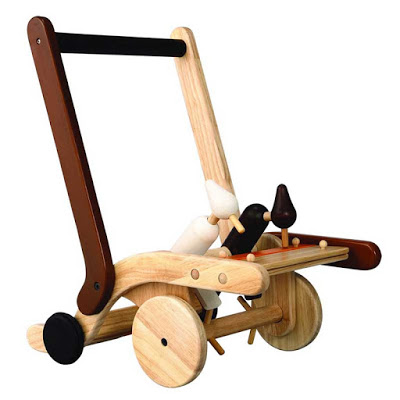 Some of the ELC toys are good too you just need to find them. Fratzolaki likes the one my sister bought her with the wooden beads. She has been playing with it for almost 15 months now and we are using the beads to learn to count.
I also bought her these amazing wooden teethers from Russia. They have no coating and I used to put them in the fridge for a couple of minutes before I gave them to her to chew.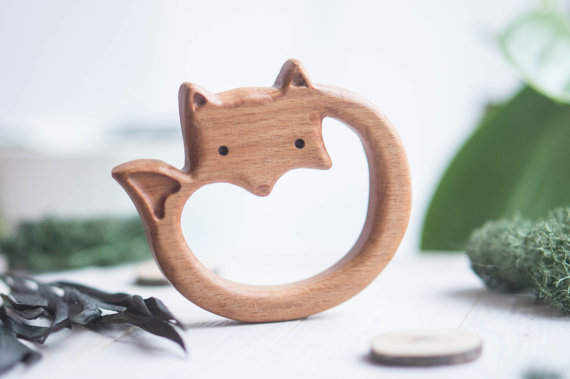 4. Cotton bibs instead of PU ones
Most of the bibs for babies are lined with PU (polyurethane), or TPU (thermoplastic polyurethane). Really? Is this really the best we can do for our kids? Let them wear, use and wipe their mouths with polyurethane?
Well, no, none for us thank you! We were able to find some cotton ones when she was a little baby but she really didn't need them until she was 6 months old and started to eat solid food. The ones we got her were ok but on the smaller side. I tried to make her some myself with my sewing machine but I didn't have the time or skill to add the bias tape correctly and they kept fraying after a couple of washings.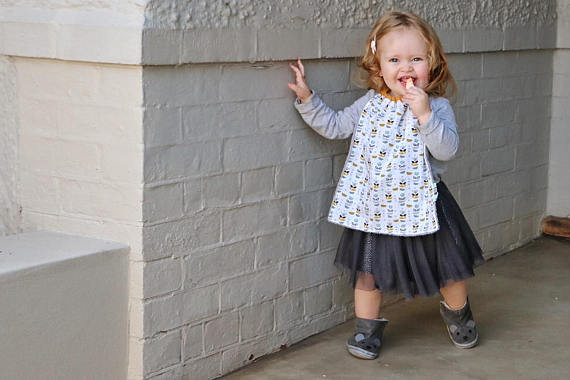 The ones I really love and use until now were the ones I've found on etsy from Khadine's shop. They are double sided and the very well crafted. They cover her front completely and anyone with a toddler will tell you how important this feature is. We keep finding food everywhere after she eats, lol! The towel backing makes sure that the liquids from the food will not sip through and stain her clothes. They also have a very nice elastic easy-on, easy-off system. Plus they look so cute as you can see from Khadine's photo!  Fratzolaki didn'tcooperate when I tried to take her photo, lol!
5. Blanket instead of foam mats/tiles
During the last years of visiting my friends' and relatives' houses, there literally hasn't been one with a baby in it without these very common and popular foam tiles. They have a variety of designs on them from Peppa the pig to Cars and Spiderman. They are also toxic!
They are usually made of EVA foam or phthalate – free PVC both of which are advertised as baby safe. In my educated opinion, there are not! First off there is no such thing as a safe PVC due to the way this stuff is made in the first place.
Secondly, EVA foam is far from safe since it emits formamide.
And though some claim that if the tile is not made out of EVA or PVC it's safe, I beg to differ. Those that are not made of EVA or PVC are made of PU! I mean come on!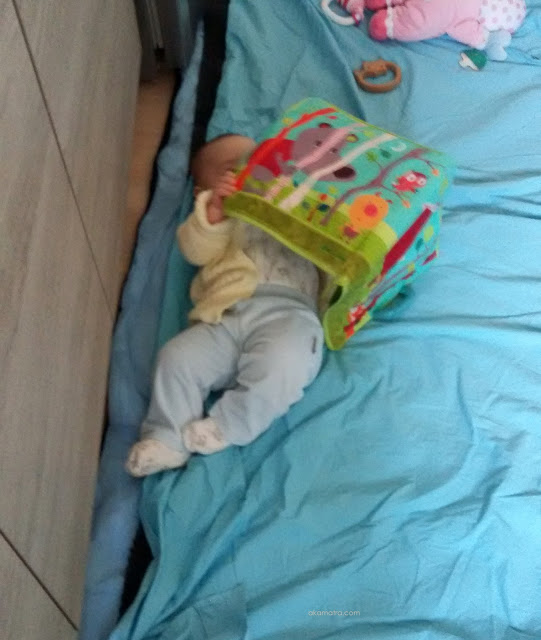 So is there an alternative after all? Yes, there is and it's easier and cheaper than you thought! Put a blanket on the floor. Use a thick nice cotton blanket and top it with a nice organic cotton sheet. Do you need more padding? Are you stressed out that this will not be enough? Add more blankets. It is that simple! Don't use carpets since there are likely made of non safe materials.
Yes I know it's not a very convenient solution because it's not very easy to put it away after the baby has finished using it for the day. It can also be a bit complicated if you have pets in the house. But guess what? It is worth your baby's health! We did it for the 4-5 months Natalia needed it and despite the fact that putting it away and opening it up was one more thing to do during the day, it was well worth it. Keeping the cat of the "mat" was a challenge but not one to make me stop using it! I washed the top blanket and sheet regularly and I never looked back!
If you have read this far, good for you and thank you! I know what you are thinking. Choosing a more natural way of living is not convenient and not as easy as going to the store and getting everything you need. I agree! It is not easy! But it's not that hard either. And given the potential benefits to your kids health, hard is ok!
So, are you ready to make your baby's environment a bit healthier? Part II of this guide will include cutting plastic from the baby's utensils, wash products and more. Stay tuned!
Lots of love