Hello darlings!
I wanted a small yarn bowl to put my yarn in for when I need to crochet a small project like one of my crochet cup cozies at the house. Natalia likes to play with my yarn and though most times I'll let her, there are times when I don't really have the energy to untangle what she's "knitted". 
I found this empty container of ice cream and thought that's no fun! An ice cream container should always be full of ice cream otherwise it's a sad container. Well, I don't make ice cream (just ice cream cakes) but I can make this into a fun container, I thought! 
So I gathered my materials and when Nick took Natalia with him on an errand I made this. It's really fast to do even for us super busy people, so fret not! 
Supplies
Empty container
Piece of felt
Lace ribbon
Hot glue and glue gun
Hole puncher
A pen
A pair of scissors
Decorative scissors
Embroidery scissors
A round magnet (optional)
A crochet flower (optional)
How to make the yarn bowl
Start with measuring the felt piece over your container. You don't have to be exact just a rough appreciation of the size and cut a rectangle to go around the container. Glue one of the smaller sides of the felt onto the container.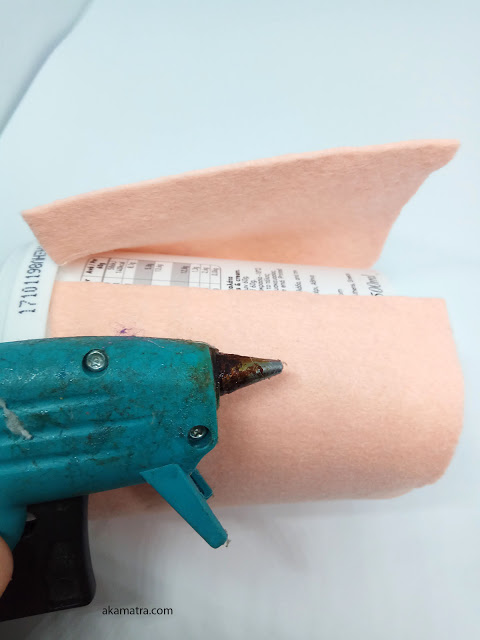 Add some glue on the length of the felt and gently press it on the container.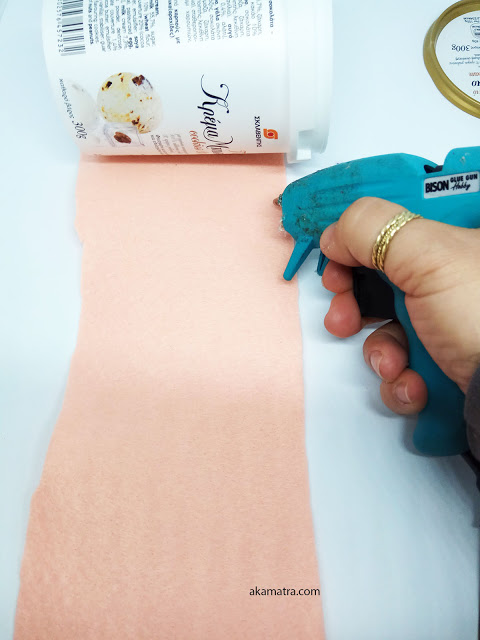 Now cover the edge you previously glued. With your decorative scissors cut the excess of the felt.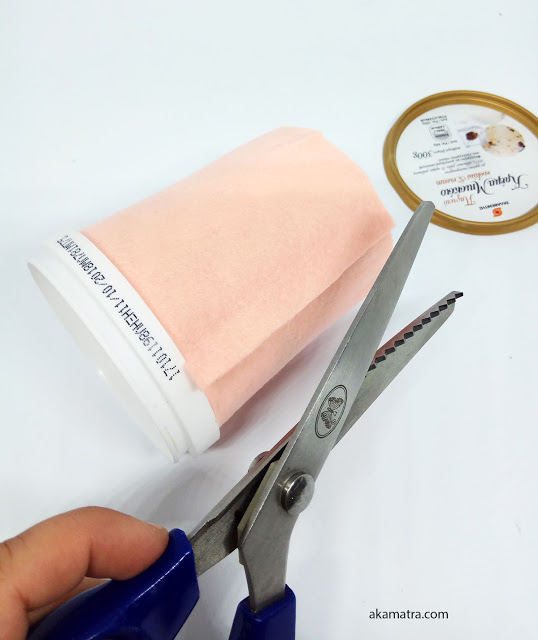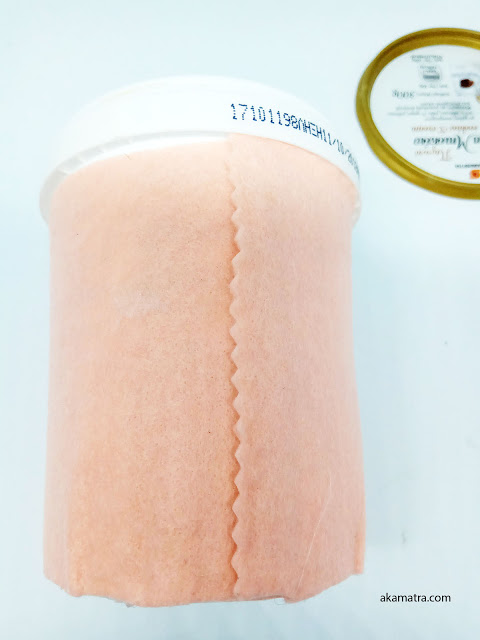 If your container is smaller at the base than the top your felt with need to be glued onto the base and maybe a few folds will be formed. That's ok, no worries, all part of the plan!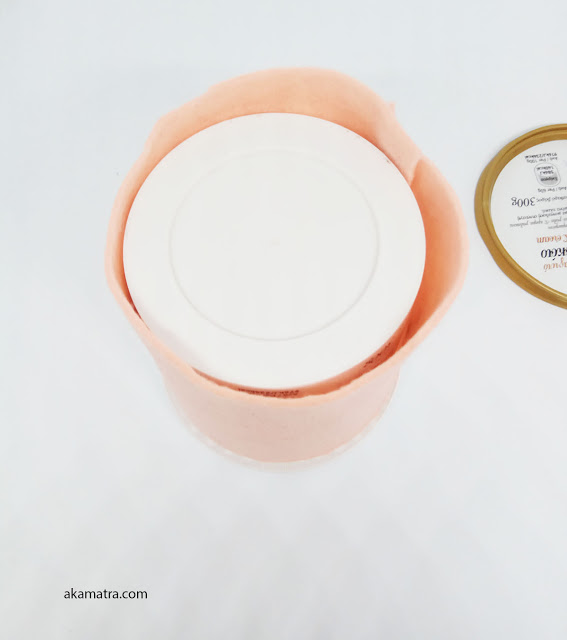 Cut the excess of the felt and make sure the bottom is flat and stands ok. 
Trace the lid of the container onto the felt and cut the circle. Glue it on the lid with the hot glue. Now take you embroidery scissors and cut the edges.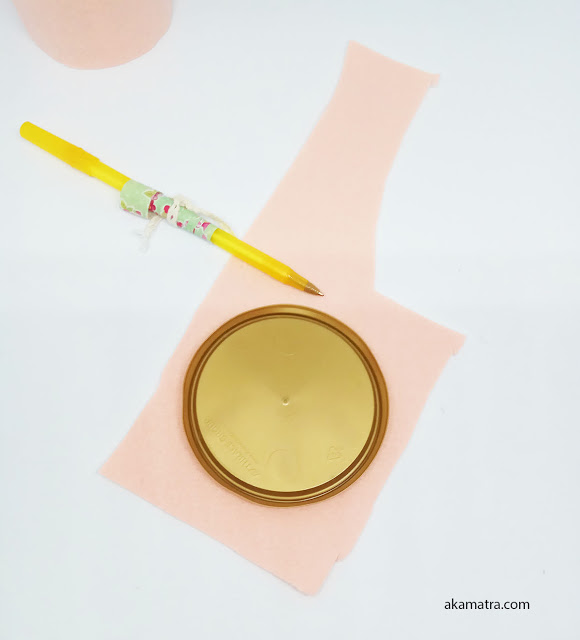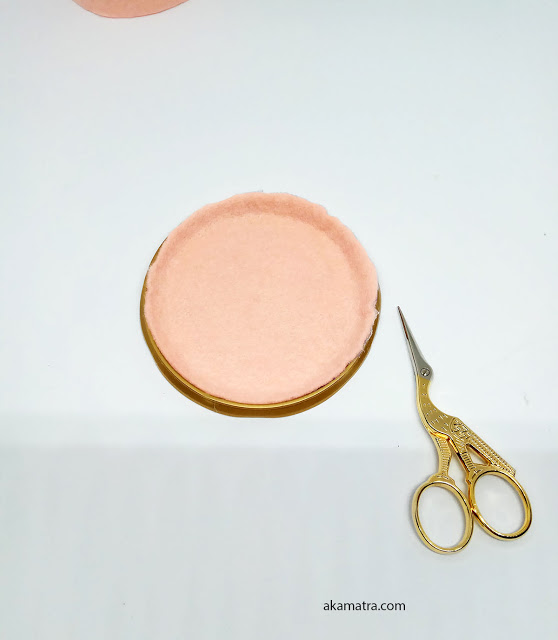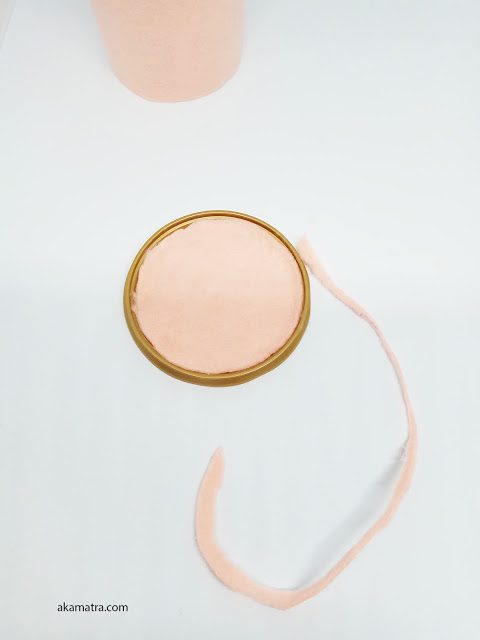 Take your lace trimming and glue it to cover any letters on the top of the containers, or just for fun!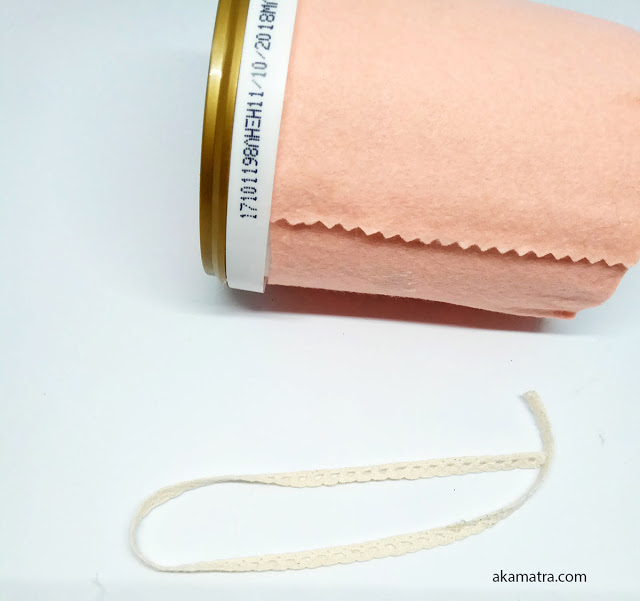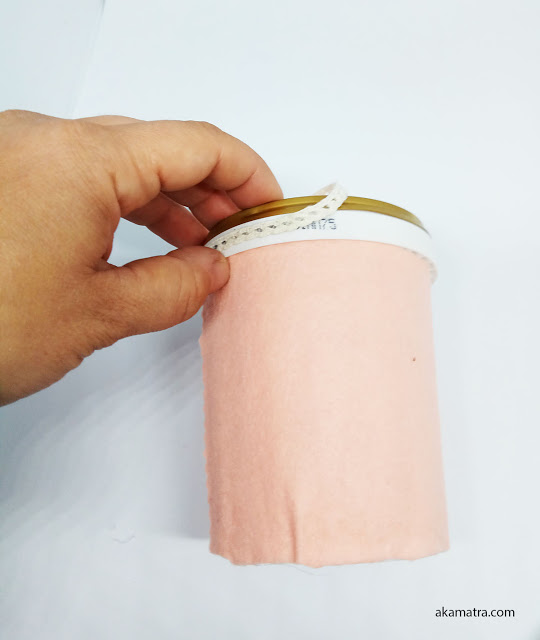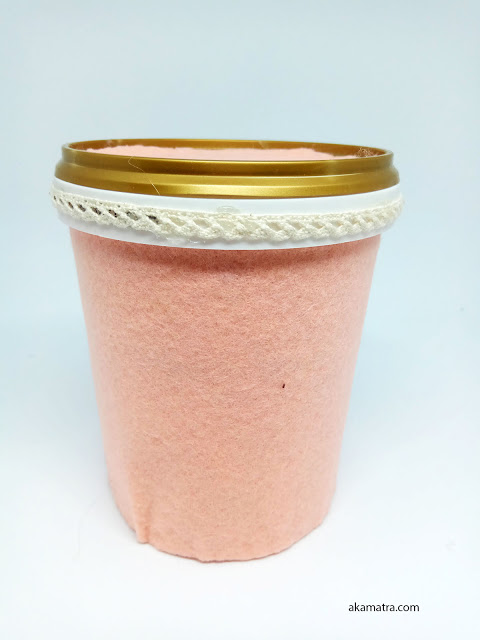 With your hole puncher make a hole on the lid.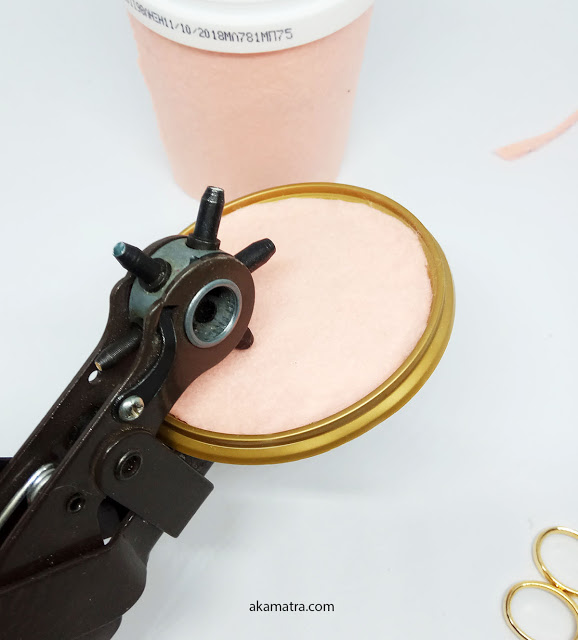 Glue the magnet on the inside of the lid to hold your yarn needles. It's really easy to find them this way!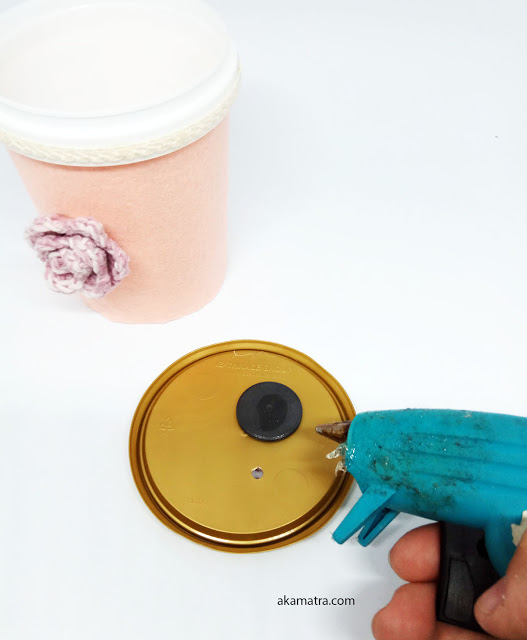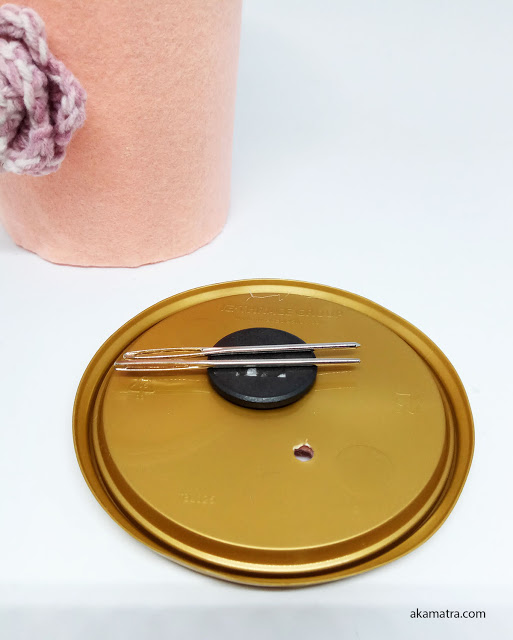 Glue your crochet flower or any other decorative piece you like.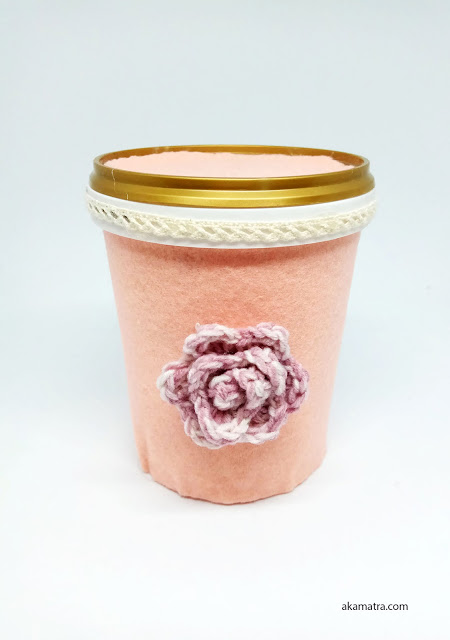 As you see my container has white and gold and I think some pearls would look lovely on it but I am afraid of them coming off and they pose a chocking hazard for Natalia. But if you don't have a baby or toddler at home, go nuts with those pearls!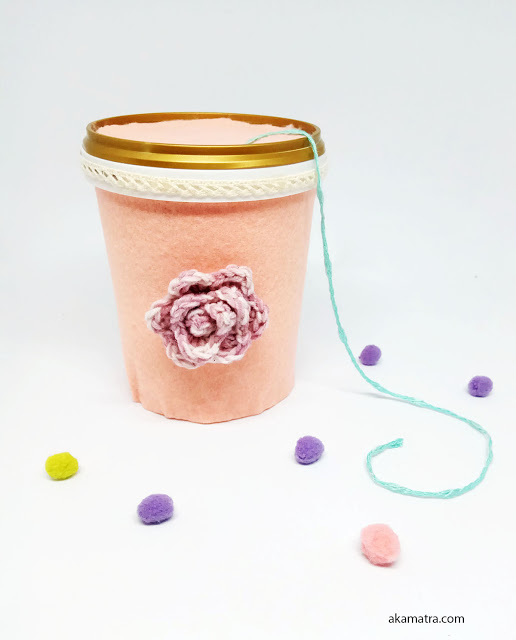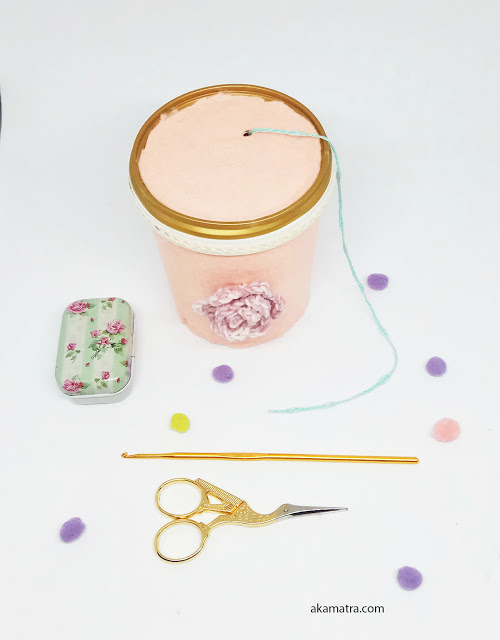 See? It's really easy to make and it will keep the container happy and not sad! I know I could've spent the 20 minutes it took me to make this doing something else and just use the container as it was.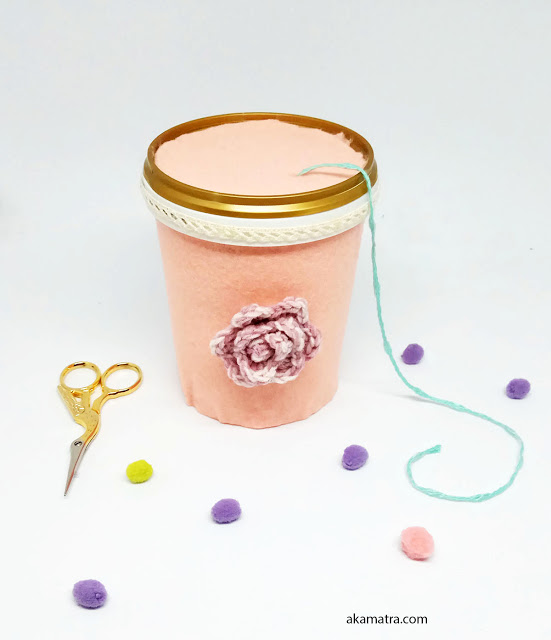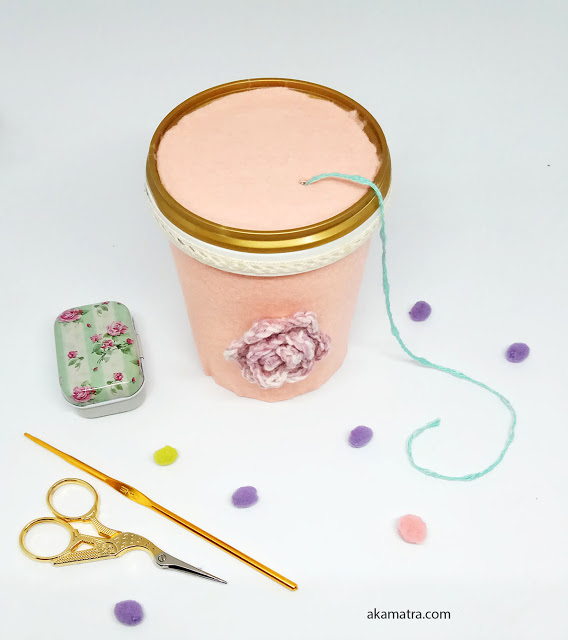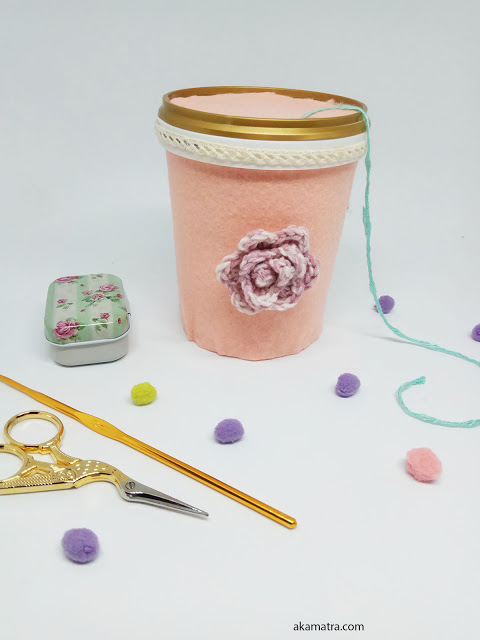 But that wasn't going to be cool since: 
1. I like nice things around my crochet supplies. 
2. If I'd seen an ice cream container all the time, I would want to eat ice cream all the time! 
3. Plus, after I made this, I was calm and happy having spent 20 minutes crafting which I love and I still had time to unload the dishwasher, change the cat's litter, gather the washed clothes and tidy up before Nick and Natalia were back from the errand. So win-win.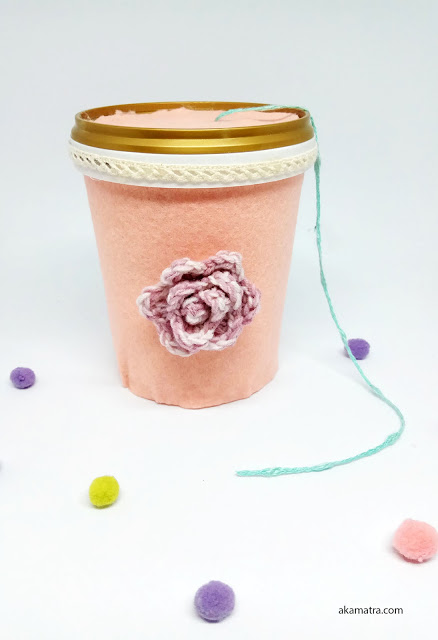 It's really important to have small doses of the things we love isn't it? I know I wouldn't be super happy if I couldn't craft a little bit each week!