Hello darlings!
 I am thrilled to be part of yet another great book tour for Joffe books! This is the sixth book in the series and it's called *Buried lies by Chris Collett. 
What's the book about
 If you love gripping mysteries with great characters this is a book for you! Discover Detective Tom Mariner in this critically acclaimed series.

'Collett is a wonderful writer, subtle, clever, strong on atmosphere and character.' Yorkshire Post

Detective Inspector Tom Mariner goes to the beautiful Welsh countryside to recover. But he finds himself caught up in a murder investigation . . . with him as the prime suspect.

Grieving the death of his former lover, all Mariner wants is some peace and quiet. But his walking holiday is ruined by the discovery of a body in the woods.

The remote stone farmhouses of this beautiful valley hide many buried secrets.

As more bodies are discovered, can Mariner clear his name and avoid becoming the next victim?

Discover an absorbing crime mystery with an action-packed conclusion.

Perfect for fans of Peter James, Ian Rankin and Peter Robinson. This is the sixth book in the DI MARINER SERIES, more books coming soon!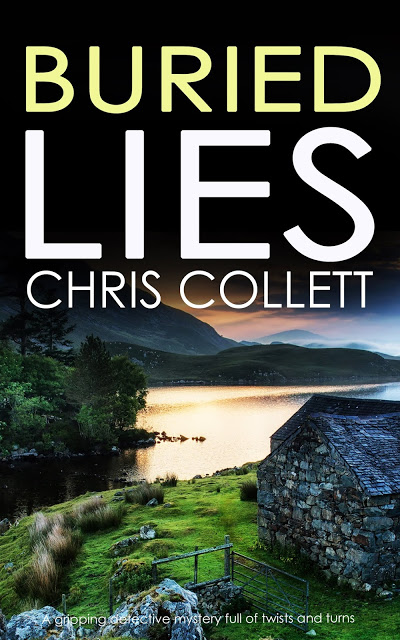 THE SETTING
Birmingham is a city of stark contrasts with a rich cultural and historical heritage. Playing a key role in the industrial revolution, it helped shape the nation's manufacturing industry

But with its many green spaces, Birmingham also borders on the beautiful countryside of Worcestershire and Warwickshire, is just a few miles from Stratford on Avon and a short drive from the wild country of mid-Wales.

Birmingham's population is large and ethnically diverse, and while urban regeneration has forged a modern and culturally vibrant city, the decaying remnants of the industrial past and 1960s concrete jungle give it a unique and gritty character; the dark underbelly policed by DI Tom Mariner and his team.

THE DETECTIVE
Detective Inspector Tom Mariner is, on the surface, an average dedicated policeman, but his experiences as a younger man have given him an insight into life on the dark side, and a clear sense of right and wrong. Mariner has little interest in material things. He lives in a modest canal-side cottage, enjoys the occasional (real) beer and game of dominoes and drives an old car. He is most at home in the outdoors, with an OS map and a compass, and in times of crisis, will take off and walk for miles in any weather.

This is a revised edition of a book first published as "Blood and stone"

DI MARINER SERIES
Book 1: *Deadly Lies
Book 2: *Innocent Lies
Book 3: *Killer Lies
Book 4: *Baby Lies
Book 5: *Married Lies
Book 6: *Buried Lies
Books 7 coming soon

What I think of the book
This is a page turner for sure! I was only putting it down to sleep and missing it all day at work! If I have had the time I would have read this in one sitting as I used to do before Natalia, lol.
This was my first time reading a book by Chris Collett and I was impressed by the fast pacing and interesting writing of his. I have a small crush on DI Tom Mariner and I am stocking up on the previous books in the series.
DI Tom Mariner is a decent cop with a soft spot for his ex girlfriend. I got the impression that she was the one that got away and he's grieving her death right before they were hope of them resuming their relationship. While he puts up the front of a hard man, his friends and colleagues know better and are alarmed when he sets of to Wales for some down time. Especially since a murdered is on the loose leaving dead bodies in his way.
When Tom is caught up in the middle of a murder (or two) things gets complicated and he becomes a suspect. Will he be able to find the real killer and free himself of the accusations? Read the book and find out!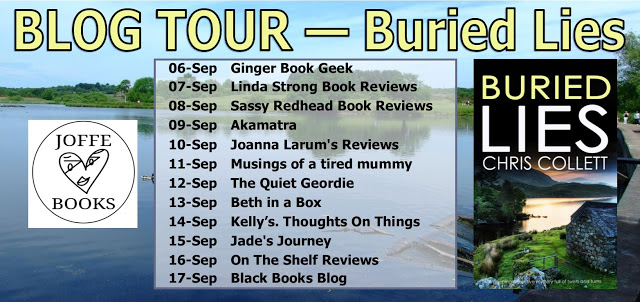 Author's bio
Chris Collett grew up in a Norfolk seaside town where she worked in a boarding house (now defunct) a local bakery (closed down) and a crisp factory (razed to the ground). Graduating in Liverpool, Chris has since taught children and adults with varying degrees of learning disability, including autism. She is now a university lecturer, with two grown up children, and lives in Birmingham; DI Tom Mariner's 'patch'. She has published short stories, teaches creative and crime writing and is a manuscript assessor for the Crime Writers Association.

The first five DI Tom Mariner books will be released in revised editions by Joffe Books in 2017/2018.