Hello darlings!

I am very excited to be part of a blog tour for a Faith Martin book, again! The last one I read, Murder never misses introduced me to this hard core female investigator and I couldn't wait to read more of her brilliant approach to crime solving! 
This is the next book in the series by Faith Martin, Murder at midnight and here's my take of it.

What's the book about
This is the fifteenth book in a crime mystery series written by Faith Martin, featuring the super cool female detective Hillary Greene, taking place in Oxfordshire.
 In this book the victim Felix Olliphant was found stabbed to death at a New Year's Eve costume party for the turn of the millennium.
 Seemingly liked by everyone, motives for his murder are hard to find. There was one suspect, but no evidence.
 Hillary struggles to solve this baffling case. And she has to contend with a new colleague, Jake Barnes. Young and rich, he says he wants to give something back to the community, but Hillary has her doubts.
 Will Hillary finally be defeated by this cold case and will she lose her boss and love interest to a new job?
 Hillary Greene has returned to Thames Valley Police HQ, acting as a cold-case consultant for the Crime Review Team, looking into murders which the police have never been able to solve.
 She wasn't sure she wanted to go back. But solving crimes is irresistible for Hillary Greene. And it doesn't hurt that her new boss is devastatingly handsome.
 This is a crime mystery full of well-observed characters, which will have you gripped from start to the absolutely thrilling conclusion.
What I think of the book
In a nutshell I loved it! Hillary Greene did not disappoint, as she jungles another baffling cold case, her personal relationship with her boss, the changes in their lives as well as the presence of a new colleague that she tries to decipher.  
 I like the way the author stays true to the characters we've come to love from the previous books without becoming boring. After 15 books that's not an easy feature. I also enjoy the building of Hillary's character when she's faced with somewhat stressful romantic feelings. You may say I am a romantic and you wouldn't be off!

You want read any spoilers from me, I am just going to say, you are going to be hard pressed to put this book down, that's for sure!


Please note this is a revised edition of a book first published as "A narrow victory".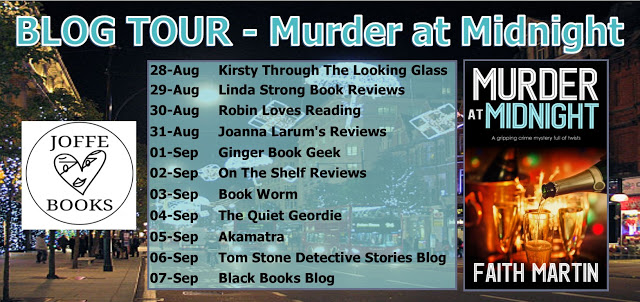 Author's bio
Faith Martin has been writing for over 25 years, in four genres and under four different pen names. She was born in Oxford and sets most of her crime novels within sight of the city of dreaming spires. A real nature lover and afficionado of the countryside, descriptions of wildlife and native flora often find their way into her manuscripts. Right now, JOFFE BOOKS are re-issuing the DI Hillary Greene novels in new updated editions! The first 13 books in the series are available now.

Her romance novels, written under the name of Maxine Barry, are now available from Corazon Books. IMPOSTERS In PARADISE, and HEART OF FIRE are both out, and others will very quickly become available in the future.
Her first foray into writing 'spooky' crime, (and written under the pen name of Jessie Daniels) comes out in November 2017. THE LAVENDER LADY CASEFILE is published by Robert Hale, an imprint of Crowood Press.
As Joyce Cato, she writes more classically-inspired 'proper' whodunits. So, if you like an amateur sleuth, plenty of clues and red herrings, plus a baffling murder mystery to solve, these are the books for you.


What are you going to be reading this summer? Any good mysteries you've read lately?