Hello darlings!

Since I label myself a bookworm and recently revealed to you my 13 reasons why I love eBooks, I thought it was high time for my first blog tour. A blog tour for those who are not familiar with the term, is similar to a regular tour book authors make in book shops but it's on the internet and takes place on blogs. Bloggers get an advanced copy of the book, read it and review it on their site. 
That's what I did for the new book of Faith Martin, Murder never misses. And I am so glad I did since this book became one of my favorites!

What's the book about
This is the fourteenth book in a crime mystery series written by Faith Martin, featuring the super cool female detective Hillary Greene, taking place in Oxfordshire.

What's so cool about this detective? First off she's not a young woman looking to go up the ladder of police ranks and risk everything for a promotion. She's a fifty year old former DI that's been around the block a few times. That in itself is a very novel feature for me, since most of the books I've read on this genre involve young detectives and usually male ones.

She was forced to early retirement (I don't know why yet, I am going to be reading the whole series pretty soon though) but she has found a way to come back to the Thames Valley Police Headquarters as a civilian to help the Crime Review Team with the cold cases.

She's brilliant and shows it even more now after being attacked by her stalker and coming back to work with three cold cases that may or may not be related to the same stalker.

She's also involved with her younger boss and lives on a boat house. I am not sure it can get any cooler than that!

What I think of the book
If it wasn't evident on the above paragraph, I have a slight girl-crush on Hillary. I love the fact that even though I haven't read the previous book in the series, I was able to come together with a picture of Hillary since Faith's writing – although subtle in the way she's not overanalyzing every emotion – leaves no question on her character.

I was able to picture her life as a former DI / middle aged woman who has to came to terms with being attacked, being back to work under different circumstances, trying to solve a cold case and to prevent a new one.

This was a nicely paced book and if I had more time I would probably have read it in one sitting, meaning I would have pulled an all nighter. But since I am sleep deprived as it is with Natalia and her waking up to breastfeed all night, I didn't finish it for a few days. I loved the twist of the story but I can't tell you more without spoiling it for you.

Another thing I liked has to do with the English slang or expressions if you will. I am used to reading American English and this was a chance of pace for me. I really enjoyed it and the fact that I made some of the characters sound like an English lord was reading the book to me. Yes, yes I am weird, I know.
This book hooked me so bad to the amazing character of Hillary that I have already started reading the first book of the series. I guess now you know what I will be reading during my summer vacation!

Please note this is a revised edition of a book first published as "walk a narrow mile".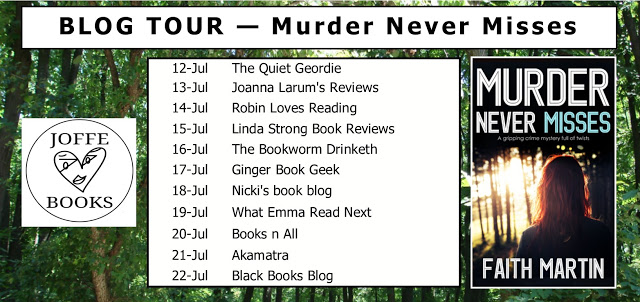 Author's bio
Faith Martin has been writing for over 25 years, in four genres and under four different pen names. She was born in Oxford and sets most of her crime novels within sight of the city of dreaming spires. A real nature lover and afficionado of the countryside, descriptions of wildlife and native flora often find their way into her manuscripts. Right now, JOFFE BOOKS are re-issuing the DI Hillary Greene novels in new updated editions! The first 13 books in the series are available now.

Her romance novels, written under the name of Maxine Barry, are now available from Corazon Books. IMPOSTERS In PARADISE, and HEART OF FIRE are both out, and others will very quickly become available in the future.
Her first foray into writing 'spooky' crime, (and written under the pen name of Jessie Daniels) comes out in November 2017. THE LAVENDER LADY CASEFILE is published by Robert Hale, an imprint of Crowood Press.
As Joyce Cato, she writes more classically-inspired 'proper' whodunits. So, if you like an amateur sleuth, plenty of clues and red herrings, plus a baffling murder mystery to solve, these are the books for you.


What are you going to be reading this summer? Any good mysteries you've read lately? 

Lots of love