Hello there friends! When it comes to making a home more luxurious, there are few areas that deliver as much bang for your buck as the bathroom. Given that this is where you spend hours pampering and preparing yourself for the day—and for winding down prior to bedtime—it makes sense to want this space to be as gorgeous and elegant as possible. Pick and choose from the following elements, from porcelain flooring to ornate bathtubs, to make this crucial room as inviting and breathtaking as can be. Here are some decorating ideas for a luxurious bathroom.
Key Elements of a Luxury Bathroom
LED Lighting – Lighting plays a key role in the aesthetics of a room, and this area of the home is no different. Thanks to modern LED lighting, there is no end to the possibilities here. You can even choose lighting with a sophisticated color to up the ante even more. However, think in terms of two areas: LED lighting for the entire room and LED lighting that accents certain features of it. For best results, choose dimmable LED lighting so that you can achieve the perfect ambiance any time you want.
Skylight – The more the natural light is able to beam into this space, the more inviting and luxurious it's certain to be. Ideally, you should consider putting in a small skylight or two to keep natural light flooding in throughout the year. Of course, your ability to install a skylight will depend on the design of the bathroom and your home. While it doesn't bring in quite as much natural light as a large window, it's a great way to add more elegance to this space.
Countertops – It should go without saying that the countertops in the bathroom have a major impact on its overall style and feel. When decorating, you can't go wrong by sticking with natural stone. However, don't automatically assume that marble is the only choice. Marble is a great option if your budget allows for it because it is completely unique and positively oozing with luxury. However, it tends to cost anywhere from $50 to $150 per square foot, and it doesn't tend to be quite as durable as other options.
Another great option to consider for countertops is quartz. Although technically man made, it's a natural stone that's engineered with polymer resin to add durability and other qualities. If you are concerned about investing large amounts of money into something that may fall apart, then, quartz is a terrific option to consider. Typically costing anywhere from $40 to $100 per square foot, quartz is a bit more affordable than marble and still produces truly breathtaking results. With either of these natural stone materials for countertops, be it quartz or marble, you will feel more like you've escaped to a luxurious spa rather than your bathroom.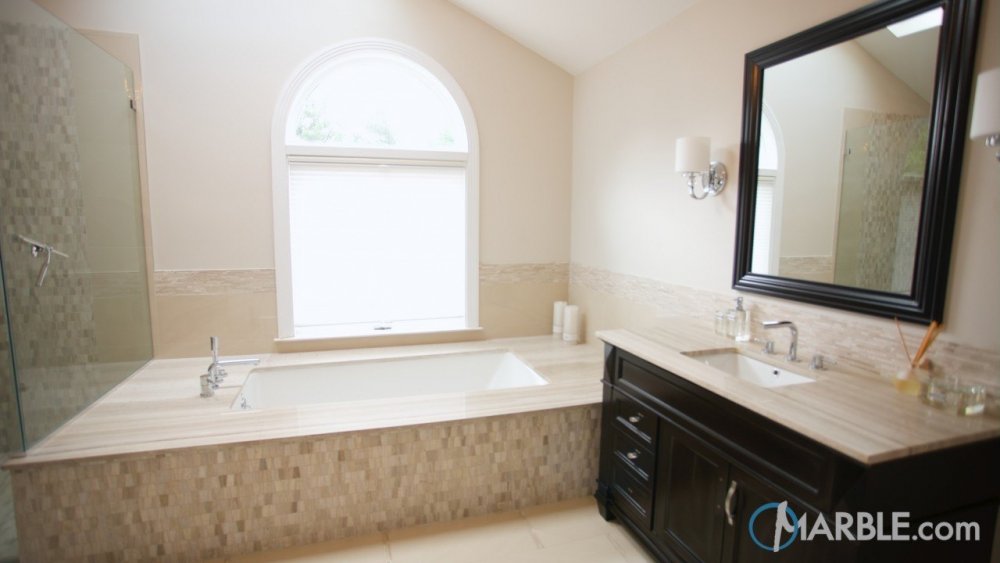 Double Sinks – A key part of making this space truly luxurious is adding elements of spaciousness wherever you can. To that end, you can't go wrong by installing high-end double sinks. You can take your pick from a breathtaking array of options when it comes to choosing double sinks, from flush-mounted sinks to bowl-style sinks that are more like something that you would find in a spa. With double sinks, there will always be enough room for you to spread out and pamper yourself as you see fit.
Artwork – One thing people often overlook when setting up a luxurious, spa-like bathroom is artwork. Dressing up the walls with a few key pieces of art is a terrific way to add sparkle and elegance to the room. It also allows you to let some of your own personal style shine through. Whether you're more into traditional artwork or prefer things with a more modern twist, you can take your pick from seemingly endless options. Be sure to consider relief panels too; they add visual interest and interesting textural contrasts that make a huge difference.
Gorgeous Colors – It's important to choose a sophisticated color palette for the décor of this crucial area of the home. Don't limit yourself to traditional or plain options; instead, think outside of the box a bit and experiment with sophisticated color choices that add a splash of surprise and elegance to the space. A great strategy is to choose a sophisticated color palette that you can use to add interesting contrasts and designs to the walls and accessories of the room. Nature-inspired colors are always excellent choices for this part of the home too.
Space and Aesthetics – When it comes to luxurious style, the larger the room is, the better. The more spacious and open the room is, the more elegant and sophisticated it will look and feel. You can increase its spacious feel with strategically placed mirrors and other elements, including artwork. Also, make the room seem larger and more open by not having a lot of clutter on your countertops. You should avoid having large pieces of décor in your bathroom as well since it can make the room seem more cramped and less open and airy.
Complex and Detailed Features – A key element to any upscale bathroom is the addition of ornate details and complex features. With ornate details, you will want to be a bit sparing and not go overboard. For example, you might choose a stunning chair with ornate details and embellishments along its arms and back and a soft, luxurious cushion to sit on. Similarly, a large mirror with ornate details around its borders is sure to spice things up nicely and using contrasting textures, such as marble and soft, touchable rugs helps a lot too.
Incredible Views – One thing most bathrooms lack is a nice view. If possible, having a large window or two installed in the bathroom is an excellent way to make it more luxurious and upscale. Be sure to place your tub near the window so you can enjoy the stunning view while you bathe.
Claw foot Tub – A key part of a well-designed bathroom is having a focal point. A claw foot tub situated near a beautiful view is a great focal point. People will automatically be captivated by the view and the relaxing as well as old fashioned tub. Whether you opt for a tub that includes ornate embellishments or one with a simpler, cleaner design, it is sure to round out the design of this part of the house perfectly.
Crystal Accents – Add a dash of sparkling allure to the bath area by throwing in a few items that are decorated with crystal here and there. This also helps to make the room seem more spacious. The trick here is to not be too heavy handed when adding these touches; less is definitely more. A small but exquisite crystal chandelier can be the perfect addition to a trendy space like this and you can also always add décor with twinkling crystal touches that really make the area shine.
Gorgeous Flooring – To complete the luxuriousness of this room, it's important not to overlook the flooring. After taking the time to make the walls, ceiling and fixtures as decorative as possible, it's crucial to also take your time in selecting the flooring. Of course, you'll want to keep the overall design in mind in this case. It's key to pick flooring that's stylish and matches with the rest of the space. Porcelain tiles are very versatile and you can take them in several different directions. One of the main benefits about porcelain is that it's available in a dizzying array of shades and finishes, allowing you to achieve the perfect look. Porcelain can be cold to the touch, so soften and warm things up with a few carefully placed rugs—or consider opting for heated flooring for an exceptionally comfortable space. You'll appreciate this when you're done bathing and want to warm yourself up.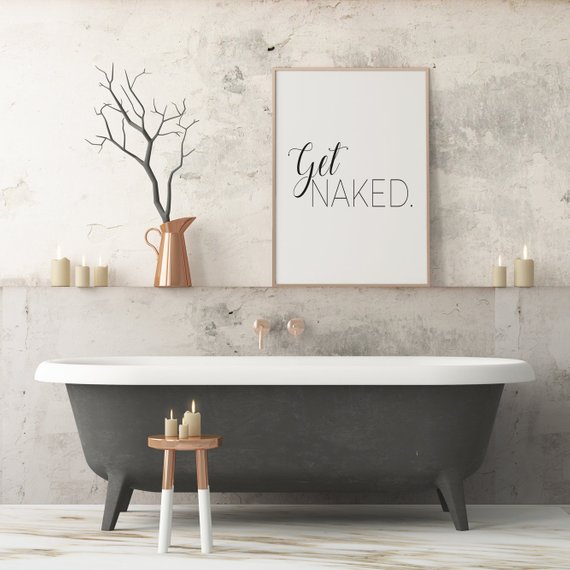 There are several different directions in which you can go to increase the overall luxury of the bathroom. Depending on your budget, you may opt to implement just a handful of the recommendations above—or you may decide to do a total makeover, including making it bigger to add that crucial element of spaciousness. However, you decide to design your bathroom, you can be sure of one thing: It will be uniquely yours, designed for you and by you—and what could be better than that?
This article was submitted by Jessica of marble.com.