I am a happy girl with a crochet hook (or knitting needles) and some yarn. Recently I begun a new collaboration with Darn Good Yarn and their brand name is not wrong! They do have some really good yarn! I chose their worsted weight recycled silk yarn in the Machu Picchu color and it was amazing! Read below to find out the Blue Skies crochet baby blanket pattern and my notes!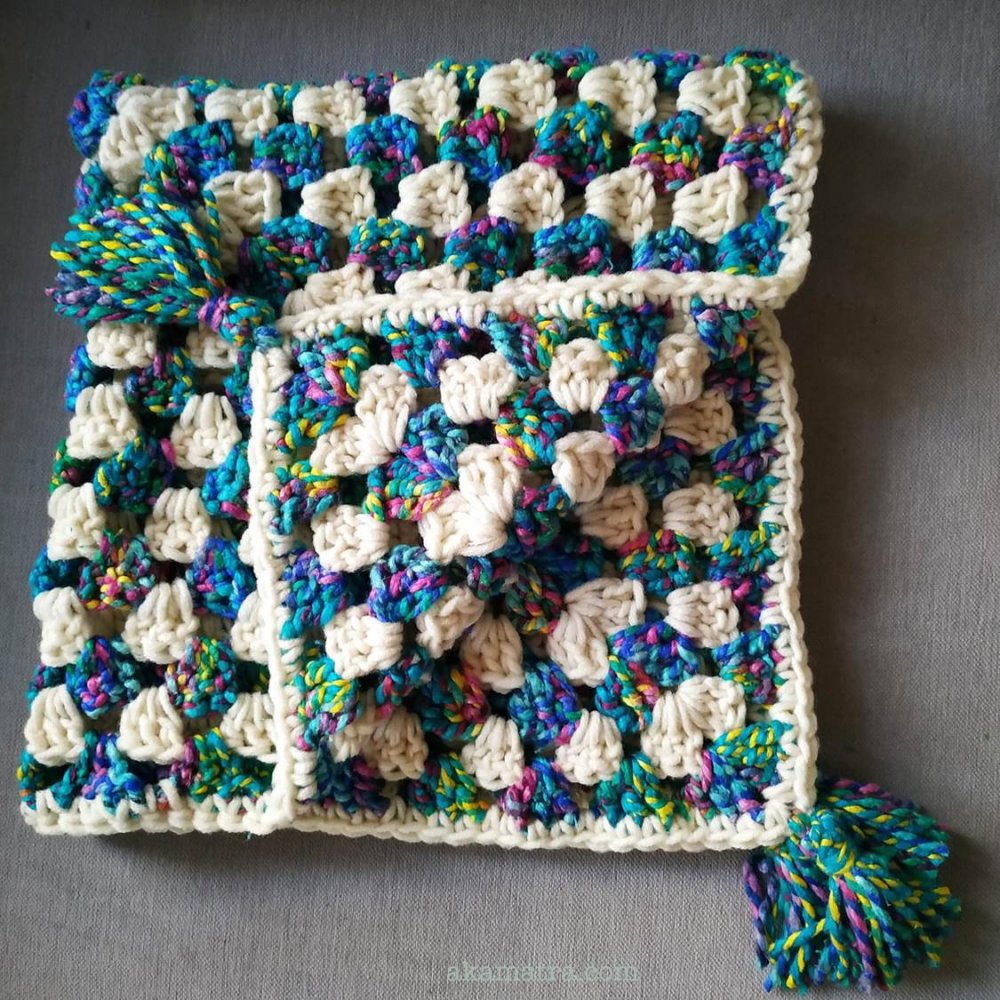 This post contains affiliate links which means that if you click through and make a purchase, at no additional cost to you, I'll get pocket money to go yarn shopping. So you are feeding my yarn addiction. I knew you'd be a bad influence!
As I wrote on my instagram post, I usually choose solid colors for my projects or subtle colors if I am going for a variegated yarn. In this case though, I stepped out of my color comfort zone and went for something more fun! I didn't have a particular project in mind, I wanted to be inspired by the yarn itself and so I did. After going on and off about whether to knit it or crochet it, I found some skeins of wool yarn in off white that was exactly the same weight as the recycled silk and an idea came to mind! I combined the two with the classic granny square stitch to make a baby blanket.
Blue skies crochet baby blanket pattern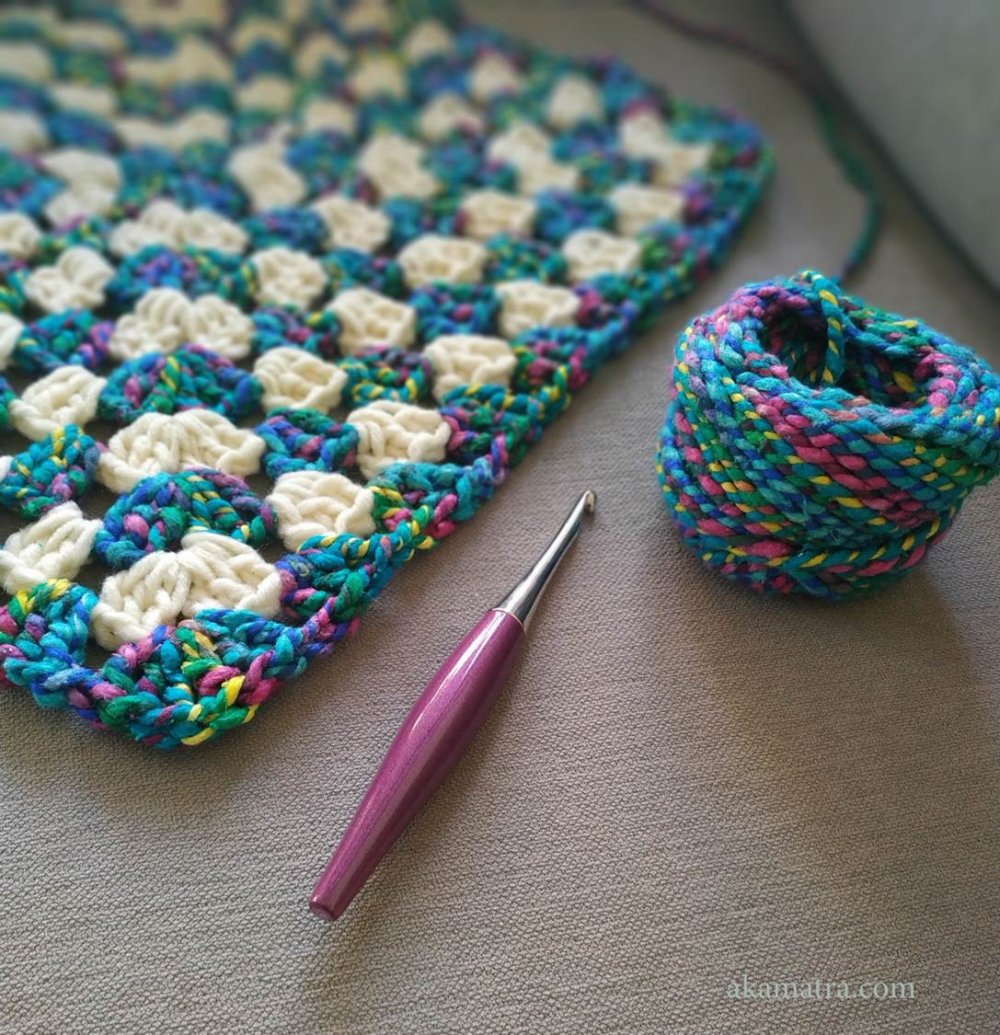 The yarn itself is very soft and nice to the touch. I wouldn't call it a worsted weight yarn to be honest though. It felt much more bulkier to me and I used a 7.00mm crochet hook to make the blanket, so I'd say it's a bulky yarn weight. 
The result was really thrilling! The off white brings out the amazing colors of the recycled silk and does not overwhelm the eye! I adore the result and hope that the recipient loves it too! I also loved the detail of the tassels! They add cuteness and they spark joy!
You can read below some of my pattern notes. They are helpful especially if you are a beginner in crochet.
Blue skies crochet baby blanket supplies list
4 Darn Good Twist Worsted Weight Silk Yarn in Macchu Picchu
4 skeins of bulky wool yarn in off white (left over from another project)
7.00mm crochet hook
Yarn needle
Scissors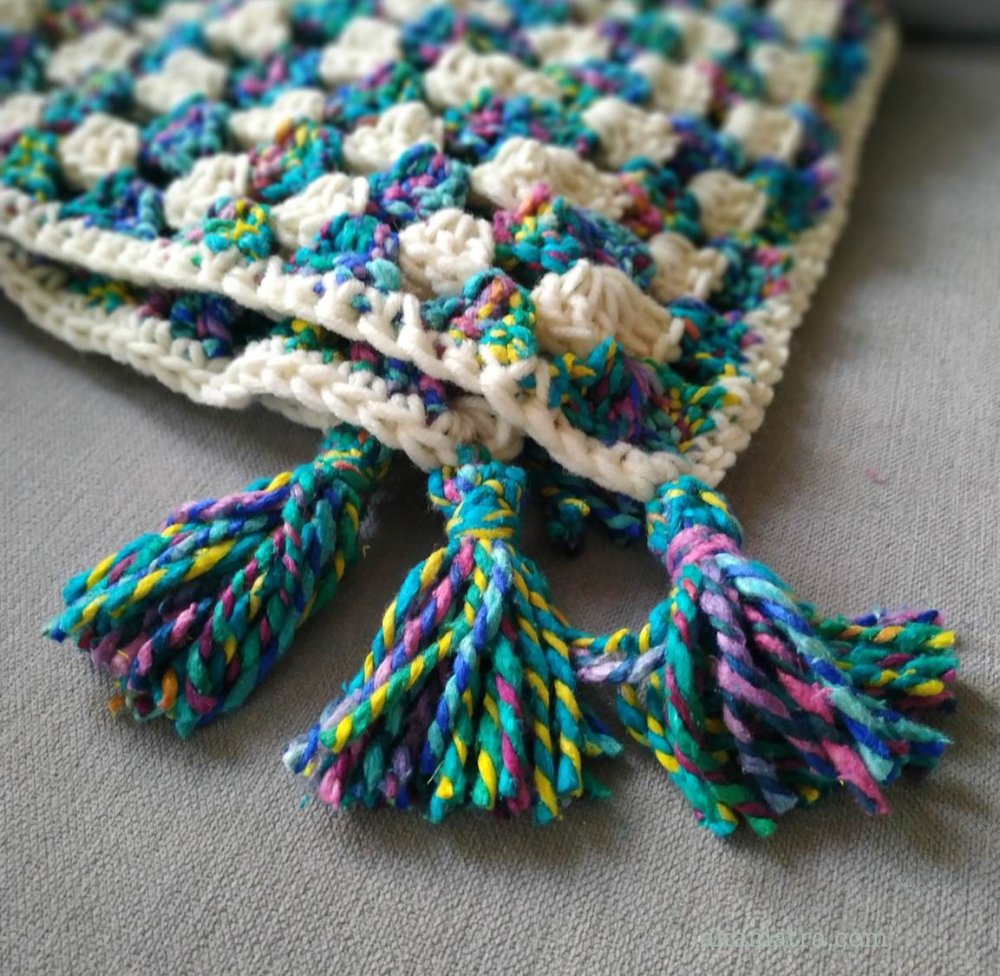 Blue skies crochet baby blanket pattern notes
Follow the classic granny square pattern (if you don't know how there are plenty of youtube videos to guide you) and change yarn in every round. I begun with the Machu Picchu and then changed to the off white yarn. I did 15 rounds of the granny square stitch and then ended the baby blanket with a round of single crochet.
In order to avoid cutting the yarn and re-attaching it to the project, I carried the yarn in the first set of 3 double crochets. That means that I carried the off white yarn for the first set of 3 double crochets with the Machu Picchu yarn and didn't cut it off. It doesn't show that much and it does saves a lot of time (and yarn) to do it this way, but if you prefer it you can cut the yarn in each round.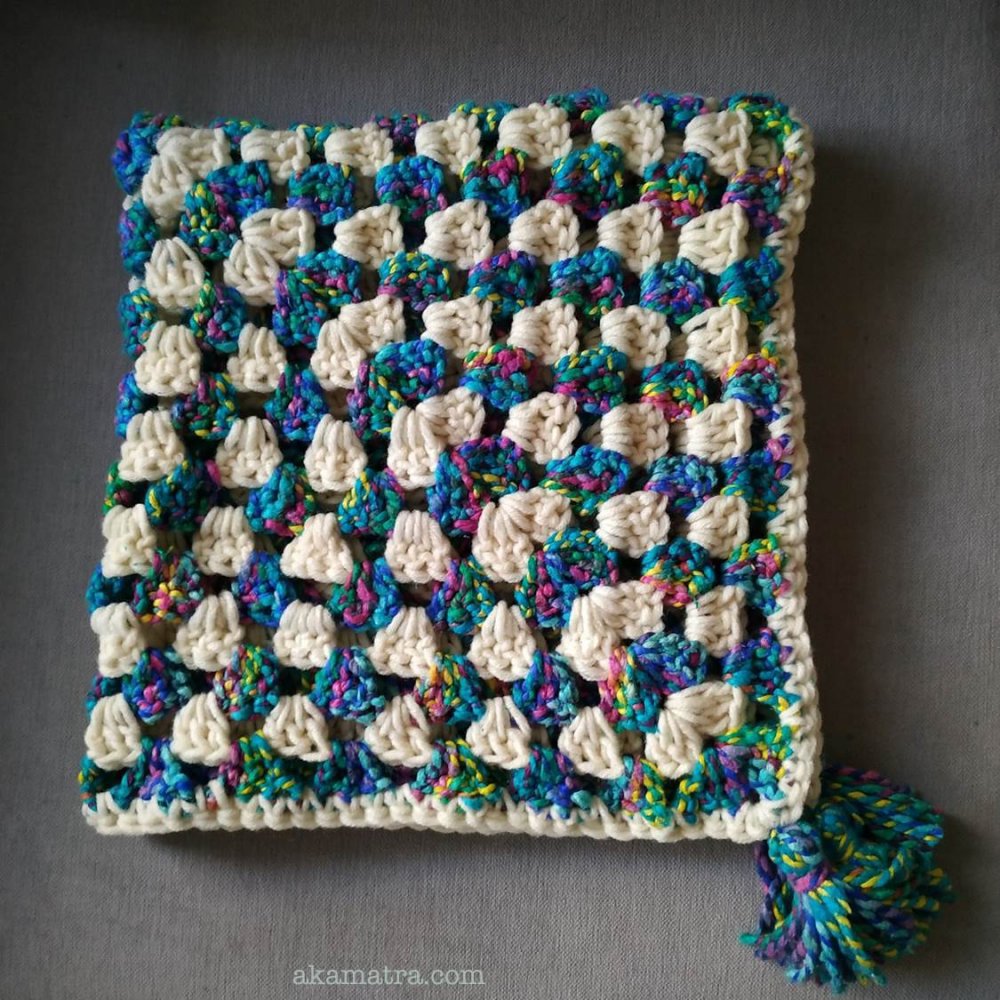 I made 4 tassels and sew them on the four corners of the baby blanket.
I didn't change directions in each round, I just kept going in the same direction. Some people find that when they do that, they rectangle becomes tilted because of tension issues. If you are one of those, I'd encourage you to change directions in each round.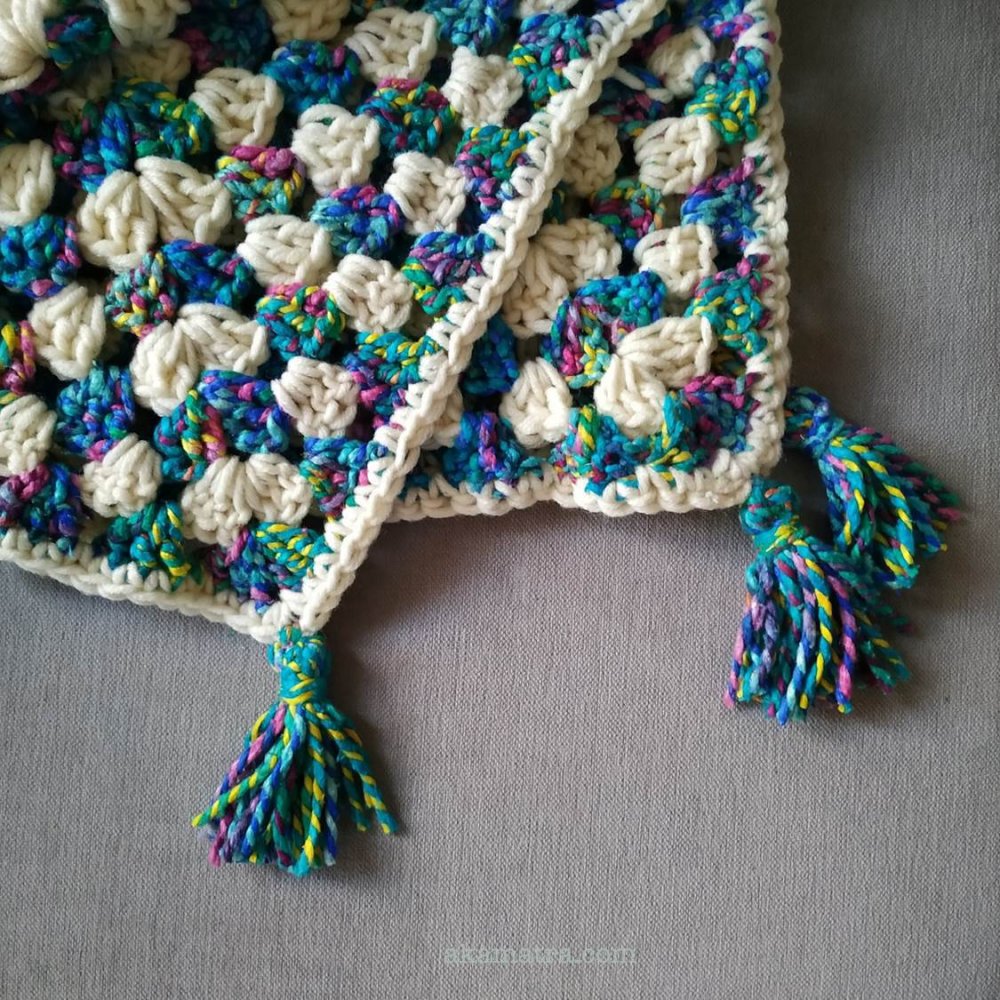 Blue skies crochet baby blanket pattern
The finished size of the blanket is approximately 1 square meter, which makes it ideal as a stroller baby blanket. The great thing about the granny square stitch is that you can make it as big as you like!
I hope you like my Blue skies crochet baby blanket pattern! I love it!