I am challenging myself this month to go on a vegan diet. Being vegetarian comes totally natural to me and I think it's a sustainable lifestyle at this point of my life. But, I wanted to test my feet in being vegan too, so I am giving it a month. Off course, it's December and maybe it's not the best month to test this, but, oh well! Every December I make several batches of ginger cookies because we love them! I used my own recipe - which is a mix of several others I've tried over the years - which is refined sugar free but includes eggs. So, in order to be able to enjoy the cookies for myself, I changed the recipe into a vegan one! You'll never guess what happened! They turned out even better! I swear, these vegan ginger thins refined sugar free are amazing!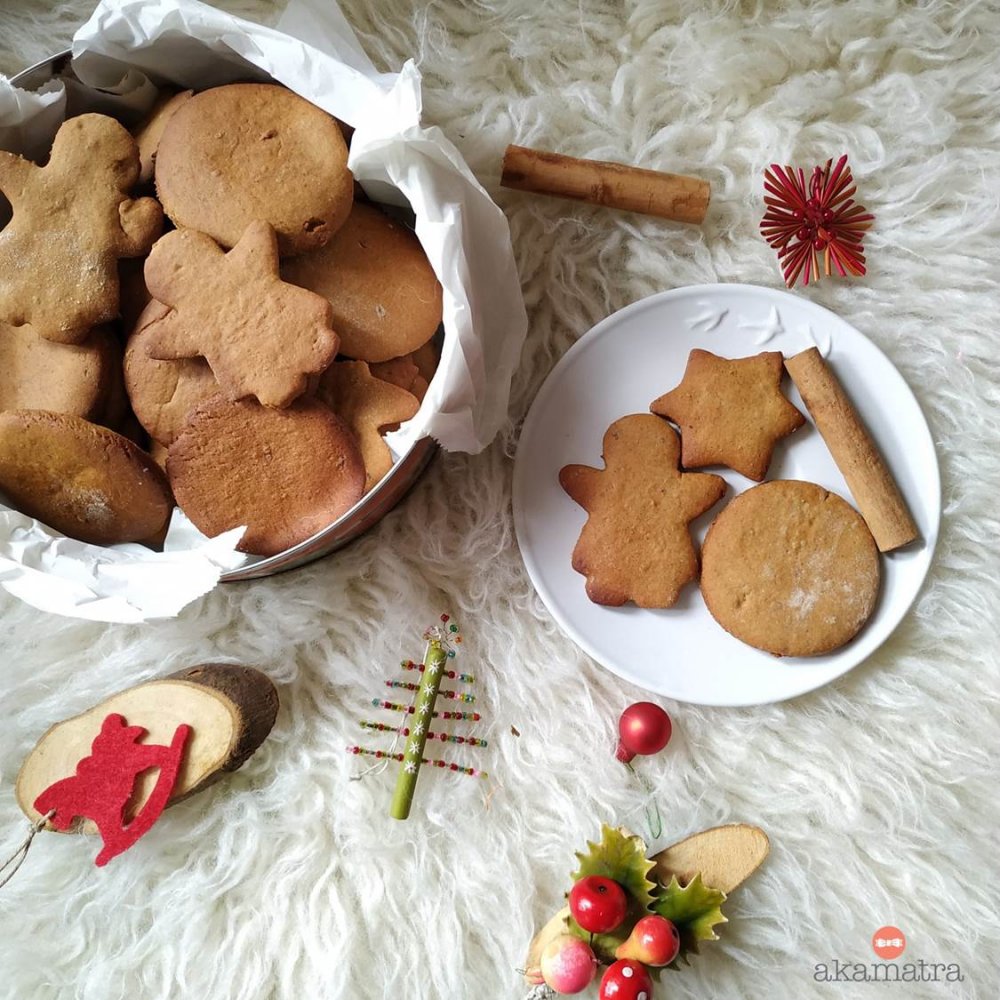 The first time I ate a ginger cookie was when a dear friend from Lithuania brought us some. I was blown away! I learned that they are traditional Swedish cookies that are called Pepparkakor and I've been making them ever since! 
Vegan ginger thins refined sugar free
My daughter can't stop eating them too. They are really spicy though so if you don't enjoy spicy dessert this will not be for you. Although, you could reduce the amount of ginger and cardamom, but then you'll just have regular cookies.
We really enjoy them thin and crisp. The recipe below makes a whole lot of them and they can be stored for about 2 weeks in an air tight container, but ours never lasted that long!
They can be cut into any shape you want. This year I made angels, stars and circles. The dough needs to be refrigerated for a couple of hours in order to be easies to handle and hold their shape. Don't be afraid to use a little more flour than usual to help you roll out the dough into a sheet. The cookie cutters wont stick so much and the cookies will be easier to transport into the baking sheet.
Vegan ginger thins refined sugar free
Ingredients
2.5 cups of organic flour (+ 0,5 cup for facilitating the roll out)
2.5 tbsps ground ginger  (less if you want it less spicy)
1 tsp ground cardamom
2 tsps ground cinnamon
2 pitches of pepper (less if you want it less spicy)
2 tsps soda bicarbonate
1 pitch of salt 
150ml extra virgin olive oil
250ml grape molasses
2 tbsps flaxseed meal
6 tbsps water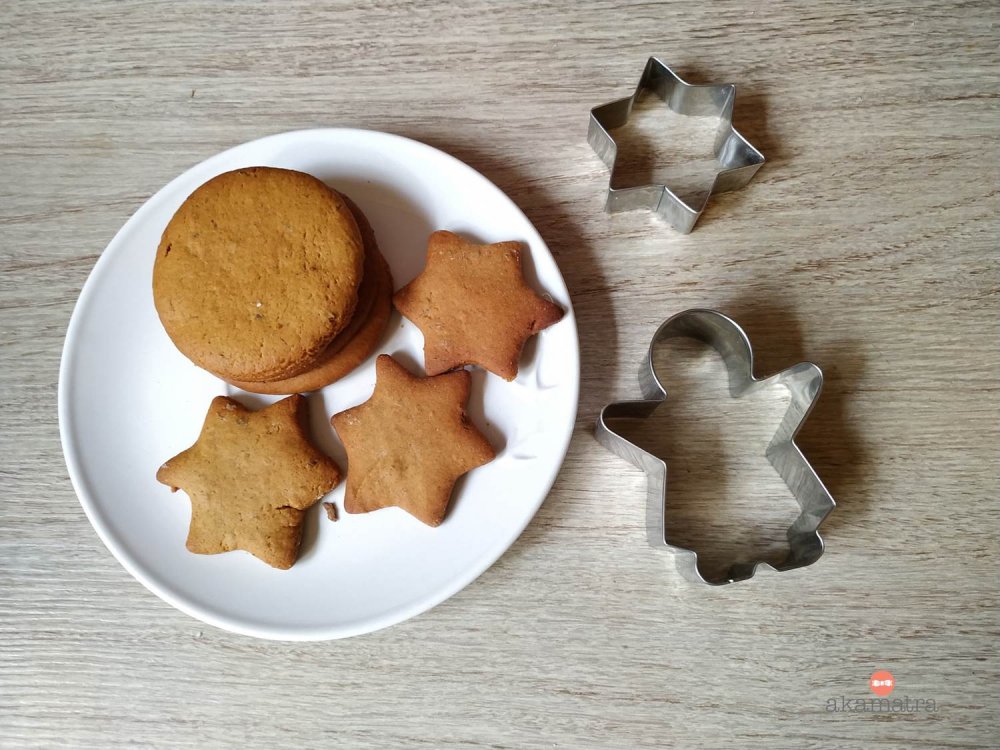 Vegan ginger thins refined sugar free
Procedure
Mix the flaxseed meal with the water and let it sit until you need it. That's the egg replacement - also called a flax egg.
Mix the rest of the dry ingredients into a mixing bowl. Use a fork or a egg beater to crash all the chunks out.
Mix the olive oil with the molasses and add the flax egg. Mix with a hand mixer for a minute or two.
Add the dry mix and combine them. You will get a soft dough that's not easy to handle but doesn't stick to your hands. If it does, add some more flour.
Put the dough in the frigde for a couple of hours.
Preheat the oven at 170oC.
Put some flour on your work bench and roll out the dough. Use any kind of cookie cutters you want or just a glass to make round ones.
Place the cookies on a baking sheet with baking paper and bake them for 10 minutes or until they get golden brown.
Place the cookies on a grid and once they are totally cool, store in a container.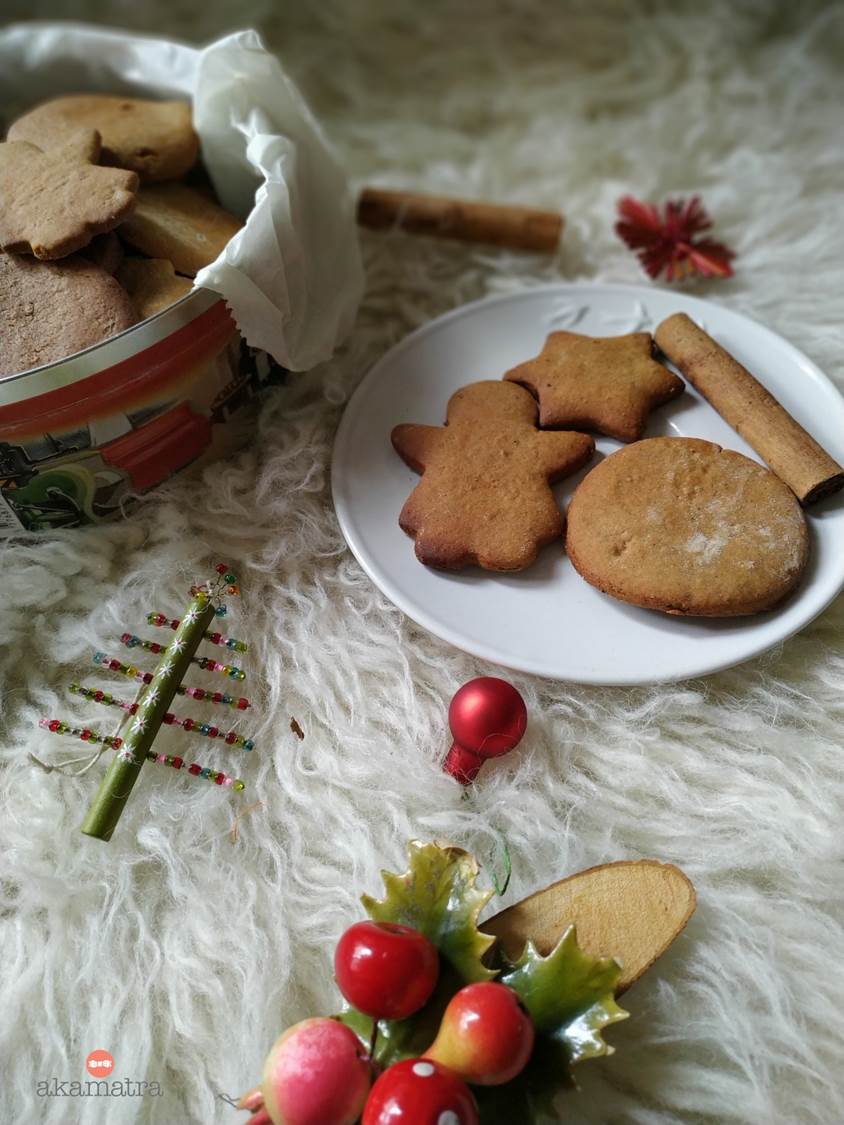 Vegan ginger thins refined sugar free
I love to munch on them with my evening tea! They are really spicy and tasty and filled with great nutrients too! The non vegan ones really have nothing on them! So much so, that even if I am not going to remain vegan, I am going to stick to this recipe for now on!
Do you like spicy cookies? Have you ever eaten ginger thins?