Hello sweeties! I had the morning to myself and didn't want to go outside, so I've decided to make something beautiful! Make a lamp vase from an old light bulb!
UPDATE: There are now two more versions of the lamp vase from an old light bulb in my blog! Check out the painted version and the more advanced option that includes light fixtures too! 
I have been seeing these wonderful vases made of lamp bulbs all over pinterest for some time now. They looked so appealing! However, I stopped using this kind of bulbs years ago and the new ones (CFL) contain mercury and they are totally unsuitable for the task! In fact they should never ever, I mean EVER break. (in case they do by accident learn what you need to do to stay safe here and here).
Yesterday, I discovered that the last remaining traditional bulb I had in my balcony, had died and thought of giving this tutorial a try.
It was a bit harder than I thought to take all the glasses and inside parts of the lamp out, mostly because my bulb was really small. It took me almost 15 minutes to do that, but it was easier from then on! I just made two holes in the metal and adjusted some wire. Then I added water and some baby's breath flowers and ta-da! What do you think?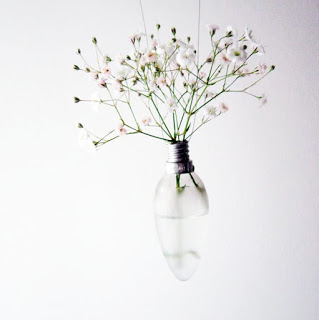 I really like the simplicity and minimalism that comes forward from this vase. That's why I loved putting the angel breath in it so much. Nothing fancy but still so much beauty. I am now actively looking for old bulbs to recycle into vases. Don't throw yours away if you have some, I can take them out of your hands!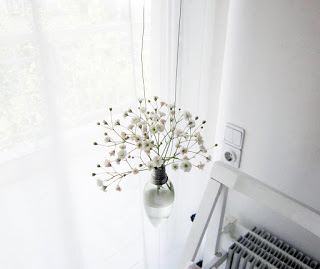 I think I love my new vase!!!
Wishing you a wonderful and carefree weekend!