Hello darlings,


After publishing our first issue of our new online magazine C2 I needed a break from the computer and blogging and so me and Nick went on a nice little trip to Thessaloniki, where we had too much fun and too much food!
Now I am back and there are so many things I want to show you I don't really know where to start! Since the fasting week before the Orthodox Easter is upon us I thought I share a recipe for a very nice and quite famous Cretan salad called Dakos.
The original Cretan name for the salad though is Koukouvagia, which means Owl. The story behind the weird name - according to my late great aunt Calliope - is that during the hard times of the war, where food and especially meat was scarce, children were told that the rusk that makes the salad was actually owl meat. Since the owls where almost the only wild animal left alive in the woods during that time, it wasn't hard for the kids to believe the story.
The widespread name for this cold plate now is Dakos, named after the particular rusk that makes the salad. This is really an easy recipe, and the photos are self-explanatory. We make it at home almost every day with salt-free Cretan rusks and olive oil! 

For one person
A medium sized ripe tomato
One dakos rusk
Olive oil
Oregano ( I got mine from here)
Feta cheese (or vegan cheese if you are vegan)
Salt if you use it.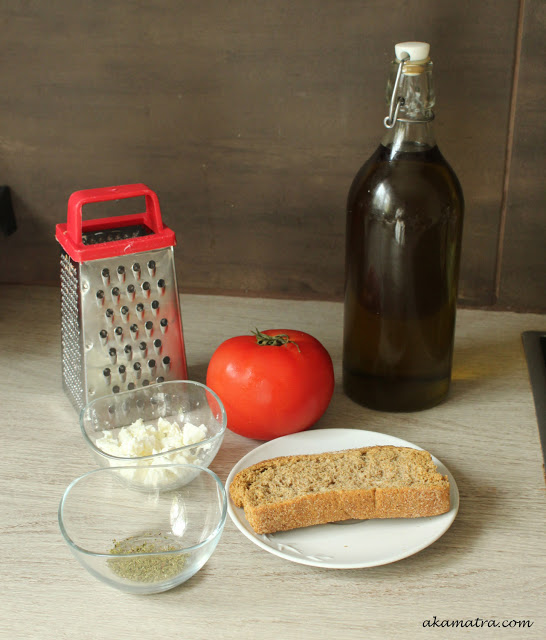 If you want to taste the real deal then you either break your rusk in smaller pieces of leave it as it is. Some people like to get it wet with some water but that's not for me.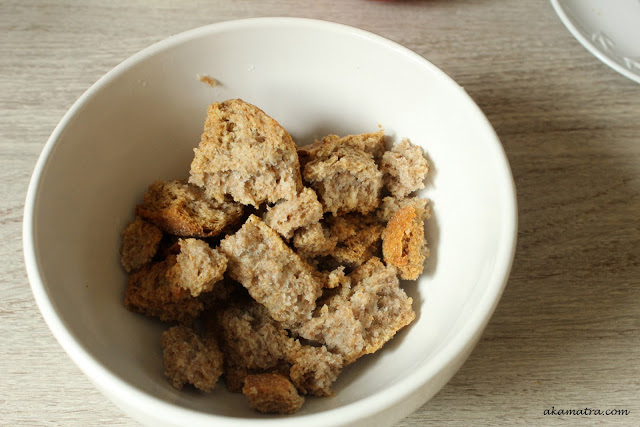 After washing your tomato, gently peal the flesh away. Then trim it down. I use an old-fashioned trimmer but you can use a hand held food processor too.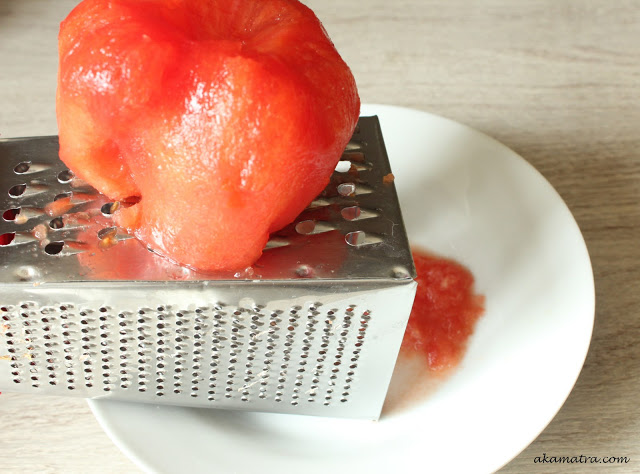 I like the old fashioned way cause the tomato stays in larger chunks.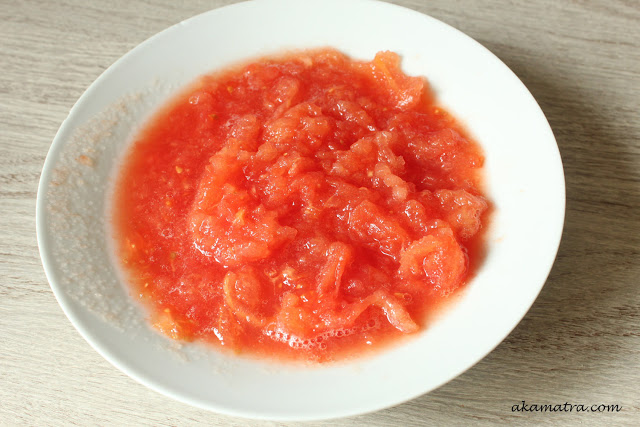 Now take your tomato puree and put it on top of your rusk. Leave it like that (in the fridge if you prefer) for 15-20 minutes so the tomato juice will soften the rusk (that's why I don't like getting wet with water in the first place).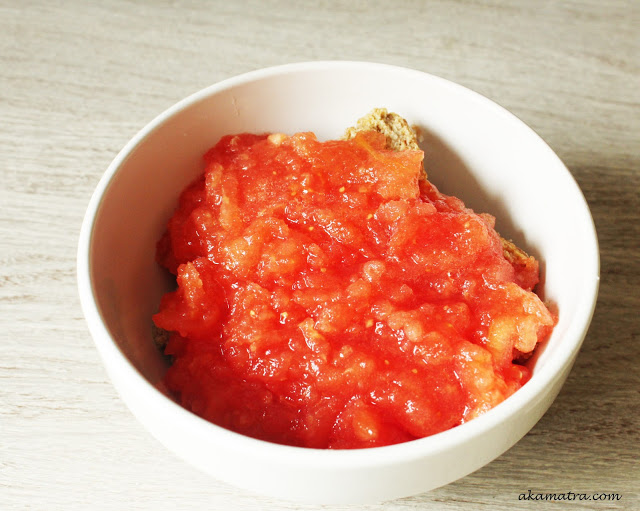 Add a table spoon of olive oil, feta cheese and oregano. And you are set!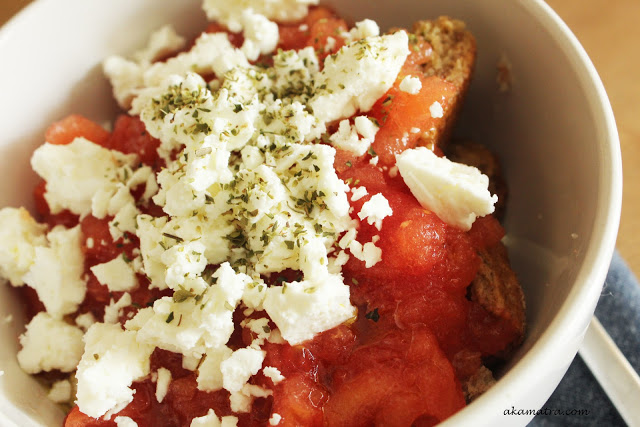 It's best enjoyed in the balcony under the sun and the fresh air!!!!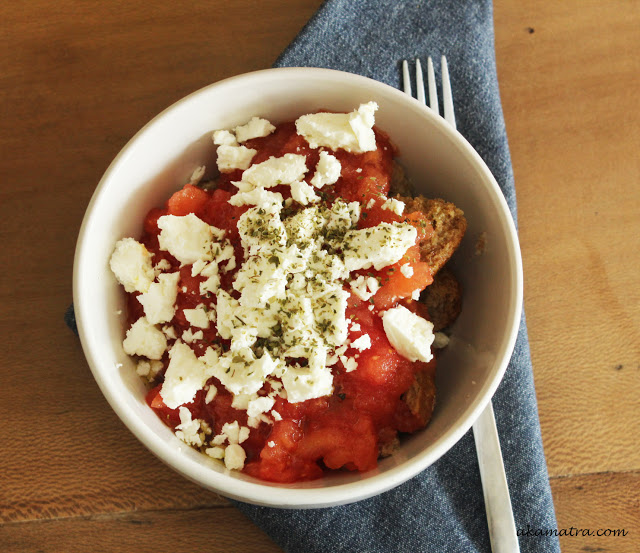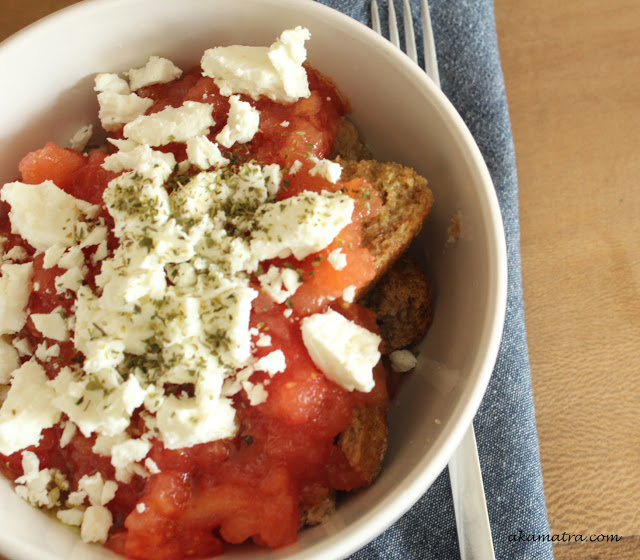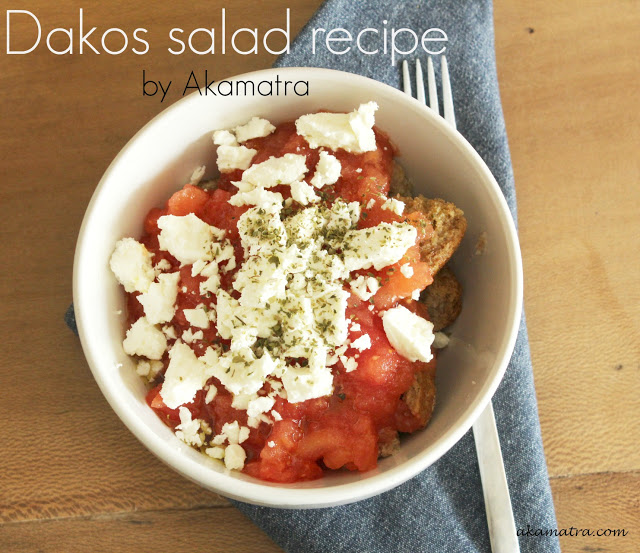 I hope you'll like this easy salad as much as I do! You can check out my other recipes here.
If you enjoy traditional tastes and recipes, then you'll definitely enjoy this awesome giveaway I am co-hosting with Zina from EfZinCreations! I've already told you about Terra Delicia shop here, so you know how much I like this shop. If you live in Greece you can participate in our latest giveaway here.
Lot's of love