Hello darlings!
I have been MIA but for good reason. Akamatra is going to be moving to her new blogger home soon and I am keeping busy with all the preparations. 
Among other things I am preparing a new travel series featuring places from all over the world. To start it off this is a two day itinerary for Jacksonville, Florida. I've never been there but it's on my bucket list for my next trip to the US of A along with some underrated destinations too. Enjoy!
The sunshine and beaches draw a lot of tourists to Florida year after year. While most people choose to visit Orlando, Miami, Panama City, and other beautiful destinations, Jacksonville is often overlooked by many travelers. As a large city, Jacksonville has a lot of awesome activities to offer, and since it doesn't get quite as many tourists as some other cities in Florida, you'll find that your vacation is so much more relaxing! Jacksonville loves tourists and tries hard to bring them in, with some success. However, since it doesn't have the draw of Orlando or Miami, you won't find many tourist traps, wich makes for a refreshing vacation. Without further ado, here is your 2 day Jacksonville itinerary!
Day 1:
Go to the Beach!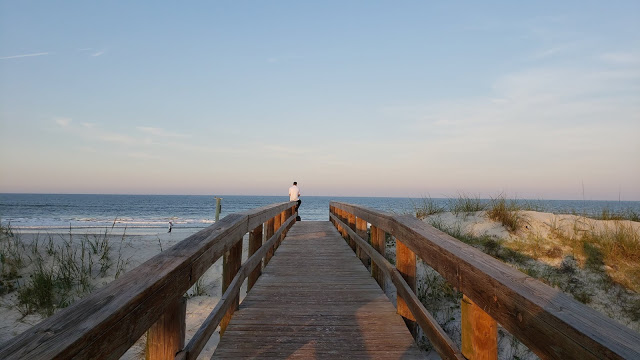 You cannot visit Florida without making some time for the beach! While Jacksonville doesn't have the most famous beaches in Florida, they're still beautiful! Jacksonville Beach is arguably the most lively beach in Jacksonville. It has a pier for fishing and a boardwalk with plenty of restaurants and bars for you to enjoy. The beach itself has soft, white sand. There are usually decent sized waves for surfing and boogie boarding, which is fun! Although, some days, the water is pretty flat. It just depends on the day. It's not a great beach for shelling, but you might be able to find some keepers! (If you love shelling and searching for Shark teeth, you should visit Mickler's Beach, which is south of Jacksonville Beach.) Jacksonville Beach has lifeguards, which is a huge plus. Many other beaches (like Mickler's) don't. You also have bathrooms and an outdoor shower where you can rinse off. Learn more about visiting Jacksonville Beach.
Get Lunch at Hoptinger Bier Garden & Sausage House
If you got to Jacksonville Beach, you cannot miss having a beer and a bratwurst at Hoptingers! It is a German-themed beer garden, which means they have a ridiculous number of beers on tap! You can get just about anything you want. Plus, their food is fantastic! Most of it is inspired by Germany, but they also serve fantastic Poutine, just sayin'.
Take a Walk Along the Boardwalk
After lunch, it's always a good idea to take a walk, and the boardwalk is the perfect place! You get to see cute dogs, fun shops, and more! There are plenty of restaurants where you can sit outside, order a drink, and enjoy the beautiful weather, and people watch! The beach is all about taking things slow, so take you time and enjoy yourself. You should linger wherever it feels right!
Grab Dinner at Poe's Tavern
Do you love Edgar Allan Poe? Well, you should go to Poe's Tavern even if you don't! Their burgers are amazing. Seriously. The atmosphere is also awesome! Everything is Edgar Allan Poe themed! Yes, I'm for real right now. The restaurant is a little dark, but it sets the perfect mood. The burger you order will be named after one of Poe's works, which is a nice touch. Plus, the bathroom is wallpapered in pages from his stories and an audio tape of his stories are playing on loop instead of music. The magic is definitely in the details!
Day 2:
Riverside Arts Market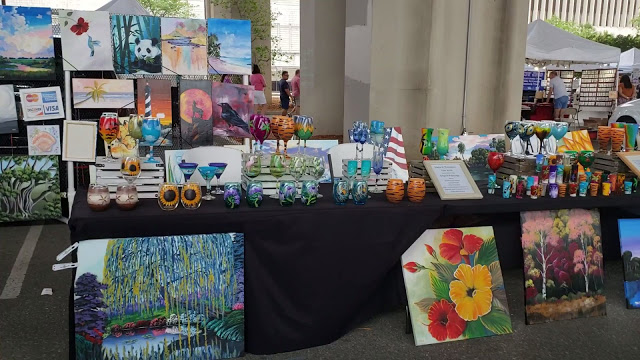 The Riverside Arts Market happens every Saturday from 10 am to 3 pm. There, you can find local vendors selling fantastic food, art, and products. You can literally find anything your heart desires. Recently, I tried a turkey, feta, and pesto empanada that was to die for! So, make sure you grab lunch while you're there! I also picked up a bag of tea from a local business! The Riverside Arts Market is definitely a great place to get a unique souvenir and support local businesses. Learn more about Riverside Arts Market.
River Walk
When in Downtown Jacksonville, you must check out the River Walk! The view of the St. John's river is beautiful! Plus, you get a nice look at the city's skyline. It can get a little warm on this walk during the summer because there is very little shade. But, the breeze that often comes off the water helps a lot!
Friendship Fountain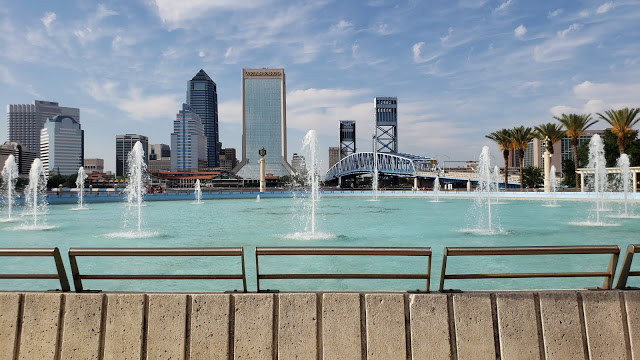 At the end of the river walk, you'll find a large fountain, called Friendship Fountain. Go ahead, make a wish! Did you wish for the perfect family photo? Okay, maybe not. But, you can have one anyway! Friendship fountain is a perfect spot for a photo! When you stand in front of the fountain, the downtown skyline and main street bridge will be in the background! It is beautiful and is actually a popular spot for prom photos, just sayin'.
Visit a Museum
Cummer Museum of Art
This is my favorite museum in Jacksonville. They have an exhibit that changes every few months, and then they have their permanent collection. This museum may not be as prestigious as prestigious as the Metropolitan Museum of Art in New York, but it still has a lot of beautiful paintings! Plus, in the back, there is a tranquil garden, which might be my favorite place in all of Jacksonville. If you want to feel inspired, you should visit. Learn more about the Cummer Museum.
MOCA (Museum of Contemporary Art)
If you enjoy looking at modern art, then you must visit the MOCA! Like most modern/contemporary art museums, the pieces will definitely make you think! The museum's permanent collection is rather large, coming in at just under 1,000 pieces of art. Of course, they also have changing exhibitions. Learn more about MOCA.
MOSH (Museum of Science and History)
If you're traveling with kids, the thought of visiting an art museum might make your cringe. The MOSH is geared towards kids. There are a lot of hands-on activities to keep them entertained, and they might even learn something! Learn more about the MOSH.
Go Get a Burrito at Burrito Gallery
Burrito Gallery is a Jacksonville favorite! Located right downtown, this restaurant serves the best burritos at great prices! They also serve tacos, but I'm just so in love with the burritos that ordering anything else feels wrong. This is a counter-service restaurant, so it's not fancy.
Things You Should Know Before Visiting Jacksonville
Jacksonville Is Huge
Jacksonville is a very large city. Make sure you check the distance between activities before deciding the order in which to do them. You don't want to drive out to the beach, then downtown, and then back to the beach! In the 2 day itinerary above, I made sure to that you won't be driving all over town for no reason!
Water and Snacks
When you venture to the beach, you should make sure you pack a cooler full of water and snacks! If you haven't been to the beach before, you'll be surprised at how thirsty and hungry you get!
Please, Don't Feed the Seagulls
The seagulls will want food. Please don't give it to them. If they start swarming you and making you uncomfortable, it's only because people have been feeding them. Put your food back in the cooler if it gets to bad. They will go away. If you do drop some food in the sand on accident, throw it away. Otherwise, the seagulls will just swarm you to get the food.
Wear Sunscreen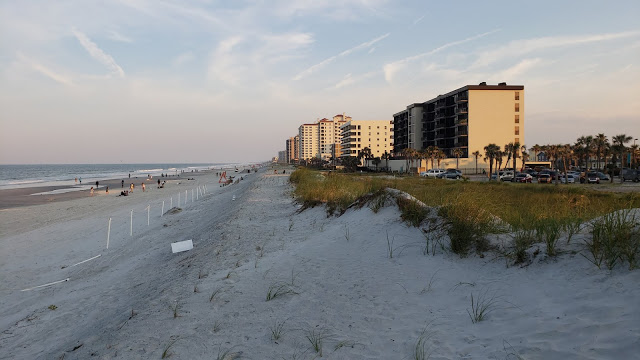 You should put your sunscreen on before you ever step foot onto the beach! The sunscreen takes time to soak into your skin, and that 15 minutes is all it takes to get burnt in Florida in the summer time. Yeah, the UV index is crazy. Also, reapply it every few hours. And take a break from the sun when possible. Yes, this means that renting an umbrella is a great idea! And don't worry; you'll still get a tan! ;)
Recap
Before you forget all of the good stuff, let's go ahead and do a quick review of your 2 day Jacksonville itinerary. 
Day 1:
Go to Jacksonville Beach
Get lunch at Hoptinger
Take a walk along the board walk
Grab dinner at Poe's Tavern
Day 2:
Riverside Arts Market (don't forget to eat lunch while you're there!)
River Walk
Friendship Fountain

Visit a Museum

Cummer Museum
MOCA
MOSH (kid-friendly)

Grab dinner at Burrito Gallery
I hope that you loved this itinerary! Jacksonville is an amazing city with tons of awesome things to do. Looking for more Florida destinations to add to your itinerary? Read this budget guide to St. Augustine, Florida, which is just 45 mintutes south of Jacksonville! Also, read about these 5 awesome vacation destinations in Florida.
This is a guest post written by Jennifer Meyer. She is a travel blogger who shares her best budget travel tips and destination guides on her blog, Roads We Wander. She loves helping people explore the world on a tight budget. Follow her on Pinterest, Instagram, Facebook, Twitter, and Bloglovin'.
Lots of love