Hello darlings,

I promised to update you about my weight loss progress since I've started with Noom and I am happy to report that I am slowly but steadily losing weight. I am minus 3.5kg and quite happy about it. The one thing I struggle with though is with my sweet tooth. So when Indigo Herbs of Glastonbury sent me a jar of organic coconut oil and a bag of Organic matcha tea to try out, I knew I needed to put them in good use and make a treat or two!

It's my view that eating healthy and unprocessed food doesn't have to be a dull life. You can have dessert and you can eat a treat! So here are two recipes for a choco-matcha-latte and some vegan choco-bites. I call them treats because they are as delicious as their store bought counterparts, but they are also a treat for your body because they lack all the awful stuff the store bought treats have and they are full of antioxidants and minerals.

Ever since I gave up coffee (one of the best decisions of my life but that's another post) I turned to my love for tea for my breakfast wake-me-up. And ever since I got my hands on matcha tea, I gave up my previous beloved black English Breakfast tea.

At first I tried it hot but I found the taste very overwhelming. But talk about a boost! It kept me going all day! Then I tried it cold and boom! What a difference the ice cubes make! Very refreshing and cool!


The other though I decided to do a twist on my morning ritual. So I made some almond milk (store bought is cool too, just make sure it's carrageenan-free), my Indingo Herbs matcha tea, some organic unsweetened cacao and my trusted blender and made a choco-matcha-latte!

Because, really, not all matcha drinks have to be green, right?

Mine had a velvet chocolate color that made me think of drinking liquid chocolate!

You will need:
200ml of almond milk
1 frozen banana
1 full tsp of organic matcha tea
1 full tsp of organic unsweetened cocoa
½ tsp of honey

Put the almond milk and banana in the blender and blend until smooth. Add the matcha tea, the cocoa and the honey and blend for a couple of minutes.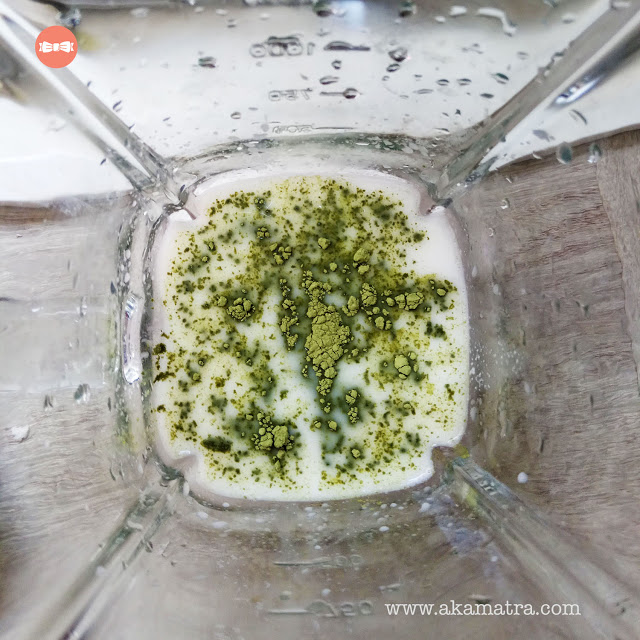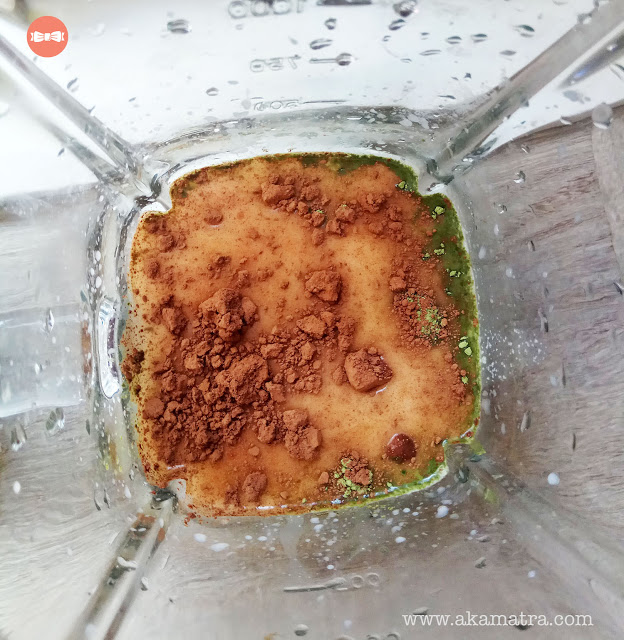 Serve in a tall glass filled with ice.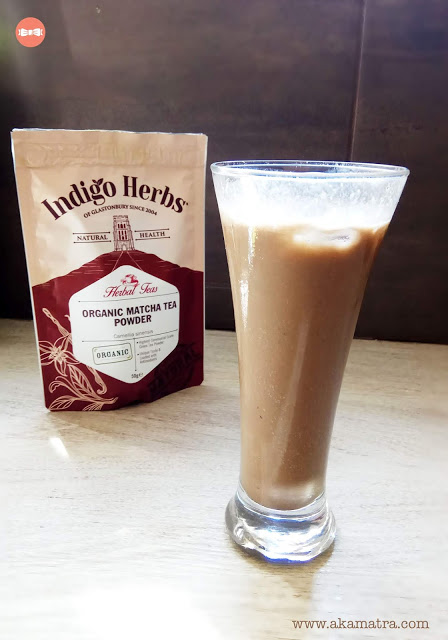 Enjoy your choco-matcha-latte, guilt free since it's only around 200kcal per serving. The boost you'll get from the matcha tea and the cocoa will last you the whole day! And talk about that early morning brain fix from the cocoa and the honey! I promise you, this will be your go to drink when you need to wake up fast!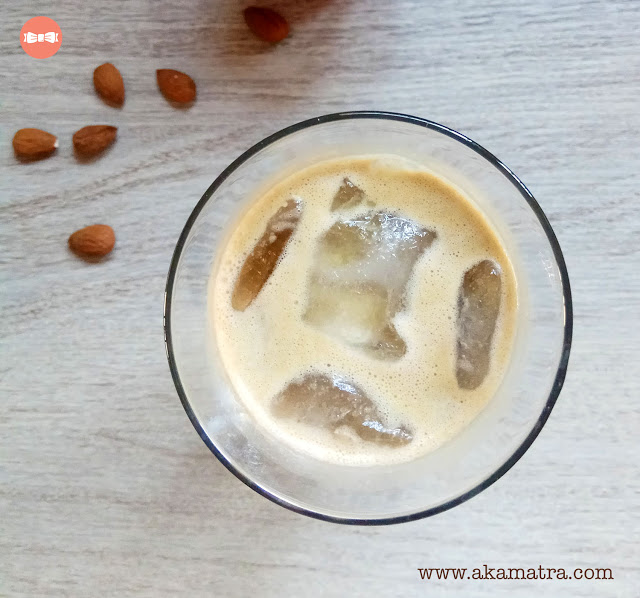 Some notes:
Not all matcha teas are created equal. The one I used from Indigo Herbs is of the highest ceremonial grade which means that the Camelia sinensis plant was grown under a shaded reed cover before it was picked and stone ground into powder. Thus the taste is fuller and the antioxidants are intact! It's high in Vitamins A, C, K, B2 and B6, iron and magnesium too. 
If you don't eat anything other organic, please consider drinking organic tea. When it's not organically grown, the hot water you pour over your tea leafs extracts all the pesticides present in them into your tea infusion. So basically you drink pesticides with a taste of tea! 
You can leave the honey out altogether or substitute with a plant based sweetener if you are vegan.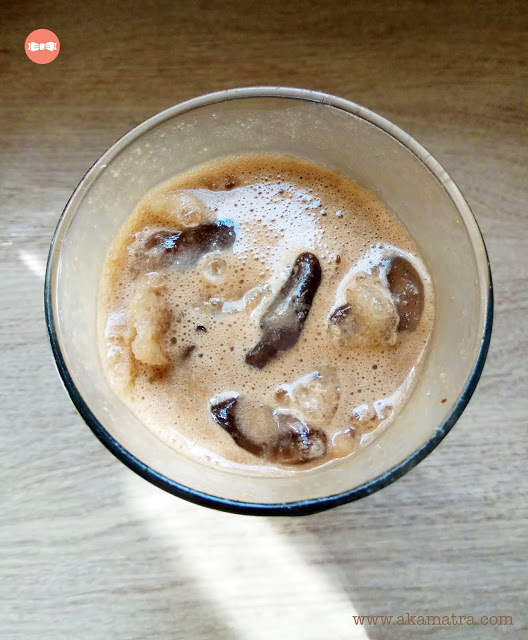 Apart from the liquid sustenance I need something to nibble on though, especially in the evenings where my energy levels sour to the ground after running around with my daughter all day.

During wintertime I like to make my power bites but for summer I needed something raw. We love dates as a natural sweetener and I have been enjoying the benefits of pumpkin seeds too with my yogurt. After some experimenting I came up with this recipe which I feel very strongly will be what will save me from eating store bought chocolates again!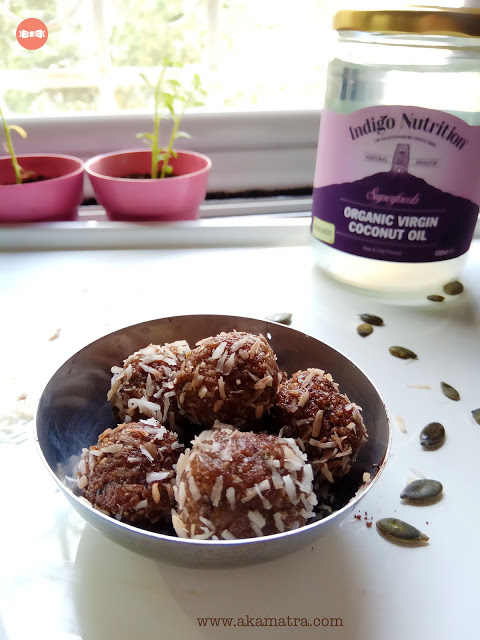 This sugar free, vegan and raw choco bites taste exactly like bounty bars only better! 
You'll need (makes 20 balls):
12 dates pitted
60g almonds
3 tbsp Indigo Herbs organic virgin Coconut oil
3 tbsp of pumpkin seeds
2 tbsp of unsweetened organic shredded coconut
2 tbsp of unsweetened organic cocoa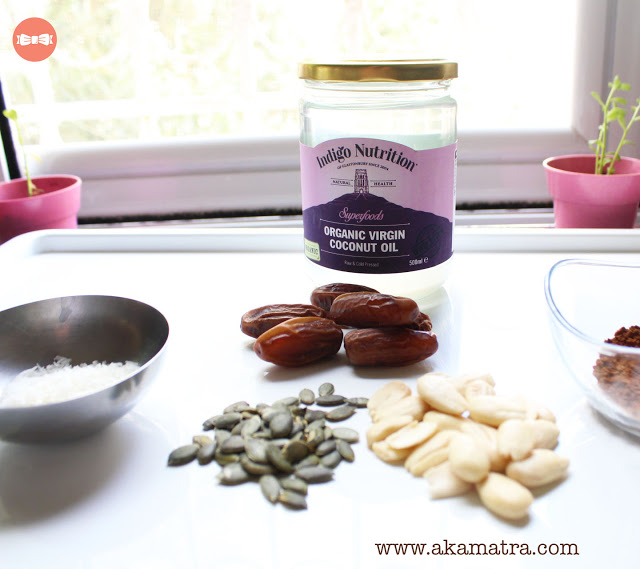 Cut the dates into quarters and place them in the food processor. Add the almonds, the pumpkin seeds and the coconut oil and blend until you get a paste. Add the cocoa and the shredded coconut and combine.
You will have a somewhat oily paste. With your hands turn it into small balls and roll them on some shredded coconut to decorate.
Place them in the fridge for a couple of hours to set.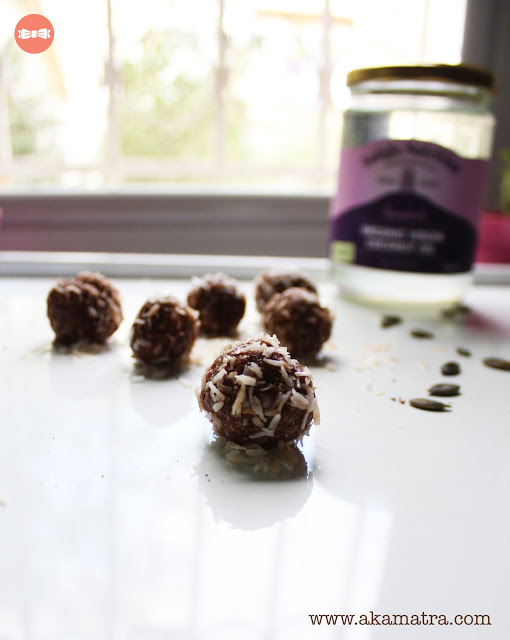 Enjoy them! They are also guild free at around 70 kcal each ball, especially if you think that 30g of  dark chocolate is 164kcal!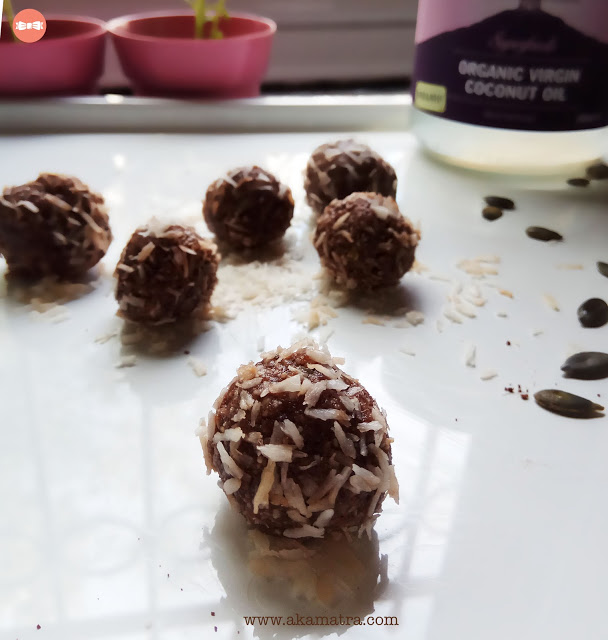 You will need to exercise some moderation though cause these babies can go down really easy!!! What I like most about them is that they are super healthy, super tastefull and super fast to make!

Some notes:


Again I urge you to choose organic materials for these bites, they make all the difference! 
You can substitute the pumpkin seeds with sunflower seeds or use half of each.
Since I am making my own almond milk, I was left with some almond paste and tried to make these with that paste. Although they didn't taste much different, I should have dried the paste first because it didn't mix well with the oil. But I am pretty sure if you put the paste in the oven for some minutes to take the excess water out, they would work fine!

You can try out the Organic Matcha Tea and the Organic Virgin Coconut Oil from Indigo Herbs, for yourselves! Enter the giveaway below for a chance to win them!
The giveaway is open to all Europe countries and it will run until the 7th of August. The winner will be contacted via email so please use an account you see often.
Best of luck!


Do you like matcha tea? Have you ever tried it with cocoa?

Lots of love