Hello darlings! If you spent more than 10 minutes a day on instagram I am pretty sure you've seen posts with bullet journals, how great bullet journaling is, and some amazing art works and lettering too. You've even cracked the code of the hashtag #bujo you keep seeing left and right. But what is a bullet journal really? I had the same question so I did my research and here is everything you need to know about bullet journaling!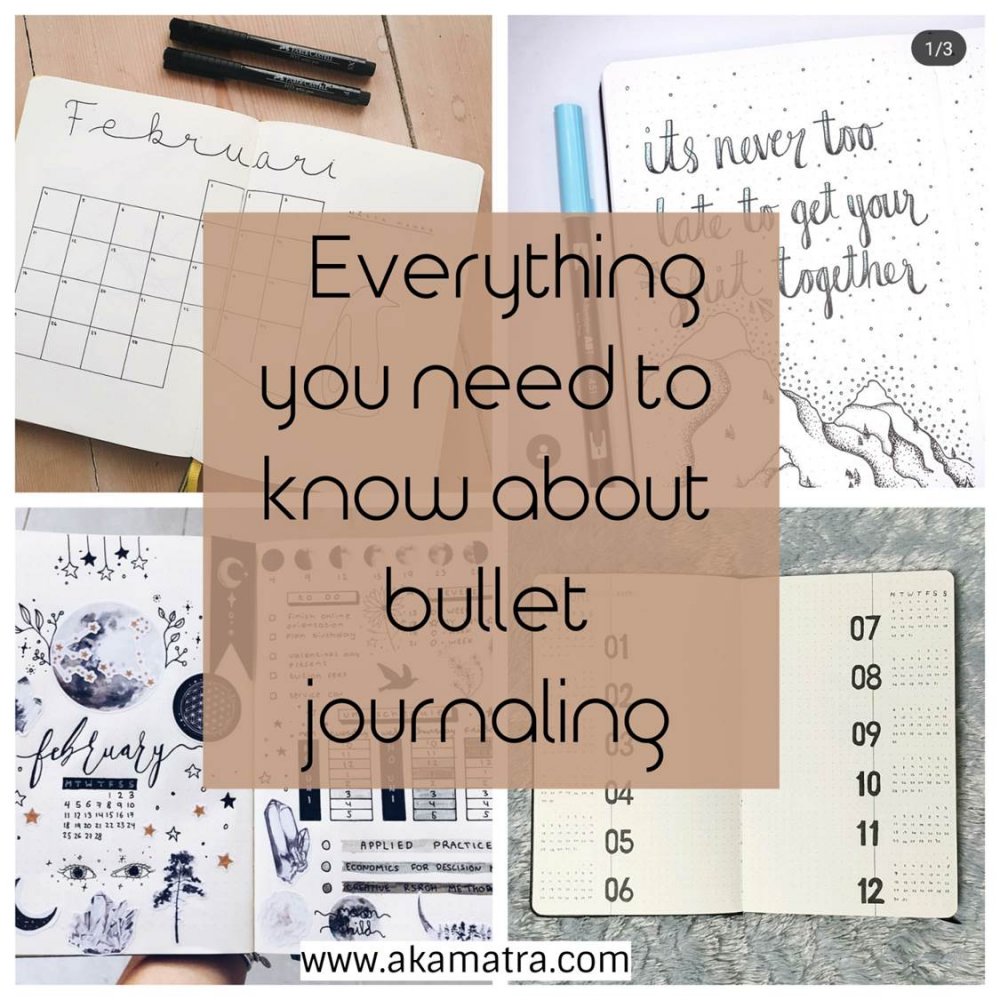 Photos from: top left @onelinebujo, top right @morninglinedesign, bottom left @craftingwitch, bottom right @bujo.with.tea
How bullet journaling started
The Bullet journal was born when the very talented but not unchallenged Ryder Carroll decided to find a way to stay organised and overcome his learning difficulties. He proceeded to create the Bullet Journal methodology which is as he puts it: "The art of intentional living". It is designed to help those who practice it live a more focused, productive and intentional life. 
What this means exactly is that in responce to the digital way of life we've been living the last decades, having to document your program, thoughts and in some instances, art, on a piece of paper on a journal is a way to detox yourself from the digital flu. It means living slowly and intentionally, writing slowly with nice letters and organizing your program to your time.
As Mr. Antonis Boditsis from Simbo says: "Though the bullet journals are not new per se, bullet journaling is an examble of a product that's been placed in the market as new because the need for a digital detox is new as well".  
The only trouble I see in this myself is that while we take the time away from our phone and monitors to write on our journal, we often snap photos of it and post it online. So, we really don't easily overcome the digital flu, do we?
Everything you need to know about bullet journaling
What is it used for
The great thing about a bullet journaling is that you can use it according to your needs. There are many different ways to use a bullet journal, but there are some basics you could use for your benefit.
For instance, I use bullet journaling to organise my blog, instagram and sponsor's events along with my family time. I don't use it for any of my day job's events and dates though because I want to keep them separate (my day job needs to stop the minute I set foot in my house). I am also an avid list maker. I write lists on post it notes, on my phone notes, on my desktop you name it. These little buggers have to tendency to dissappear when I need them the most, for example in the supermarket! With a bullet journal I can write down these lists in a more organized way and never loose track. How? Read below to find out.
Other people use bullet journaling as a way to make art. These super talented designers' doodles are small pieces of art in my opinion. So one might say that the bullet journal can be used as an art journal or as a way to journal your days/feelings/stories through artwork.
Some people use it to write down their ideas, their therapy diary or even their recipes. It's uses are really endless.
How to set up your own bullet journal
There is a world of knowledge out there about bullet journals and to be honest it was intimidating at first. I read so much I got dizzy so I turned to some of my internet pals who use a bullet journal for some help. After some discussions with them I relaxed and decided to start making my own bullet journal.
One of the first things I decided was to let go of any and all expectations about perfection and beautiful artwork. I am NOT a painter or graphic artist and I can harldy draw. So, I let go and accepted the fact that no matter how beautiful some of the bullet journals that keep popping into my instagram feed are, I am here to make my own special and unique bullet journal and make it work for me! If you are like me, please don't get discouraged by thinking that your bujo wont be instagrammable. You are in fact losing the point if you do. The point is to get of the phone and pick up a pen. Not to make art so you can instagram it (though many out there do exactly that).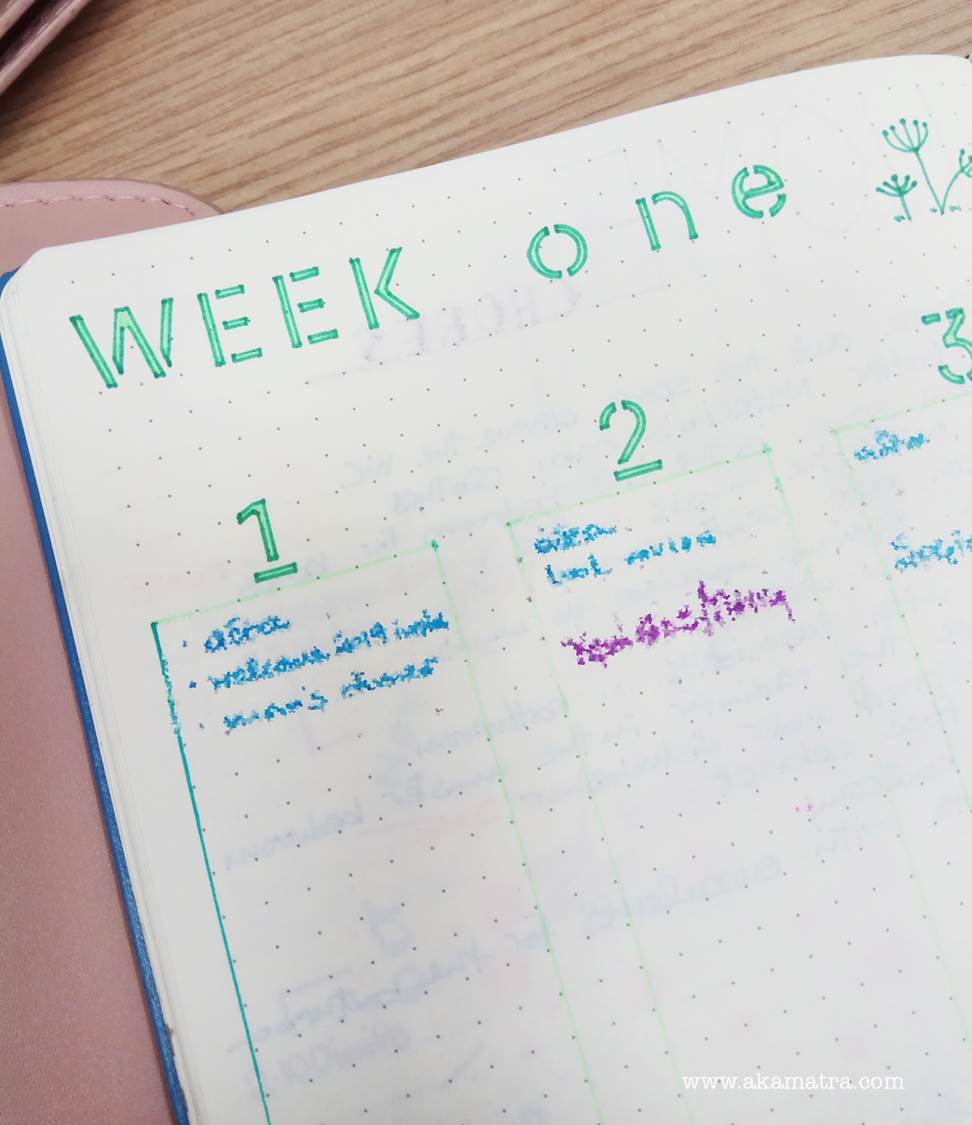 I followed the basics and made a future log, an index and then I thought about what works for me. I realised I had been kind of bullet journaling for years when I used a year long planner and scribbled down notes and lists. So I took that knowledge and used it. Since I started my bullet journaling journey in December, the first thing I made was a log named "TILL THE END OF 2018"  where I wrote a list with my blog's program and things to do along with my daily to do's till the end of the year.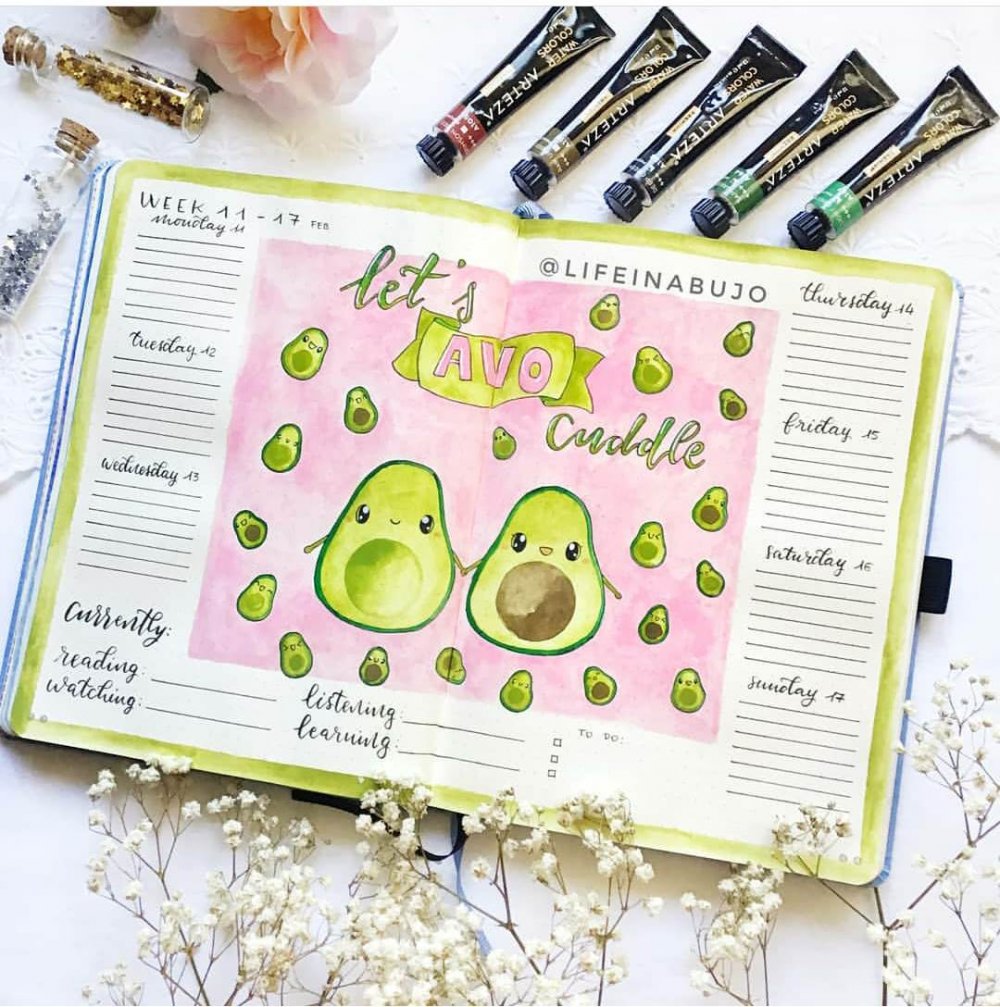 photo by @lifeinabujo on instagram
I then made a spread about January. Since we have established that I can't draw I used stencils (read about them below) to draw the outlive of the month's calendar. I also wrote some separate goals and I was set! I used this spread throughout January to log important dates, events and blog posts. And after that I go by week. At first I allocated a page for each week but I soon realised that some weeks are busier than other and now I just write by day.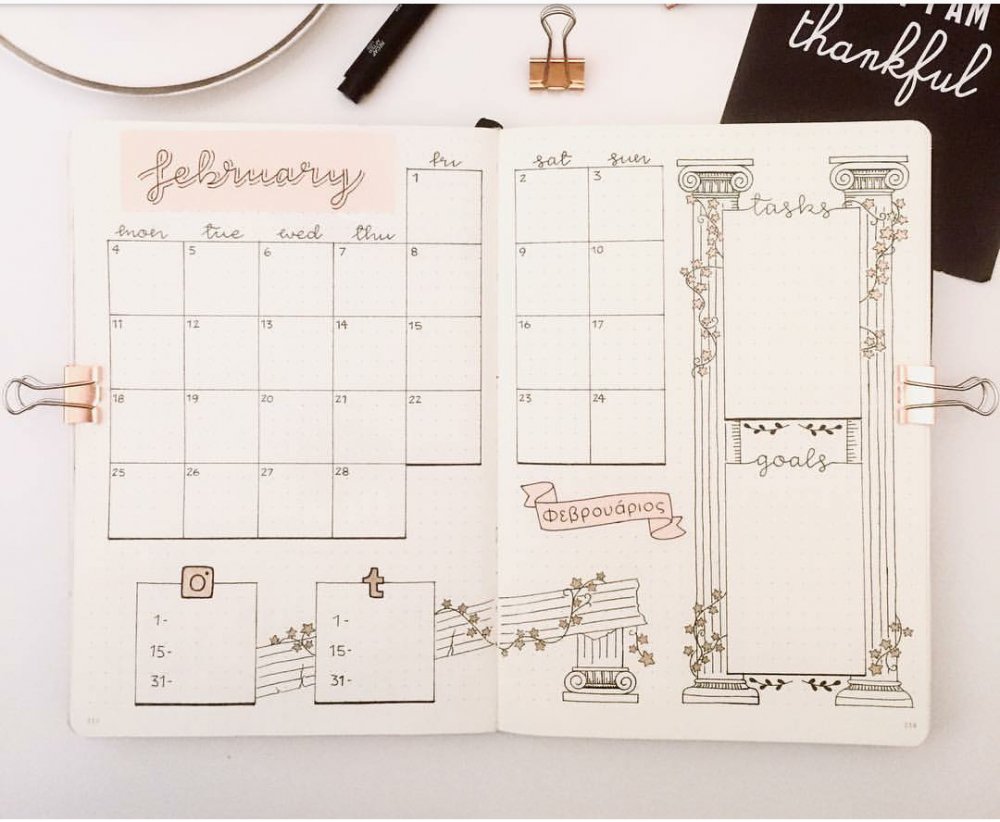 photo from @kathrynsarahjournals on instagram
I then added some spreads with important things like:
- Blog posts to write. I use this just to scribble down ideas and sponsored post titles
- Sponsor obligations. I use this to note my sponsor deals to keep track of my obligations. For examble: Sponsor A, blogpost, facebook share, etc. I then tick off the ones that are done when the post or instagram story goes live.
- Patterns to write. This is one of my favorite spreads. I organise each pattern I am working on by its status, photos, if it's tested etc. This has really helped me!
- Birthdays. I used to remember each and every family's member and friend's birthday. And then I gave birth and forgot each one! So this has come pretty handy! I even managed to do a decent job with the art work! These look like balloons, right?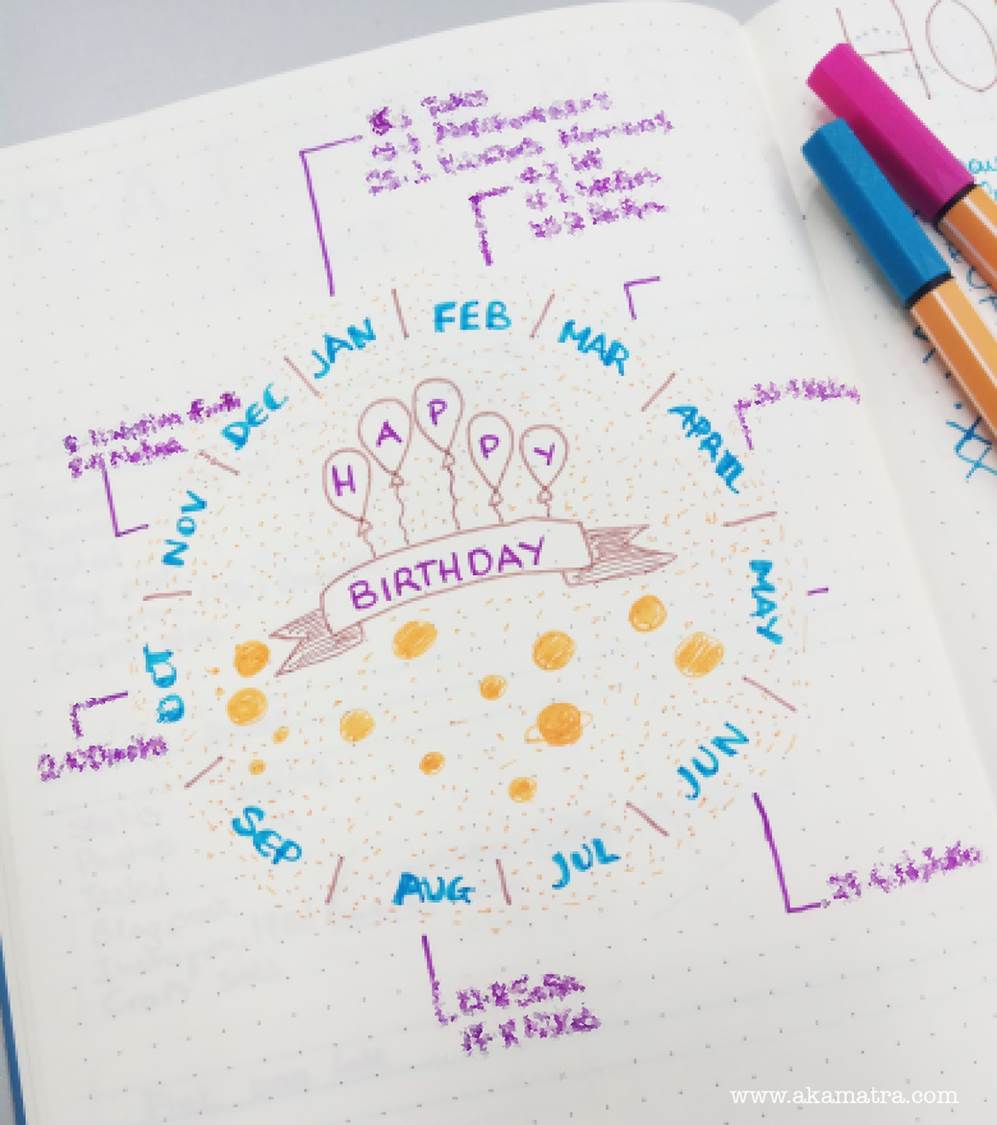 - Habit tracker. By far my most used page each month. In the beggining of each day I use my color markers to fill the boxes of my habit tracker. I use it for many things from my so sugar, no meat, no junk days to documenting my period, my weight, the number of daily steps and the days I changed the cat litter (don't judge!). I also use it to document if I crocheted or knitted (makes me happy to see these lines full by the end of the month) and which days I met with friends. This one was a very important resolution for me this year, to step away from the computer and go out to meet my friends. There are countless habits you can document in the habit tracker.
- Mood tracker. I don't use this one but it's a great hit with many bullet journalists out there.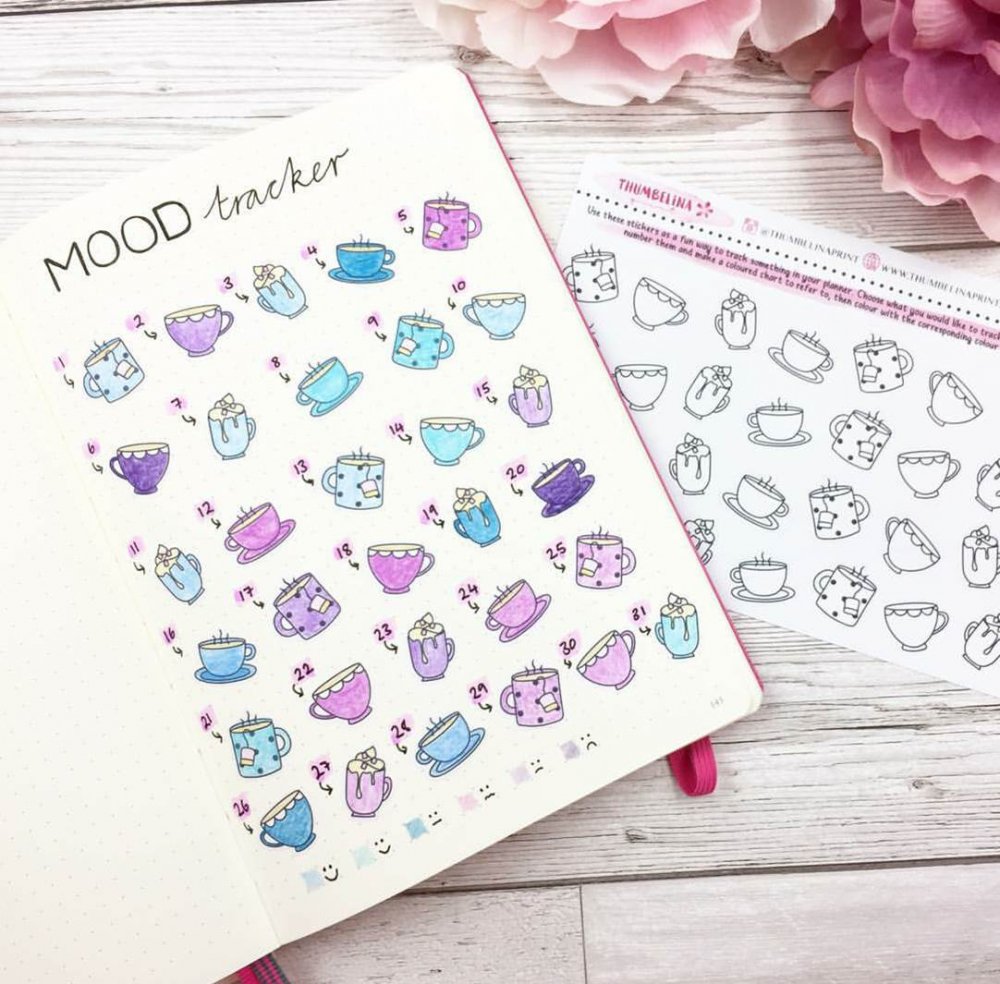 photo from @thumblelinaprint 
- I have also wrote some lists about my brand's goals, chores that need to be done around the house, a master grocery shopping list and more. When I am doing research for an article on the blog I use half a page to write down my notes, my ideas, the status of the post etc. 
- Another big hit with bujos around the web is the collections. These are lists with the books you want to read, the shows you want to watch (this one I really don't understand, but as a friend says: Girl you woundn't, you don't have Netflix or a TV!"), places you want to visit and so on. I don't have one on my bullet journal but to each their own!
- Lastly, I do have a spread with some "artwork". It's not really "artsy" because, you know, I am me, but I like it! It's a "THINGS I LOVE LOTS" spread and I fill it from time to time. It's a nice reminder of the things (and persons) that fill me with joy and it's useful to look at from time to time especially on hard days.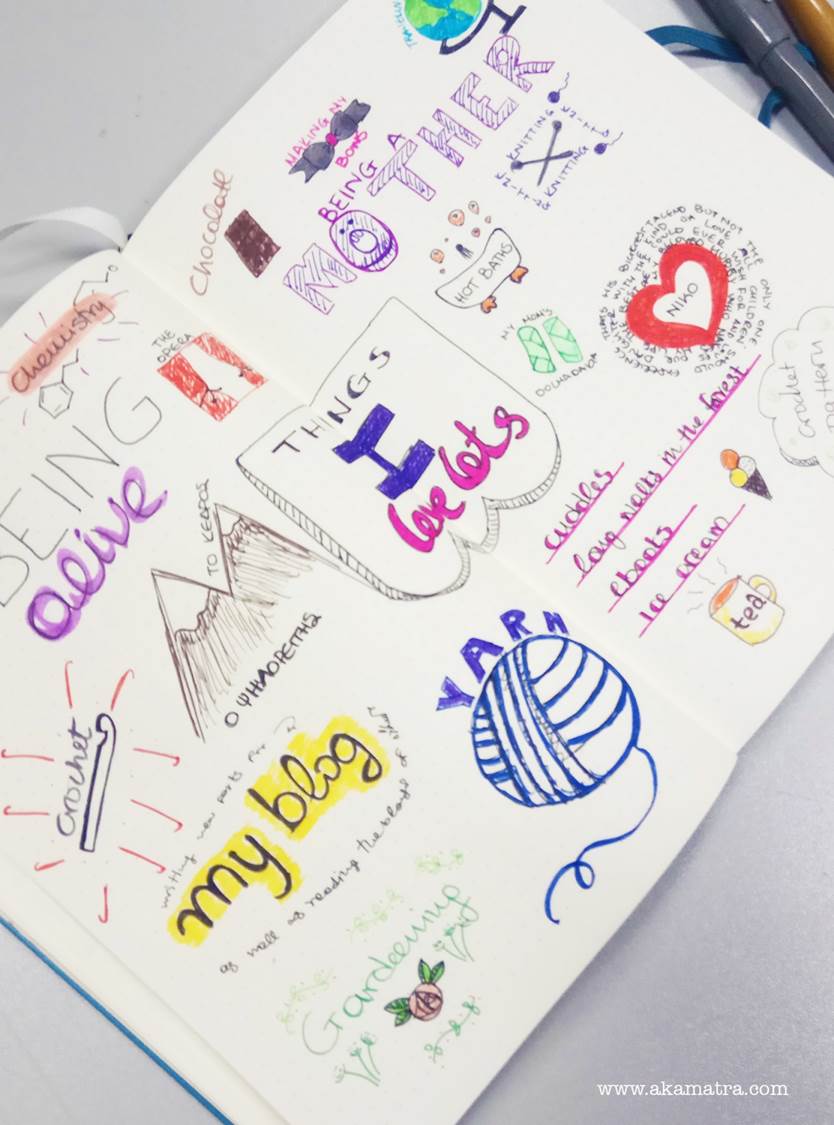 So this is how I did it. It's important to remember that it will take some time to get into the groove of bullet journaling, meaning you need to test and see what works for you and what doesn't. After almost two months of using it everyday I can honestly say I now know how to use it to organise my life the best I can. It's a very powerful tool and it does (it really does) help you live slowly but effectively in a fast world. 
You also need to keep in mind that you can totally rock your bujo even if you are a minimal lover like me. For instance, take a look at some minimal spreads below. See? You don't need to draw to start bullet journaling!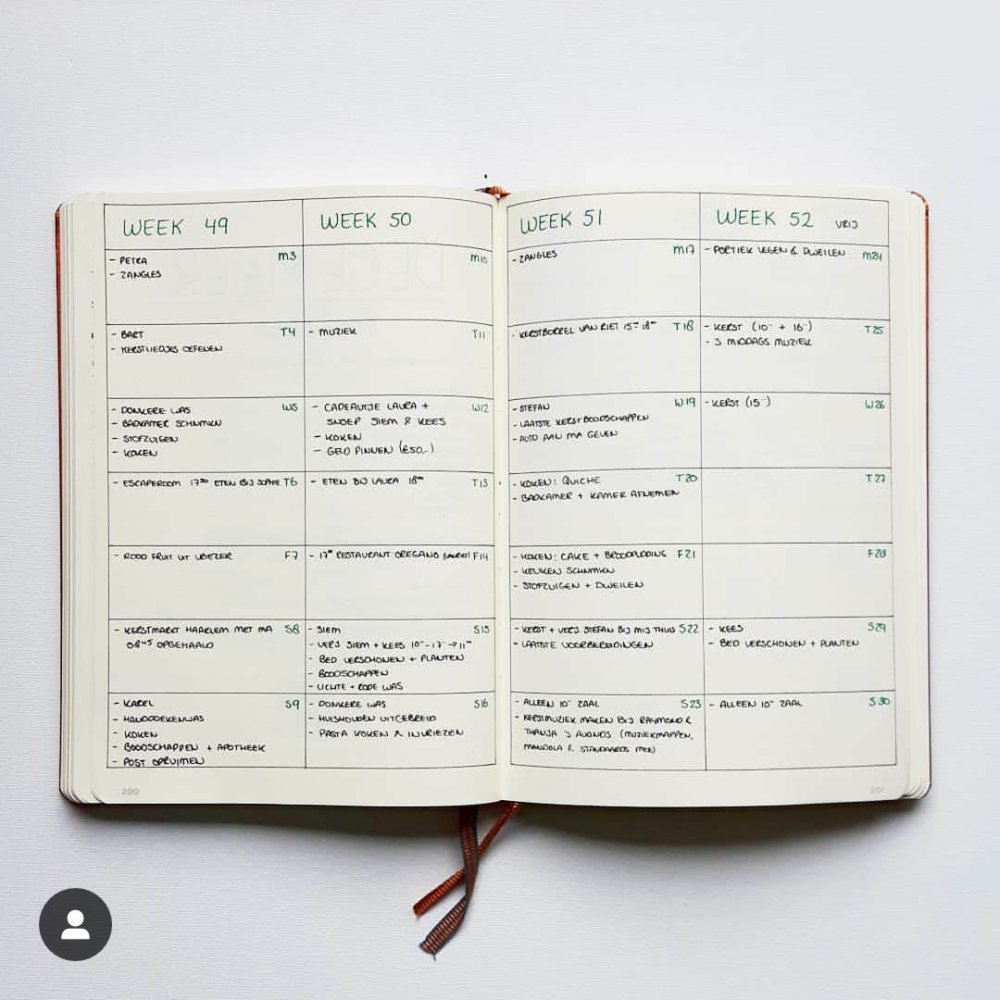 photo from @eendjusbujo on instagram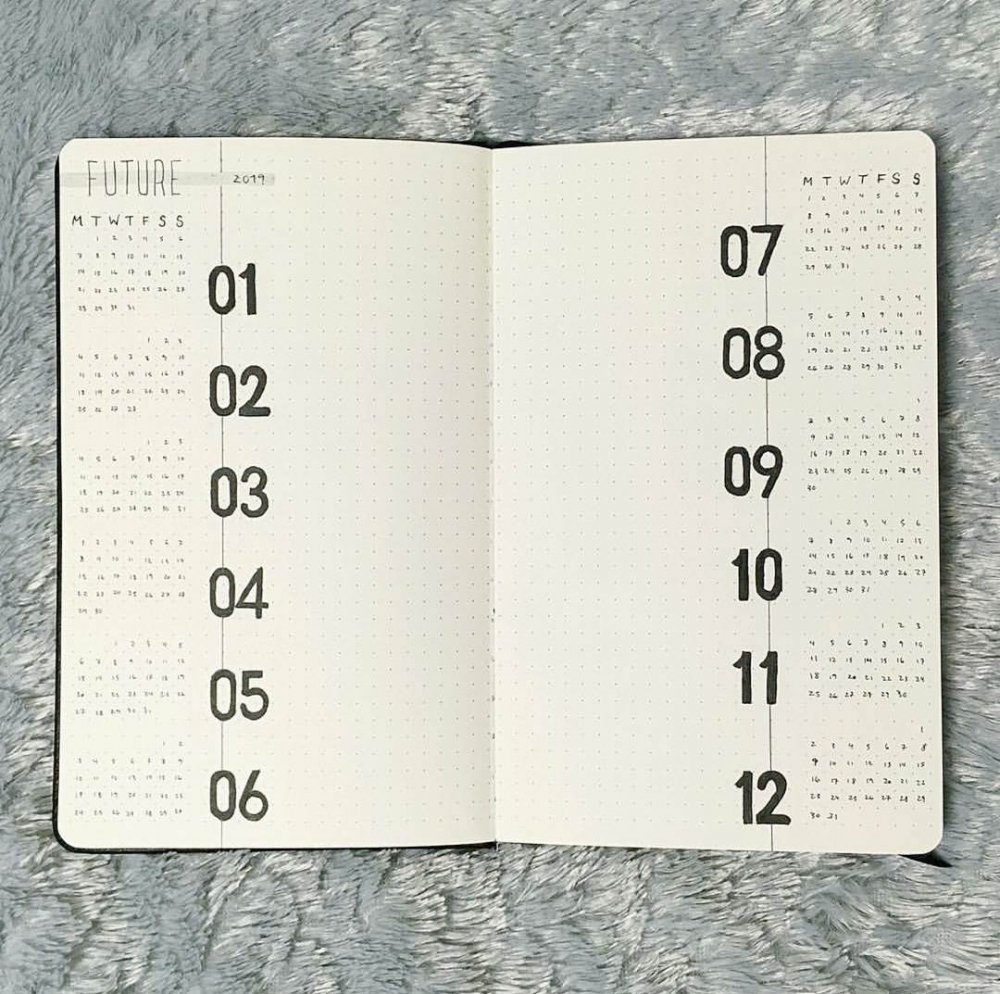 photo from @bujo.with.tea on instagram
Everything you need to know about bullet journaling
What you need to start your own bullet journal
One would argue that all you need to get your bullet journal started is a pen and a pad. While that is true, there are some things you can use to make your bullet journaling journey easier and maybe even prettier. Again, don't get pulled into the rabbid hole of making it perfect. Just make it work for YOU!
Notebook
The notebooks you can use for a bullet journal vary. They can be dotted, lined, plain or squared. It was my first time using dot grid paper and I can't recomment it enough especially if you struggle with drawing. It's really easy to draw lines on this paper without even a ruler. Some of the best out there are:
Leuchtturm1917
This is the one I use and it's highly recommented from thousands of users out there. It is tread - bound and has ink - proof paper which is really important when you use markers. You don't want your ink to bleed to the other side of the page. You can find it here.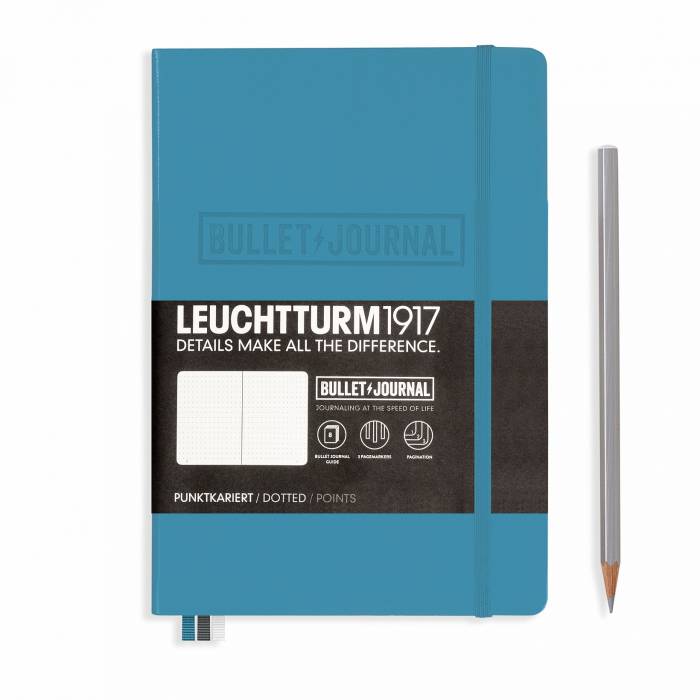 Rodia
Also of high quality and ink proof. My internet pals use it regularly with their watercolors and it holds its own fine! Find it here.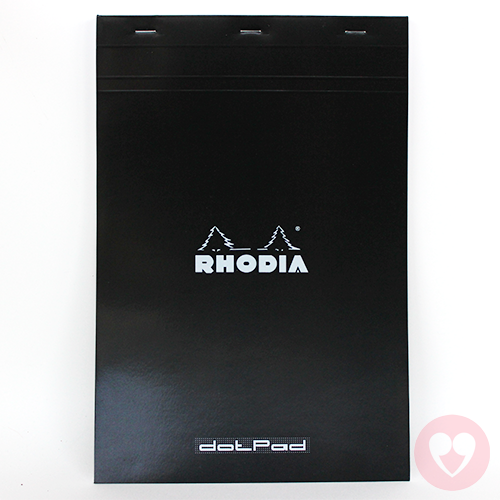 Funforyourplanner
If you are looking for something more whimsical, artsy and unique, the Funforyourplanner shop on etsy has amazing designs in bullet journals. They are ink proof and come in either white or ivory colored paper.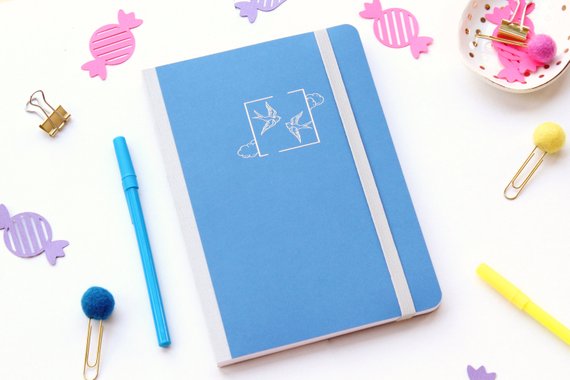 Pen(s)
There are countless pens you can use for your bullet journal but there are some things to consider. For example avoid using permanent markers because they tent to bleed through even the best of papers. Rather use fine pens or markers for paper. I am in love with my Stabilo point 88 markers and I love the fact that they come in so many colors.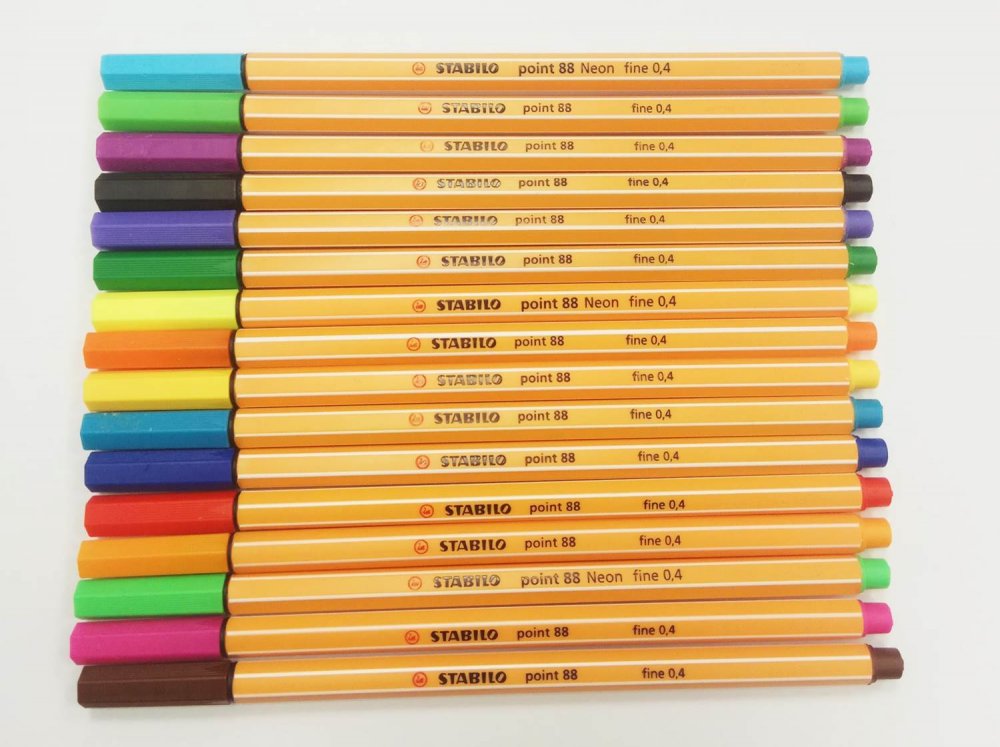 I've also got some fancy pens from my friend Pelagie (one of those amazingly talented instagram pals I keep telling you about) and I use them on special occassions or when I need to draw something fancier. Well, ok, something fancier for me, at least! Some of them are used for lettering but I am far from accomplising such a feat!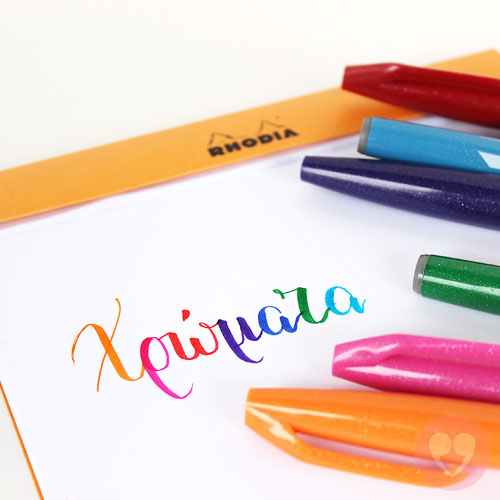 If you are like me and need to use a lot of different pens you will also need a pencil case to carry them. I made myself one with my own make up case crochet pattern.
Stencils
The use of stencils is a somewhat controversial matter in the world of bullet journaling. Those who make doodles look like works or art are against them (and with good reason, they can draw like gods!) but those like myself who are not been given the talent of make recongnisable thigns with pens (aka draw like gods) are all for it.
You see, I know I said that I decided to free myself of the burden of making a perfect bullet journal (and I have really done that), I do however like nice things, like being able to understand what I wrote down last week. Ok that's an exaggeration (or is it?) but I do want to open my bullet journal and look at nice lettering. So that made me buy this set of three stencils from Funforyourplanner on etsy in the first place. And I have been using them ever since and could not recomment them enough. They do help me keep the journal beautiful and I am grateful for that!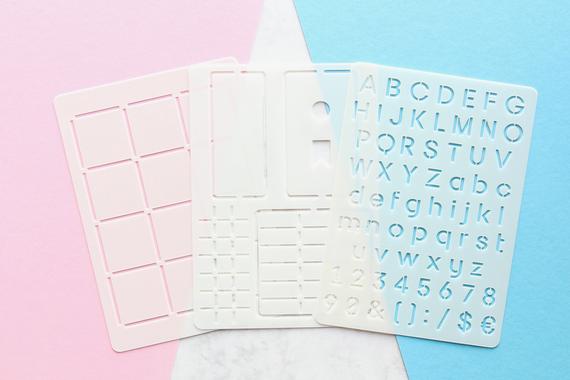 There are many other stencils and knick knacks you can buy out there, I just wanted to list the basics and not get carried away with all the cuteness.
Bullet journaling inspiration
There are some awesome bullet journalists to follow on instagram. Since they are too many to count here I will just promt you to search the following hashtags on instagram to find your own favs.
#minimalbujo
#bulletjournal
#bujo
So here it is. Everything you need to know about bullet journaling. I hope you find the post helpful and if you do, please share it! Do you have a bullet journal? I would love to hear about your own bullet journaling journey!
Disclosure: I was kindly gifted The Leuchtturm1917 bullet journal by Simbo.gr and an A5 bullet journal by Funforyourplanner on etsy. All opinions are 100% my own and everything else mentioned is bought by me.