I've said it often. I am very creative and I love to work with my hands but I can't draw to save my life. I can do childish basic draws but that's it. However I love to bullet journal as evident from my my previous post on bullet journaling since it helps me keep my blogger life organized and saves me time! I also love the wonderful artistic bullet journals I see on instagram and I always envy people who make them. I've found ways around my predicament and in this post I'll show you how to bullet journal even if you can't draw. 
Ηow to bullet journal even if you can't draw
Stencils
At first I tried to cheat my way into a beautiful bullet journal by being myself, aka as a minimalist. I just used a black pen and wrote down the basics. Though it worked on the organizational lever, it didn't do anything to make me love my bujo. So I searched for a solution and the first thing I found were stencils.
They've literally been what kept me going with my bullet journal. I bought a set of three from my fave etsy shop for all things bullet journal Funforyourplanner and I've been using them ever since. My monthly spread is created with the squares stencil and I use the letter stencil to write things like the months, headlines, etc.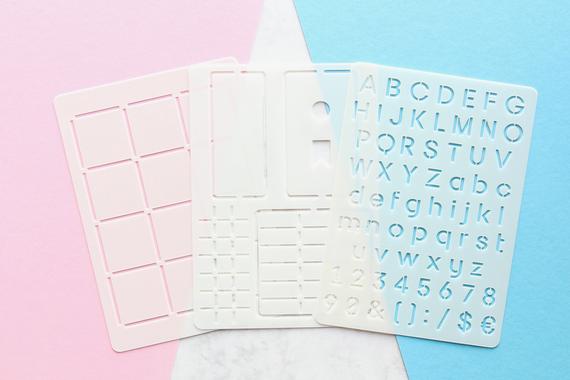 set of thee stencils by Funforyourplanner on etsy
I now have another stencil from the same shop that's super cute and has all kinds of designs to facilitate my journey into a gorgeous bullet journal even if I can't really draw!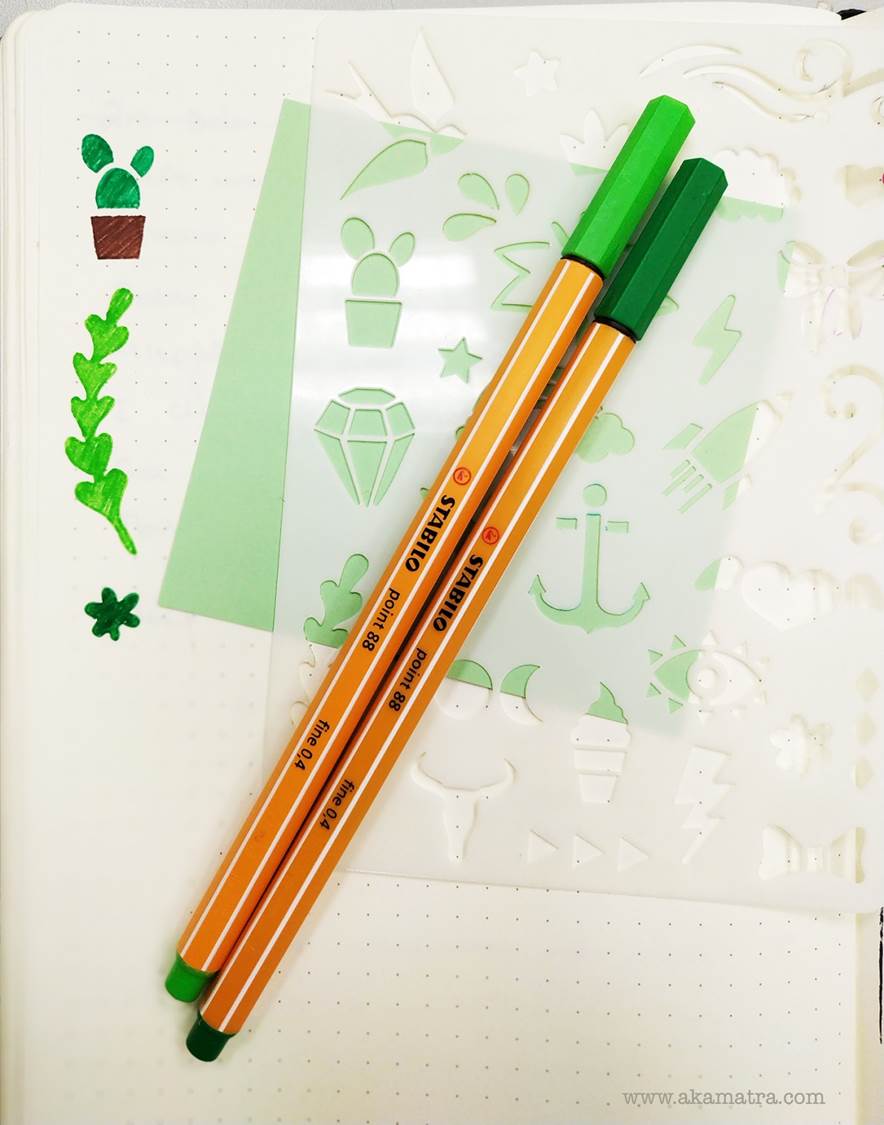 Ηow to bullet journal even if you can't draw
Stamps
These have become my passion in a way. I've always liked to play with stamps but I've found a way to make them work for my bullet journal too. I use all kind of stamps for my bullet journal. There are the ones I got from Funforyourplanner on etsy that are spesifically made to help you set up your bullet journal.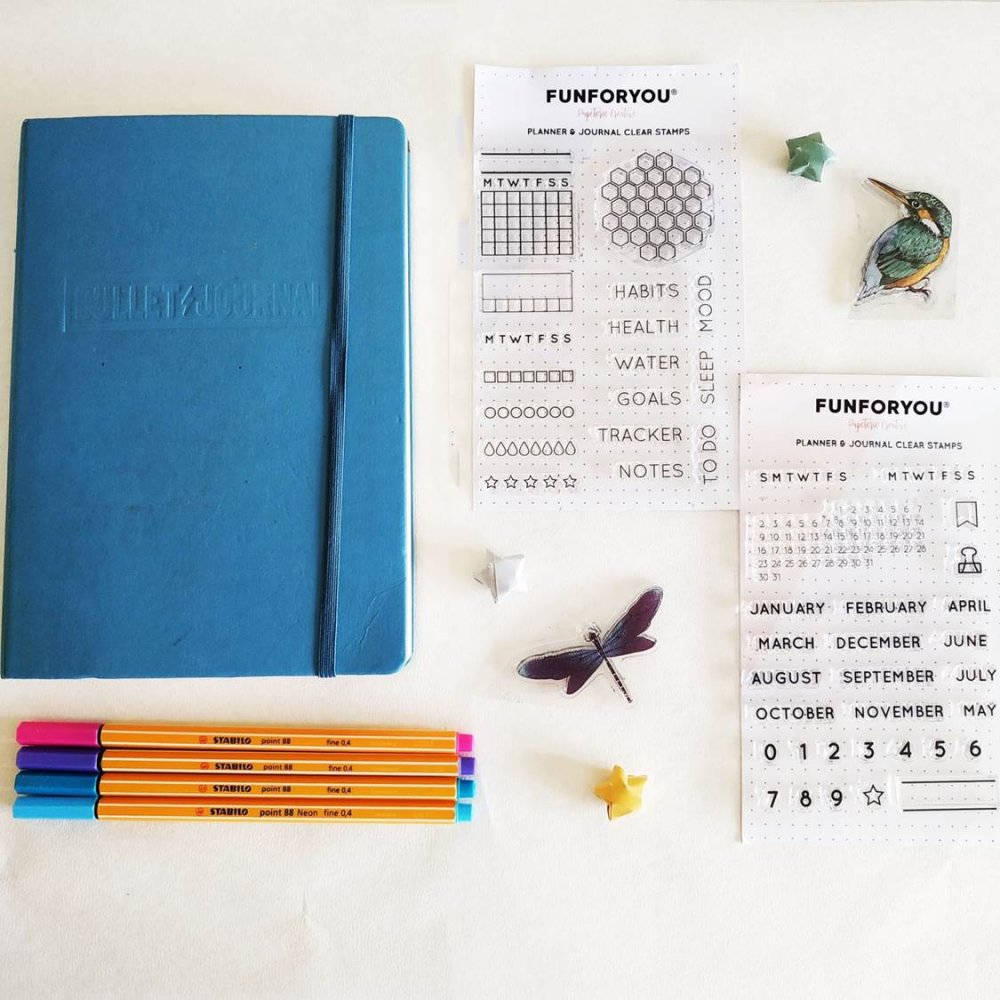 One of the two sets I got have months, dates, date calendar, numbers and a few other fun helpful designs on them. I use them to set out my months calendar and my trackers too.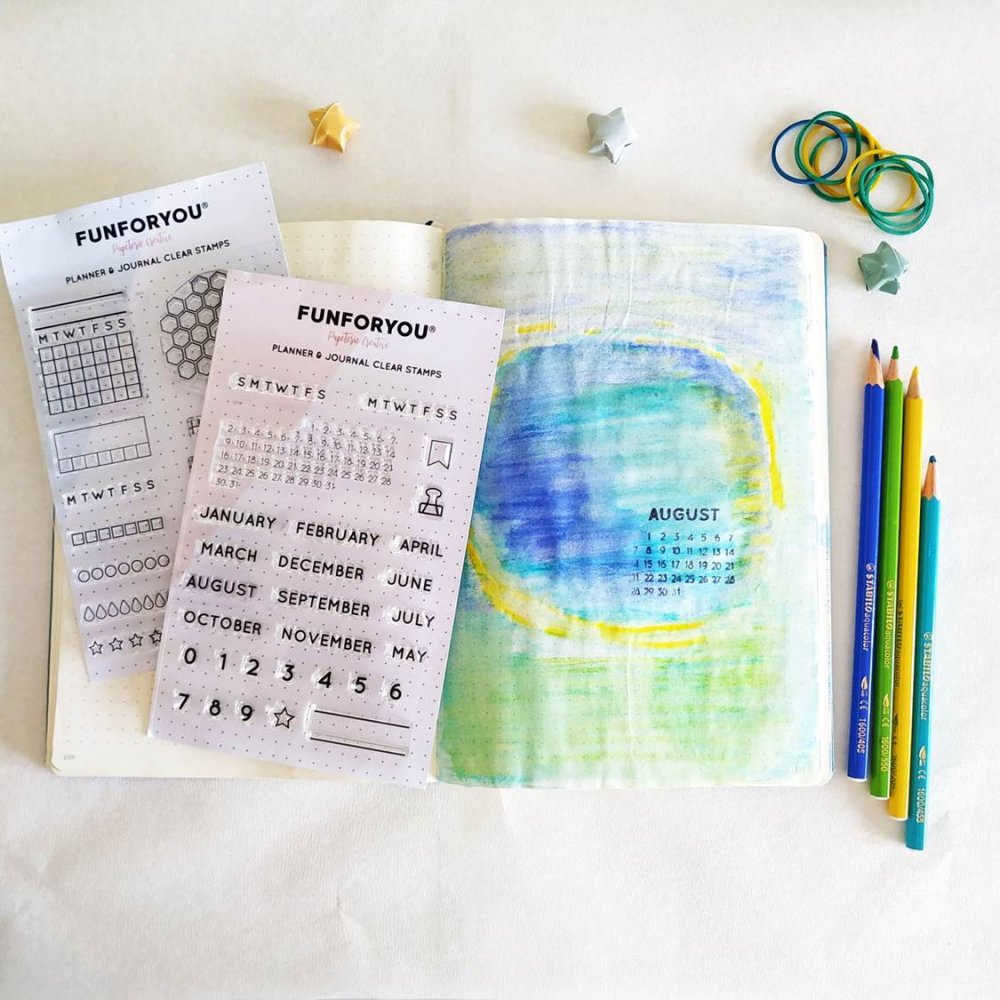 The other set has 9 word stamps (habits, health, water, goals, tracker, notes, mood, sleep, to do) that are super useful for my trackers and throughout my bullet journal organization. It also has a beehive design to create amazing trackers (that's my favorite) and stamps to create the logs for your trackers. All in all every bullet journal enthousiasts essentials are included in these two sets.
The other type of stamps I use are stamps of animals for decorative reasons. I use them with my watercolor pencils as I describe below.
Ηow to bullet journal even if you can't draw
Watercolor pencils
I am envious of all the instagrammers that make watercolor painting look so easy. I honestly am really really bad at it. My three year old is -thankfully- way bettern than I and I so wish she will find someone else to guide her in this painting thing cause I sure can't!
My way around this is to use watercolor pencils instead. I know what you are going to say. How in the heck do you use watercolor pencils if you can't draw? Well, I use them with my stamps!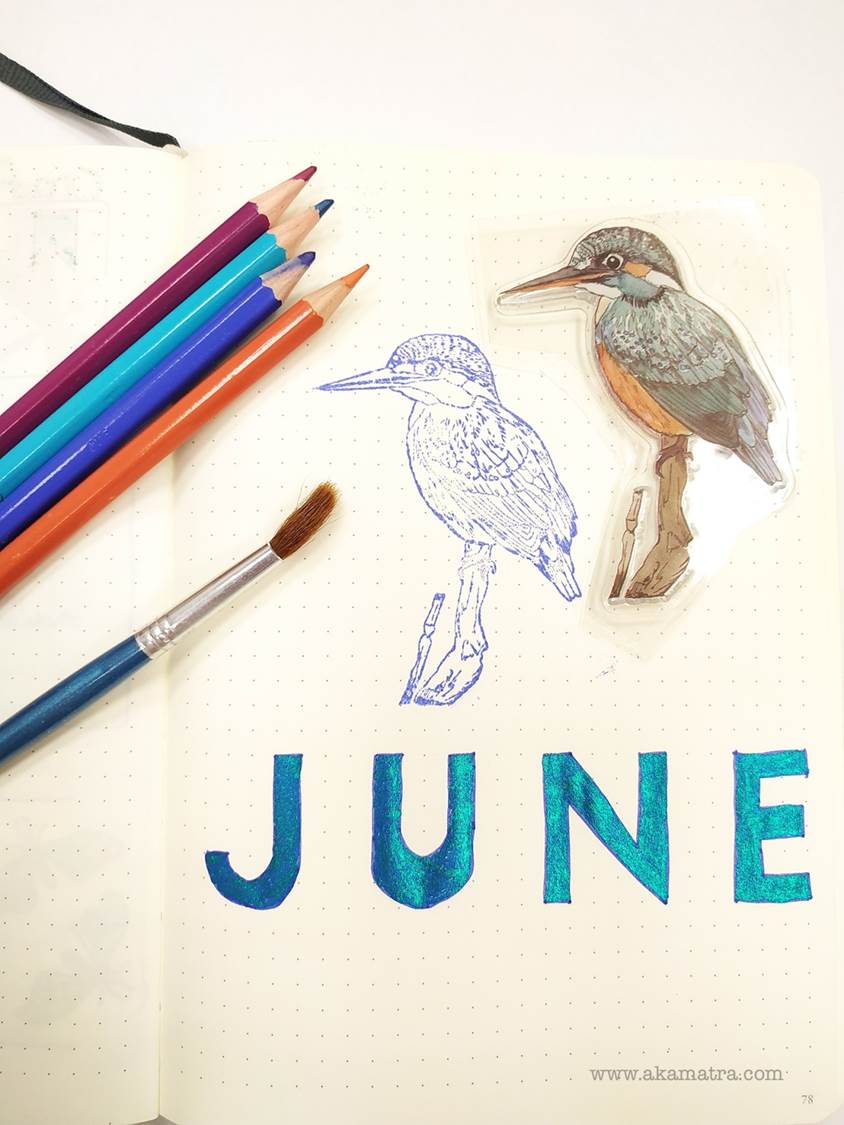 I told ya! I am going to show you how to bullet journal even if you can't draw, you shoulda believed me!
What I do is I use my stamps and then I fill them with my Aquacolor pencils from Stabilo. I mean even I can do that! I just fill the design with the colors I want and then I take a brush and activate them with some water. It's magic! I know it's not the same thing as painting but it's pretty close as a result and it keeps my bullet journal looking good!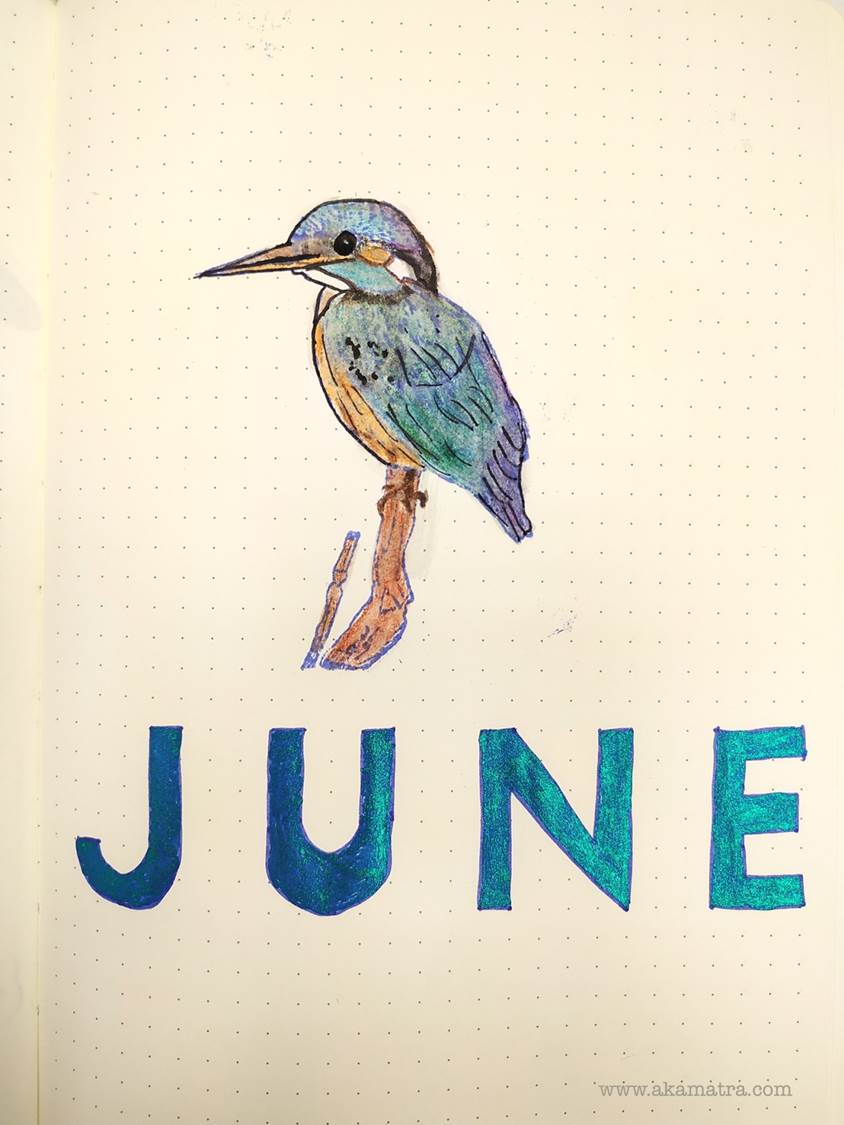 I love the stamps I have with the birds and the pond creatures. I use them as decorative elements and they bright up my mornings! The ritual of writing down the day's schedule and adorning it with a blue dragonfly helps me relax and face the day ahead with determination!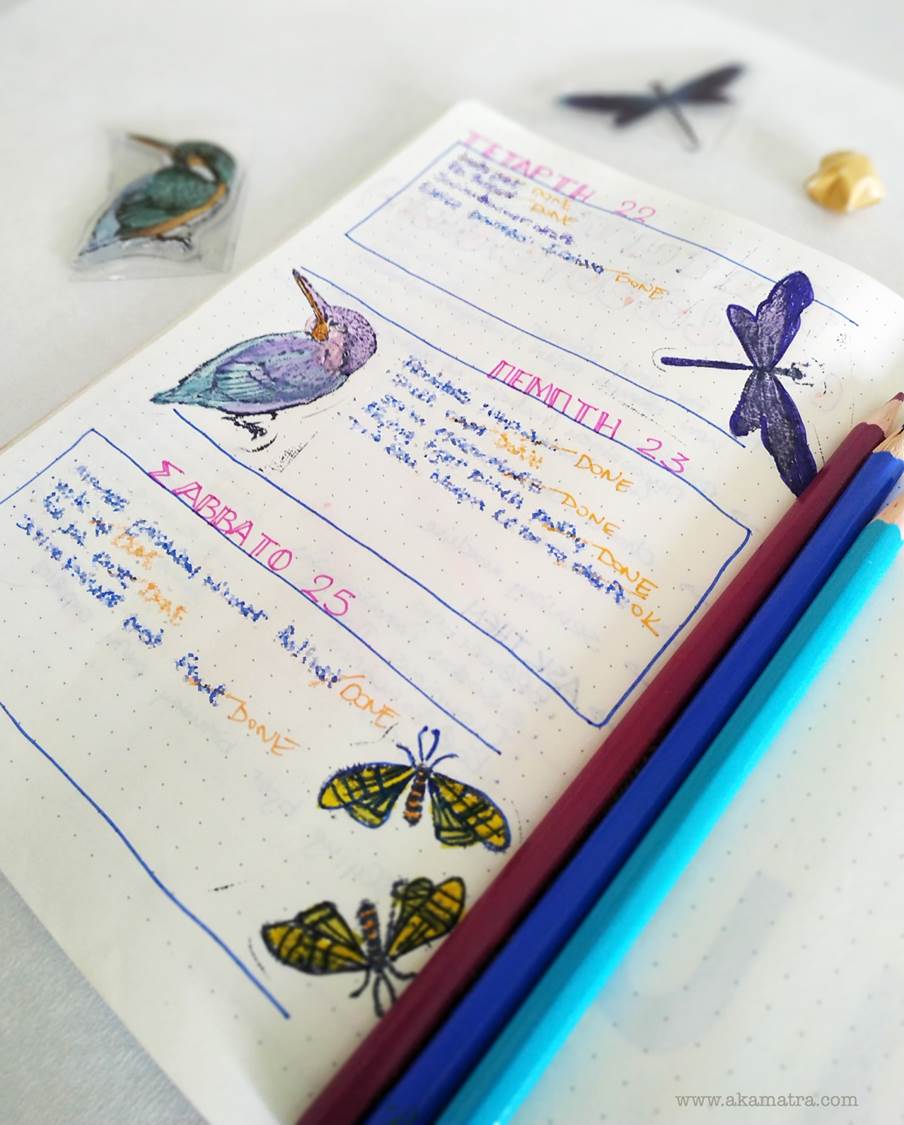 Note: You should know that watercolors of any type soak through your bullet journal paper and can affect it. I love the wavy paper I get as a result but I always put a piece of absorbent paper under the page I draw with my aquacolor pencils to avoid affecting the next page too. 
Ηow to bullet journal even if you can't draw
Washi tape
Ok, this is a no brainer right? I mean everything looks better with some washi tape! Regardless of if you can or can't draw, your bullet journal needs washi tape!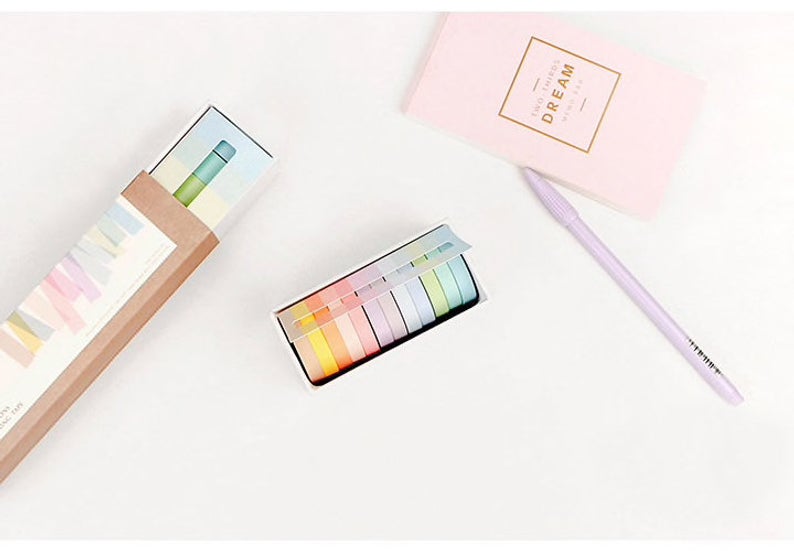 washi tape from MisoPaper on etsy
I would be broke if I let myself buy all the amazing designs I see online but I can't resist them all! You can even buy some fake calligraphy ones!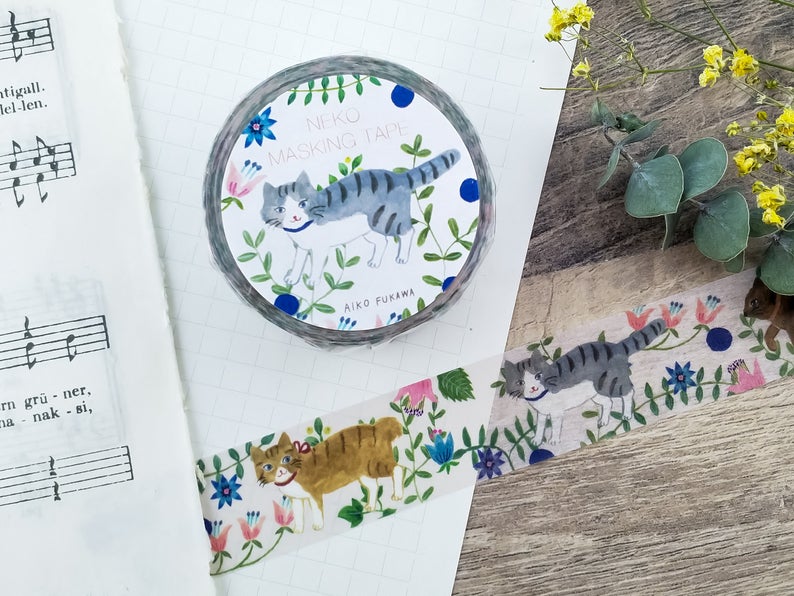 washi tape with floral cats by Kuldlelu on etsy
Ηow to bullet journal even if you can't draw
Stickers
Now, to be honest I haven't fully ventured into the sticker land for my bullet journal but I am not opposed to it too! For now my daughter gifts me with some of hers (I love them and cherish them) but there are many stickers out there you could use to make your bullet journal beautiful even if you can't draw. 
I am all down for these cute cactuses from HappyMomment on etsy. Aren't they adorable?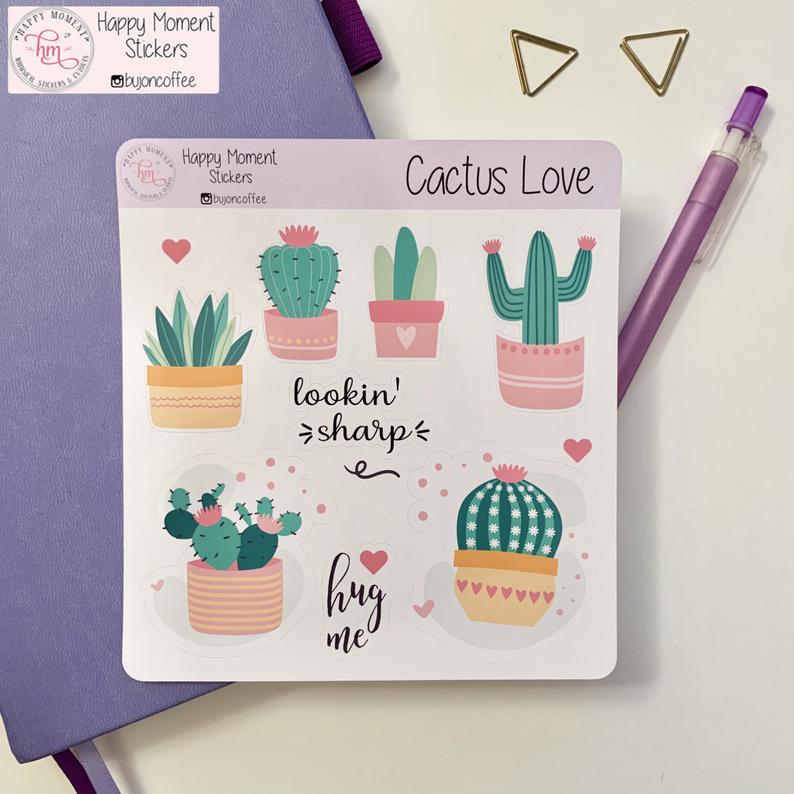 So there you have it! That's how I keep my relationship with my bullet journal one of love! It's far by the perfect ones I see on instagram but I really don't mind. Since I can't draw, keeping a beautiful bullet journal with my cheats is fine with me!
How about you? Any tricks or tips on bullet journals?