Thanks to my dear friend Iwanna, from Iwannabehara, this year I am part of a collective Greek and Greek - related crocheters advent calendar. She thought to bring us all together and have us write a free crochet pattern that each of us was going to post on our instagram accounts. So, 20 crocheters got "together" and made this happen! Without a doubt this has been the warmest and friendliest group of people on instagram I've even been a part off! My contribution to the advent is a crescent moon crochet pattern.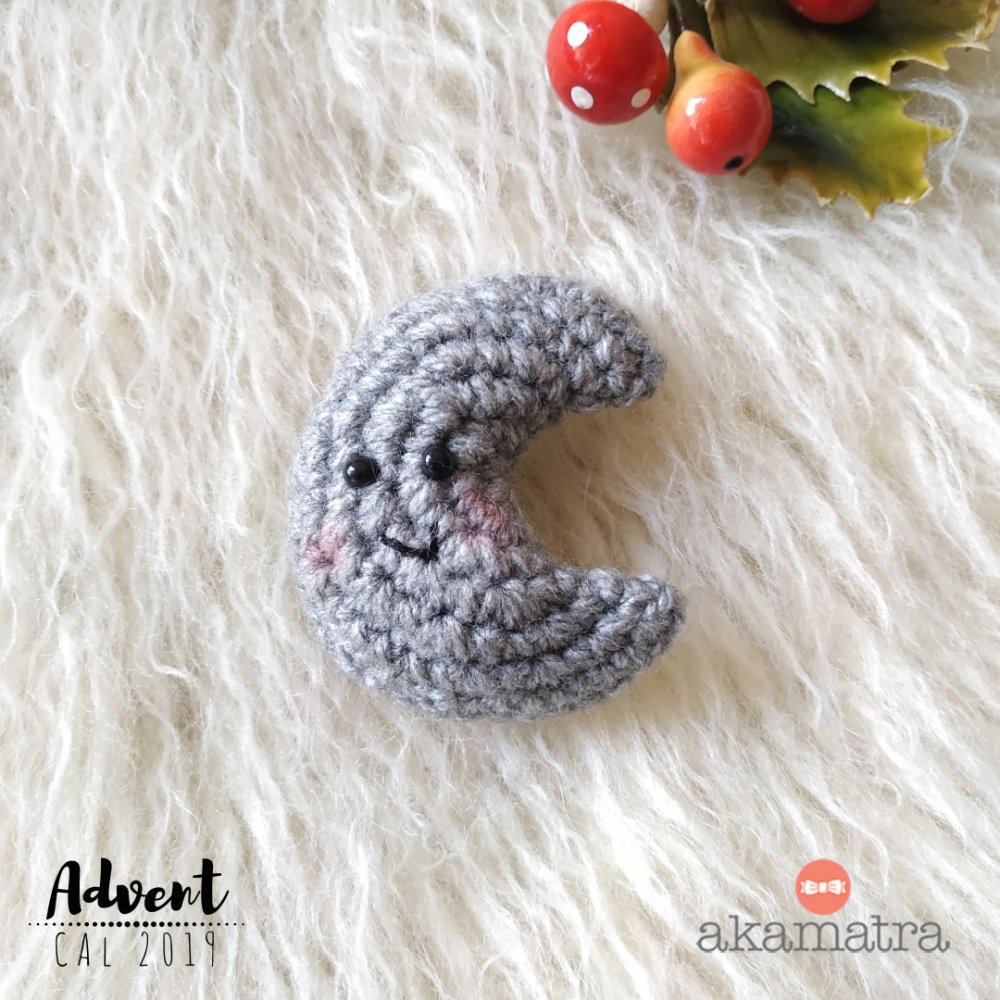 When Iwanna asked meI was in the middle of designing some figures for a baby mobile I was thinking of releasing. So far I've made crochet amigurumi little stars (when my daughter was born) and this summer I posted my sun amigurumi free pattern. So, the next figure for my baby mobile is a crescent moon!
This has to be my easiest pattern so far! I know I say that for many of my patterns, but it's one of my goals to design simple patterns that beginners can make. In that way I feel that I help out more of my friends that struggle with crochet. 
Anyway, the pattern for the crescent moon is below and it's also on my instagram feed if you'd like to save it there. 
Crescent moon crochet pattern
Supplies
Gray yarn (DK or sport weight)
Size B crochet hook or appropriate to your yarn size
Two 4mm safety eyes or black embroidery thread 
Stuffing
Yarn needle
Scissors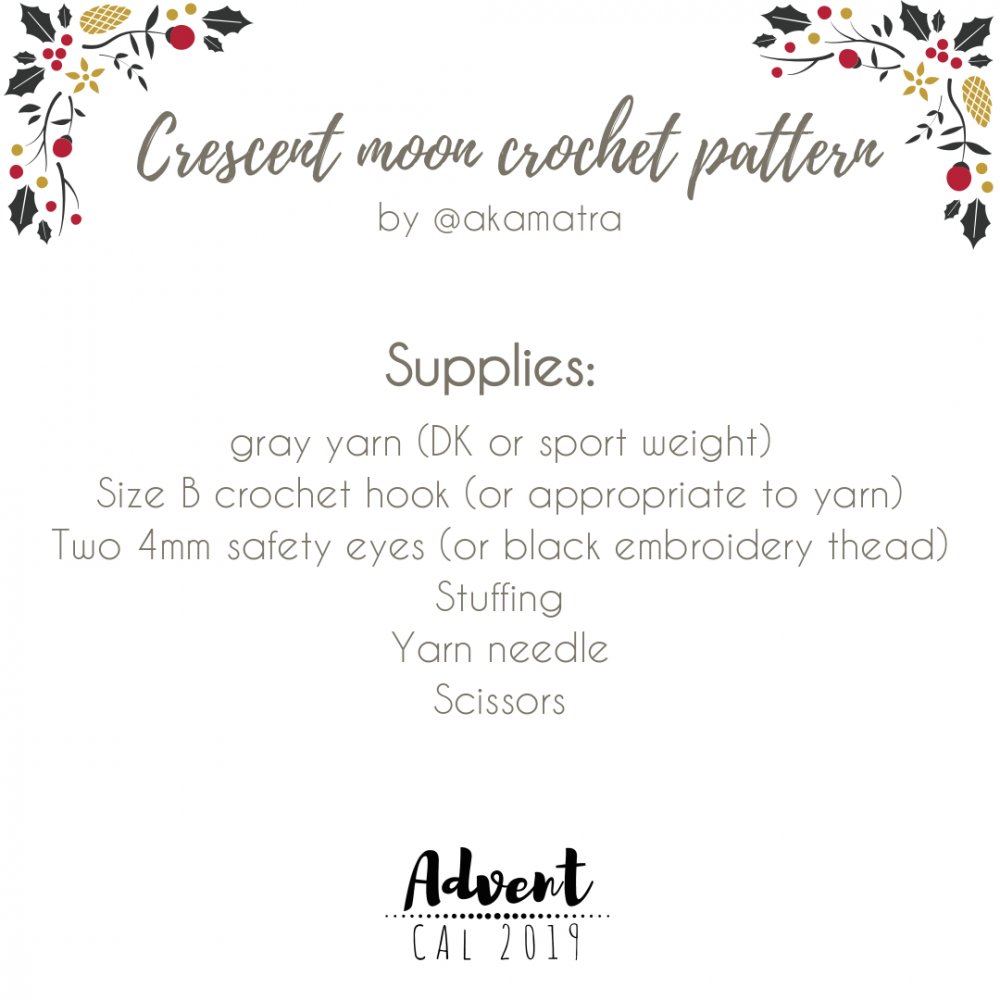 The yarn I used was just a regular synthetic DK yarn scrap I had left over from an older project. That's the best thing about small amigurumi projects. You can make a bunch of them using your scrap yarn!
Abbreviations
This pattern is written in US terms

mc= magic circle 
sc= single crochet
st=stitch
inc=increase 
Crescent moon crochet pattern
Pattern
mc
Rnd 1. 8sc in mc [8]
Rnd 2. inc in every st [16]
Rnd 3. 1 sc, 1 inc, repeat around [24]
Rnd 4. repeat Rnd 3 [36]
Rnd 5. repeat Rnd 3 [54]
Rnd 6. repeat Rnd 3 [81], don't cut off the yarn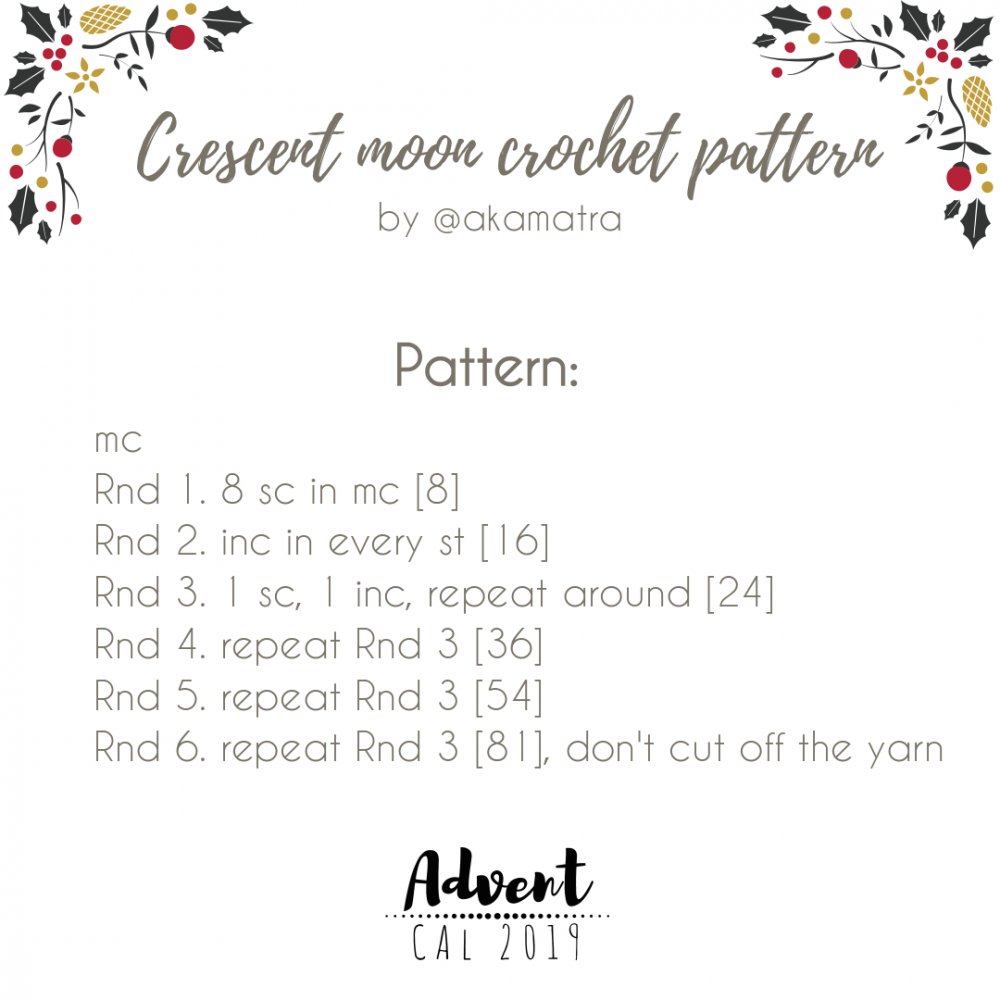 These will result into a frilly round. Fold it in half to create the crescent shape and place the eyes between Rnds 2-3 and 4-5 approximately at the center of the moon. Move thee sts lower to embroider the mouth. Add pink cheeks with a dash of a blusher.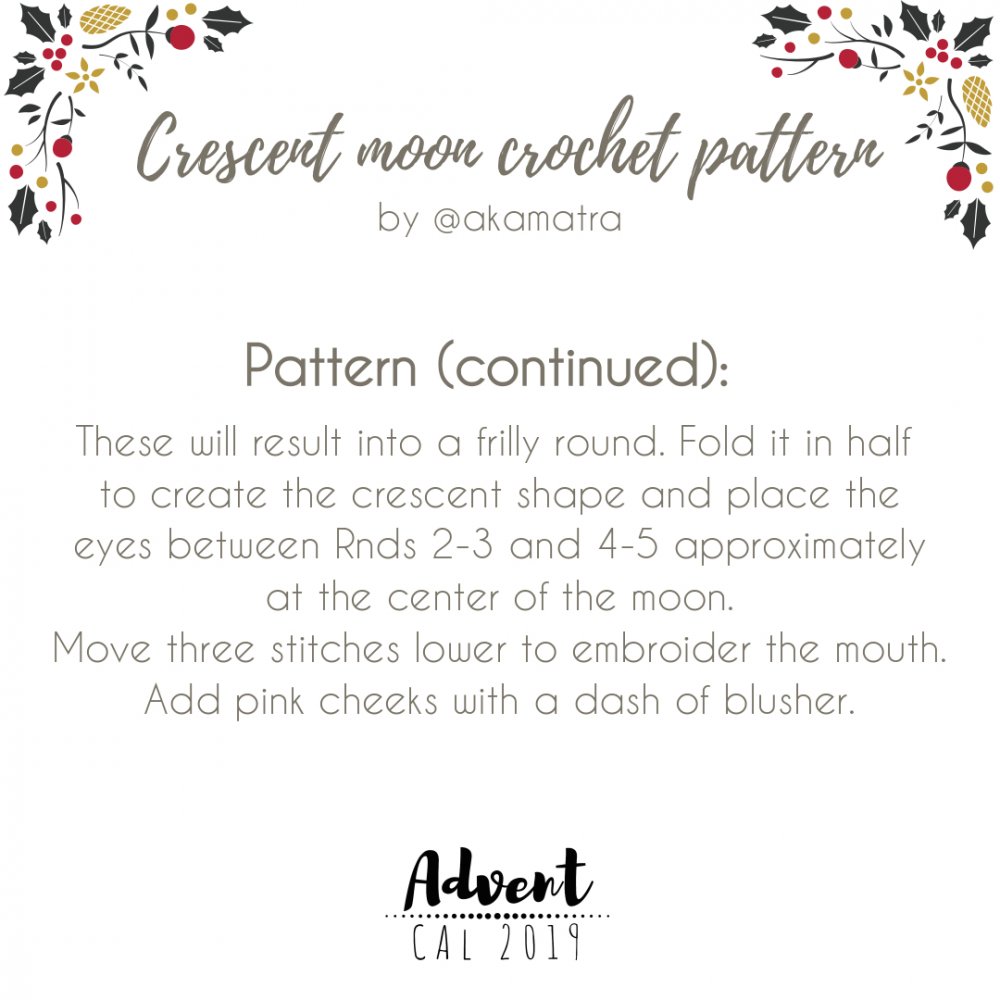 Continue crocheting the folded halves together with single crochet, stuffing as you go. Cut and secure the yarn.
Your moon is ready!
Now, you can give it to your loved ones and tell them you got them the moon!!!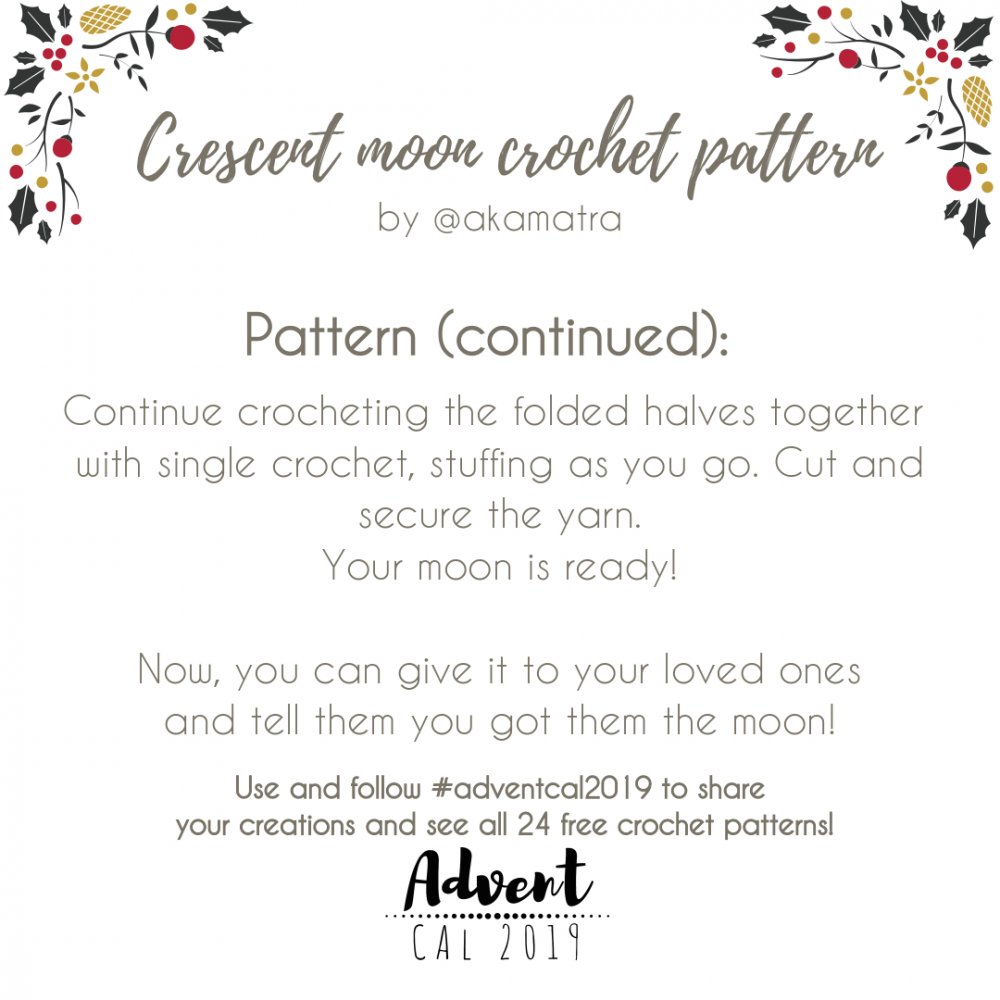 Crescent moon crochet pattern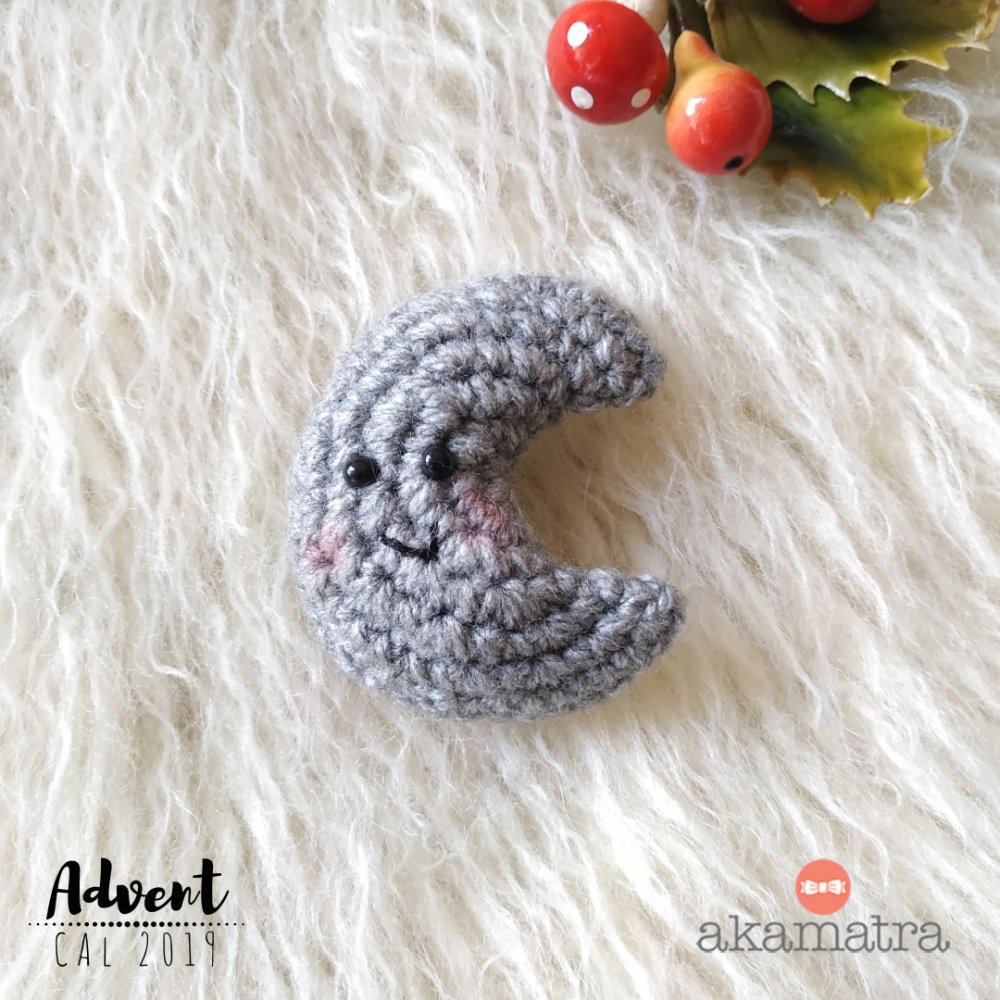 To find all 24 free crochet patterns follow the hashtag #adventcal2019 and use it too for your creations! 
Wishing you the best crochet Christmas ever!!!