Hello darlings!
Cooking in the summer can be a bit of a love and hate thing. You can love the results of it, but hate the process of it. When it is warm outside and it often is in this part of the world, one of the last things that you want to do is be by a warm stove cooking. Which I think is why salads and cold foods are so popular in summer! The same goes for desserts too. Who wants to be eating a warm chocolate cake in the heat, when there are cold, no-bake options? So here is a bit of a round-up of some tasty no-bake desserts that are perfect to have at this time of year and over the coming weeks.
S'Mores Bars
The taste of s'mores is amazing. But no one wants to be sitting around a campfire waiting to toast a marshmallow when it is ninety degrees outside. So a no-bake option has got to be a winner, right? All you need to make a large baking tray full of the bars is:
One stick of soft unsalted butter

One cup brown sugar

One tsp vanilla essence or extract

Two cups cracker crumbs (Graham Crackers)

One cup all-purpose flour

One tsp salt

One can condensed milk

1 ½ cups chocolate chips

1 ½ cups mini marshmallows
Line a baking tray with baking parchment.

Put the butter, brown sugar, and vanilla into a large bowl, and mix until light and fluffy. The stir in the cracker crumbs Beat in the graham cracker crumbs, the flour, and the salt. Next, stir in the condensed milk, along with the one cup of the chocolate chips and one cup of the marshmallows.

Pour the mixture into the tray and then spread the rest of the marshmallows and chocolate tips on top, pressing them gently in. Refrigerate until firm and then slice into bars and serve.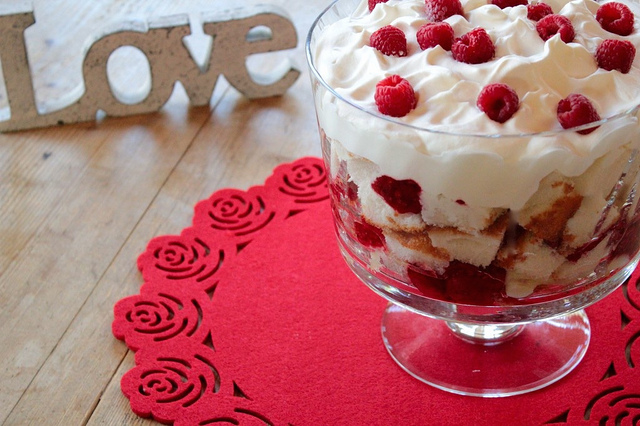 Berry Trifle
Ready made (or store bought) Madeira cake, cut into small cubes

450g sliced strawberries

450g blueberries

Blue Vanilla snow cone syrup (or make your own sugar syrup)

Two packs cream cheese

¾ cup white sugar

Two cups whipping cream

½ tsp vanilla extract
Whisk together the cream cheese and sugar until creamy and smooth. The pour in the whipping cream and keep whisking until fluffy and thick. Stir in the vanilla.

Next, comes the assembly of the cake. In a trifle dish or a large glass tray, layer around a third of the bought cake cubes, and then drizzle over some of the snow cone syrup. Smooth over a third of the whipped cream mixture and then add a layer of sliced strawberries on top. Continue layering with cake, syrup, cream, and fruit, until it is all used up. Try to create a pattern on top with the strawberries and blueberries, if possible.

Serve the trifle immediately (or at least on the day it was made), as it doesn't keep very well. Enjoy!
So there you have it, two tasty no-bake recipes that will be perfect to make this summer. Will you be giving any of them a try?

Lot's of love