Hello darlings!
When I was in my teen years my mom used to solve crossword puzzles. She would buy these magazines that were filled with them and spent her free time solving them. I used to solve some of the easier ones myself but I quickly got bored. One thing I truly liked though was the origami puzzles. They were really difficult and kept me occupied for hours and hours.

Origami is a form of art that involves paper folding. It originated from Japan – as all cool things do – and it's very popular to paper and craft lovers.
Later on as I got involved with more crafts I did my share of origami too. I've folded frogs and cranes and little boats too. Boats are my favourite to do and Natalia also likes them.
That's why I was thrilled when I was asked to take a look at Stephane's Gigandet book:
 "Origami for Halloween"
Stephane started folding origami a couple of years ago and hasn't stopped since! He loves to give life to paper and has a true passion for it. He has published a wonderful book for Halloween Origami.
The book contains 10 wonderful origami designs that range from easy to difficult. They are great to make with your kids. Actually some of them were designed by Stephane's kids! How cool is that?
I liked that there were very easy to follow instructions and diagrams. I strongly advice you to read the instructions in the start of the book before you start folding. It will make all the difference. Many people prefer videos to help with the folding but the instructions in the book left nothing unanswered.
I didn't have much time but I did manage to make a couple of designs.
First I made a very cute ghost. The folding was very easy and very well detailed. It took me a couple of minutes to fold. Now, my drawing skills are not the best as I've told you before, but I did manage to add a face to my ghost. You can also glue the commercially available eyes if you like.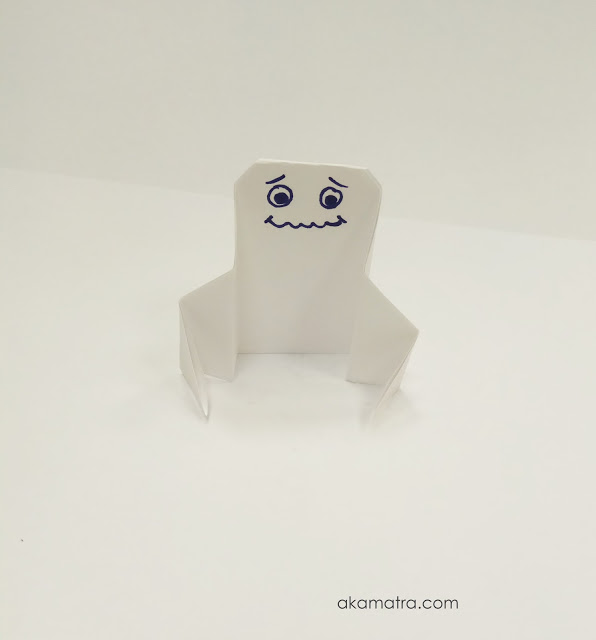 Then I made the bat. I love bats! Honestly I do! I mean live ones. Yes, I am weird, but you see in our house in the village where I spent all my summers, we had bats. And we kinda loved them. So, anyhow, back to the origami.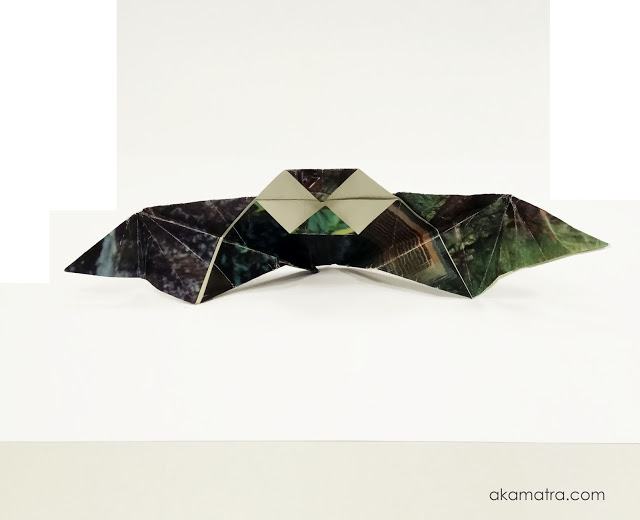 The bat was more difficult than the ghost, but I did manage it. I used a piece of paper from an old poster I keep recycling. There are many types of origami paper available. 

The bat now has a special place on my desk!
Lastly, I tried to make the spider web, cause guess what? I love spiders too! LOL.
However, I am totally out of practice and this one needed a lot more skill than I have right now. It was a total failure. If you are skilled in origami, this one will give you a thrill and it will test your skills!
And guess what? If you make it snap a photo of it and send it to Stephane. He likes to include photos of his clients foldings in his book, so who knows, maybe your creation will be in his next book!
You can find the book here.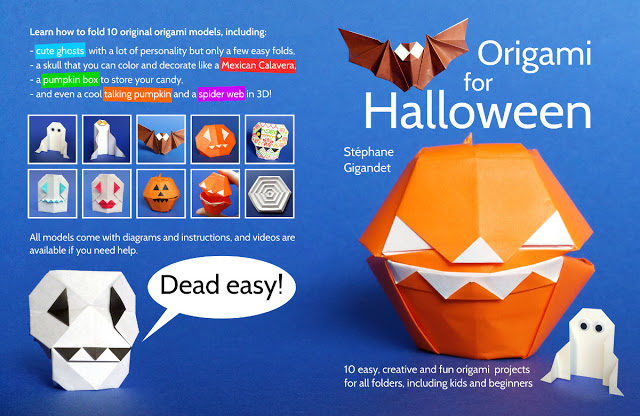 Overall, this book is excellent fun for origami lovers and those who want to try it for the first time. The ghosts are wonderful for Halloween and the pumpkins are great decorations for fall.
Have you ever tried origami? What did you make?




Lots of love