Hello there my darlings! 
As an avid crocheter with more WIPS (work in progress - where did you mind go?) than time to finish them, I'm always ending up with small amounts of yarn. Now, these are just as good as the full skeins, it's just that they are odd colors, different batches and well, it's kind of difficult to use. 
And let's be honest here for a second. Most scrap yarn projects out there are not really pretty. They get the job done, meaning you end up with a warm blanket or a pillow cover or whatever, but they are not as beautiful as a well thought after project where you spend hours matching colors and finding the right combination.
 So this time, apart from coming up with a way to use my scrap yarn, I wanted to make something that I could sell on my etsy shop or gift to a friend and be really proud of. Don't get me wrong I am proud of most things I make but this time I got it in me to use my scrap yarn to make something everyone would want!
So I did something really simple before starting my project, it worked out great so I wrote a guide for you to use.

Unfortunately I wasn't able to take a lot of before photos. It may come as a shock to some of you but not everything I do is so that I can post it on the blog, lol! I did make a nice cheat sheet list for you though! You can find it in the end of the post.


First I gathered all my scrap yarn on the floor – which I first covered with a sheet.
Then I rolled them all to balls either by hand or with my yarn roller.
Then I grouped all the similar colors together. Meaning, I put the black with black and the red with red. Even if they were different hues I just put them by color in general.
If you are anything like me and your yarn organization is somewhat lacking, you'd be surprised to see how many same color/same lot scrap yarn you have lying around! Some of what I found made up a whole skein!
Then I did a second grouping by shade or complimenting colors. I put blues, lilac, green and purple together. I grouped reds with oranges and pinks. I also grouped whites with beige and off whites. Lastly I put all the black yarn together. 

There are many ways to group colors. You can do analogous, complimentary, split complementary as explained in this very useful article here.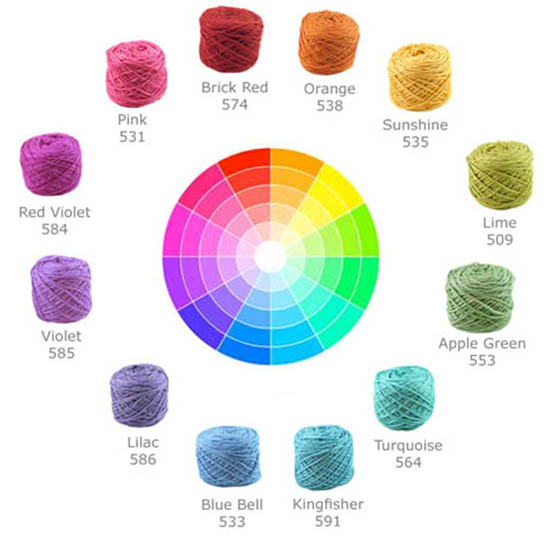 It was time to see what I got in turns of yardage. I couldn't count as you well know, but I could weight the yarn. So I did. Of all the groupings, the one with a decent amount of yarn was the one with the blue hues. So I decided to go ahead and use this group.
I put the other groupings in separate totes, and added a little note on the outside about the color and weight of yarn. They will be used for future projects when I put more in them. And I will, it's the rule of (my) nature!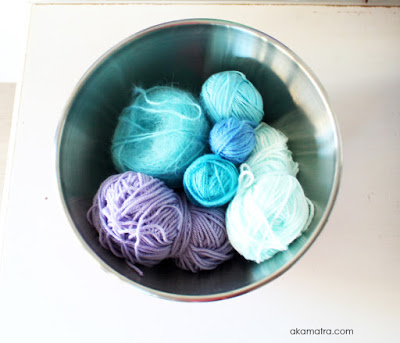 Then I got down with my grouping of blues and purples and greens. I out them in my new and festive red bowl from Zak!Designs and got down to business.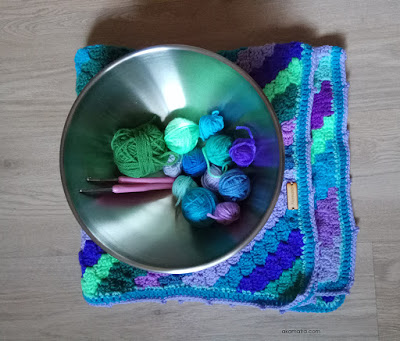 It was time to decide what to make with them. According to my calculations there was enough yarn to make a baby blanket. I love those and there is always a baby being born in my family and friend's circle that could use a blanket. Since I didn't know the amount of yarn in each ball and I hated playing chicken with my yarn, I opted for a striped C2C to keep it nice and easy.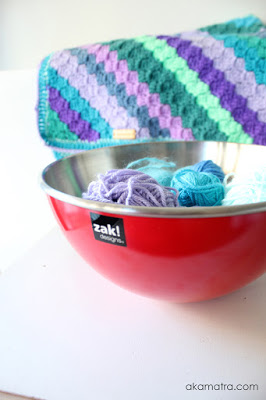 For a clean result I only did 1, 2, or 3 rows of each color each time. I didn't want to change colors in the middle of the stripe. This brings out a nicer, more organized look in my opinion.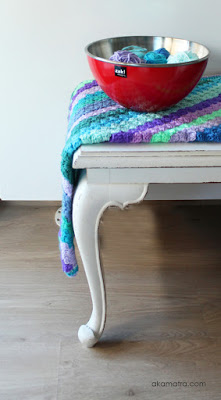 I didn't follow a specific color pattern. If you have larger amounts of yarn than I did you can definitely go for a color pattern too!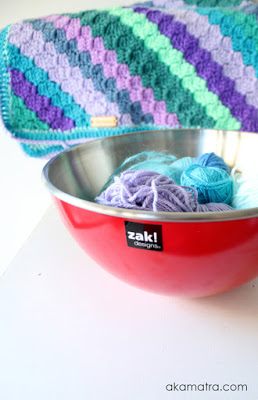 And that's what I got in the end. I didn't shy away from using the intense colors since this is for a baby and they love the contrast. However, you can use more subtle hues if you like. Our daughter really liked the blanket!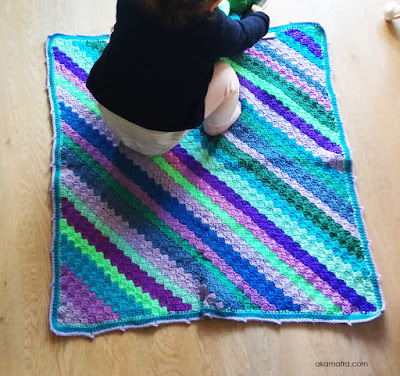 I put the small balls of yarn that were left over after this blanket was done, to a tote and labeled it as before. It's not going to stay small for long, lol!
I am planning to repeat these steps regularly as times goes by. Yarn has a way of accumulating in my house. So if I do this regularly, it will hopefully keep my scrap yarn organized and I will always know if I have a small amount of a certain color when I need it!
And since I know many of my crochet friends would like to have this cheat sheet, here it is for you to pin, print and enjoy! Sharing it with your crochet buddies on your social media would be lovely, thank you!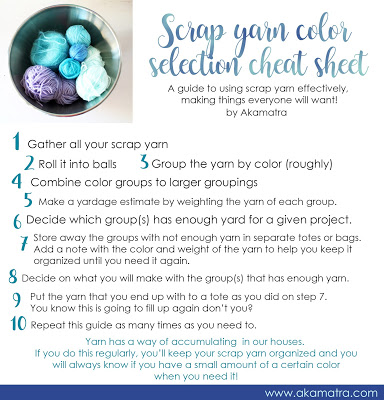 I'd love to hear if this was useful to you at all. Any and all suggestions are up for discussion!

Lots of love