Hello my darling friends. It's no secret I am book addict and lover of anything book related. I love to visit bookshops and libraries, hang out with millions of printed words and fellow bookworms. It seems that some of my fellow travel bloggers feel the same way so we worked together to bring you 12 of the world's most beautiful bookshops and libraries. 
I got addicted to reading books from a young age. Most of my friends are too so they "get me". Reading a book is not the only aspect of my obsession though. The whole extent to this love relationship starts with a visit to a bookshop. I used to spend hours in the bookstores and many more in the libraries I used to visit. During my years in the University I also worked in the library too. So you see, I've fostered this love for almost 40 years now and the fire still burns!
Admittedly I don't spend the same amount of time in bookstores and libraries any more, because life happens. However, I need to feed the beast from time to time and I have a couple of favorites I hang out to with my daughter since they are super kid-friendly too.
12 of the world's most beautiful bookshops and libraries
1. Ianos bookshop, Athens by Maro from Akamatra
The Ianos bookshop is one of my favourite places to shop books in the center of Athens. It's a large building but that doesn't take away from its cosiness so don't despair. The first thing you'll notice is the friendly and super knowledgeable stuff. These people know their books and they are friendly and smiling (and not in the fake corporate way too). I mean I would be smiling too if I was surrounded by books, wouldn't you?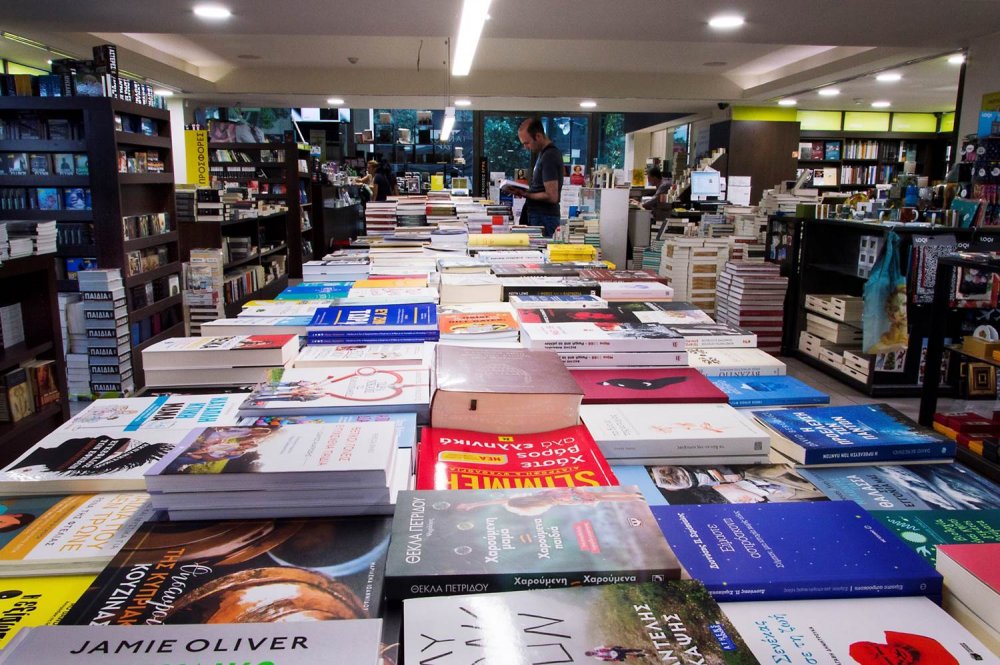 One of the things I like best about Ianos is how kid friendly it really is. There's a special area with kids books and toys for small kids to play while their parents are book shopping and the ever present personnel is gentle and attending. My daughter loves to use her charm to get coloring papers and markers from them and draw sitting in the little wooden chairs that fill the place.
There's also a gallery on the first floor and a very nice coffee place for you to sip and read or check your emails between meetings. The low lights and music make it the perfect hygge place to unwind and relax with your favourite author's latest book.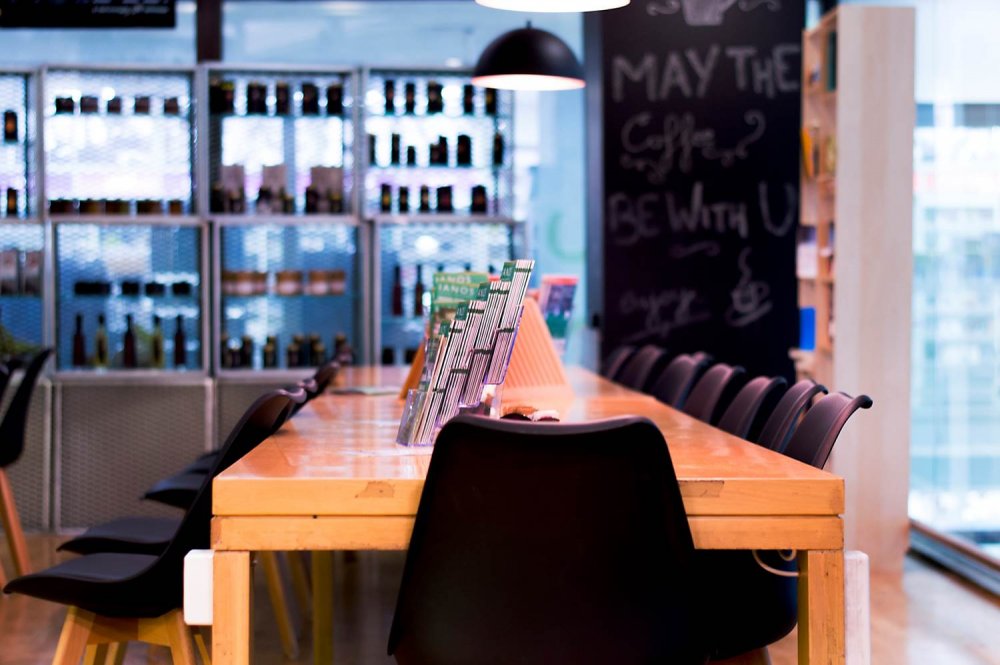 Overall it's a must see place with stuff always eager to help and provide insight. A bookshop as it should be if you ask me!
2. Starfield Library, Seoul by Shelley from TravelStained
When the Starfield Library opened in Seoul last year, it was sure to be an instant sensation. In the most wired country in the world, anything that's Instagram friendly markets itself. And this book repository is nothing if not photo-friendly.
The most striking thing in this underground library, are 3 ginormous bookshelves absolutely stuffed with 50,000 books and magazines.They're the first thing you'll see when approaching the library, which is open on all sides to the Coex Mall that surrounds it. Standing 13 metres tall each, they're visually arresting, to say the least.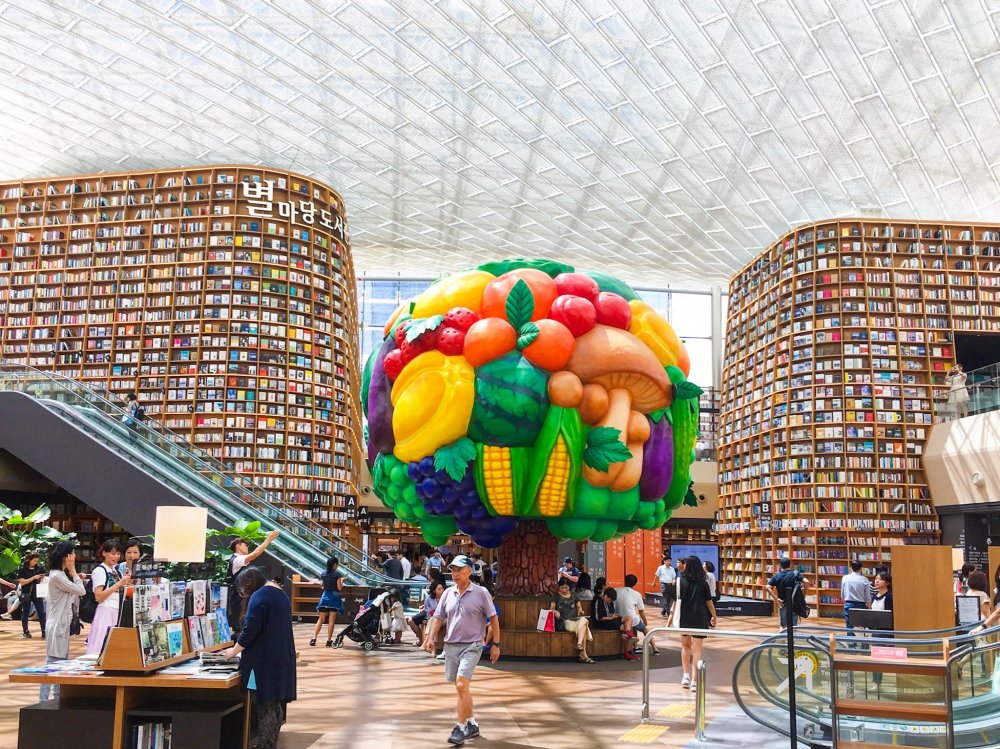 There are 200 seats available in the 2800 square metre, 2 story library, from which to read the books, magazines and iPads that are as yet, only available for browsing in-house. There's also wifi, book talks, lectures, art exhibitions and performances available to the public for free. 
Open from 10:00AM to 10:00PM, every single day of the week, it's best to visit as early in the morning as possible if you're looking for anything resembling a traditional idea of what a library is. Otherwise, you're more likely to find a public space that happens to include a lot of books, reams of tourists and people posing for the perfect selfie.
 3. Waanders In de Broeren, Zwolle by Manouk from Groetjes uit Verweggistan
As a booklover I have visited many bookshops. Still I had never heard of this beautiful bookshop in Zwolle, a small city in the Netherlands. The bookshop Waanders In de Broeren  can be found in a church and in making it they respected the look of the church. It is stunning and you will not know what to expect when you enter. The colorful books make it an even better sight. The church used to be part of the cloister, but nowadays the cloister has moved a bit outside of the city center.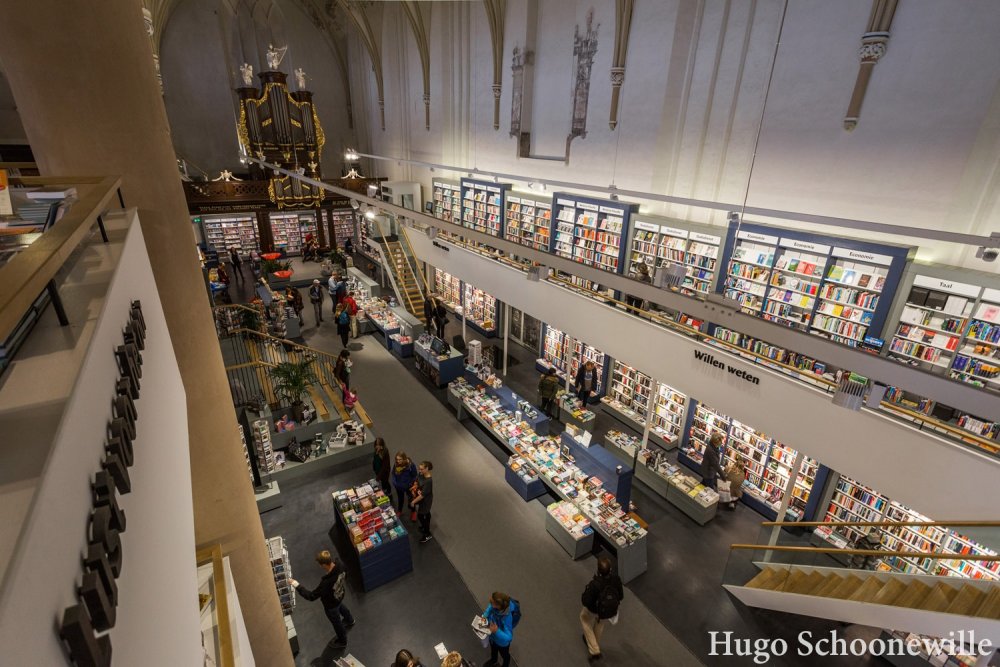 Besides browsing through the many books (they also have an English section if you do not read Dutch) you can enjoy yourself a while longer: inside Waanders In de Broeren is a lovely café to enjoy a coffee or a lunch. Perfect to start reading your newly purchased book!
In my opinion this bookshop is the most beautiful bookshop in the Netherlands and maybe even outside of this small country and I have wandered around way too long.
4. Morgan Library, New York by Kelly Duhigg from Girl with the passport
One of my favorite things to do solo, in New York City, is explore the many vibrant, exciting, and totally unique bookstores and libraries that this city has to offer.
Without a doubt though, the one library that totally stole my heart is the Morgan Library and Museum. I walked into the library and was immediately bombarded by walls and walls of ancient books that were housed in some of the most exquisitely carved bookshelves that I have ever seen. Just think of the library from Beauty and the Beast and you'll have an idea of just how amazing this place really is.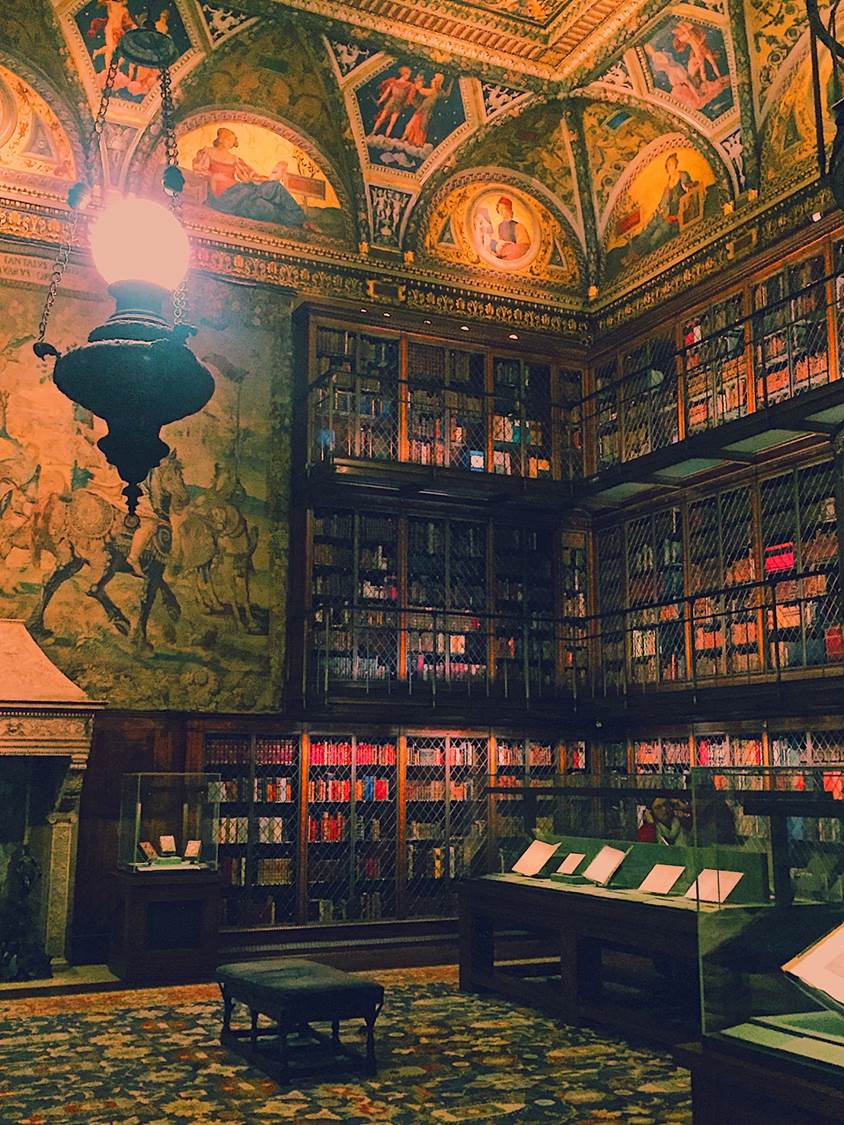 But it gets better! Not only is the library decor absolutely divine, but this library is home to an original Guttenberg Bible, as well as an original, Mozart composition, 
And while admission can be a bit steep at $20 a person, this library offers free admission between 7 pm and 9 pm on Fridays, making this the perfect time to visit since you'll be treated to a free, live jazz performance as well. 
5. Bookstore Dominicanen, Maastricht by Lesia Joukova from Dutch Wannabe
If you're ever in Maastricht  in the south of The Netherlands, do not miss this brilliant bookstore located in a 700-year-old church in the heart of the city. This bookstore is every reader's dream: a perfect blend of knowledge and spirit, thanks to its unique location. Ever since 2006 Bookstore Dominicanen takes your breath away with its gothic high ceilings and three stories of books that take up the space inside. The bookstore design is very creative with its space: the center of the church is occupied by a modern shelf structure while the church's columns and long glass-stained windows organically blend into the store interior.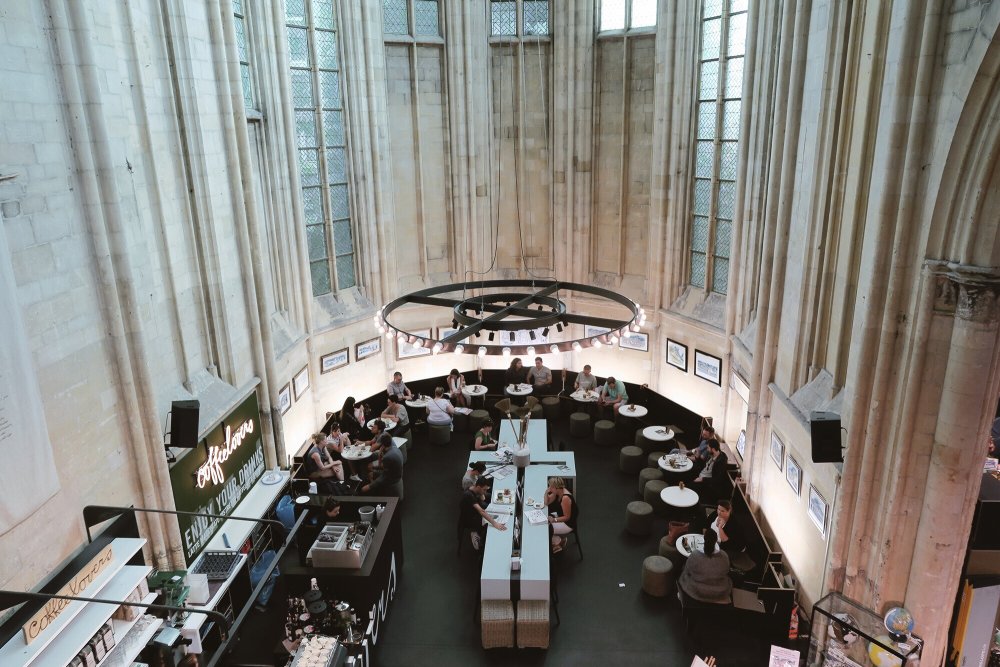 The store offers a big variety of books, however, many are in Dutch. There is a big variety of English literature as well, with all the latest fiction releases, autobiographies and Young Adult. In the back you will find a café with a unique table in the shape of a cross. It's a perfectly lovely spot to recharge, read that magazine you've just purchased or sink your teeth into your vacation read. Do not forget to admire the 1619 fresco on the ceiling. You would be hard-pressed to find a bookshop more beautiful.
 6. Livraria Lello, Porto by Elaine and Dave from Showthemtheglobe
Dating back to 1881, Livraria Lello in Porto in Portugal is often described as one of the most beautiful bookshops in the world. It is a treasure trove for book lovers: a grand red staircase is surrounded by tables piled high with books and illuminated by a stained glass skylight. Livraria Lello stocks English and Portuguese books ranging from the latest releases to collectors editions which are housed in a special room.
Livraria Lello is believed to have been the inspiration for JK Rowling as she generated ideas and began to write her first Harry Potter book, Harry Potter and the Philosopher's Stone. She taught English while living in Porto in the early 1990s and was a frequent visitor to Livraria Lello and its second-floor café. As well as Livraria Lello, JK Rowling is said to have taken inspiration from throughout Porto and has said 'in those first weeks in Portugal I wrote what has become my favourite chapter in the Philosopher's Stone, The Mirror of Erised'.
Livraria Lello is now so popular with Harry Potter fans and other visitors that the store has implemented a ticket system for entry. Tickets, which can be reserved online in advance, are 5 euro, and this is redeemable against a book purchase.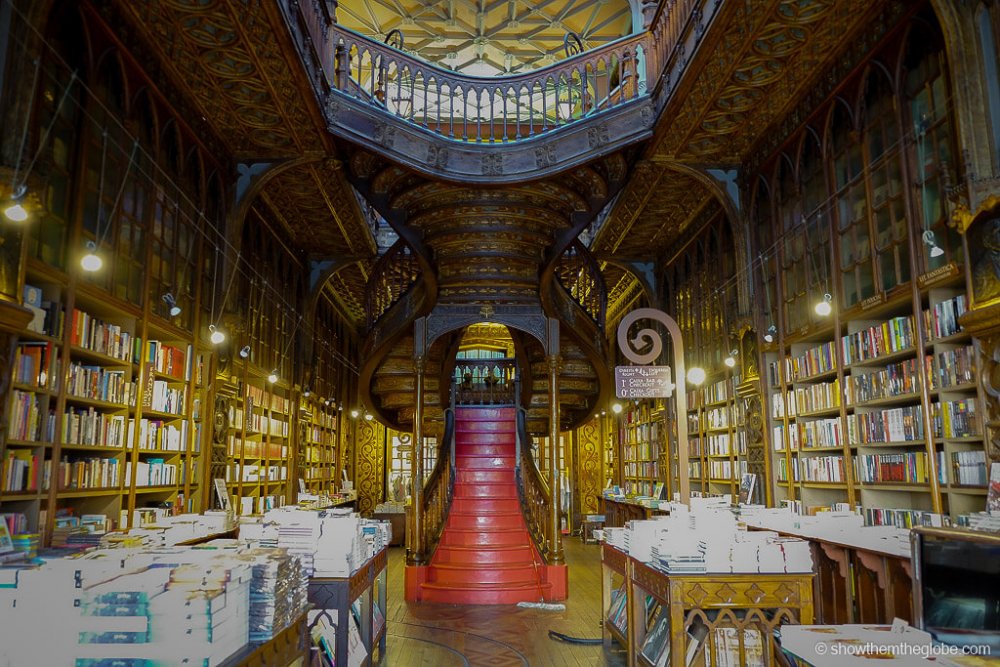 12 of the world's most beautiful bookshops and libraries
7. Library of Birmingham by Bernie from Apackedlife
When we think of libraries, we often focus on the splendor of old buildings.  But there's a newcomer to the ranks of the world's beautiful libraries.  Replacing the former Brutalist structure, the new Library of Birmingham in England is an extravaganza of a building.  Sometimes described as a wedding cake due to its stacked tiers of boxes, the Library is a vision clad in a floral cage.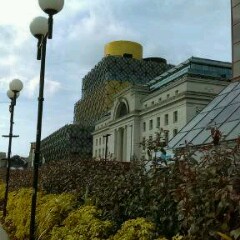 The creativity doesn't stop when you enter the doors.  The floral motif is repeated throughout in glass.  There are lots of community spaces, and even the lifts are chatty, sharing some of their favourite literary quotes as you travel the building.  There are some surprising additions like the secret rooftop garden, where you can enjoy great views of Birmingham while listening to the wind rustling in the plants.   In the archives, you can find everything from film to the original works of Tolkien, who was inspired by Birmingham's hidden wild spaces to create The Shire and its gathering of hobbits.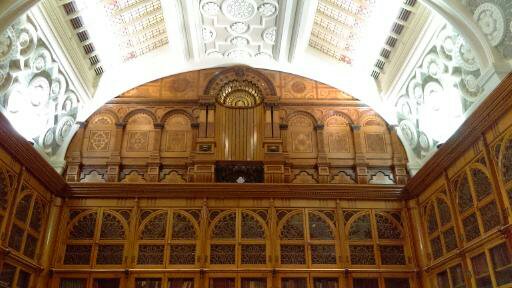 There's another terrace at the top of the building alongside more treasure.  The Shakespeare Room, dedicated to the Bard himself, is a gloriously paneled and intimate space, taking you way back in time.  It was moved intact to the new Library building, and is a superb contrast to the modernity elsewhere. 
8. Stockholm's public library by Taryn from Happiestoutdoors
As a bibliophile, I knew I had to visit the Stadsbiblioteket public library when I visited Stockholm. I wasn't in town long enough to borrow a book, but I wanted to visit anyway since the architecture is so unique. The main part of the library is totally circular so you are surrounded by 360-degrees of books!
Opened in 1928, the library was originally designed in the classical style. However, the architect, Gunnar Asplund decided instead of adding all kinds of decor flourishes, the books themselves should take center stage. The result is a library with a large circular rotunda in the centre with three stories of open shelving. You can access the upper levels via the narrow staircases set into the walls.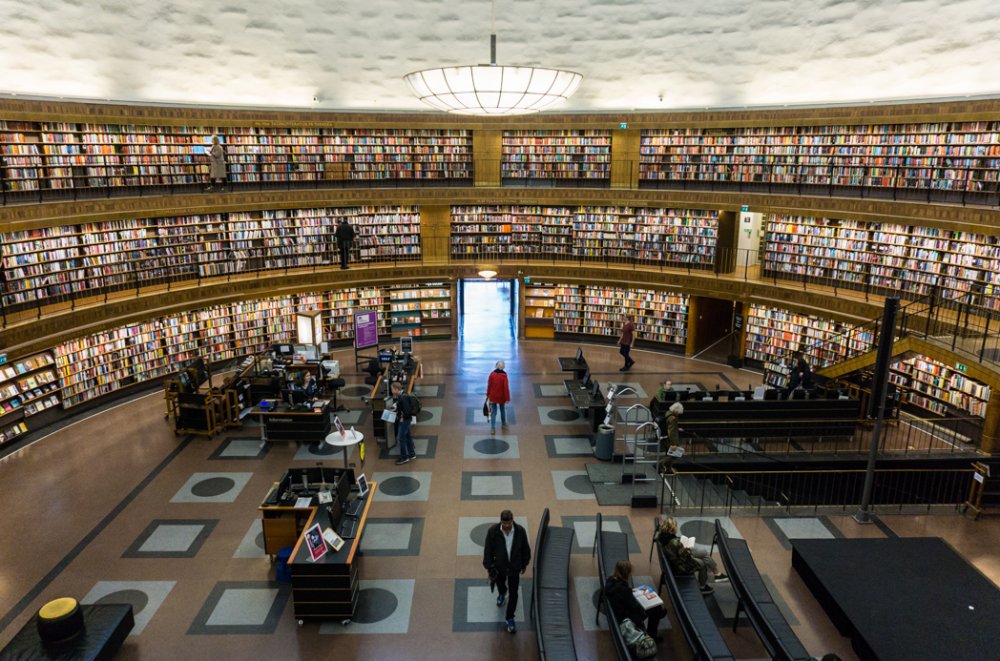 The library is open to the public 7 days a week and is free to visit. If you want to take photos (and believe me you will!) be quiet and respect the other patrons. Stadsbiblioteket is located in the Vasastaden neighbourhood just north of Stockholm's city centre. It's easy to get there on the subway - use the Odenplan station.
9. El Ateneo, Buenos Aires by Laia from Dreamtravelgirl
El Ateneo in Buenos Aires is without any doubt the most fascinating bookstore I have ever seen. It's been built inside an old theatre! The theatre dates from the beginning of the 20th Century, so you can imagine: balconies on the sides, paintings on the ceiling, ornate carvings. All the elements have been perfectly preserved, even the crimson stage curtains.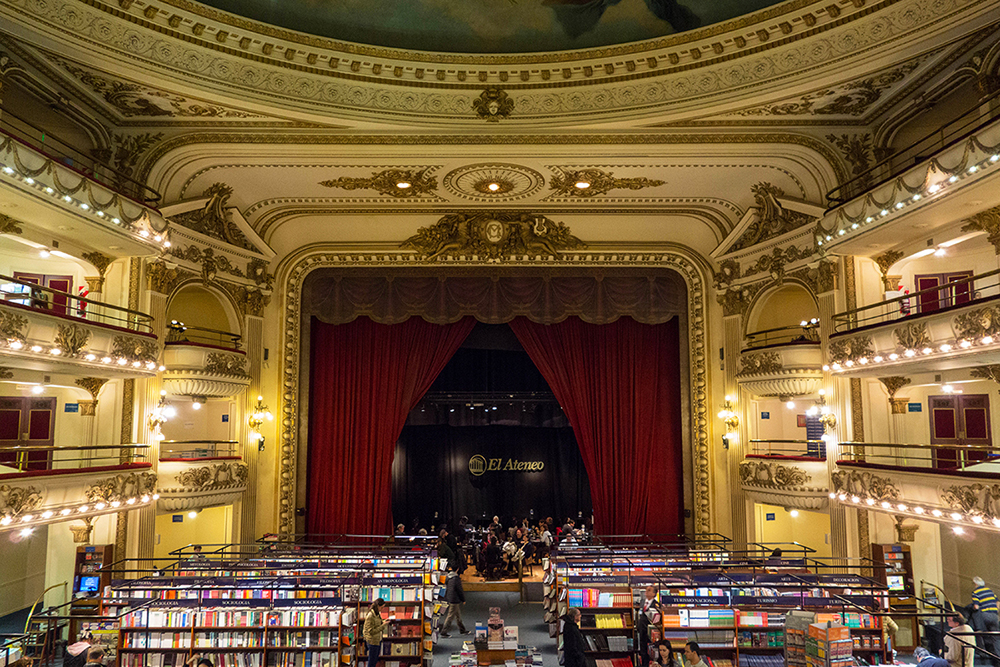 The main floor is filled with books, while the stage is now a café and the former theatre boxes are cosy reading rooms.
When I heard about it I knew I had to go. I love books. I love old architecture. My first day in Buenos Aires was grey and rainy, a perfect occasion to be indoors.
Entering this bookstore is stepping back in time, is wondering if you're really seeing what you see. In a normal bookstore I can spend an unusual amount of time going through the shelves filled with books. In El Ateneo, I let you guess. 
And I'm not the only one thinking it's a stunning place. The GuardianGuardian published an article naming the 10 most beautiful bookshops in the world. El Ateneo was the second.
10. Shakespeare and Company, Paris by Carrie from Mapleandmaps
As someone whose idea of a perfect Friday night involves curling up with a good book in front of a roaring fireplace, I'm always on the hunt for great bookstores. In fact, I've been known to plan entire trips around them! My favorite bookshop to date is Shakespeare and Company, an English-language bookstore on Paris' Left Bank. Aside from its location in my all-time favorite city, I love Shakespeare and Company because of its vibrant literary history.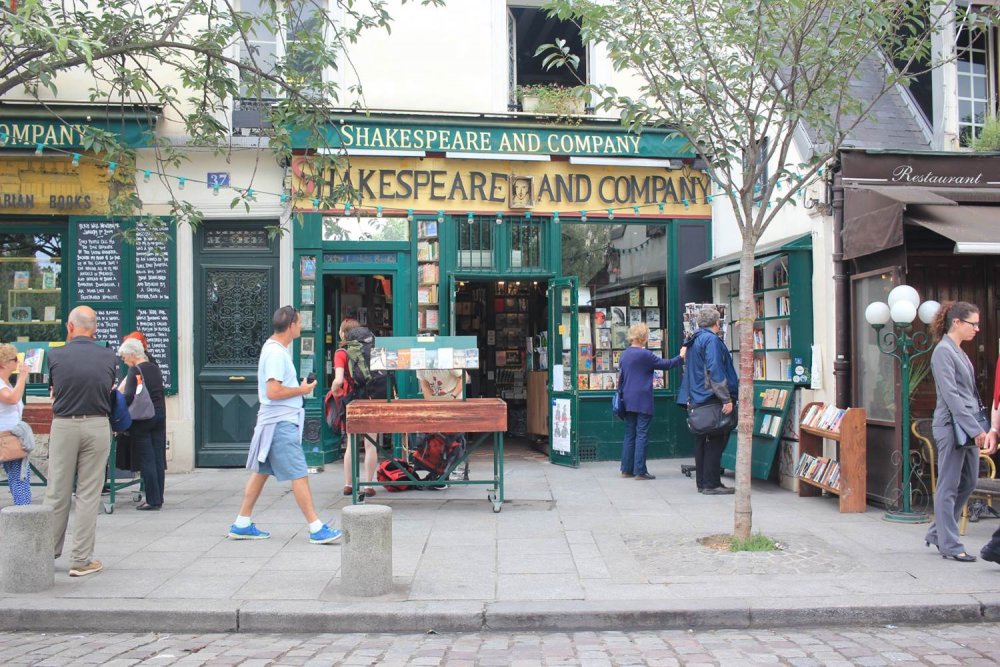 An American expat opened the original bookshop in 1919, and it soon became a popular gathering place for the city's literary heavyweights, including James Joyce, Ernest Hemingway, and Ezra Pound.
Unfortunately, it shut down during the German occupation in 1941 and never reopened. The present-day bookstore was opened by American expat George Whitman in 1951 and retains the name and spirit of the original shop. It has attracted generations of authors and even allows aspiring writers to stay overnight!
Perusing the overstuffed shelves, it's easy to see why the beautiful bookstore has always been a meeting place for writers. Though many decades have passed since Hemingway and Fitzgerald scribbled in Parisian cafés, a visit to Shakespeare and Company offers travelers a glimmer of that "Lost Generation" literary magic.
11. Trinity College Library, Dublin by Cydny from Goaltraveler
I had one vision in mind when visiting Dublin and it was standing in the Long Room at Trinity College Library. Let me preface with I'm not a book worm, just a sucker for history. Every picture of this library is a dream. I imagine myself like Belle in Beauty and the Beast, swinging on a ladder through the thousands of book options. I didn't quite get my "Belle" experience, but the library certain lived up to my expectations.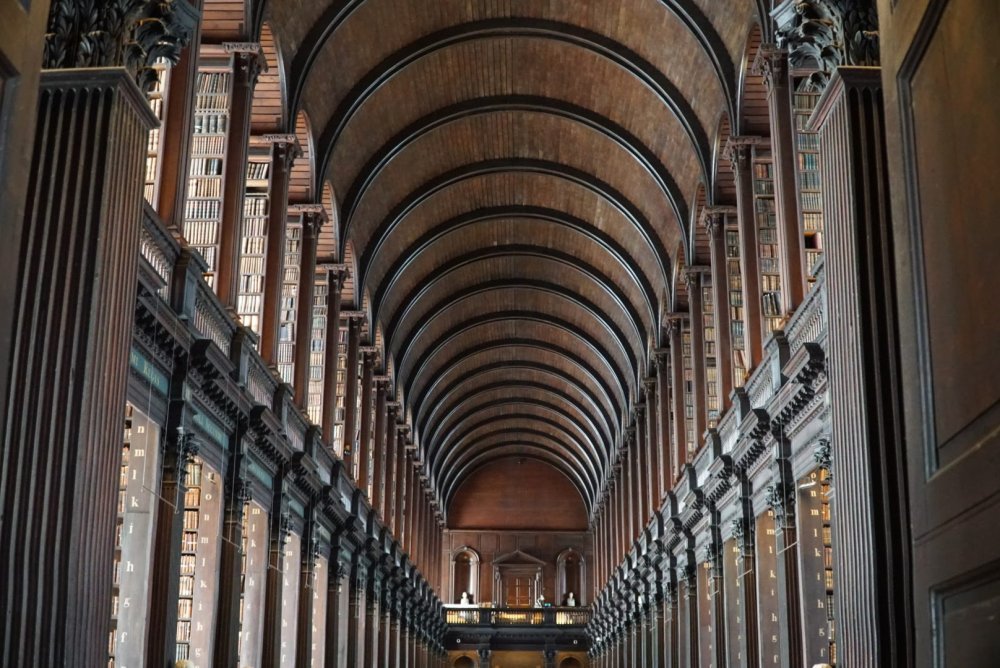 The moment you walk in you are slapped in the face with the smell of old books. You know what I mean, it's a certain type of smell. You can feel its history through your nostrils, practically taste it. This library opened in 1592 and houses the Book of Kells.  Although you can't touch the books you can see the sheer size of these manuscripts, their decades of worn pages and faded color.
When you visit you walk into the 65-metre-long main chamber of the Old Library, the Long Room that houses 200,000 of the Library's oldest books. It's a two floored arch library with books from top to bottom of every shelf, filling the entire room from front to back. It's an astonishing site with a natural calming appeal. If I had a library like that to work in while in college, I'd imagine my papers sounding extra studious.
It's a fairly popular site so I suggest ordering your tickets online before arrival to avoid sitting in line.
12. Metaixmio Editions, Athens, by Maro from Akamatra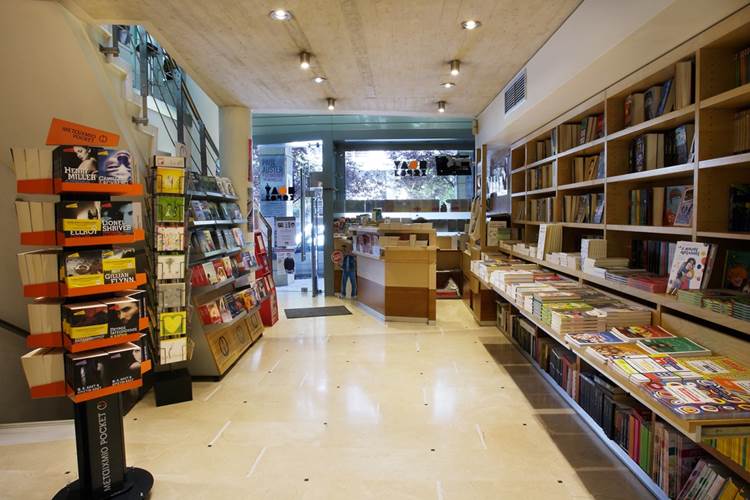 I left one of my favorites for last. Metaixmio editions and booshop is a place I enjoy a lot and don't miss an opportunity to visit. Since 2006 Metaixmio has been transformed into something way bigger than just a bookshop. It's a place for events and presentations for cultural meetings and creative acts. A place where parenting seminars, art events, book presentations, craft parties and cinema therapy is an every day occurance. There have been more than 1200 students in the various projects held there and many more book presentations. It's the place I met Eduardo Jauregui and interviewed him about the Most wonderful story ever written.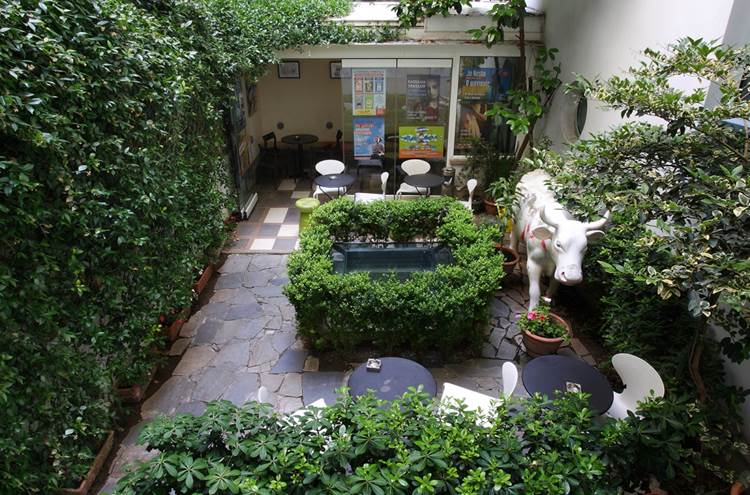 I love their coffee place and terrace and how friendly the people working there are. Again, I would be happy to work among all these books!
12 of the world's most beautiful bookshops and libraries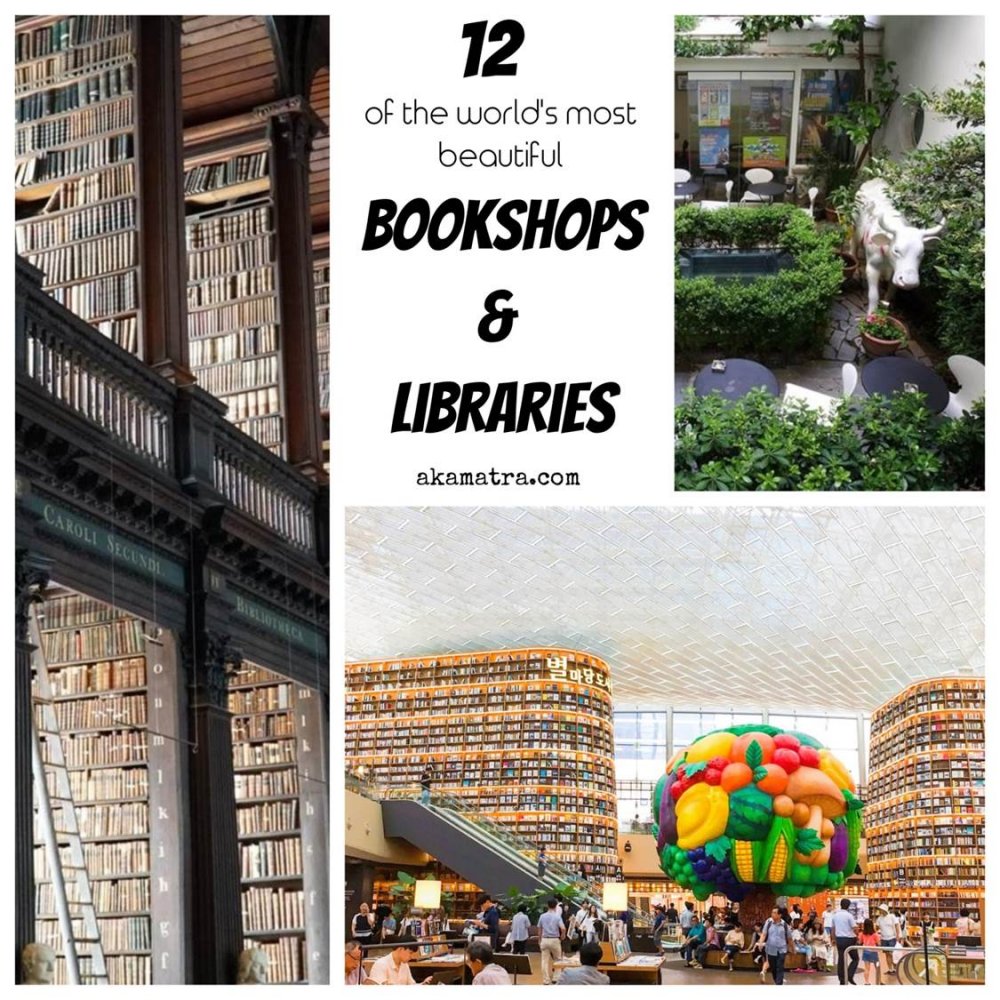 Do you have a favorite bookshop or library? Have you visited any of these beautiful bookshops and libraries I've mentioned here? I'd love to know!