Hello darlings!
The only people who would say that plants are not good as home decor are the ones who have never tried it before. It is understandable that these people think that plants are hard to manage and maintain--that is why decorating your home with plants may seem impossible. Every home requires regular maintenance but so does the air you breath.
The truth is, there are actually a number of plants that are perfect for indoors. Best of all, not only are these plants aesthetically pleasing, but they also come with a number of benefits.
Useful Information About Decorating Your Home With Plants
How to Decorate with Plants
Decorating your home with plants is not that difficult. In fact, it can be an enjoyable task.
1. Hanging Plants Are Getting Popular
Not all are blessed with a big house. If you have limited space, but still want your interior to look attractive, then hanging plants are a great idea. This would allow you to utilize the remaining space, while adding color to the area at the same time. As you install these plants, make sure that they're fully secured. You don't want to experience any accidents later on. The tropical trend is still hot and so are these amazing air plants I've talked to you about in the past.
2. Say Goodbye to Empty Corners
No matter how you try to fill the corners of your home, there will still be some that will remain empty. How can you solve this? Instead of trying to force furniture to fill up that void you should try decorating with plants. However, make sure that you choose a plant larger than the space. This way, it would be able to occupy the corner perfectly. This is perfect for those who want to make their place look larger without cramming it with furniture.
3. Where to Place Them?
If you do not know where to place your plants, some of the best spots to consider include the kitchen counters, windowsills, living rooms, and balconies. You can also create a great ambiance by using different plants when decorating. 
There are some plants that are suitable for the bedroom since they clean the air so choose wisely!
4. How to Place Your Plants
Aside from the plant itself, the pots and containers you are going to use are also wonderful decorative pieces. That being said, you should choose pots that are not only functional, but attractive as well. We are not saying that you should spend a fortune on those fancy clay pots though. Instead, be creative. You can turn a normal brown pot, into a work of art.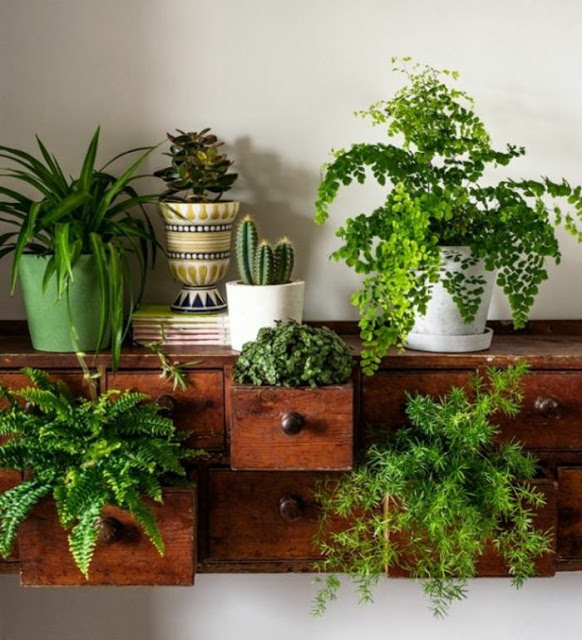 If your home is spacious enough, big terracotta pots are wonderful! Paint them in bronze or copper, and it'll make the area feel warm and sophisticated.
Benefits of Decorating with Plants
1. It Cleans the Air We Breathe
As I written on a previous post on how to improve air quality based on NASA's research, plants are perfect for more than decor and you would be surprised with NASA's findings. It turns out that plants serve a vital role in cleaning the air. All thanks to their leaves and roots, plants have the ability of removing trace levels of toxic vapors from inside buildings.
However, it's also important to note the type of plants that are great at cleaning the air. This includes Golden Pothos, Peace Lily, Mother-in-Law's Tongue, Bamboo Palm, and many more.
2. Improves Productivity
If you work from home, or you want to be a little more productive, better nasadecorate your home with plants! Studies show that the presence of plants could improve one's memory, concentration, and retention. Not just that, a Norwegian study revealed that ornamental plants work perfectly for this.
3. Avoid Getting Sick
Just like what has been mentioned earlier, house plants are known for removing toxins in the air, but that's not all; they also take a large amount of moisture, and improve the humidity indoors. Although this may not sound ideal during summer, it's definitely advantageous when the weather feels dry. Whenever it is getting cold, a sore throat and dry skin becomes common. Simply because the humidity is out of control. With plants inside the home, you can lower the chances of the virus spreading.
If you want to liven up your home and improve the air quality at the same time, decorating with plants is something that you should be doing. Not only will you be able to improve your indoor aesthetics, you'll also enjoy a number of benefits at the same time.

Lot's of love